While previously we may have expressed our sense of self and style through investing in our wardrobes, travel, and experiences, recent times have made us realise how important creating a cohesive, comfortable, and aesthetically pleasing home actually is. Regardless of your living situation, our homes are where we've been socialising, entertaining, working and even, working out. Along with serving all of these different functions, it's become even more vital for our homes to still feel like a space where we can ultimately retreat, relax and unwind.
When it comes to creating a sanctuary at home, it really is the small things that make a difference. But, there's much more to it than simply adding a few new decor pieces to your collection. And, while we don't believe there's a strict prescription for designing your perfect space, we teamed up with Freedom to bring you a few universal concepts to help guide you in the right direction.
Read on to discover six easy (and rental-friendly) ways to transform your home into a personal sanctuary.
Don't Ignore The Floor
When it comes to designing your home, floors can often be a forgotten feature. However, just as a bad paint job or poor lighting can heavily influence the look and feel of your space, so can flooring. Often renting means you're either dealing with builder's-grade carpet or floors that are in poor (or sometimes downright ugly) condition. Thankfully, rugs are an easy option for a quick floor fix.
Not only do rugs add visual interest and personality, but they can also help to designate spaces and create a sense of separation in small or multi-use rooms. They also act as excellent insulators, which is particularly important for creating a cosy feel that will also cut down on any unwanted neighbour noise.
A great trick for utilising rugs when you have a large floor space (or a particularly ugly carpet to cover) is to layer two rugs. This will allow you to cover the bulk of your floor space with a larger, more affordable rug whilst still getting all the design impact of the smaller focal rug. As a bonus, rugs can also help to protect your floors from spills and general wear and tear, which you'll thank yourself for when it comes time to get your bond back.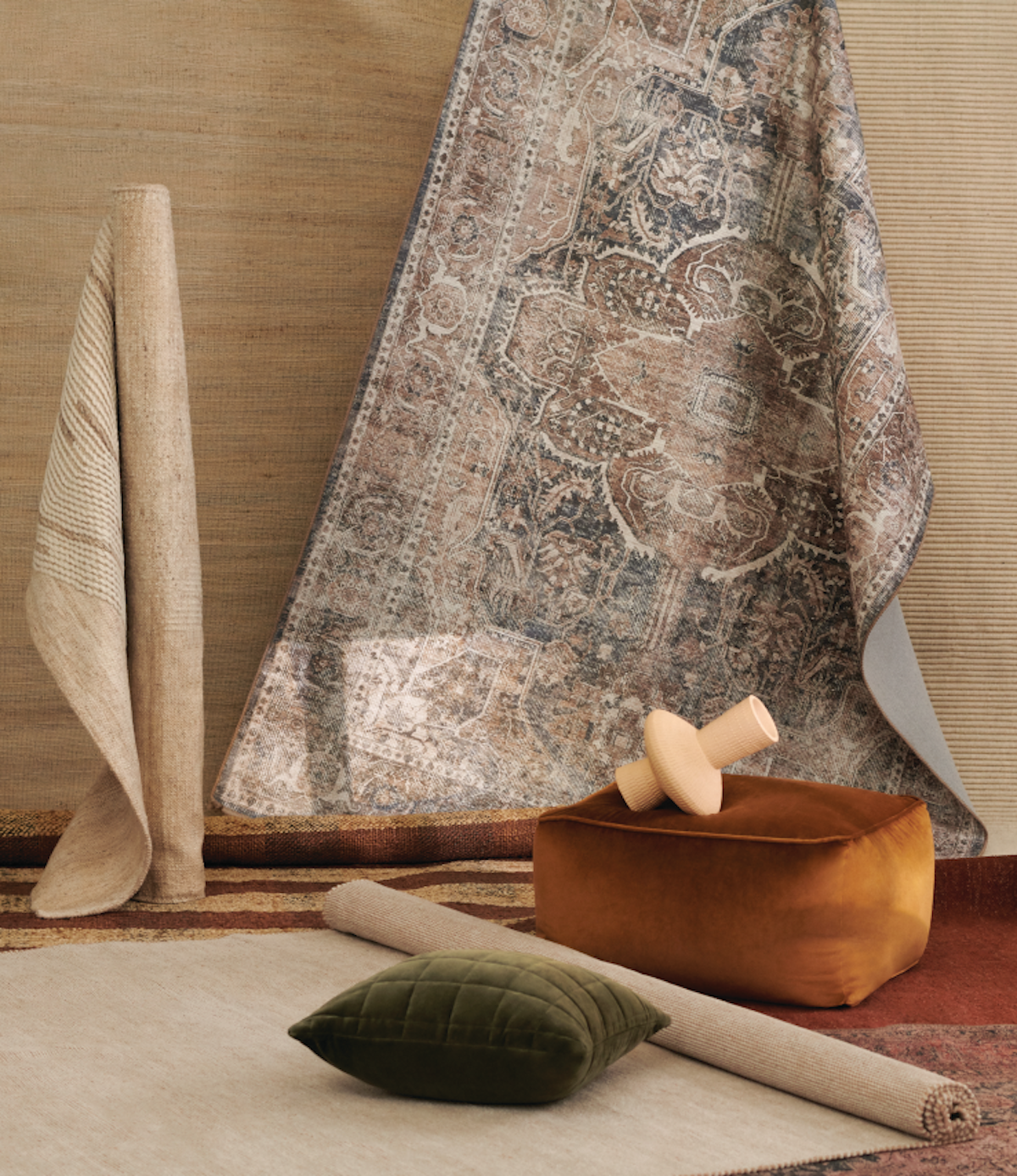 SHOP PICTURED RUGS HERE.
Get The Mood Lighting Right
While there's not much you can do to change the amount of natural light your space gets; there's a lot that can be done when it comes to artificial lighting. Thoughtful selection of both the placement and type of lighting can significantly impact how a room ultimately looks and feels.
Simple swaps such as changing out your rental-issued light bulbs (often these are cool-toned) for warmer-toned or daylight replicating globes is a super affordable and easy solution. However, if you're looking to really shift the ambiance of your space, investing in a proper lamp (or two) will create instant change. Whether it's dressing up existing ceiling fixtures by replacing them with new shades, adding a statement floor lamp to your living room, or even a cool table lamp to your kitchen bench—don't be afraid to think outside the box when it comes to lighting your space.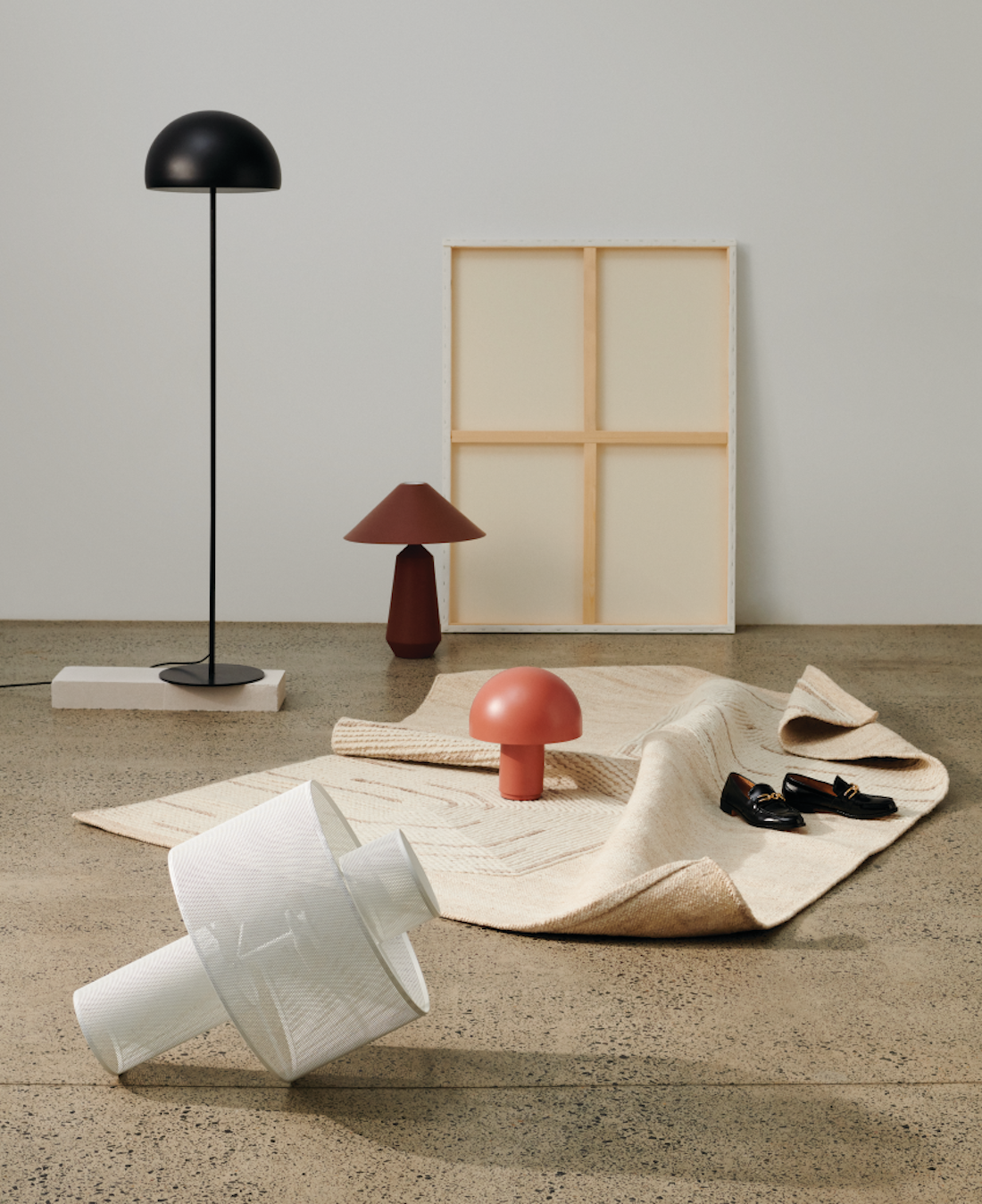 SHOP PICTURED LIGHTING HERE.
Let Your Walls Do The Talking
While you don't need to decorate every wall in your space (in fact, blank walls are the perfect way to create visual balance), you shouldn't hesitate to show off your style within (and on) the four walls of your home.
If you're beginning with a blank slate, investing in larger pieces that will have the most visual impact is often the best place to start. However, if you're feeling confident, collecting various art pieces to create a feature gallery wall is a great way to showcase your personality and interests.
Aside from art, mirrors are also another great option for adding some visual interest to your walls. Perfect for smaller or light lacking spaces, mirrors are not only a functional addition but will work to bounce light around the room, giving off the illusion of a larger and more airy space. Shop art and mirrors here.
Serve Up The Good Stuff
While it's important to think practically when it comes to your kitchen and the items you use in it, that doesn't mean you need to sacrifice style for function completely. If you're working with a tiny space or a lack of storage, it's important to make sure the things you use aren't just functional but, that they also work in the capacity of when you're hosting at home too. There's nothing worse than inviting friends around for cheese and wine or a dinner party only to realise you've got nothing but an ugly mixing bowl or too-small plates to serve your food on. Take stock of these not-so-visually pleasing items and replace them with ones that can serve a dual purpose. This will also allow you to utilise your dinner and 'serveware' as decoration, alleviating visual clutter.
It's also worth considering how you consume most of your meals. If you're someone who usually eats on the couch or gathers around the coffee table, investing in a traditional setup that's designed with a formal table setting in mind isn't exactly going to work. Consider swapping out flat plates for more modern designs with raised or lipped edges or forgoing them entirely for shallow bowls that can serve both functions.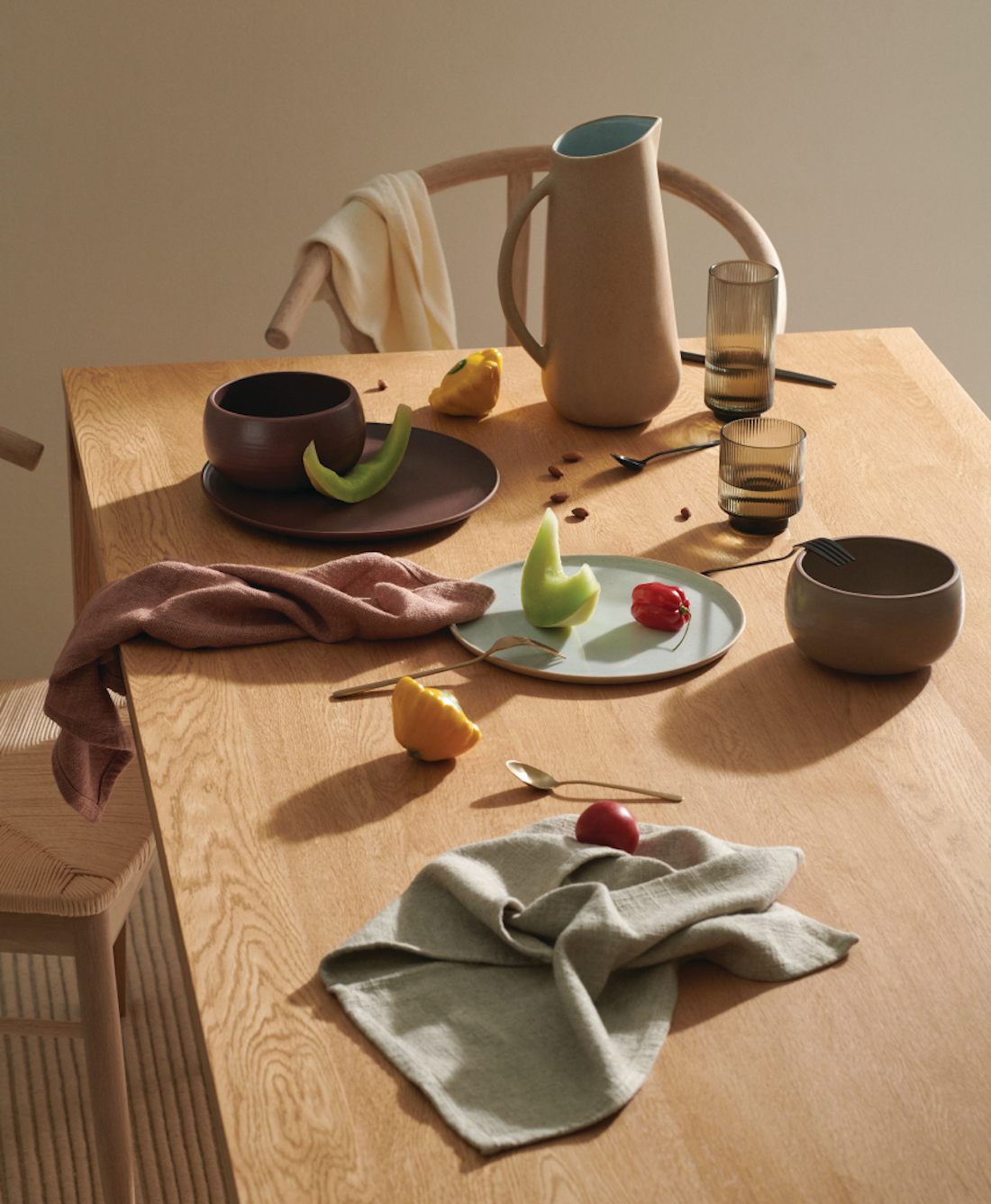 Shop pictured 'serveware' here.
Add Texture And Tone
If it feels like your space is missing something, but you can't quite put your finger on it, it might be tone and texture. While it can often feel safer to stick to the basics, even if you prefer a more monochrome or refined colour palette, you shouldn't be afraid of incorporating different tones and textures within your space.
Utilising different textures and tones is a trick interior designers have used for years to add extra dimension and visual weight to any space which ultimately creates a cosy and balanced feel. When working with similar colour palettes, a good rule of thumb is to aim to have at least three different tones and textures in your space that all tie together. This can easily be achieved by adding throws, cushions, ceramics, rugs, and both faux and living plants.
Have Lofty Ambitions
There's a reason every morning routine you've ever read from successful people mentions making their bed. Besides the couch, your bed holds one of the largest footprints in your home, meaning it can have a significant impact on the overall look of your space.
If you're limited to minor changes, a straightforward update like investing in a new set of sheets, bed cover or throw pillow can immediately transform your room - and hopefully, motivate you to make your bed every morning too! If you've got a bit more to play with, the bedroom is the perfect place to experiment with textures and colours to create a relaxing and cosy feel. Our favourite trick is to place a rug halfway under the bed, add a blanket and some throw pillows and switch out existing window treatments for some soft, light filtering curtains.
While the furnishings and finishings are an essential piece of the puzzle, it's also worth considering what's underneath it all. Take the opportunity to upgrade your old pillows and duvet to some seriously lofty alternatives that will have you excited to get your eight hours every night.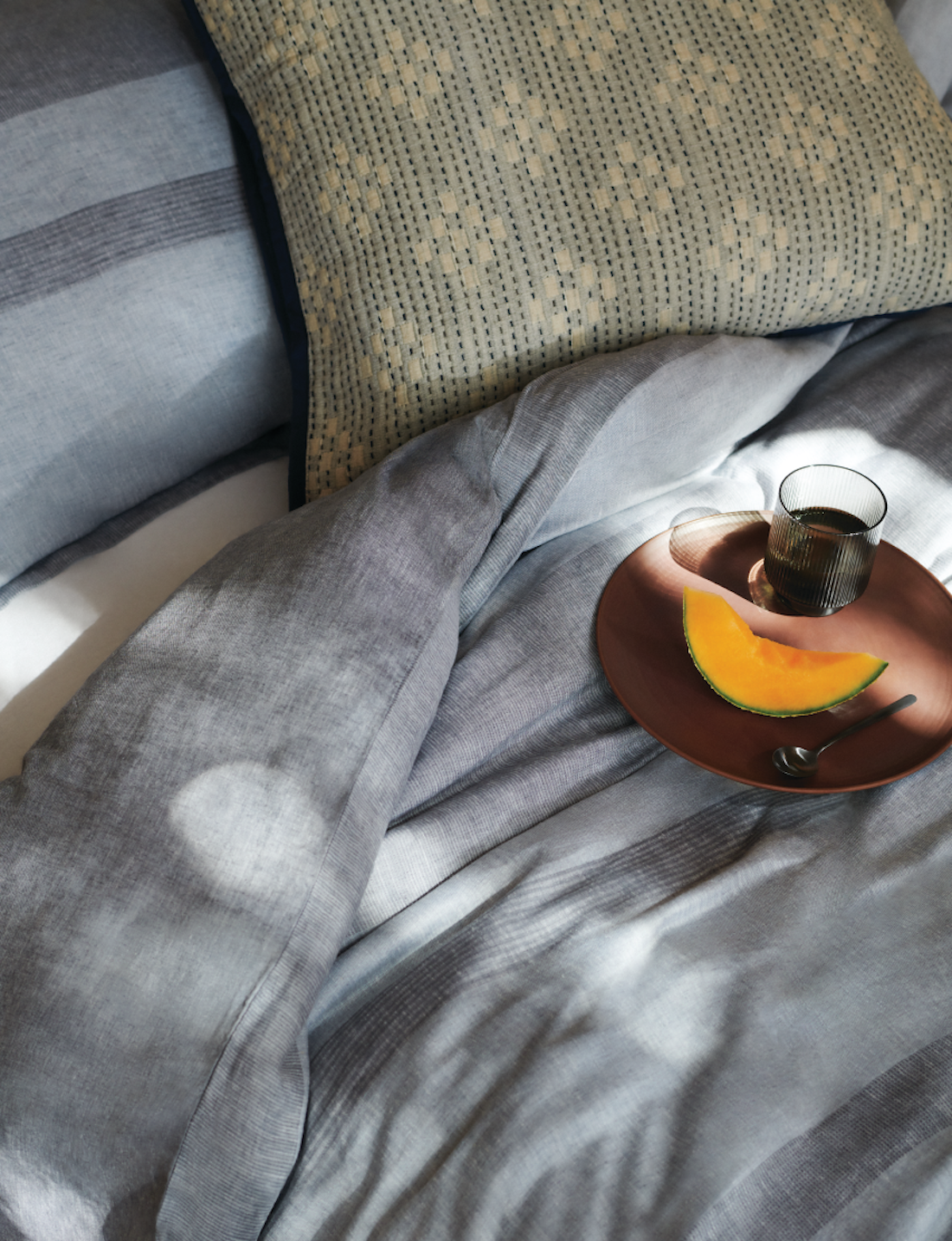 SHOP PICTURED TEXTILES AND PRODUCTS HERE.
Ready for an upgrade? Transform your space with finishing touches from Freedom's new Lifewares collection. Their selection of on-trend design pieces and classic finds will last you for years to come. Shop the pieces online or in-store now.
Editor's note: This article is sponsored by Freedom and proudly endorsed by Urban List. Thank you for supporting the sponsors who make Urban List possible. Click here for more information on our editorial policy.
Image credit: Supplied