The importance of mental wellbeing at this point in time cannot be understated. With an emphasis on mental wellness, Ārepa founder Angus Brown began exploring the relationship between nature, neuroscience and nutrition.
Angus found himself on a journey to provide a solution that's better for you than a typical energy drink and this deep desire ultimately led him to create his brainchild—Ārepa—the perfect brainfood for mental clarity. We caught up with Angus to find out how it all came about.
TAKE US RIGHT BACK TO THE BEGINNING, WHERE DID THE IDEA FOR ĀREPA COME FROM?
My first job after university was selling energy drinks which I didn't really agree with... I had also lost a friend to mental health and grandparents to brain-related illness and started to think, why am I selling caffeine and sugar? Why can't we make a drink for your brain that is natural, caffeine-free, helps reduce stress while enhancing mental performance AND good for cognition in the long term? This is where the idea came from.
How has your previous experience in food science and tech influenced ārepa's mission?
It's helped me to understand how to apply science and technology across our value chain from the raw materials, to processing to formulation to clinical research, which in turn creates products and a business model that is sustainable and scalable. It has also enabled us to think bigger than just developing a drink to what our purpose is: make brains work better and delay the onset of neurological decline worldwide through accessible and scalable brainfood—if we can delay the onset by just one year we can save the world $500bn of economic burden.
What has been your biggest challenge in getting ārepa off the ground?
Convincing our angel investors to spend all of our capital with a world-renowned neuroscientist to develop a formula for a first of its kind 'brain drink'! That was quite tough and certainly a punt. The other struggle we had after that was convincing local scientists at universities to partner with us and to undertake clinical research on this formula. Once we had our first positive result things got a bit easier.
Science and health are at the core of Ārepa—how do you ensure it encompasses all elements/products of the business?
From a product perspective we are bound to the scientific method for any new development, meaning our products must have efficacy and be true to what the science is saying. This ensures the quality of the formulation. From a health perspective one of our core values is being 'good for you' which means anything we put into the market not only needs to improve brain function but also be good for people and what good for you means is essentially boost your immune system. We know our ingredients have a raft of benefits towards immunity beyond cognition, that's why we are committing to a $700k clinical study on immunity to back up what the science is saying… (along with the $2.3m on studies on the brain!) Lastly, I would add a third core value which is design, creating a new product that is disruptive calls for a lot of design thinking from across our entire business, from the stack of software we use, to how we think and operate as well as paying respect to the quality of our science and products with beautiful packaging that is recyclable and eye-friendly.
Do you see a shift in consumer mentality towards healthy living and wellness in the food and beverage industry?
Yep, a big one!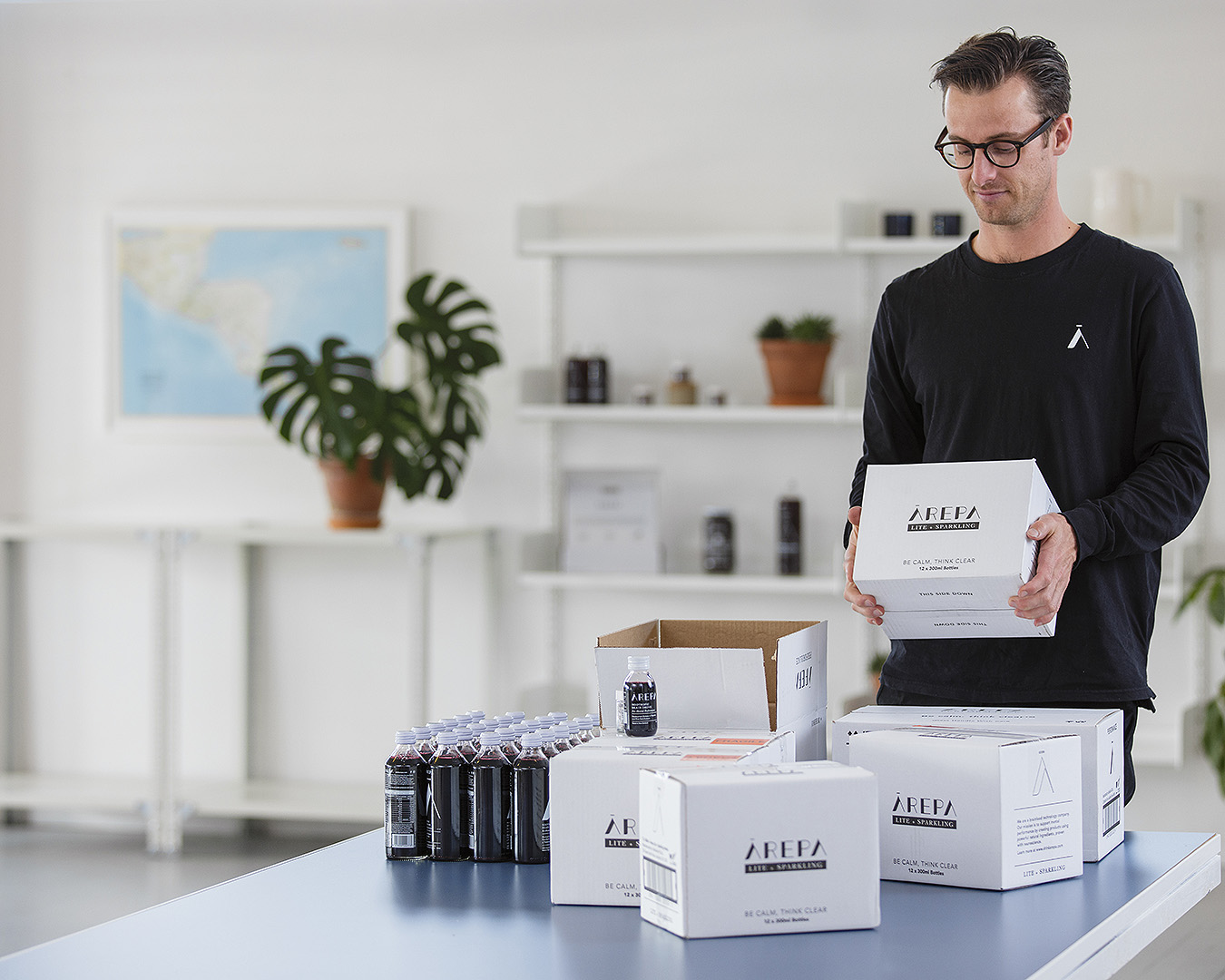 Ārepa is a product that could help enable great achievements through mental clarity. Could you tell us a bit more about the relationship between arepa and mental wellness?
Ārepa was born out of the need for a beverage that could offer mental wellness rather than inject more caffeine and sugar into this world.

However we know mental wellness isn't just a one-stop silver bullet solution, we believe there are three key pillars to it; nutrition, exercise and mindfulness. Our core focus with the company is to deliver on the nutrition aspect but we also ensure we share the latest research on how exercise and mindfulness can play an important role in mental well-being too, this is done primarily through our Mindful Blog and in our monthly email called Brainfood as well as aligning to the right philosophies, events and brands. For example we never pair or suggest combining Ārepa with alcohol as we know its a carcinogen and erodes cognition,10gms (one standard drink) shaves off 10 weeks of brain ageing!
What is your message to sceptics out there?
People are rightfully sceptical in this day and age as we've been lied to by snake oil corporates over the years. For Eg Ribena selling the vitamin c dream. That's why we went deep on the research straight away to ensure we were effective and could be transparent.

In our earlier years, we got a lot more because our science was still in development and not public, but now we have published our first study, have a long list of consumers who genuinely feel the benefits and one of the world's top Neuroscientists as our Chief Science Officer (he wouldn't have joined if we didn't have the science) leading our clinical study program, we can often appease any concerned punter (which is less now) and point them in the direction of the independent science to do the talking.
What would your advice be to young kiwi entrepreneurs in this space?
If you're a scientist and have an idea on how you can make brains work better—we'd love to chat! We're hiring. If you have your own idea and want to pursue it, I would suggest matching your innovation with a genuine problem that people want to be solved and see how you can protect your IP so you don't get any copycats capitalising on all your hard work.
And finally, what's next for ārepa?
Launching into a few new markets, completing a capital raise, hiring about 20 staff, publishing our next trial and diving into more research!
Browse the other awesome Kiwi talent who are all getting the gig.
Image credit: Supplied