While TLC told us not to, sometimes it's good to venture away from the rivers and lakes that you're used to. Lucky for us, there are a fair few waterfalls to chase near Auckland. We've tested the water (falls) around the city to bring you a list of the best in Auckland.
PLEASE NOTE:
Kauri is critically important to New Zealand's ecosystem and it is increasingly vulnerable. Kauri dieback has become a serious issue that we need to be educating ourselves on and here at Urban List we encourage all our readers to confirm that the walks you're doing aren't going to do any damage to our beautiful environment. With certain tracks closed we will try our hardest to stay up to date and hope you will do the same—it's important that we come together to help protect our sacred New Zealand kauri forest. In particular, it is important to note that the Waitakere Ranges have a rahui (exlusion zone) across the entire park and we recommend that this is respected and you do not visit them. We have removed all references to waterfalls in the Waitakere Ranges from this list. Click here to find out about kauri dieback and about how you can help and do your part!
Oakley Creek Falls
Waterview
There's a waterfall in Auckland Central? Say whaat? Yup, you don't have to do much chasing to check out this six-metre waterfall. Oakley Creek runs 11 kilometres through the likes of Mount Roskill, Mount Albert and Avondale. In the Waterview section of the creek you'll discover Auckland's only natural waterfall. You heard it here first.
Mauku Waterfall
Patumahoe
For all things pretty head to Wrights Watergardens - the picturesque gardens are like something from Alice in Wonderland. There are ponds, winding pathways, flowers on flowers and—you guessed it—a waterfall. Mauku Waterfall is best enjoyed from the garden's summer house #weddinggoals.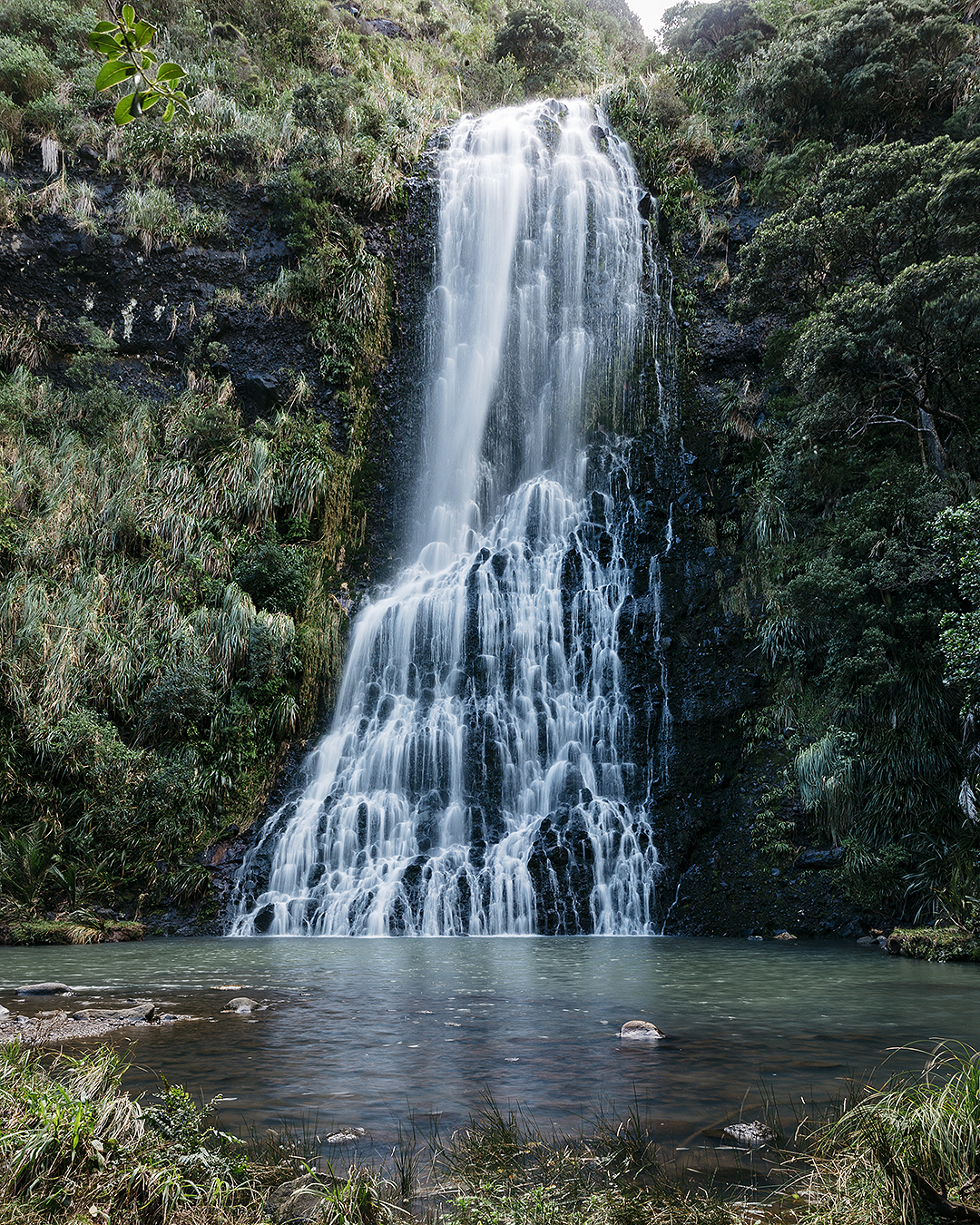 Karekare Falls
Karaka
Karekare Beach is about an hour's drive away from Auckland CBD so once you're there you should definitely make the most of it and check out the Karekare Falls which is a mere five minutes from the carpark. The Taraire Tramping Track to the top of the falls is currently closed due to kauri dieback but you can still revel in the magic at Opal Pool Stream Cascade at the fall's base.
Hunua Falls
Hunua Ranges
Located in the Hunua Ranges these falls are some 30m high and can be accessed via the Hunua Falls Lookout Walk or the Falls Upper Lookout Walk. Many of the other tracks here are closed due to kauri dieback so be sure to stick to the marked path. Swimming isn't recommended here but it's a great place for a picnic with toilet facilities and a large grassy area with the falls front and centre.
Lucas Creek Waterfall
Albany
Walk 10 minutes up a creek off Albany Highway and you'll stumble upon a rushing waterfall that looks like it's come straight out of a fairytale. There's also access to a lookout via a concrete path beside the bridge over Lucas Creek. To catch this fall at its most impressive, visit after there's been decent rain.
Wainamu Falls
Bethells Beach
A trip to this stunner takes planning as it's a two hour trek and the weather has to be just right (without enough recent rainfall the falls disappear completely). You'll need to take the Lake Wainamu Track which you can get to by walking along the Waiti Stream riverbed or up over the nearby sand dunes. Follow the path to the
Wainamu Falls
and a couple of swimming holes.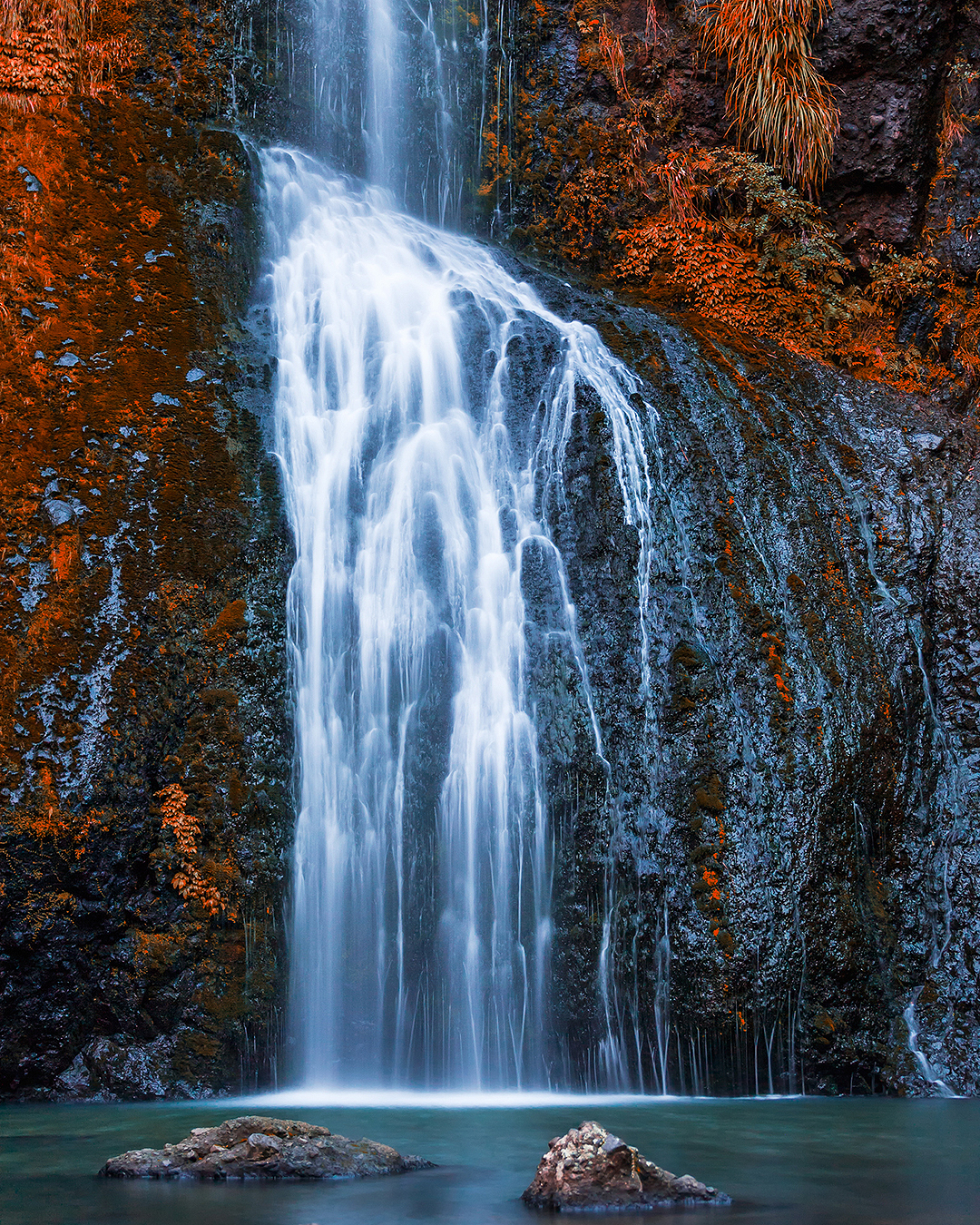 Kitekite Falls
Piha
You've probably been to Piha, maybe even attempted to scale Lion Rock, but did you know there's a gorgeous cascading waterfall nearby? The track to Kitekite Falls is boardwalk-based (to protect local kauri) and has two water crossings that require a bit of rock hopping. Grab a walking stick to help your balance - the rocks can get slippery!
Kohuroa Stream Waterfalls
Leigh
If you're looking to be wowed, over and over again, head to Kohuroa Stream. Access is via Matheson Bay Bush Walk which will take you about 40 minutes to walk, return, with several waterfalls along the way. There's even a swimming hole, complete with rope swing, so don't forget your togs!
Extend your adventuring with a stay at one of Auckland's best hidden baches.
Image credit: Oakley creek by agcreations, Karekare falls by Auckland Council, Lucas Creek Waterfall by Fred Yang, Kitekite Falls by Ronnie Li.