Christmas falls on the same day every year, but seriously, how did it come around so quickly? 2016 has flown by so quickly and, if you're anything like us, you've left your Christmas shopping until the last minute. But never fear! We've created this handy dandy A-Z gift guide filled with ideas for your friends and family.
Happy shopping!

Alchemy Is Where It's At
Fill that handbag with Grown Alchemist essentials.
Baby, Let It Burn
Maraca's Generalife Gardens candles have us coolly moody.
Crowning Glory
ghd platinum® copper luxe premium gift set will leave locks looking luscious all summer long.
Designer Days
This Ruby Marina Gown has us swooning.
Everything Is Better With Jewellry
When all else fails, go the jewellery. Serious brownie points.
Fly AF
This Stan Smith design will sate even the biggest sneaker head.
Glowing Skin
Trilogy's Repair & Protect gift set with Rosapene™ is a total treat for the skin.
Huia's Sitting Pretty
Add some colour to the lounge with these stunning cushions.
Ice Ice Baby
Keep them cool all summer long with the Zoku Ice Cream Maker.
Jandals With Sparkles
Because crystals belong on feet, too.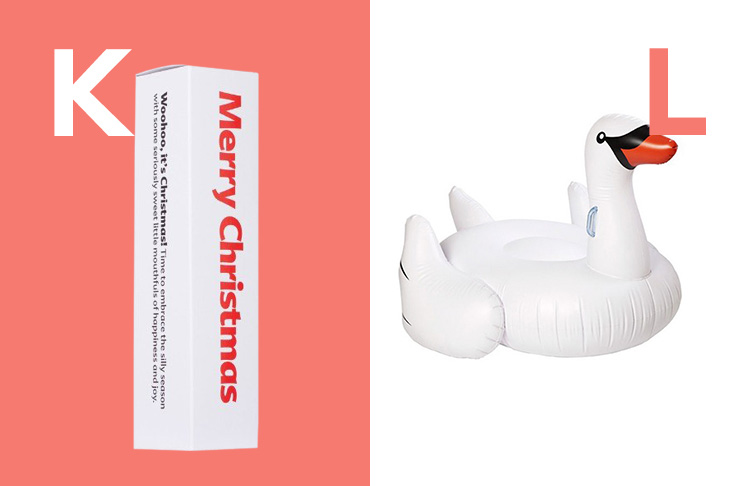 Keep A Secret Sweet-Tooth Stash
Give the gift of candy—with a message from Candy Box.
Laps In The Pool
Inflatable pool toys—the gift that gives to everyone.
Master Chef
Give your significant other the hint that their cooking is less-than-average with a cooking experience voucher from Main Course. They can learn to master everything from Mexican and Italian to Vietnamese and Indian.
Not Just Another Hamper
If only every hamper could be this cool.
Oil For Your Hair
Treat those locks to something extra spesh with the Morroccanoil Christmas set found at all good salons.
Pamper Yo Friends
Your pals will have the softest, smoothest skin everrr thanks to Frank Body's coffee scrub from Mecca. It smells so delightful, they'll want to eat it!
Quench Their Thirst
So many wines, so many choices. Why not have them all with this wine delivery service.
Read My Lips
Why stop at one lipstick when you can have Karen Murell's Collector set?
Say It With Flowers
Give the gift of blooms all year long with a subscription from Daily Botanicals.
Thanking You
For the socially conscious gift, buy the 'Oh Joy' set from Thank You and help put an end to poverty.

Unexpected Angles
Absolut Facet is the vodka of choice to symbolise those crazy summer nights.
Vintage Pride
Dare to express what it means to be Kiwi with a T-shirt from Mr. Vintage.
White With Splashes
Add some lightness and brightness to the home with this Frey-embroidered duvet cover.
X-Ray Vision
Keep your peeps sun safe and looking sharp this Christmas with this foxy pair of eye goggles from Retro Superfuture.
Your New Best Friend
Forget a dog, this Christmas it's all about the phone.
Zzzz...Catch Up On Your Beauty Sleep
Banish under-eye bags and interrupted sleep. Possibly the greatest gift, like, ever?
Want more?