Skating is more than a sport. It's an expression of self. An exercise. A hobby. And most of all, a lifestyle. Once you've tried skating, there's not much that compares. Imagine flying down the sidewalk, feeling the wind on your face, adrenaline pumping through your body, nothing but a board between you and the harsh asphalt…beauty.
Although skating is banned by most councils, thankfully, there are plenty of designated skate parks in Auckland. Places designed with safety in mind, where you can enjoy yourself and perfect your skills… meanwhile becoming part of a community, meeting like-minded adrenaline junkies and speed enthusiasts. Whether you favour transitions or street style, parking lot or beach side, Auckland has something for you. And so, here they are—Auckland's best skate parks.
Valonia Skatepark
New Windsor
Hardcore Auckland skaters finally got the modern park they were craving when Valonia Skatepark opened back in 2017. Immaculately designed and built by Melbourne-based Convic designs, Valonia currently holds the title of "skaters favourite" due to its well-balanced array of street obstacles and ultra smooth finish. It features variations of everything a modern street skater dreams of riding, from mellow rails to long ledges and multiple hips. Valonia's downhill flow accommodates a lot of riders, and the separate mini bowl is perfect for beginners and veterans alike—everything here just works. The park can get chaotic on weekend peak times but jumping in on a busy session or just watching the locals is part of the appeal.
Waterview Skatepark
Waterview
Need a park with plenty of open space and mellow gradients for the kids? Thinking of dusting off an old board and reliving your youthful obsession? Waterview Skatepark should be your first port of call. One of the few modern facilities designed to accommodate beginners and intermediate level riders, Waterview is big and spread out with ample room for learners to build their confidence up. That's not to say the park is all for beginners; there's enough rails and bigger transitions to please more experienced shredders, and being so vast there's usually enough space for everyone to share. The added bonus of a nearby playground and pump track means Waterview is also the perfect spot for a longer family outing.
Marlborough Skatepark
Glenfield
There's been some form of skate facility at Marlborough Park since the late 70's, making this unassuming North Shore Park hallowed ground for NZ skateboarding. After various re-builds over the years, Marlborough is currently being transformed into a truly world class facility. The park in construction is a curvaceous wonderland with a free flowing bowl area spilling over into giant transitions with a wedge extension standing over three metres high. It looks fast, fun and a little scary, all of the things a great skatepark should be. Opened to the public in August 2020, Marlborough Skatepark is an essential visit for all serious skate fanatics.
Victoria Park Skate Plaza
CBD
Sitting on the edge of the CBD, Victoria Park Skate Plaza is THE skate park of all skate parks and is every skater's dream playground. The facility features a few quarter pipes, a half pipe and a very decent bowl, as well as a huge street plaza full of ledges, stairs and gaps. Styled to look like street terrain with plants and seating, the park is perfect for onlookers wanting to catch a bit of the action, too. The views here are stunning, with the harbour bridge on one side, and the city skyline—featuring the Sky Tower—on the other. The park is right across the road from Victoria Park Markets residing in a beautiful brick-built heritage building. Victoria is favoured by local pro-skaters—motivating for amateurs and super impressive to watch. Generally, the atmosphere here is very cool and relaxed, with many a skater honing their skills—often to the sound of someone's boombox.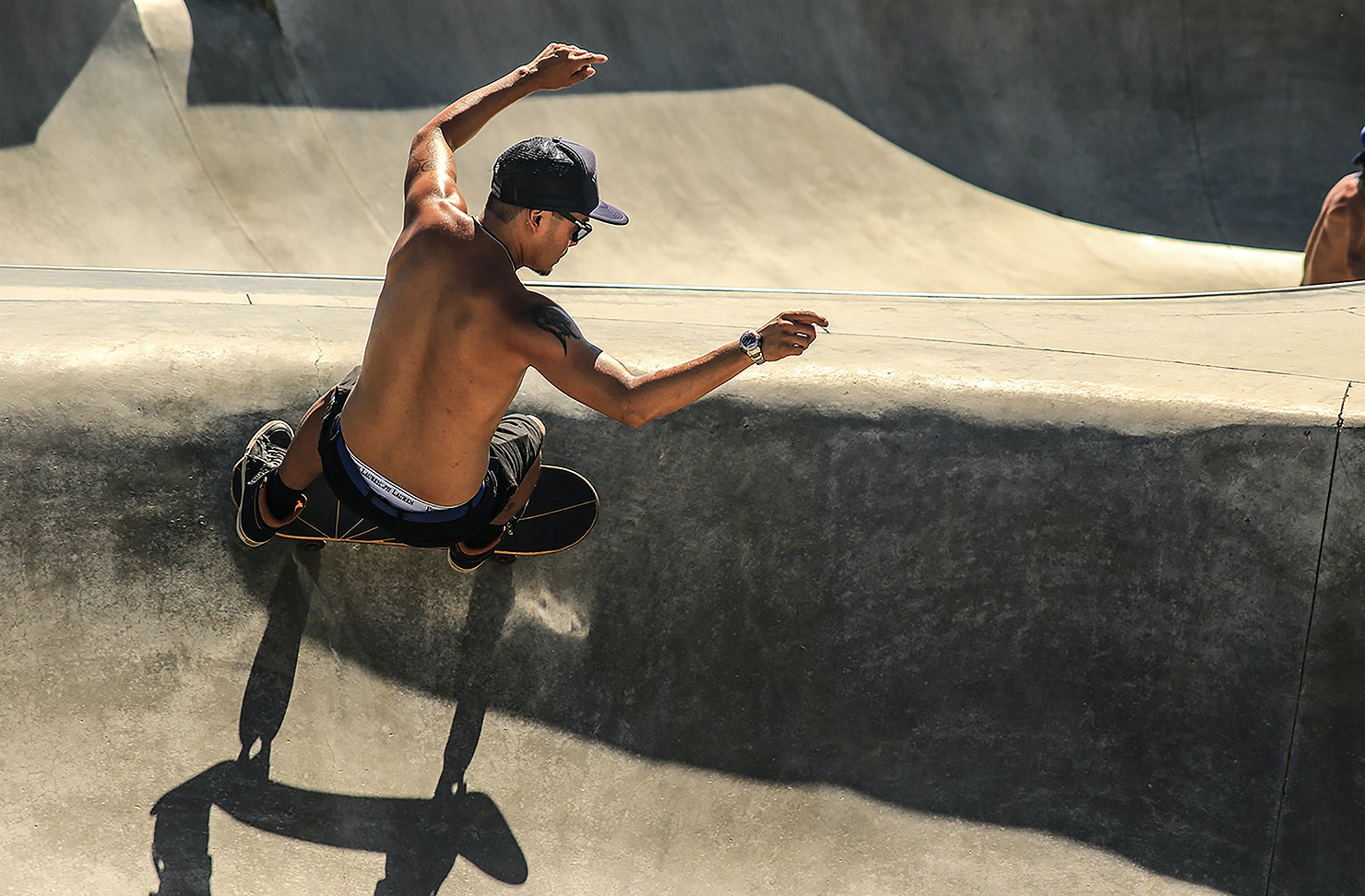 Birkenhead Skateboard Park
Birkenhead
The perfect local skatepark, Birkenhead Skateboard Park is a real hidden gem tucked away between the community centre and the public pools. Re-built a couple of years ago to replace the worn out but much loved old facility, the park is deceptively simple with no obstacle over two metres high and a great little mini bowl with pool coping. This low impact vibe makes it a lot of fun with universal appeal for skaters of all levels. Weekend sessions get crowded but there's always a great community feel here with whole families pushing around. Bring your togs in summer for the bonus of a post skate swim in the pool right next door.
Nixon Skatepark
Kingsland
Nixon Skatepark is a city fringe favourite. Sitting off Bond Street, mere minutes away from K' Rd and all its quirky glory featuring clothing, food and of course, skate shops. The skate park itself is on the smaller side, but what it lacks in size it makes up for in features. Perfect for transition enthusiasts it includes a taco quarter pipe and Jersey barriers. There are also good street features like hubba ledges, ramps, stairs and handrails. The surface is good, giving smooth flow and high speed. The best part? The place is usually packed with likeminded enthusiasts, ready to teach you a trick or two, or challenge you to a skate-off.
Browns Bay Skatepark
Browns Bay
We have two words for you—beach and skating. If this sounds like heaven to you, then Browns Bay Skatepark is a must. Sitting right in front of the beach, this park will have you feeling like you're skating in Miami. Sun shining, waves crashing, plenty of cafes nearby… what else could you want to accompany your skate? The main attraction here is the half pipe and its adjacent mini ramp, surrounded by a few ramps and ledges.
Lynfield Bowl
Lynfield
One of the oldest and gnarliest bowls in Auckland, Lynfield is a must for any local skater—it's practically a right of passage. The park features two bowls joined by a tight snake run. The hourglass bowl is five feet on one end and six feet on the other, with mad vertical action and rad transitions. The entire facility is covered in years of graffiti, the new covering the old, giving it plenty of character. This is a firm favourite of the most daring of local skaters and if you've ever wanted to go Lords of Dogtown style and skate an empty pool, these bowls are as close as you'll get without being slapped with a trespass notice.
Barry Curtis Skatepark
Botany
Barry Curtis is one of Auckland's newer skateparks. It is jam-packed full of features, laid out perfectly for easy flow. There are multiple bowls and a premium open street course filled with numerous ledges, stairs, gaps, ramps and handrails. The surface is super smooth, providing good speed.
Hooten Reserve
Albany
Another Shore favourite, Albany's Hooten Reserve is a super clean and creative skating facility, with a good balance of both street and transition features. It has a cool, colourful look with tiles and red-brick design cutting across its elements. The street area features ramps and ledges, stairs, manual pads and a quarter pipe, while the transition side has two bowls. One of the bowls is small with a bit of a rougher surface, while the other is deep and smooth, providing fast transitions and pool-style skating.
Owairaka Skatepark
Mount Albert
A fun little street plaza located in Auckland's central west. Although small, Owairaka Skatepark is extremely awesome to skate. The area is packed with numerous obstacles—all modelled directly from real street spots. Here you'll find a brick stencilled bank with a cantilevered bench and cantilevered banks, numerous ledges, a rail, skate-able rocks, ramps with a euro gap and a freestanding wave. A great place to get creative with your flow and perfect some tricks!
Te Pai Park Skatepark (Lincoln Road)
Henderson
West Auckland's hidden skate gem, Te Pai Skatepark on Lincoln Road is a sprawling facility that often gets forgotten amongst the newer Auckland parks. Te Pai features an older mellow bowl and snake run combo updated with street ledges and a mid-sized spined concrete mini. With ample space, friendly locals and some fun lines to unlock, Te Pai is a great option to go fast and blast some flyouts or perfect your ledge game.
Transition your skills from land to sea with the best places to learn to surf in Auckland.
Image credit: Emiliano Cicero, Sean Stratton