Bees. We all know they're important to our planet's survival which ultimately impacts on human survival too. But did you know that there are differences between our native species and the introduced honey bee population? New Zealand's native bees are super tiny, don't form colonies and don't produce honey. However, they do a great job of pollinating New Zealand's native trees and flowers. Ka Pai.
The honey we enjoy so much comes from introduced honey bees, and these are the bad boys who pollinate 30% of our global food supply of which the most nutrient-dense fruits, veggies and nuts depend. 90% of flowering plant species rely entirely on the pollination of plants. You can find other fascinating bee facts right here, and monitor the annual bee colony loss survey here.
To feed our thirst for bee knowledge we caught up with co-founder of Bees Up Top, Jessie Baker, to ask all our burning bee-related questions and to also find out how she ended up championing our tiny buzzy friends in the first place.
Take us right back to the start, how did the plight of bees first find its way onto your radar?
Luke (Whitfield, co-founder of Bees Up Top) and I were looking for a new flat and we came across a house that had a beehive in the backyard. It was meant to bee! haha! Our new flatmate had been keeping bees for 30 years so we spent the next three years looking after the bees, researching, learning, selling honey and even making honey beer. The day that really hooked me in was when when we needed a new Queen Bee for our hive because our current one was breeding lethal bees that were stinging our chickens. I ordered one on the internet, it took seven hours to get to me by aeroplane and the postman delivered it to my front door! It blew my mind that a bee could do that!
What were you doing for a living at the time?
We were living at Coogee Beach, Sydney. We had a small backyard that we transformed into a bee haven with blueberry trees, banana trees, veggies, compost and chickens. It was an urban setting with lots of apartments around. It was here I realised that bees could live in urban areas because they fly 5km to find food.
Why are bees so important?
NO BEES, NO FOOD! Bees pollinate one third of the world's food by carrying pollen from flower to flower turning it into a fruit or vegetable. That's how we get fruit and veg.
How did you initially get Bees Up Top off the ground?
I created a website and social media streams and started posting what we were up to, which was rescuing swarms at the time. A lot of hotels came on board and from there it took off by itself.
What's the reaction been like to your urban hive initiative and how does it work?
It has been so positive! I think that the awareness around bees has really increased and everyone is keen to save the bees.
Once the bees are rescued I take them to The Bee Sanctuary at Bethells Beach so they can rehabilitate before being re-homed. Rescue hives are placed on the rooftops of businesses and in the backyards of people's homes and I am the beekeeper who checks the hive once a month. I always bring extra suits along to educate staff/families during inspections. Each year at Christmas time I extract the raw honey and give it to the them in personalised jars.
How does co-Founder Luke contribute to the success of Bees Up Top?
Luke is such an important part of Bees Up Top because we bounce ideas off each other, he's pretty creative and practical too. Luke is a builder and helps me build hives, he's good with the safety side and the accounting too!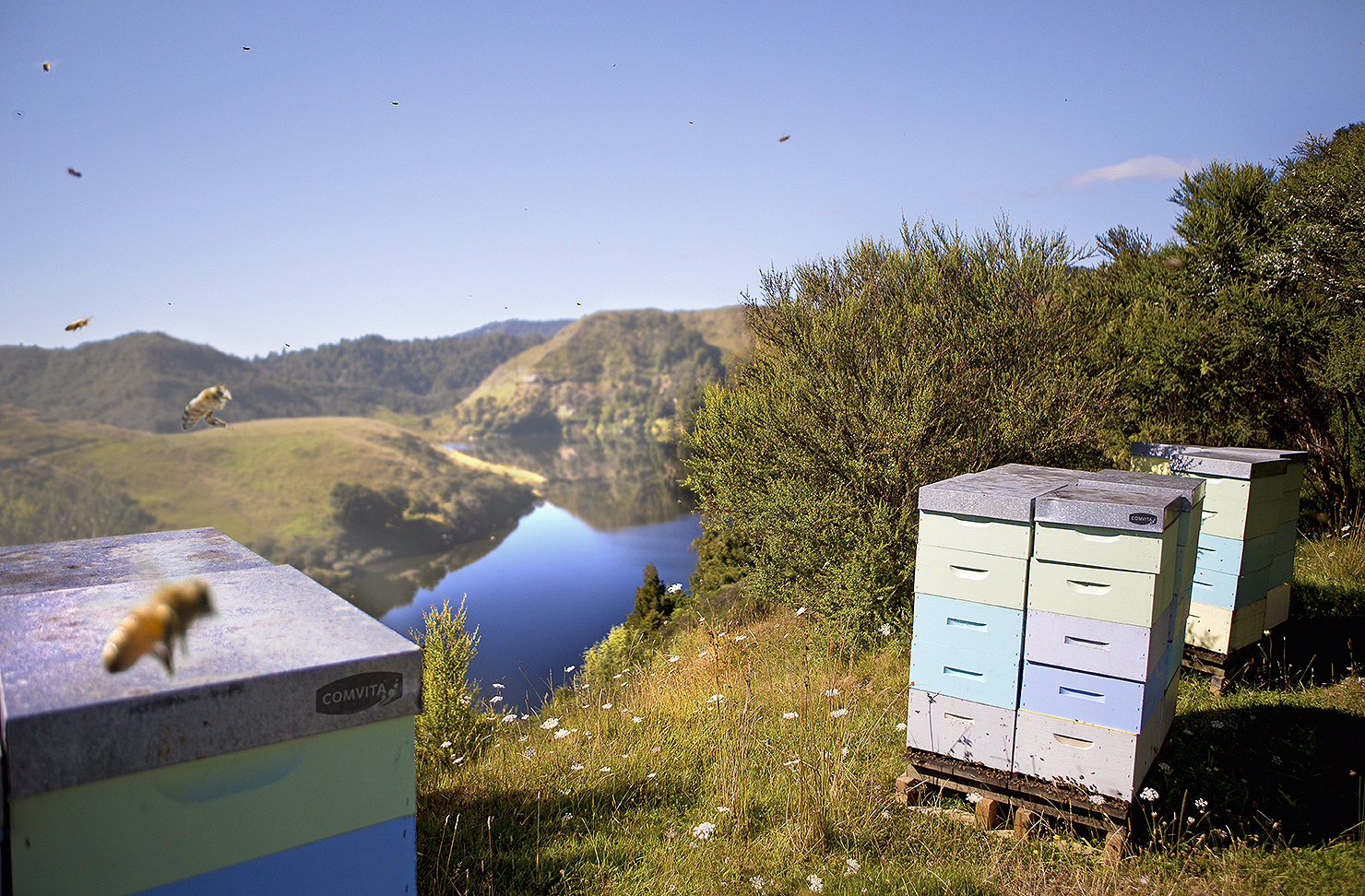 You teamed up with Comvita for this Bee Aware Month—in which ways did you collaborate?
Yes! Comvita have been so generous this Bee Aware month and have given away two Bees Up Top beehives to two lucky Aucklanders for a year. They will be installed this month. They have been great at spreading the word on the importance of bees by educating their followers with social media posts on how they can help at home.
Bees Up Top do a lot of work around education including running regular bee keeping courses and going into schools—can you tell us about your courses and how interest has grown?
The bee classes are very popular. It's great to see so many people becoming interested in bees. We run a few different classes, the most popular being the One Day Beekeeping Course at The Bethells Beach Bee Sanctuary. This one gives you an introduction to beekeeping and my mum makes the most amazing lunch! Mum and I also run free kids beekeeping classes in the school holidays, we post dates of these on the Bees Up Top Facebook and Instagram page. During the COVID-19 (lockdown) we started up an Online Beekeeping Course and it has proven to be very good so we've decided to keep running them. This course sets you up with bees, you build a hive and are delivered all the gear you need to start beekeeping. If you are interested in going on any of the courses send me a message via our contact page on our website.
A bee swarm happens when a queen leaves the hive and her followers come with her to protect her, but they often have nowhere to go. Bees Up Top will rescue the swarm and take them elsewhere. How exactly do you do this?
Yes that's right, swarming is bees' natural way of reproducing. We rescue swarms all spring and summer and they usually land on a low lying branch. The process is pretty basic… We shake the bees into a new hive, aiming to get the queen in the hive. Once she is in the rest of the bees march in like good little soldiers. I pop that hive into the back of my car and drive it out to the Bethells Beach Bees Sanctuary where it rehabilitates before being re-homed on a city rooftop or someone's back yard.
What should people do if they come across a swarm?
Call Bees Up Top because we rescue bees for FREE! Call us 24/7 on 021 2033 612.
What things can we do to help bees in our neighbourhood?
Bees love blue flowers best! Thats what we teach kids but its important for everyone to know. Plant things like borage, lavender, thyme and rosemary to help feed the bees.
You can also create a water station for the bees to drink from. Bees need a lot of water to make honey but they also take water back to their hive, spread it on the capped eggs and fan their wings to create an air-conditioner inside the hive to keep the eggs cool during the summer time.
To create a water station you fill a shallow dish with stones or marbles and submerge them in water. This gives the bees something to stand on and drink water because if their wings get wet they can drown.
What advice would you give to young entrepreneurs wanting to set up their own gig?
Don't overthink it, just start something.
What do you think is the most important thing we should be doing daily in terms of sustainability?
Recycling. It's really scary to think about how much waste we create.
Anything else?
Do you know how much honey a bee makes in its lifetime? A 1/4 of a teaspoon! That's why honey is so precious.
What's your dream for the future of Bees Up Top?
To keep having fun and educating people on the importance of keeping our little pollinators around!
Up for volunteering? Check out the best urban gardens in Auckland.
Image credit: Comvita