Have you ever considered that the pump on many liquid soap bottles always dispense more than you need on purpose? Admittedly we aren't entirely guilt-free of product wastage, or always swerving those greenwashing traps but if ever there was a time not to run out of soap, it'd be now. However, before you go buying bottles of soap from the supermarket or individually wrapped bars in plasticky paper with goodness knows what in it (resisting temptation to joke about suds and duds), you'll want to check out sustainably-minded start-up Beyond Soap.
Making beautiful soaps with natural, plant-based ingredients only, this small Kiwi business is doing its bit to help to address the world's big packaging problem by delivering bulk packs of soap to your door.
We had a chat with the team at Beyond about all things soap because it turns out there are some important things to know about getting squeaky clean.
Tell us a little bit about the ingredients in your soaps. What nasties are they free of and what on earth is a petrochemical?
A petrochemical is basically any myriad of products made from petroleum oil. Our soap is made of plant oils such as olive and coconut oil, blended with shea butter and a touch of NZ avocado oil for its moisturising properties. It comes either with our signature blend of essential oils or a fragrance-free version which brings the base smell of the coconut to the fore. The nasties it doesn't have are the usual suspects, including no parabens, no synthetic fragrances, no propylene glycol (which can be used in vape products now!), polyethene glycol, EDTA or silicones. All these can be replaced with safer natural ingredients, though often more expensive, hence their prevalence in many soaps still. We also go above and beyond the nasties and have consciously chosen to leave out palm oil, which also has a damaging impact on our environment. The palm oil industry has been a disaster for the world's forests, wildlife and climate.
We all repurchase soap, yet most of us will buy it individually. Where did the 'bulk' idea of a set of soaps come from and why should this be the way we buy it?
Buying in bulk or with reduced packaging in mind has become part of our shopping routine. We are two conscious households that try to reduce our impact where we can. We had made the switch to soap bars quite some time ago but didn't like the fact that all the supermarket soap bars came in single-packets that's often plastic-lined or with gold plastic print. That stuff can't be home composted or recycled, and we found even 'eco' soap brands were using palm oil. We converted to buying bulk toilet paper a while back and were looking around at what else we could purchase without all the packaging. We couldn't find a soap that ticked all our boxes environmentally and being a bit entrepreneurial we thought we would set about doing it ourselves, creating the product we wanted to use and giving others the chance to also buy bulk sustainable soap.
It seems so baffling when 'eco' products come in packaging covered in labelling or in boxes and packets with a colourful, plasticky finish. Was this on your mind when thinking about how to deliver your soaps?
We absolutely had this on our minds which is why we provide 'naked' bulk bars of soap. It's also why we have kept the shipping carton as minimal as possible. As the natural oils within the soap can migrate onto the cardboard (which can be recycled or home composted) we hunted for a protective wrapper that could also be home composted. For the regulatory stuff like the ingredients and all the necessary info required on a label, we have gone for a paper version that can be easily removed from the package and put out with your paper recycling.
We also wanted a nourishing soap that could be used for hand and body and be multipurpose for every sink of the household. There's an ever-increasing number of too many varieties of hand and body soaps custom made for different uses. Multiple choices just mean additional packaging and different chemicals on your skin.
Interesting to read that liquid soap's carbon footprint is 25% larger than traditional soap bars. Why is that?
We actually came across this a number of years ago which is one reason why we moved away from liquid soap. It's both in the production but also a big chunk of it is in the transport of the liquid soap, which is much bulkier than hand soap.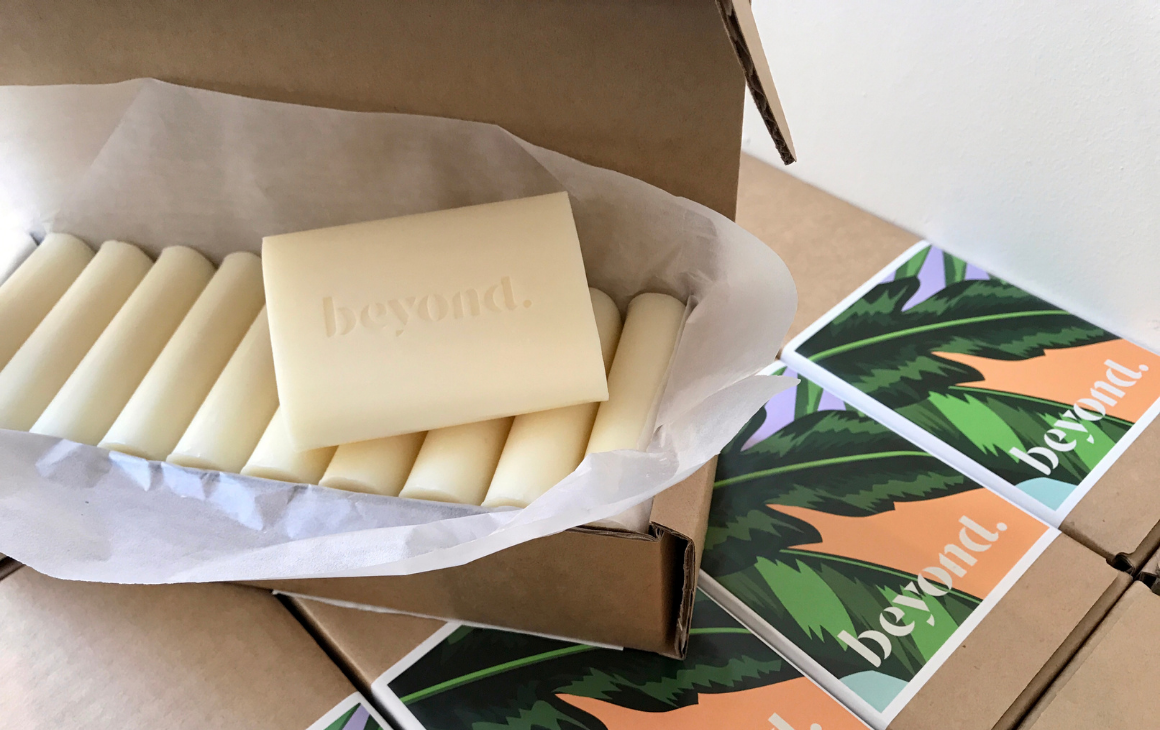 The idea of donating soap to food parcels and gifting to loved ones is cool. Where did this idea come from and how can people take part?
Soap is such an essential item. And for those that are facing hardship, it becomes a luxury when it shouldn't be one. It was during an appeal we thought we should make sure we can support where we can. We ourselves are a small business and know that every bit helps, and community wellbeing is as important to our values as environmental wellbeing. We also have a link on our website (scroll to the bottom) that allows customers to donate and we will deliver to the mission for their weekly food parcels.
We love a Kiwi business story. How did this idea turn into reality and where are the soaps made?
Made here in Aotearoa. We are three friends that early on identified the soap maker we could work with that could help us with our mission. They have been invaluable in helping us choose the right ingredients and "recipe". All along we knew we couldn't make these at home on our kitchen tables as the mission is to eliminate wasteful packaging and create an affordable natural soap bar in bulk. We have set Beyond up from the beginning based on the idea that one day we could be a loved household soap brand in homes across Aotearoa. And we will have helped eliminate millions of liquid soap bottles, as well as millions of individual soap cartons. It's about setting it up right from day one.
You have an unscented soap as well, and the natural plant-based ingredients make it sound perfect for sensitive skin. Is this the kind of feedback you've had?
We can't talk enough about how amazing the feedback has been, and especially for those that have sensitive skin. If you have sensitive skin then you know how important it is to make sure what you use works. I'd love everyone that has sensitive skin to know about our soap, as we hear all the time about how people gave up on soap, but once they tried our Beyond soap bars, they've had no issues. We have been told how it's better than their shaving cream. It's been used for babies. People with eczema swear by it. It's even been used on a pony! And it makes sense as it's just natural ingredients without those nasties. With our skin being our largest organ that absorbs everything we put on it—it makes sense to use a product that has less.
Are you able to reveal to us any future goals you might have for Beyond?
We'd love to keep connecting with more and more households across the country to help them reduce waste while using a great sustainable product. We want to grow our network of amazing refillery and wholefood stores and find more ways to support our communities and environment. Also, set up a couple of exciting collaborations in the next year. Our first batch of beyond bars is now ready in Australia, stocked in Sydney with a friend, available nationwide. We'd love to get as many boxes of naked soap bars to our Australian mates too!
Fast Five
What's the most rewarding thing about your jobs in a small, local business?
Connecting with customers and getting great feedback. We love hearing it when people love beyond as much as we do, and that something we created works.
Top tip for turning a business idea into a realised venture?
Get a small group of you that have complementary but different skills, yet all share the same vision. And then go for it—take that first step!
A lesson you've learned during the process?
Start. You can improve and keep making things better as you go.
Best pick-me-up for a slump in the working day?
Coffee haha! Walking the dog or just a good walk in the fresh air, and conversation that isn't about work helps.
Any pointers for soap storage?
Your soap will last longer if you have a dish that drains liquid. Keep it out of water, and you could air it out near a windowsill. Try to keep it dry with airflow around it. Also, don't store dry soap bars directly on cardboard as the oils will migrate over time, store naked on a shelf or in the cupboard by themselves.
Keep the ball rolling and check out ways to reduce your carbon footprint here.
Image credit: Beyond Soap