Just when you thought finger-lickin' fried chicken couldn't get any better, we've gone and turned it up a notch.
Meet Bun Leng, the man behind South Auckland's go-to, Satay Noodle House. Like the crew over at KFC, he likes to keep it real. From his honest depiction of running an intergenerational business to sourcing only the freshest ingredients, what you see is what you get with Leng.
Satay Noodle House has been around for 21 years, and Leng took over the business from his father in 2017. Needless to say, flavour is in Leng's DNA. Between growing up around food and being a massive KFC fan, we couldn't think of anyone better to show us how to freshen up our next feed.
So, without further ado, here are two fresh and dead-easy hacks to try next time the cravings hit.
Bun's KFC Baos
Makes three bao buns.
Ingredients
3 KFC Original Recipe Tenders
3 steamed bao buns
¼ green cabbage
¼ red cabbage
2 carrots
3 spring onions
1 tablespoon deep roasted sesame dressing
Sauerkraut
Japanese mayonnaise
KFC Supercharged Sauce
Chopped peanuts
Coriander
Sliced chilli
Lime
Method
Get going by steaming three bao buns according to the instructions on the packet. If you don't have a steamer, get creative by lining a heat-proof colander with baking paper instead.
Crack into the slaw. Finely slice the green cabbage, red cabbage, carrots and spring onions. Coat generously in deep roasted sesame dressing.
Now for the fun part. Open up your bao buns, stuff with the slaw, adorn with KFC Original Recipe Tenders, a dash of sauerkraut and slather on Japanese mayonnaise and KFC Supercharged Sauce.
Garnish with chopped peanuts, coriander, sliced chilli and a squeeze of lime—because we're fancy.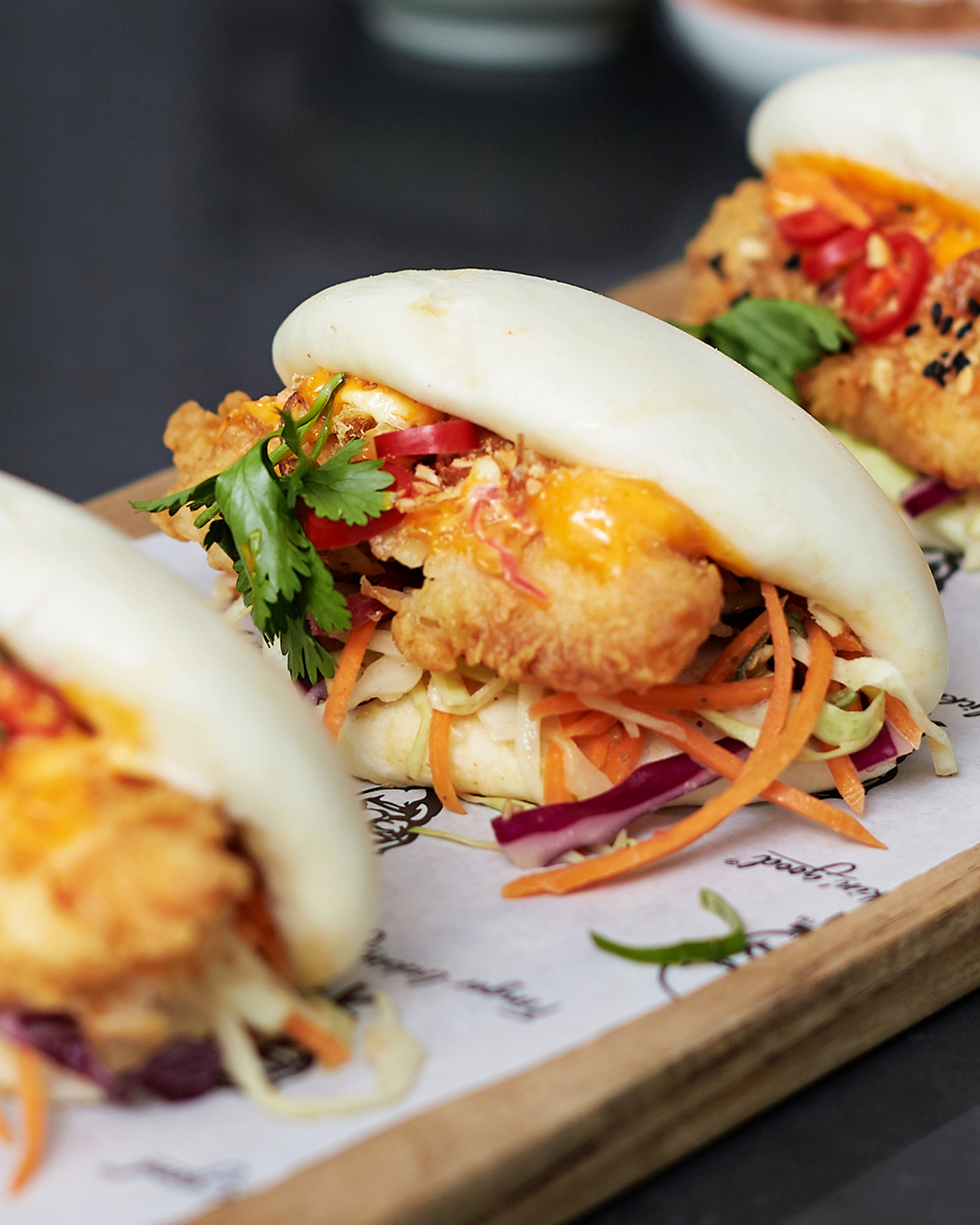 KFC Mi Goreng
Makes one serving.
Ingredients
4 KFC Wicked Wings
3 stems of tatsoi (or substitute with bok choy)
1 packet of Mi Goreng
1 egg
Fried shallots
Chopped peanuts
Sliced spring onion
Sliced chilli
Coriander
Lime
Method
Start by steaming your tatsoi, or similar—bok choy can also be a good substitute.
Cook your packet of Mi Goreng according to the packet instructions—you know the drill.
Get the non-stick pan going and fry up a sunny side egg.
Debone your KFC Wicked Wings by slicing off the ends and pulling the bones out through the centre.
Strain and mix your packet Mi Goreng and add all the trimmings for texture—crispy fried shallots, chopped peanuts and sliced spring onions.
Top Mi Goreng with the steamed tatsoi, the fried egg and the star of the show, your KFC Wicked Wings. Garnish with coriander, sliced chilli and a squeeze of lime.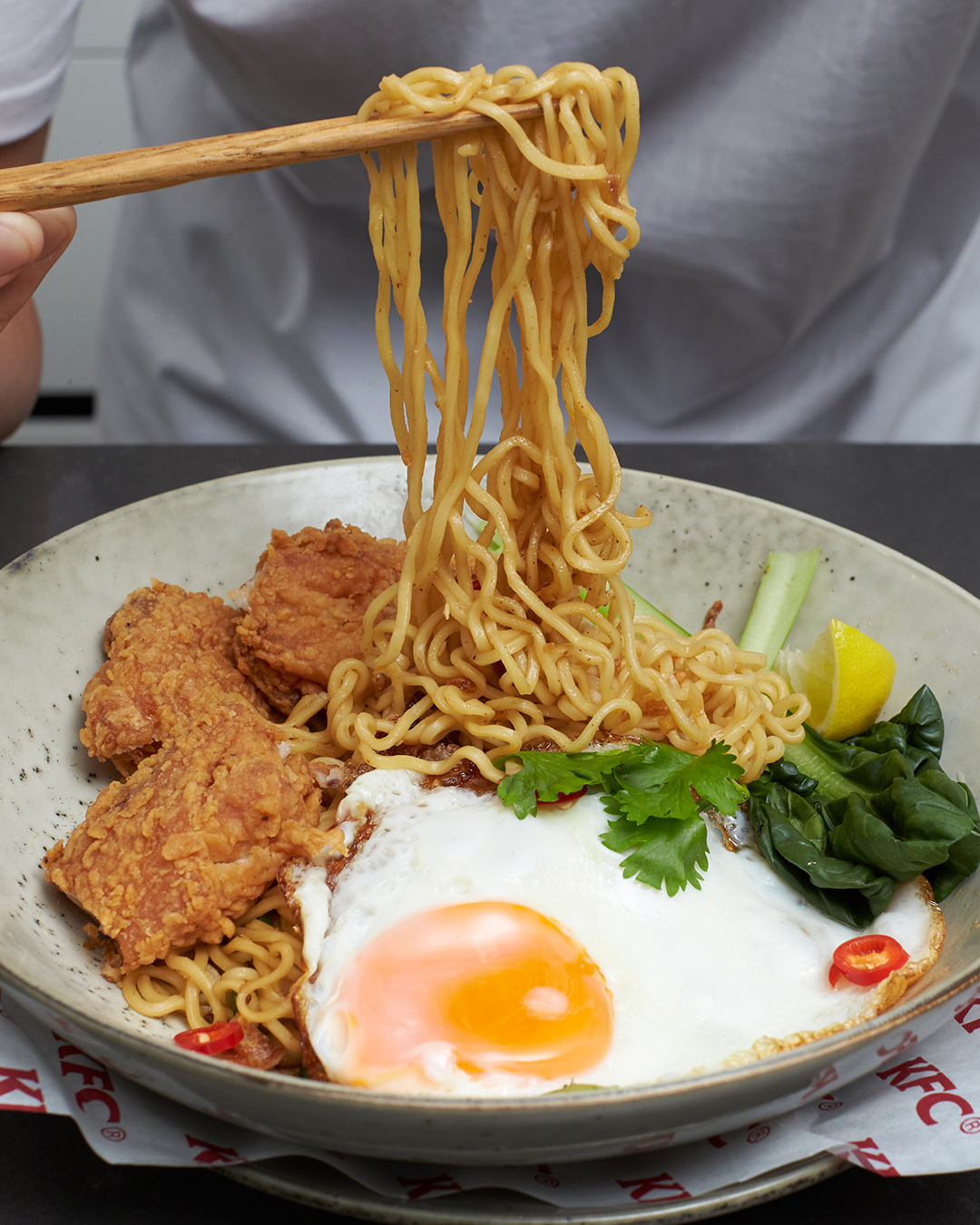 We're obsessed with these fresh takes on our fave KFC bites—thanks for the inspiration, Bun. For fried chicken the way it's meant to be (hand-breaded, prepared fresh on the daily), make tracks to your local KFC and get busy in the kitchen with Bun's hacks.
Editor's note: This article is sponsored by KFC and proudly endorsed by Urban List. To find out more about who we work with and why read our editorial policy here.
Image credit: Wono Kim