After 18-months of dealing with a pandemic, sporadic lockdowns and closed borders, it's safe to say we've all been basking in our fair share of stress. And unfortunately for us, in addition to the effects of wearing a face mask and excessively washing and sanitising our hands, this stress can often surface in the most inconvenient of ways—on our skin.
We all want to care for our skin the best way we can and emerge from COVID looking and feeling our best. So to help you do just that, we've partnered with La Roche Posay to dissect the different effects COVID can have on your skin, how to notice skin irritations and how to best address them while caring for and protecting sensitive skin.
​​How To Know If Your Skin Is Irritated From Your Face Mask
Did you know that 97%* of people experience some skin damage from protective face coverings? So you can trust us when we say you're most definitely not alone.
While we're big fans of wearing masks to protect ourselves and others, regular or prolonged wear can mess up the balance and hydration levels between the skin and the outside elements. That can then lead to exacerbating existing skin conditions or lead to new skin concerns like flaky skin, irritation, itchiness, redness, and acne.
Rachel McAdam, La Roche Posay's Scientific Communications Manager, says that skin irritation from face masks is usually quite easy to spot.

"Mask irritation usually appears in areas where the mask is worn, and the typical signs include sensitive dry patches, redness, and break-outs. However, face masks can also cause more inconspicuous skin problems such as dehydrated under eyes as well as greater oil production, blocked pores and breakouts in the T-zone."
How To Protect Your Skin From Face Mask Irritation
The best way to reduce the impact of masks on your skin is keeping your facial skincare routine simple. Opting for minimalist, non-greasy formulations and gently cleansing and moisturising your face daily, before and after wearing a face mask will all help and always ensure you use UV protection on exposed areas of your skin.
McAdam explains that the mask itself can make a difference, "Silk and cotton masks may reduce the skin's exposure to high humidity levels. Other tips include avoiding anything that occludes the skin further such as makeup and rich, heavy skincare to reduce the risk of congestion and breakouts.
"While avoiding heavy skincare is important, we should still keep the skin lightly moisturised daily, as this reduces the impact of irritants in the trapped moisture and any friction," McAdam says.
Depending on your skin type there are various ways to combat mask irritation. Those with breakouts and oily skin should control oil with gentle microexfoliants LHA and Salicylic acid to eliminate excess oil, dirt and dead skin cells from pores—and if you're looking to directly treat acne, we love Effaclar Duo Plus. For dry, sensitive skin you'll need to use a soap-free cleanser and a minimalist daily moisturiser that intensely hydrates.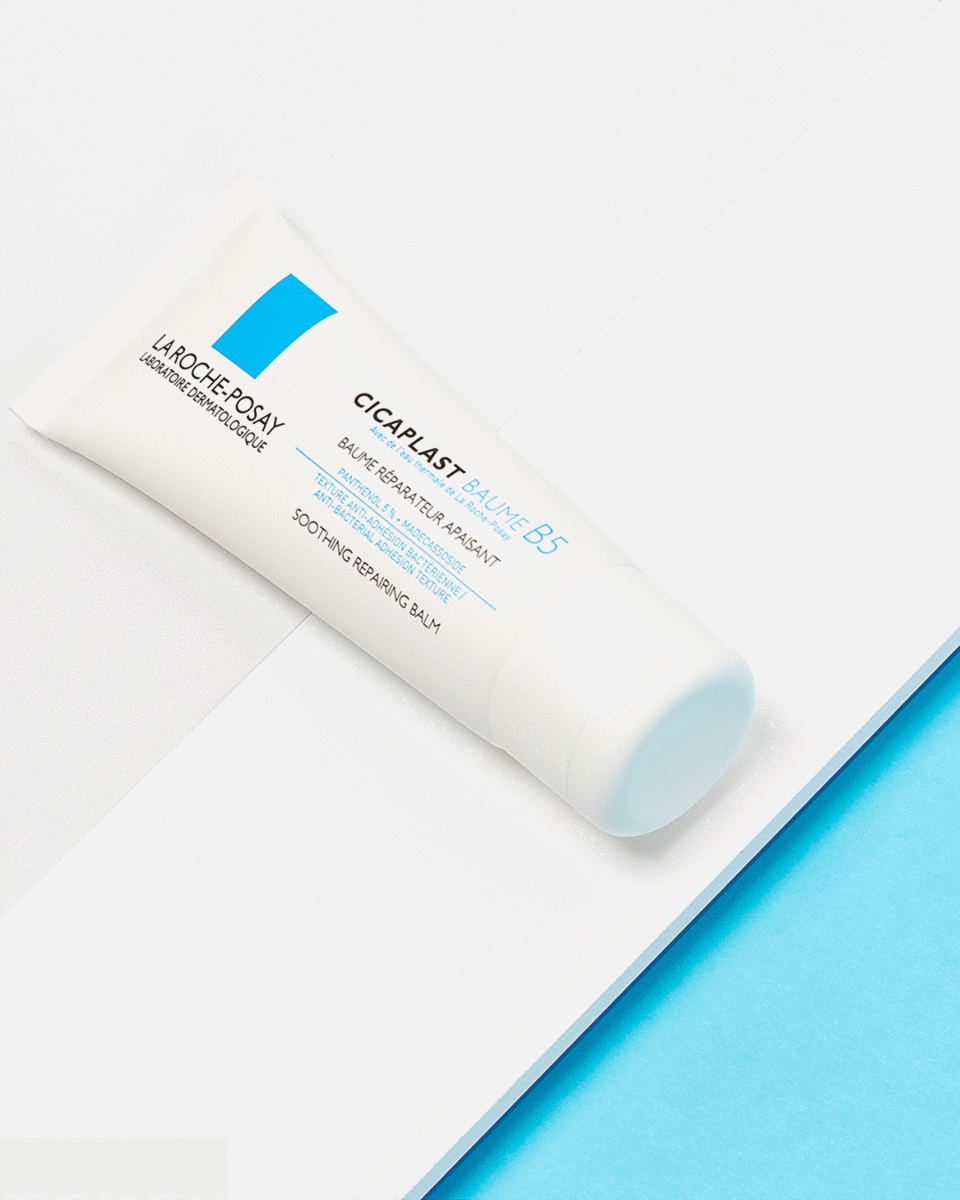 Other Tips When Wearing A Face Mask
If you're looking for some extra measure to keep you in the clear, McAdam advises avoiding reapplying the mask after it has been removed. She also encourages you to use hand sanitiser before applying and removing the mask and while it might be tempting, don't leave it around your neck.
"If breakouts start to appear, then using a very gentle cleanser containing a small % of salicylic acid may help clear the micro congestion in the pores."
How To Notice If Your Hands Are Irritated From Hand Washing
An intact skin barrier is your first-line of defense mechanism against irritants, allergens and other external aggressors. So, that means if you're trying to protect yourself against cold and flu illnesses, it is important to identify sources of skin irritation, dryness and damage to the skin barrier. Damage can be caused by friction from tissues, face masks and gloves as well as dryness from hand sanitiser, soap, and hot water.
"Signs of irritation from hand washing can initially include dryness and discomfort, but over time this can lead to inflammation signs such as itching and redness," McAdam says.
When it comes to working out what you might be dealing with, there are two major types or skin reactions associated with hand hygiene. The first and most common is contact dermatitis. Symptoms include dryness, irritation, itching and even sometimes cracking. The second type is allergic contact dermatitis, which is rare and represents an allergy to an ingredient in a hand hygiene product.
How To Soothe And Repair Your Hands
Excessive hand washing and sanitiser wreaking havoc on your skin? Make sure to cleanse with a gentle cleansing wash cream with niacinamide to soothe and lipid-replenishing complex to strengthen the skin barrier—perfect for very dry, irritated skin.
"The best way is to use mild cleansers and to moisturise very regularly with a gentle yet effective formula. Ideally after each hand wash," McAdam explains.
In most cases, you'll have some problem areas that need a little extra TLC. Help to repair these with restorative multi-repairing balm for weakened or irritated skin on the face and body. And finally, make sure to protect with a moisturising hand cream that supports skin exposed to frequent hand-washing. Your skin will thank you for the soothing niacinamide and hydrating shea butter and glycerine.
The last 18 months have been stressful at the best of times, but thanks to godsends like La Roche Posay, your skin doesn't have to be. To find out more about properly caring for and protecting your skin, head to La Roche Posay and check out their range of skincare products, perfect for sensitive skin. La Roche Posay can be purchased from Chemist Warehouse, selected Life Pharmacy, Unichem and Independent pharmacies, or at TheMarket.com.
This article is brought to you in conjunction with La Roche Posay and proudly endorsed by Urban List. Thank you for supporting the sponsors who make Urban List possible. Click here for more information on our editorial policy
* Jaad.org. 2020. [online] Available at: <https://www.jaad.org/article/S0190-9622(20)30392-3/pdf> [Accessed 4 August 2020]. 2. ACD. 2020. COVID-19 Updates - ACD. [online] Available at: <https://www.dermcoll.edu.au/covid19updates/>