New Zealand is home to a burgeoning melting pot of incredible talent—especially when it comes to music—and singer-songwriter Paige is on the rise; making waves in the local and international music scene.
In partnership with Samsung to celebrate the launch of the Galaxy S22 Ultra, we sat down with Paige to talk about her hotly-anticipated album on the horizon, the recent release of her single 'Miles Away' and her humble beginnings working at Krispy Kreme between writing sessions.
Tell us about yourself—where did your journey in music begin?
My parents have always played music in the house, so I've always loved it. I began to sing at talent shows when I was six and learned to play the guitar when I was nine. I was born and raised in Clarke's Beach and didn't have anything else to do besides write music.
What's your earliest memory of music? Was there a moment you knew, yep, that's what I want to do?
When I was five, my music teacher asked me if I wanted to sing at the end-of-year school prize giving, it was such an easy yes, and because I enjoyed it so much, I knew in my heart that I was going to spend my life chasing those opportunities to sing.
Who or what inspires your work and creative direction?
A lot of things. Real-life experiences, nature, and deep emotion inspire me creatively. If I had to speak about a person who inspires me creatively, it would be Lady Gaga, I love how unapologetic she is about her art. She's never worried about how hard it might be for people to digest her and her art, and somehow people always find an ability to.
How has the local music culture influenced your style?
I love the outrageous pop star energy, but there's an authenticity in New Zealand culture that I resonate with—being honest about who you are and not trying to be something else.
Can you give us a quick wrap of the overarching concept behind your latest single 'Miles Away' with Ant Saunders?
I've been in long-distance relationships, which has allowed me to appreciate affection and intimacy without touch. For example, laughter, conversation, and soul connection. And I wanted to vocalise my appreciation for that type of intimacy because to me, it's the way you can get closer to a person than you can by holding them.
Can you give us a snapshot of what a typical day looks like for you?
It's just outrageous. I'll sometimes wake up with an idea (for a song) but I typically head to work at Krispy Kreme earlier in the day and work on my music or do something that fuels me creatively for the rest.
Can you walk us through your creative process?
I'm my most creative when I'm driving or when I'm deeply invested in my feelings. I write a lot of things on my notes app. The Galaxy S22 Ultra's speech-to-text feature makes it really easy for me to record potential lyrics or concepts, and then when I'm in a space where I can write and record songs, I look into my notes app and write. I'm most creative when I'm out and about.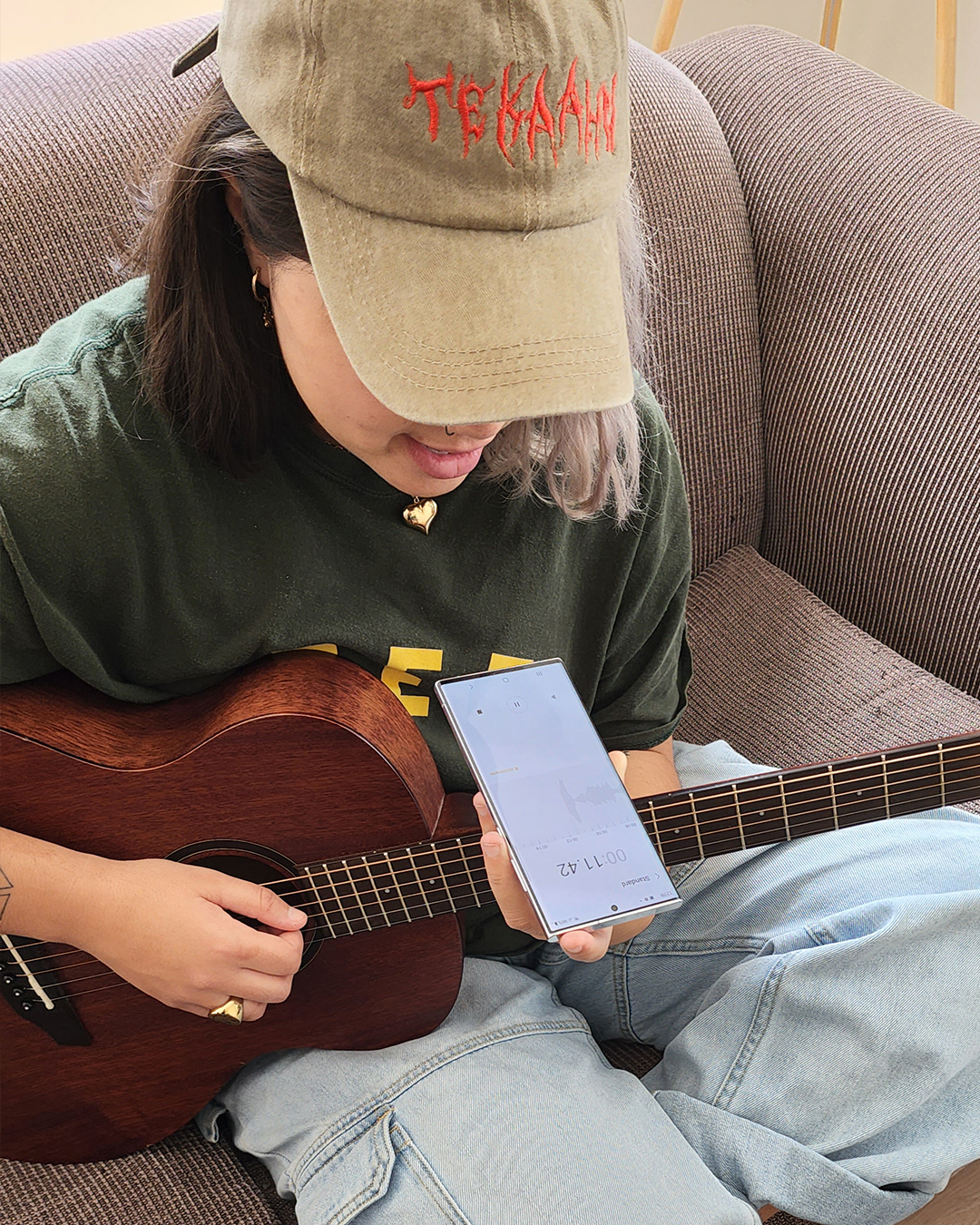 What has been your biggest career 'pinch me' moment so far?
I've played a lot of shows where people have sung my songs back to me, which is beautiful. I've also had a lot of people I admire reach out to me about my music, like Billie Eilish—which was crazy.
You're often playing a slew of epic gigs. What's your secret when bringing them to life?
Finding a way to connect to people, whether that's telling them about my personal experiences with the songs or talking to them directly at shows, I like to find ANY way to relate and connect to people.
What's your secret to getting gig-ready?
Practising til I'm comfortable so that on the day, I don't have to think about the gig or play the songs until I'm on stage.
Do you have any advice for others looking to carve a similar path in the industry?
Just enjoy the process—as long as you're creating in your own way, whether at home or in a studio or if you're just recording stuff on your phone, don't overthink it, just enjoy.
Want to catch Paige's next music drop or gig? Keep an eye out on her Instagram to be the first to know about upcoming performances and singles. While you're at it, be sure to capture every moment of your next night out with the Samsung Galaxy S22 Ultra—featuring the game-changing nightography camera.
Editor's note: this article was produced in partnership with Samsung. Thank you for supporting the partners who make Urban List possible. To read our editorial policy, click here.
Featured images captured on the Samsung Galaxy S22 Ultra.