Who said plant-based eating had to be boring? We think not. Gone are the days of salads and mushroom burgers being the only plant-based options on the menu, and it's thanks to eateries like East—Auckland's newest Asian-Vegetarian restaurant.
Located on the ground floor of Auckland's new Sudima Hotel on Nelson Street, East offers a variety of vegan and vegetarian options served up with style, in fact, 75 per cent of the dishes on offer are vegan so there's plenty of options for you to dig into.
The brains behind the veggie eatery are the Jhunjhnuwala family, who are actually vegetarian themselves, so we think it's fair to say they know what they're doing when it comes to plant-based eating. They believe that sacrificing meat doesn't mean sacrificing taste, no siree! And trust us, once you've tasted their fare, you'll completely agree.
Now get the idea of salad and raw veggies out of your head as East is home to big, bold and vibrant Asian dishes that will leave your palate pining for more. Using a variety of ingredients the Chefs bring inspiration from Japan, Hong Kong, China, Thailand, India and Sri Lanka to create an explosion of flavour that'll even turn the most die-hard carnivores.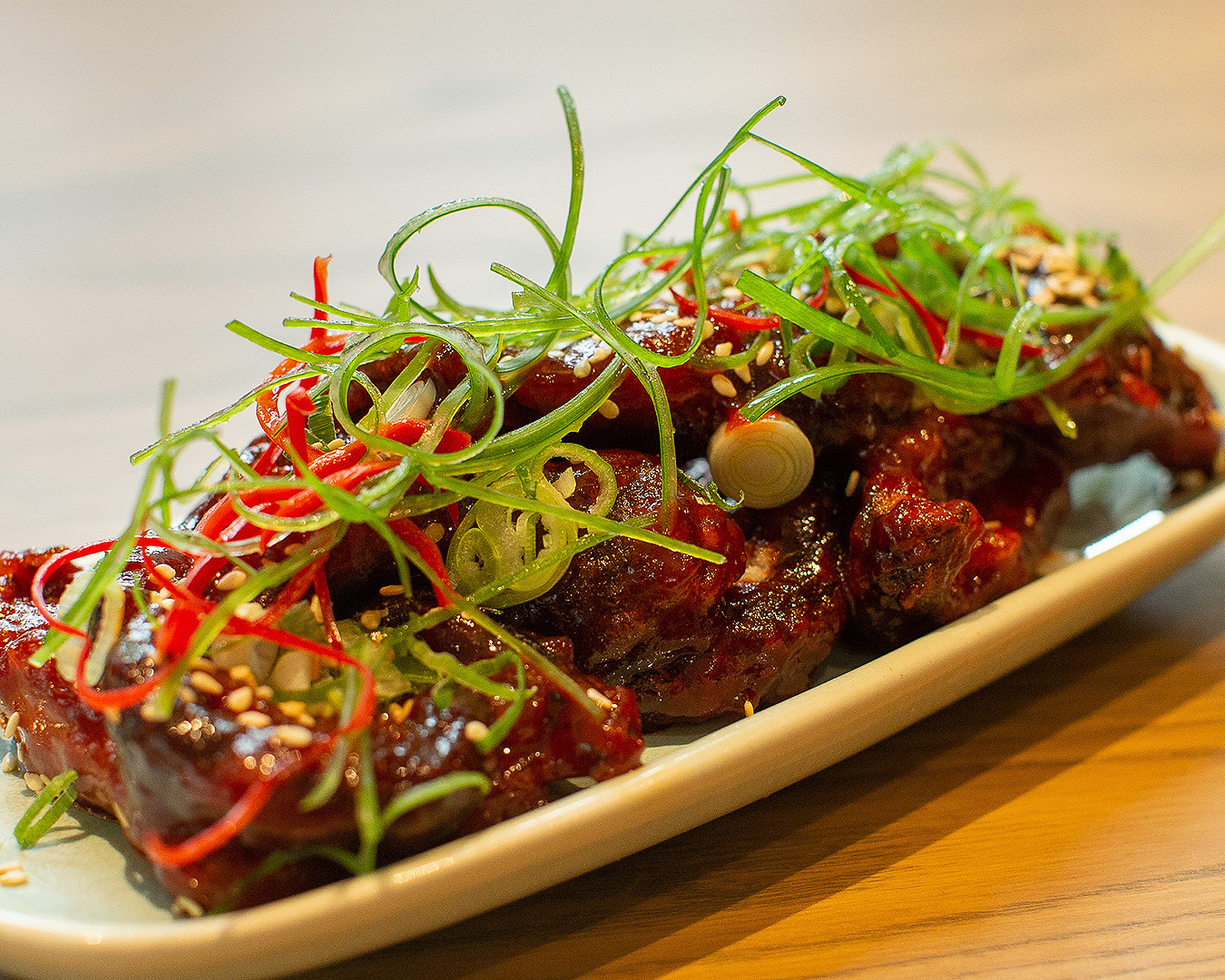 With an ethos of high impact on taste and low impact on the environment, the menu focuses on sustainable, health-conscious dining that doesn't skimp on flavour. Think of all your fave Asian classics coming together for one big party in your mouth. You've got flavoursome curries, fresh papaya salads, bao buns, dumplings, oodles of noodles and some delightful surprises—damn we're hungry, let's just delve right into it, shall we?
Designed for sharing, order up a few dishes and you're good to go. The miang kham, betal leaf, served with bamboo, toasted coconut and chilli is the perfect one-bite starter, this delicate little package is served with a tangy fresh lemongrass, chilli and grated coconut dipping sauce, which will leave your palate feeling oh so refreshed.
Now onto the small plates—the larb salad, cos lettuce wraps are made from soy mince but certainly don't lack in texture, they're a beautiful blend of crunchy yet soft, while the prik nam pla (A traditional Thai dipping sauce, with a vegan twist) adds a balance of sweet and salty to the dish.
The Southern Thai corn cakes made from crispy tempura batter are to die for—warning they are devilishly moreish! While the ginger caramelised bang bang shitake mushrooms will spice up your life and will have you coming back for more even if spice isn't your thang.
No meal is complete without our fave tasty little morsels, dumplings, of course! We could devour platefuls of the steamed water chestnut, corn and coriander dumplings served with a black vinegar sauce and we advise you to, too. Get in our bellies.
Now unbuckle your belt a few notches as there's wayyyy more to come. If you're after something on the larger side, opt for the Thai yellow curry, a mild coconut-based curry filled with fresh ingredients like pumpkin, pineapple, broccoli and plenty of other veggies. Pair this with jasmine rice and you've got a dish fit for a Raja. Another dish that pairs well with rice is the caramelised black pepper tofu, now this dish is truly to die for and if you like spice then it's a match made in heaven.
We can't forget about dessert, especially when it tastes as good as these do. Sink your teeth into the matchamisu, a cross between a matcha cake and a tiramisu that you won't forget anytime soon or if that doesn't entice you then the sound of chocolate spring rolls should do. A wonderful creation that can only be described as a culinary masterpiece. So, if you want to end your dining experience on a high, then we seriously suggest ordering one, two or even three of these bad boys.
What do you wash all this delicious grub down with? As well as having a fully plant-based menu, the wine-list is 100 percent organic and vegan, so you can drink all night long without the guilt, well kind of.
Not only is the food at East impressive, but the space itself is equally as stunning and both combined provides a stylish and delicious vegetarian dining experience that is rare to find in Auckland. It's refreshing to see a restaurant putting in the effort to dish up sustainable healthy dishes that can be enjoyed by everyone.
So, whether you want to jump on the meat-free Mondays bandwagon, become completely vegan or simply just want to try something new East is all the inspiration that you need.
For more images and information, including opening hours, click here.
Image credit: Wono Kim