Ah the lockdown life. If you're anything like us, after a long week at your desk you start seeing cocktail mirages all over the place. It's just that time of the week. And, also like us, they probably look like shimmering espresso martinis. Lucky for you, we've got the ultimate Espresso Martini recipe right here. So easy you barely need to lift a finger (okay you may need to lift at least one finger unless you have Herculean strength in your pinkie, but the recipe is super easy, promise).
The history of the Espresso Martini is pretty interesting. It started in Soho, London, back in the not-so-swinging 80s. Legendary barman Dick Bradsell is the guy credited with the invention. Apparently, a young lady entered the bay and asked Dick to make her a drink that would "wake me up and then f*ck me up" (yikes). Ever since then the humble espresso martini has been the culprit behind wild office parties, bad Tinder dates and hilarious girl gang nights out.
Now, let's get cracking with how to make an Espresso Martini. We've got a few recipes here for you. Saunter over to your (hopefully well-stocked) liquor cabinet, get out your best glassware and have a crack at making these five coffee-inspired cocktails. It's vodka and coffee, how can you go wrong?
Classic Espresso Martini Recipe
Ingredients
30ml Kahlua
30ml vodka
30ml espresso
Coffee beans to garnish
Method
An espresso martini is pretty simple to make. There really aren't many steps, and even cocktail novices should be able to knock together something very drinkable. This recipe is the basic one you find in bars all over the world. You can chef it up with different liquors (see variations below), but this is as basic as it gets.
All you gotta do is:
Get out your three ingredients and pour them out into a cocktail shaker with a couple of ice cubes. Pro Tip: Ice straight out of the freezer is best to prevent it from melting while you make it. No one likes a watery coffee, and that goes for espresso martinis too.
Now put the lid on that cocktail shaker, give it a good tap to lock it into place and avoid a blender-with-no-lid situation.
Shake it vigorously and like you mean it.
Give the shaker another tap to break that vacuum seal and strain your drink into a chilled cocktail glass. Use a super fine sieve over the glass to create that classic, creamy froth.
Top with a few coffee beans to serve because you're fancy like that.
Drink it down and bask in reflected glory.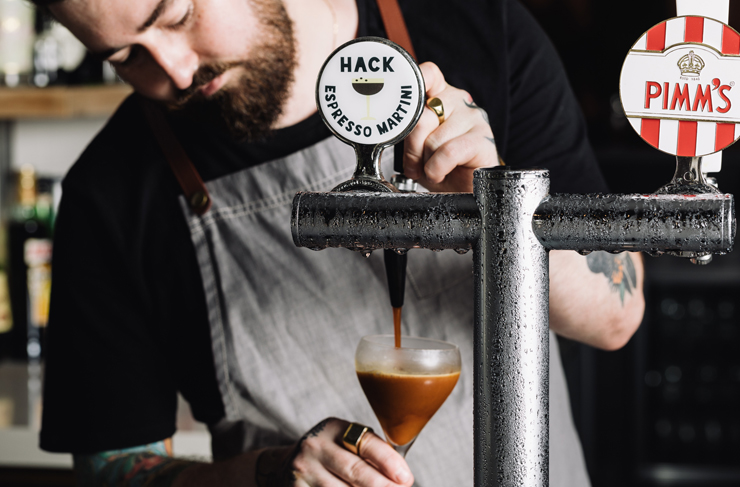 Bronx Bomber Recipe
Ingredients
Double shot of espresso
1 tsp absinthe
30ml gin
Method
If you want to take your espresso martinis up a notch, then the Bronx Bomber is for you. But be warned, this packs a punch. Shake your ingredients together in a cocktail shaker filled with ice and pour into a short glass. The absinthe gives it a real wormwood kick, and of course, you've got the botanicals of the gin for some interesting zest and floral notes. Definitely not for the faint-hearted.
Iced Irish Coffee Recipe
Ingredients
60ml Baileys or Irish whiskey
120ml coffee, chilled
Whipped cream to garnish
Method
Who says Irish coffee is best drunk hot? Errr, not us—we think it makes for the perfect cocktail. To make the Iced Irish Coffee, simply mix your choice of Baileys or Irish whiskey with chilled coffee before pouring into a highball glass filled with ice. Top with whipped cream and get happily blotto.
Paradise Found Recipe
Ingredients
1 cup coffee
30ml spiced rum
30ml butterscotch schnapps
1 tsp sugar
Whipped cream and coffee beans to garnish
Method
With its sweet schnapps and spiced rum goodness, Paradise Found is seriously addictive. Simply pour the ingredients into a tall glass, stir well, and fill with ice. Garnish with whipped cream and a few coffee beans. Seriously though, one sip and you'll know why it's called Paradise Found. If you're looking for a slightly sweeter take on the classic espresso martini, this is well worth a go.
Siciliano Recipe
Ingredients
60ml vermouth
30ml amaro
30ml strong coffee
30ml simple syrup (a melted sugar cube will also work)
Soda water and an orange wheel
Method
If you're looking for a refreshing cocktail that's both TGIF and Sunday Session worthy, then you'll love the Siciliano. All you need to do is shake the vermouth, amaro, coffee and simple syrup in a cocktail shaker and then pour into a tumbler. Add a few ice cubes and then fill with soda water before garnishing with the orange wheel. Fruity, bubbly and kicks like a freaking mule.
Further Reading
Prefer to hit the town for your espresso martini? Here's the definitive guide to Auckland's best bars to tour once lockdown ends.
Or maybe you (see: your mates) don't trust your skills. These are the best bars in Auckland to get your espresso martini fix when we're out and about again.
This is a good guide if you want to learn more about the history of the espresso martini.
Image credit: Griffin Simm