There's a lot that goes into excellent fish and chippies. Done right— just-caught-straight-off-the-boat fish with a golden batter, a sprinkle of salt, a squeeze of lemon and a dollop of tartare served with a side of potato chips, crunchy and fluffy on the inside, doused in vinegar—and it's a culinary masterpiece. When it's done wrong, the end results can be well, ho hum—think stodgy, grey, and heaven forbid, soggy.
Many have a crack at perfecting Aotearoa's national dish, with only a few succeeding. We wore loose shorts and licked our greasy fingers eating our way around Tauranga and Mount Maunganui to bring you the very best places to get fish and chips. So without further ado, here are the best fish and chipperies in Tauranga and The Mount.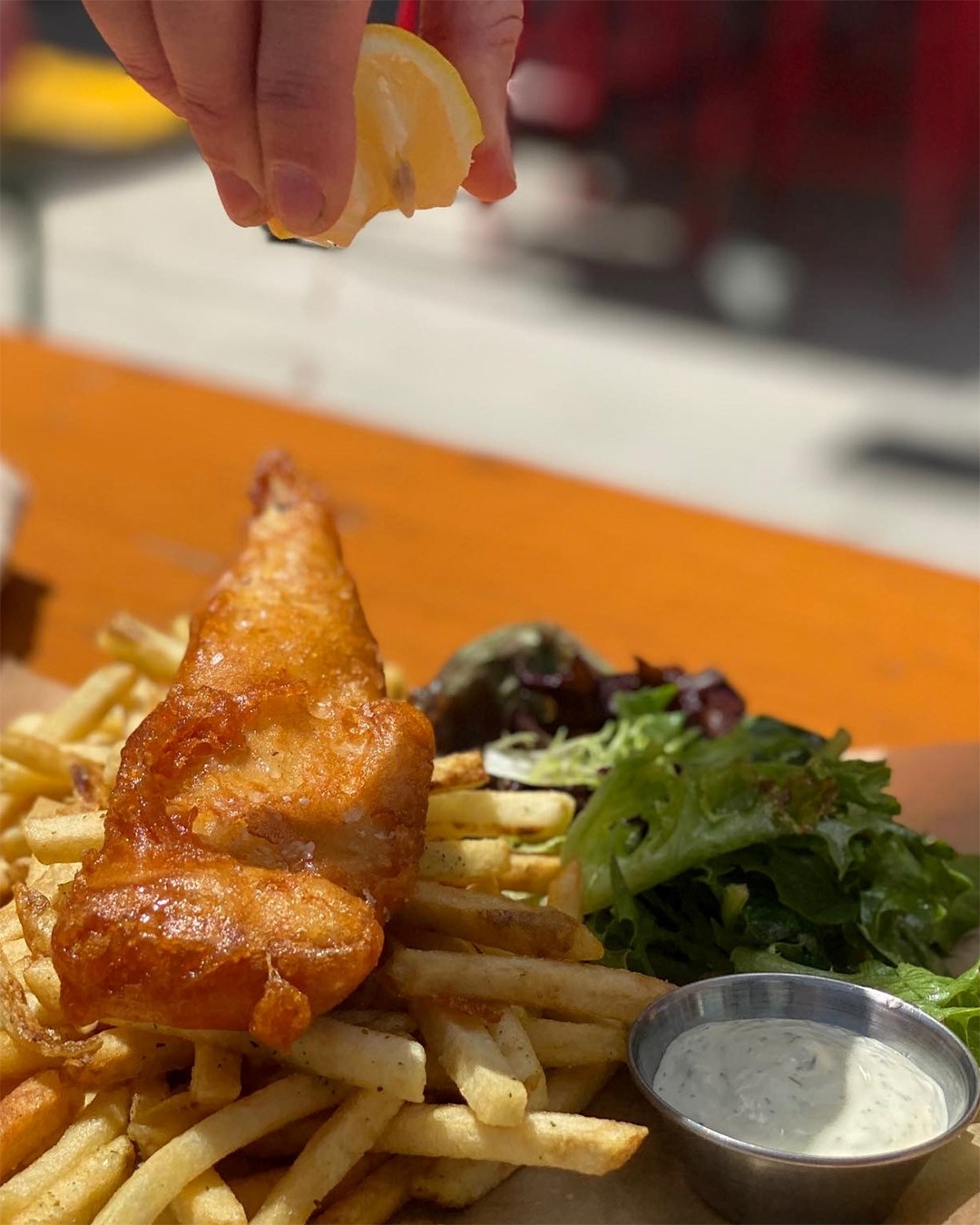 The Freeport Tavern & Eatery
Bayfair
Delivered fresh daily, the fish used in The Freeport's fish and chips is gemfish, which is part of the mackerel family. It has a delicate flavour, a white meaty flesh and is coated in a Little Creatures' beer batter. Served with a generous portion of chips, lemon and a chunky tartare sauce, the results are delicious. The restaurant and pub is situated in the new Dine lane in Bayfair. If you're not up for a full portion, they have daily lunch specials including a half serve of the fish and chips. Sit outside in the sunshine and drink a thirst-quenching Little Creatures' pale ale with your fish and chips and you'll be happy.
Bobby's Fresh Fish Market
Tauranga
It's not a stretch to say that Bobby's Fresh Fish Market—perched on the wharf overlooking the sea in Tauranga—is somewhat of an institution. On the weekends the long queues can see you waiting a while and the venue may be in need of a re-fresh, but Bobby's is still definitely worth a visit for its crunchy batter—they use beef fat as opposed to vegetable oil— fresh seafood, decent-sized portions and air of nostalgia. It's also a fishmonger if you want to pick up a few fillets for dinner. If you're lucky, you may score a seat outside overlooking the harbour—roll your sleeves up, squeeze lemon over your fish and get stuck in.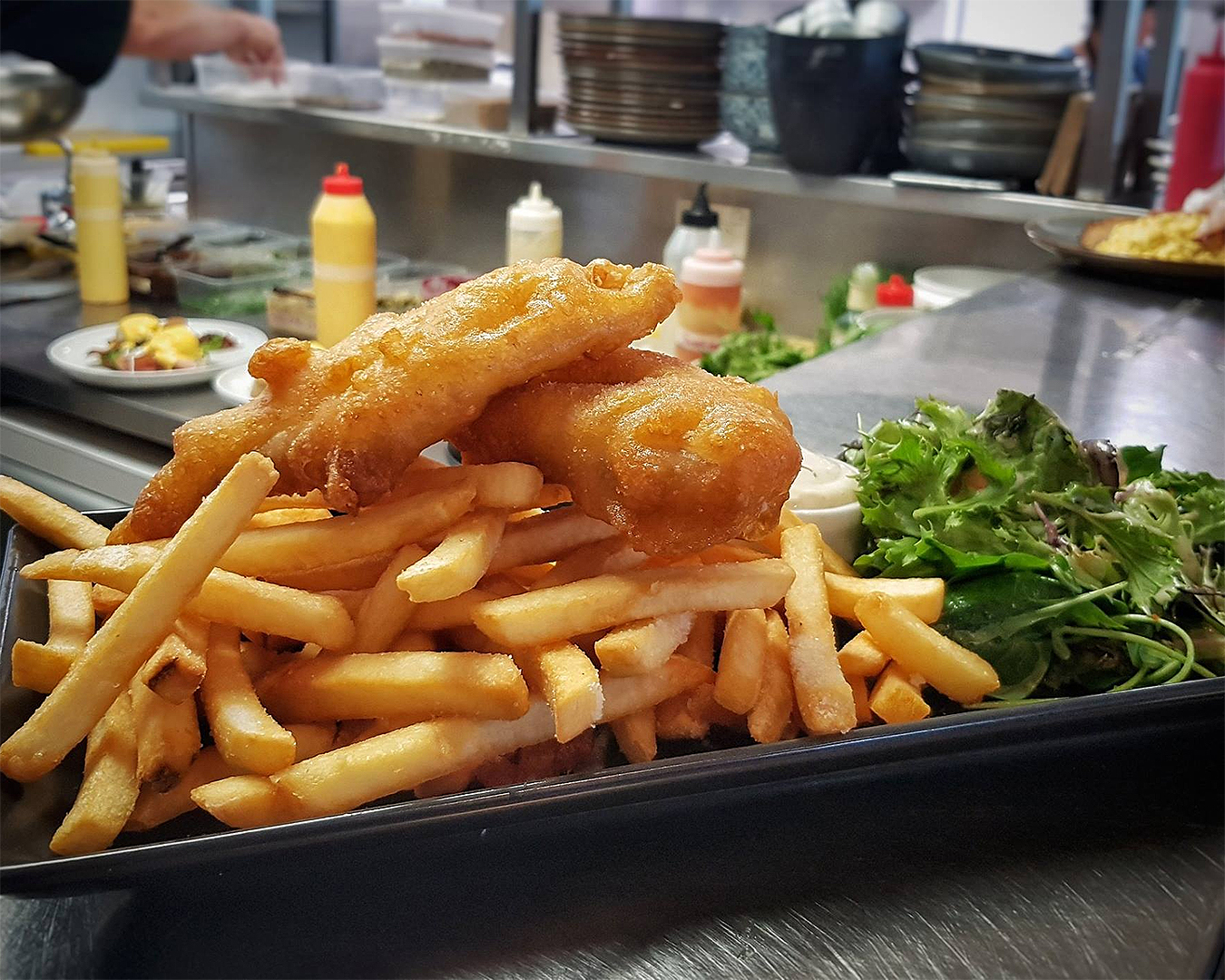 Tay St Beach Café
Mount Maunganui
When you're in the vicinity of the beach with the sun shining and a coastal breeze in the air, it just feels right to munch on fish and chips for lunch. Located right across from the sand of Tay St Beach, this café is filled with surfers, locals and friends catching up—it's seldom quiet. The chef sources market fish for the fish and chips—so you know it's going to be fresh—and it's served with a salad, chips and roasted garlic aioli. The salmon bowl with avocado, pickled ginger and sesame dressing is worth noting, too. The coffee is smooth and creamy, and the service is friendly even when they're under the pump.
Harbourside
Tauranga
Beautiful water views, seafood and fine wine is a combination that's hard to top. You'll find all three in spades at Harbourside, a restaurant that's located right on the waterfront at the southern end of the Strand in Tauranga. Harbourside's beer battered fish and chips come with a tartare sauce, so you may need to add on a salad or some veggies, but what is served is bang on. If you were after a fancier rendition of the Kiwi classic, there's also a pan-fried fish of the day served with saffron roasted potatoes and a celeriac and orange salad. Bookings are recommended at Harbourside, and we suggest asking nicely if you can be seated on the over-water balcony.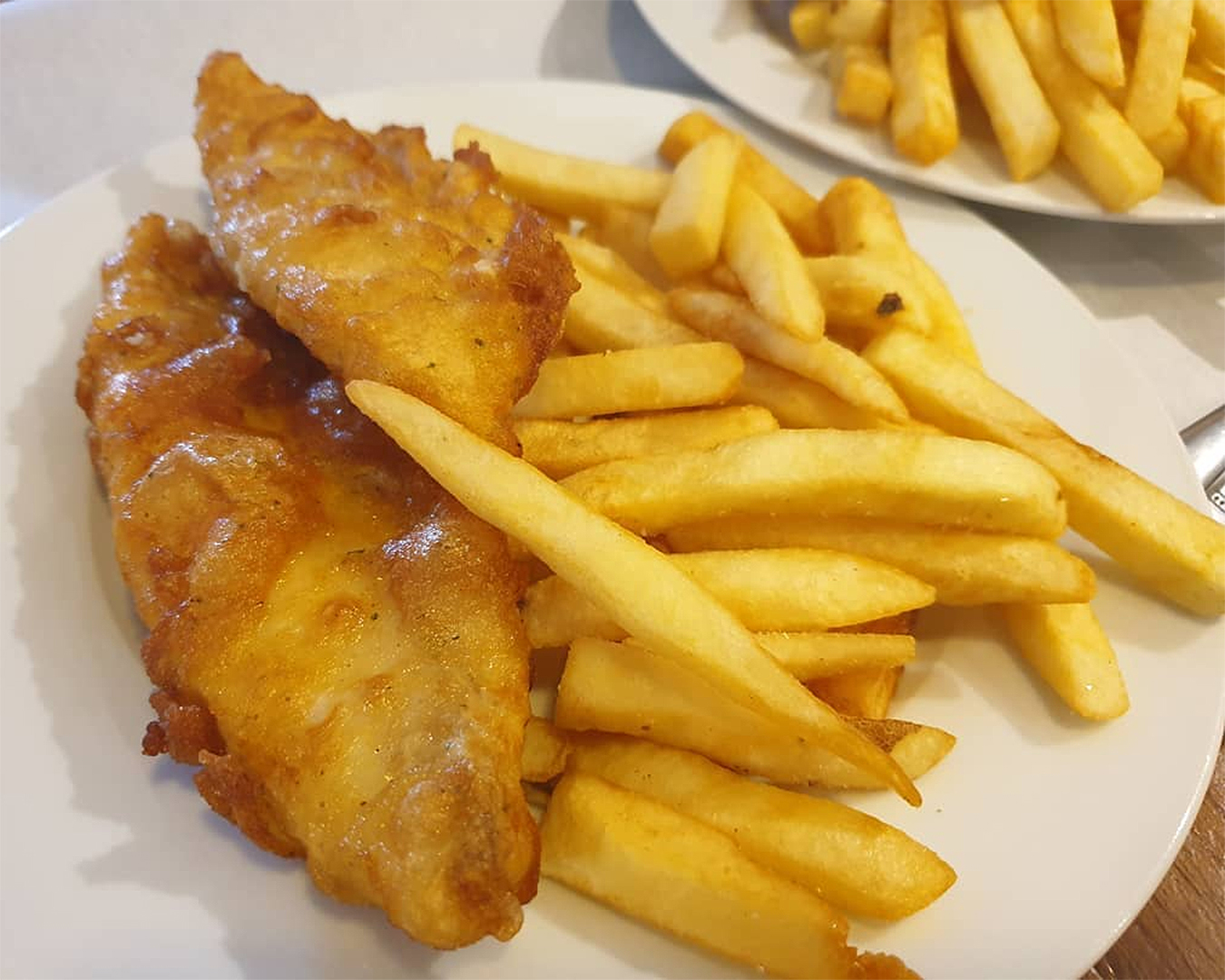 Mag's Fresh Fish
Mount Maunganui
Mag's Fresh Fish is our favourite place for takeaway fish and chips in the Mount. The family-owned business is situated on the corner of Totara and Rata Street just off Maunganui Road. The prices are really reasonable and the snapper is just-caught fresh and the batter perfect. The mussels and whitebait fritters are also yum and a hamburger will set you back all of $6.40. Order a few fillets of fish, a scoop of chips and stroll on over to nearby Pilot Bay to eat your kai and watch the sunset.
Fish Face
Mount Maunganui
Smack bang in the centre of vibrant Mount Maunganui is Fish Face, a relaxed little restaurant that's made for seafood lovers. Begin with half a dozen oysters from the Coromandel served with vinaigrette, followed by scallops with horseradish and pancetta and Szechuan-spiced calamari. Next, order a bowl of mussels with a creamy white wine, garlic and herb sauce or the fish and chips—fresh snapper, crunchy batter and garden salad. Sit outside in the courtyard and wash down lunch with a bottle of crisp white—you can count us in.
Omanu Takeaways
Omanu
We have to be upfront and say that Omanu Takeaways can sometimes be a hit and miss, so there is an element of risk when ordering. But when it's good, it's seriously good—a quintessential Kiwi fish and chip takeaway shop with everything you want at an affordable price—so on that basis it's made it onto our list. You'll find Omanu Takeaways on Oceanbeach Road, roughly a five-minute drive from downtown Mount Maunganui. Choose from hoki, terakihi or snapper and order thick-cut chips, kumara chips, wedges, or chips covered in cheese—yes please. Or you could go for the special—fish, chips and a sausage for $6. Ask the friendly staff for a few spring rolls, too—you won't regret it. Take your fish and chips to the beach and cool off afterwards with a swim—just be sure to wait 30 or so minutes.
Plan your day tomorrow with the best things to do in Tauranga.
Image credit: Alice Walker, The Freeport Tavern & Eatery, Tay St Beach Café, Mag's Fresh Fish