The Bay of Plenty boasts some of the best sun, sea and sand that New Zealand has to offer. Tucked away along the coveted coastline is Tauranga, home to the iconic Mauao volcano and dreamy Mount Maunganui beach. Affectionately termed "the Mount" by locals, this seaside gem offers watersports for the adventurous, festivals for the free-spirited and mouth-watering eats for the foodies.
Here are the best things to do in and around Tauranga.
Climb Mauao (Mount Maunganui) At Sunrise
Mount Maunganui is an extinct volcano that sits pretty across the harbour from Tauranga. Its Māori name, Mauao, means "caught by dawn"—so it's only appropriate to experience all it has to offer at daybreak. There are several walking tracks available and it typically takes an hour to wind your way up through the pohutukawa trees. Although it's a steep climb, once you reach the summit you'll be greeted with 360° views of the Bay of Plenty coastline and Tauranga town centre. The mountain is flanked by two of New Zealand's most picturesque beaches, Mount Maunganui Beach and Pilot Bay, making for a truly jaw-dropping vista from every angle. Pack a breakfast picnic (coffee mandatory) and see the day in with a peaceful sunrise.
Get Splashed At An Adventure Water Park
If an adrenaline rush takes your fancy, look no further than Tauranga's very own Waimarino Adventure Park. Take a 10-minute drive from the city centre and you'll find an abundance of activities set up across the Wairoa River. There's something for everyone including rock climbing walls and a good old slip 'n' slide. The more courageous should not miss the Tarzan swing, water trampoline or the 'blob'—a giant inflatable that skyrockets you into the lake. For those seeking a peaceful water activity, Waimarino also offers evening glow-worm kayak tours on Lake McLaren—it's as dreamy as it sounds.
Go Chasing Waterfalls
Every Kiwi summer must include a waterfall hike. First off, hit up McLaren Falls Park, where the short 20-minute walk will have you winding through glow worm caves and native forest. There are also several other tracks that run through the 190-hectare reserve, so set out for a few hours of exploring. Next on the agenda is the Kaiate Falls which are a 30-minute drive from Tauranga. Follow the forest walking track to the top of the falls and then down alongside the cascades until you reach the swimming hole—cue an afternoon dip in this dreamy lagoon.
Sail A Catamaran To This Uninhibited Island
A short drive along the coast will bring you to Whakatāne, your starting point for an epic day on a catamaran. Set sail for Moutohora Island, a wildlife reserve off the Bay of Plenty coast. If you're lucky, you'll spot some of the rare native wildlife onshore like Kākāriki, Tuatara, fur seals and penguins. Alternatively, take a snorkel around the island for a glimpse of the equally beautiful marine life. Wrap up your trip by soaking in the island's private hot water beach or lounging lazily off the side of the boat—this is a day in paradise.
Attend The Dream Summer Festival
Are you really a Kiwi if you haven't spent at least one summer at Bay Dreams? These guys know how to put on a show—the January 2019 sold-out gig saw headliner Cardi B take the stage with hits like Bodak Yellow, wowing an electric crowd. Sub Focus, Peking Duk, LAB and Katchafire were among the acts to play at the New Year's festival in 2021. If your vibe is hot summer days, an incredible line-up, glitter, denim and camping, Bay Dreams is reason enough to make Tauranga your summer destination.
Shop Local At These Stores
Shopping in Tauranga is all about uncovering hidden treasures at independent stores. Those with a design eye and love for Kiwi-made brands should stop by Paper Plane concept store, where you'll find a curated selection of fashion, lifestyle goods and homewares.
Picnic In Style On Mount Maunganui Beach
Looking to indulge in some luxury? A bohemian-style picnic overlooking the ocean and Mauao mountain is the way to go. Perfect for a special occasion, birthday celebration or just a fun evening out, Bay Picnics will kit you out with teepees, large fluffy pillows, festoon lights, cosy throws and Bluetooth speakers. They also have the food situation covered, with platters featuring local, vegan and raw produce at the ready. If it's a romantic occasion (read: dream engagement) you can even add an order of flowers to your picnic.
Get Among The Markets
Tauranga serves up something special when it comes to weekend markets. On the first and third Saturday of every month check out the Little Big Markets which feature a line-up of eclectic artisans and mouth-watering eats. You'll find everything from French crepes to rainbow shaved ice and locally crafted goodies. Foodies cannot miss the Dinner in the Domain, a weekly gathering of the best food trucks around. We're talking bubble waffles, the juiciest burgers, giant paella and sweet treats. We're drooling from the decadent snacks on offer at Hello Rosie, a connoisseur of vegan junk food. But if you would rather dig into a fresh piece of fruit, check out the Saturday farmers market for some stunning seasonal produce that would amp up any cheeseboard.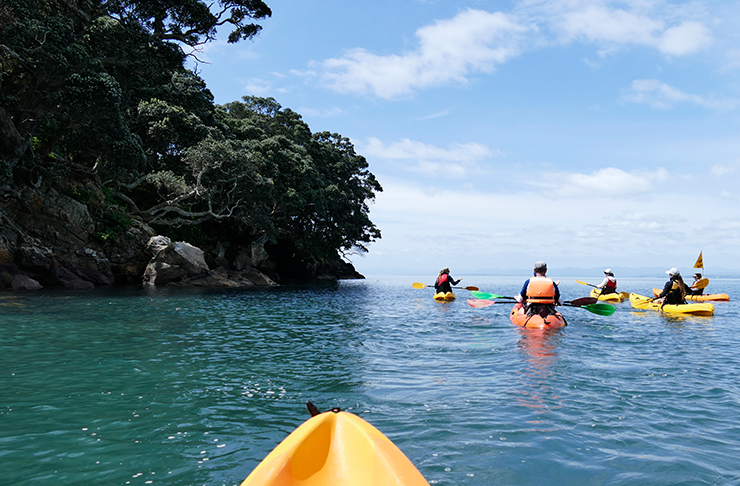 Walk To Moturiki Island
Yes, you read that right, you can walk to this island. The small 350-metre long island sits adjacent to Mount Maunganui beach and is connected via a walking bridge. Upon stepping on the island you'll find a blowhole that shoots water out during high tide. Follow the walking track upwards and you'll be greeted with vast views of the ocean, Mauao and the city coastline.
Unwind In Salt Water Hot Pools
If relaxing and unwinding are your top priority then a visit to Mount Hot Pools is a must. Known for its therapeutic benefits, a soak in these salt-water pools against the backdrop of Mount Maunganui will leave you feeling like a new person. If you're wanting to amp up the luxury, simply book in for a private pool and that massage you know you deserve.
Visit This Quaint Historic Village
Step back in time with a stroll through the cobbled streets of The Historic Village. Packed with secret nooks, cute cafés and eclectic artisans, it's easy to while away the day here. There are also a number of small art studios to explore including Turner Gallery and Imprint Gallery, so the art aficionado will be well looked after.
Sample The Scrumptious Local Eats
Let's be real, we're all about the food. Lucky for us, Tauranga serves up some succulent drinks and bites that will have you drooling all day long.
Whether you're in the mood to sample one of Tauranga's best restaurants, cafes or even fish and chip shops, we've got a list for you. If you're after something on the sweet side, you'd do well to swing by Yo and Co, a dessert bar specialising in waffles, savoury and sweet crepes and also one of Tauranga and The Mount's best ice cream shops.
Health nuts with a sweet tooth should not miss The Nourished Eatery. The plant-based cafe is all about using local, fresh produce and prides itself in being 100% vegan, with gluten-free and dairy-free options. For breakfast, you might devour a delicious Wellness Bowl stuffed with herby hash browns, smoky tofu, tomato, sprouts, quinoa and coconut tzatziki. Make sure to leave room for speciality sweet treats from The Nourishing Baker like fresh fudgy double chocolate brownies or Nutella and custard doughnuts.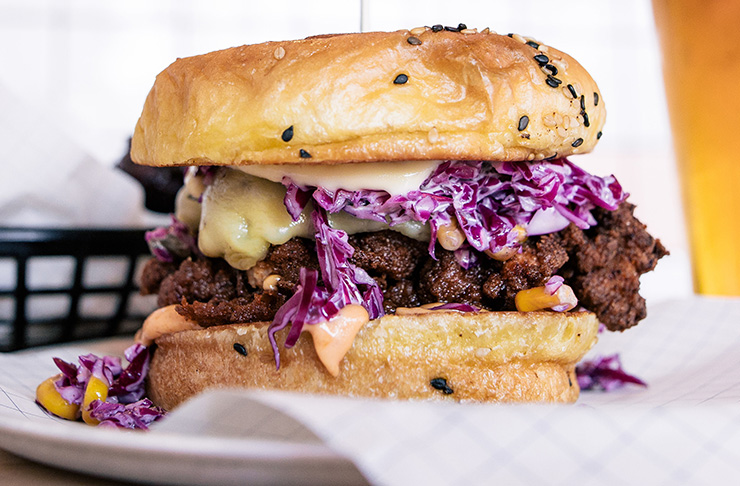 Dinner calls for devouring treat meals, cue: burgers and pizza. Indulge your taste buds with a juicy patty and bun from Palace Burger, an American-inspired eatery specialising in mouthwatering sammies and buns. Top of our list is SFC burger starring southern fried chicken, American cheese, bacon jam and sriracha mayo. Alternatively try the highly regarded Avenue Pizza, which serves up authentic wood-fired Italian pizza like Margherita and pepperoni. They also offer more adventurous rotating weekly specials like blue cheese with caramelized onion and roasted zucchini.
If you're simply after a craft brew and bite, look no further than The Rising Tide. The brewhouse is well-positioned to while away those sunny days with its expansive outdoor deck. Choose from 39 beer selections, including local sips crafted in-house by Mount Brewing Co. and Funk Estate. What's more, the bar specialises in dumplings from the popular Johney's Dumpling House, is there really a more perfect pairing?
After more food recs? Check out where to pick up the best fish and chips in Tauranga and The Mount.
Image credit: Alex Spodyneiko, Logan West Photography, Bay Of Plenty NZ, Palace Burger.