In the past, The Bay Of Plenty's Tauranga and the Mount may have been overlooked as a food destination in their own right. Fortunately, the times are changing and the dining scene is evolving, with lots of new and exciting restaurants popping up—ones that'll even rival their friends in the big smoke.
So without further ado, here are the best restaurants in Tauranga and the Mount.
Harbourside
Tauranga
Perched on the harbour in Tauranga, Harbourside (as it's aptly named) offers beautiful water views and modern fine dining. This is the place to go for anniversaries, birthdays, or any treat-yourself occasion. The restaurant is owned and operated by a husband and wife team and their son runs the kitchen where there's a focus on using fresh and organic local produce when possible. It feels right to order seafood at a restaurant like this, so start off with some oysters from the Coromandel before having the seafood chowder with salmon, prawns, mussels and calamari, with a glass (or two) of a crisp white. Bookings are recommended, and we suggest asking nicely if you can be seated on the over-water balcony.

Latitude 37
Mount Maunganui
Located in the centre of The Mount, Latitude 37 is a mix of sophistication and everyday dining. Whether you're on the hunt for brunch, lunch or dinner, you'll be spoiled for both choice and location. Enjoy the live music as the talented bartenders shake up your favourite cocktail, and let your tastebuds sing as you try a meal from their award-winning menu. The self-named classic Fish And Chips is a must-try, as is their moreish Cauliflower Steak and Coconut curry. If your pals are coming along, a mix of share platters will be right up your alley. And what could be better than a location that has everything? They've got special deals every day from Espresso Martini Monday, Sweet Tooth Tuesday, and the classic Thirsty Thursday for your pre-Friday celebrations. Count us in.
Ramen Chidori
Tauranga
We cannot stress enough just how fantastic the food is at Ramen Chidori. Best described as an authentic Japanese noodle Restaurant, they sling—hands down—some of the best ramen outside of Japan. While the broth used in the various ramen dishes is a firm favourite, a visit here wouldn't be complete without tucking into a plate of their steaming takoyaki octopus balls, kara-age fried chicken and delightfully fresh dumplings. Alongside the amazing food that's all made from scratch, the team are some of the friendliest people in the city's hospitality scene. But the best part? Ramen Chidori also wins the prize of one of the best cheap eats in Tauranga. Simply sublime.

Master Kong
Mount Maunganui
You'll find some of the best Asian street food in town at the newly-opened Master Kong. As you walk in the door you'll be transported straight to the streets of Hong Kong. The decor is divine with vibrant artwork, beautiful lanterns and colourful lights bringing a whole new vibe to Tauranga's nightlife. Their expansive menu will encourage you to bring friends, as following the traditional "share plate" culture of Asian eateries, you'd get major FOMO if you couldn't share. We highly recommend ordering a selection of their delectable bao buns, a plate of special firecracker chicken, a classic pad thai— spiced to your liking—and their cheeseburger spring rolls (which will change your life).
Izakai Bar and Eatery
Mount Maunganui
Izakai is the kind of place that you would take a date to. Or you could go there with a bunch of friends. Or if you like, you could visit Izakai by yourself to slurp a bowl of ramen. Whatever the occasion, it'll be good. And we're not the only ones who think so—this place in the Mount is seldom empty. Based on the concept of a Japanese izakaya, this cocktail bar and restaurant has a New Zealand Māori influence with a big focus on sustainability. Prawn is paired with paua in gyozas, and there's a hāngī-style beef ramen. We also like the green-lipped mussels with a crayfish broth and chilli.
The Rising Tide
Mount Maunganui
Beer and dumplings—try and think of a better combination, we'll wait. Part craft brewery and part dumpling house, The Rising Tide is the perfect place to go on a lazy Sunday to catch up with friends for lunch. On tap, you'll find over 20 of their own in-house beers from their brewery, Mount brewing Co. including Mermaid's Mirth (number five), a pale ale with citrus notes and a clean malt base. If beer's not your thing you'll also find gin and tonic on tap—say what? For food, there are the usual suspects of burgers and salads, but really you shouldn't go past the dumplings, in particular the pan-fried New Zealand pork and vegetable dumplings or triple shroom for some plant-based goodness. They have a help-yourself station where you can get seconds of their black bean and chilli sauce. Outside, there's a deck for sitting in the sunshine, and the restaurant overlooks a green reserve.
Macs Astrolabe Brew Bar
Mount Maunganui
Once the warmer weather hits, Astrolabe is the place to be for Tauranga locals and visitors alike. Located in the centre of town, just a two-minute walk to the beach, you really are getting the best of both worlds. Step inside what looks like "just your average bar", but discover it has so much more to offer. Astrolabe is best known as the home of the half metre sourdough pizza, with all the toppings—ideal for an afternoon of drinks and snacks with your mates. You'll also find an assortment of classic pub meals that are bound to suit even the fussiest of eaters. As you would expect from a Mac's bar, there's a great range of tap beers and ciders to choose from, but they can also shake up a mean cocktail. Pull up a pew inside and admire the assortment of beverages and beers along the bar, or out in the courtyard in the sun with a cold beer for the ultimate Mac's experience.
Rice Rice Baby
Mount Maunganui
You'll be lucky to find a seat at Vietnamese restaurant Rice Rice Baby on a Tuesday night, let alone a Saturday. Situated right in the heart of the Mount, this 40-seater heaves with locals returning for authentic and tasty Southeast Asian fare. You could be forgiven for feeling like you're at a street vendor in Ho Chi Minh City, with the small tables and chairs, bubblegum-pink plastic tablecloths and bottles of hot sauce. The co-owner and head chef comes from Vietnam and her traditional family recipes are to die for. Standouts include the traditional beef pho, tofu and mushroom wontons (trust us) and the duck salad with pickled carrot and lime.
Macau
Tauranga
Spicy, sour, sticky, salty, crunchy, sweet and hot—if there're two things that Macau have got down pat, it would be flavour and texture. Loved by locals, this Asian restaurant is best enjoyed with friends so you can order a few dishes and try them all. Better yet, choose the banquet menu and sit back and relax and let the dishes roll out, like san choi bao lamb with lettuce cups, Sichuan caramel and cashews and Penang beef cheek curry with peanuts, lemongrass and coconut. The tempura eggplant with sesame and mint is also very moreish. The restaurant sits directly across from the water along the Strand in Tauranga, so you'll be able to go for a stroll and get some fresh air after your meal (take it from us, you may need to).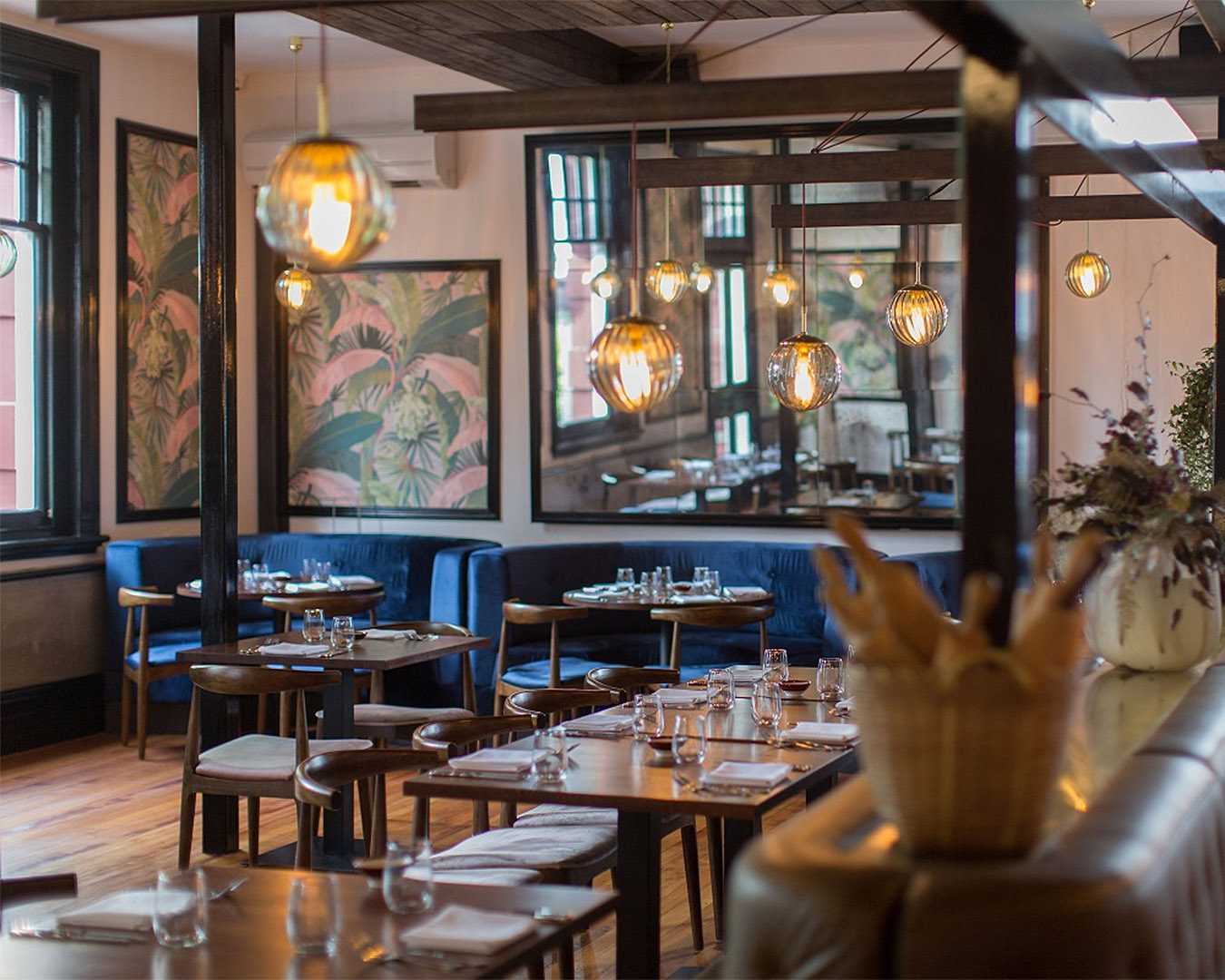 Clarence Bistro
Tauranga
Located in the old Tauranga post office, and one of the city's oldest buildings is Clarence Bistro—an elegant restaurant and arguably one of Tauranga's best. Inside, the dining room is stunning with a dark wooden ceiling, striking floral artworks and plush blue-velvet booths. The menu features modern bistro dishes using seasonal produce like pan-roasted market fish with chestnut, portobello mushroom gnocchi and truffle, and free-farmed pork belly with crackling, black pudding, beetroot and roasting juices. The service is friendly and attentive and there's a mostly-New Zealand wine list. And, if you really want to treat yourself, there's boutique accommodation available upstairs, too.
Palace
Mount Maunganui
Sometimes you're just in the mood for a damn good burger and that being the case, look no further than the Mount's very own burger aficionados at Palace. While they do the classics, like a good cheeseburger with brisket and fresh salads, they also have a selection of different flavours to try, such as southern fried cauliflower with jalapeño and corn slaw. Whatever flavour you're into, a bit of spice or a tasty classic, you'll find something on their menu to satisfy your cravings. Pair your burger with their legendary friends on the side and finish with a sweet treat of deep-fried Oreos and a thick shake for a taste of the true American dream.
The Freeport
Mount Maunganui
Based on the traditional Napoli style pizza found in Southern Italy, the dough at The Freeport is made from just a few ingredients. It's then rested for 96 hours before it's hand-stretched, oven-fired and topped with fresh ingredients—think prosciutto, rocket and pecorino. The results are pretty delicious. They don't only do pizza though, with dishes like citrus-cured salmon with dill and capers and a zucchini salad with mint, ricotta and pomegranate on the menu, too. The head chef has worked under Heston Blumenthal in London, so you know the food is going to be good. Located in Bayfair's new dining precinct, The Freeport has an outdoor courtyard to soak up the sunshine, weekly live music and Little Creatures' beers on tap. We're calling it—this is the place for summer.
Find out what else there is to do in and around Tauranga besides eating all the delicious things.
Image credit: Main image Clarence Bistro, Latitude 37, Master Kong, The Rising Tide, Rice Rice Baby, Clarence Bistro & The Freeport.