Forks at the ready, Taupō isn't just about hitting the slopes or whiling away hours on the lake. It's also an absolute treasure trove of eateries putting it high up the list of foodie heaven hot spots. From casual dining to fancy eats, and always with a seasonal spin, take a gander at what's on offer then dig in.
Here are the best restaurants in Taupō.
Embra
Kaimanawa Street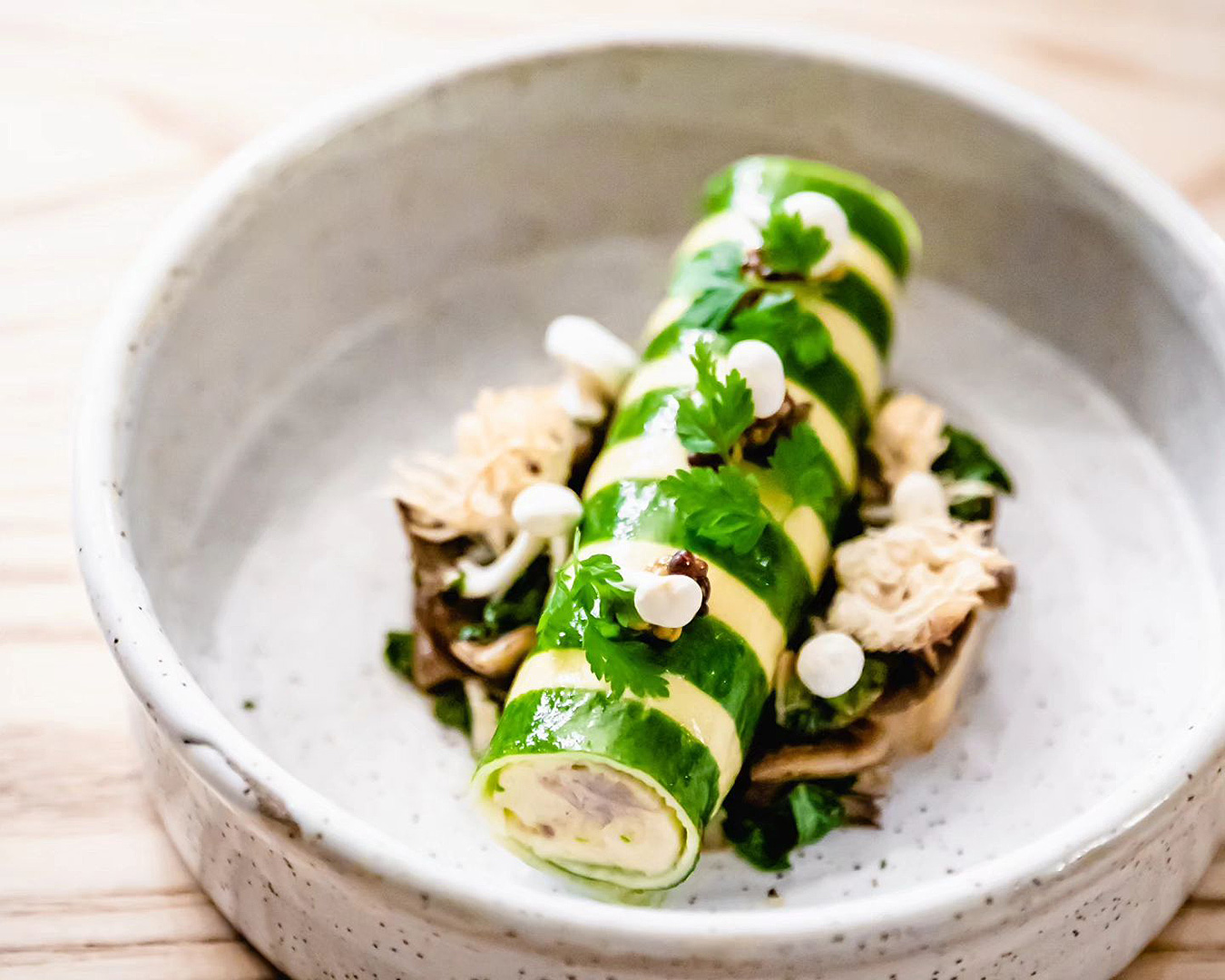 Modern Kiwi cuisine meets French and British cooking techniques at Embra, sophisticated kai with down-to-earth vibes. Delightfully, too, the menu doesn't stop at seasonality—the team at Embra are actively doing what they can for the planet, sourcing locally grown, organic produce, using earth-friendly cleaning products and saying a hard no to anything single-use. We dig that their crockery is hand-made by local ceramicist Didi Chapman.
Malabar Nepalese And Indian Kitchen
Tuwharetoa Street
One of the best restaurants in Taupō, Malabar Nepalese and Indian Kitchen will not disappoint. From traditional Indian fare to Nepalese momo dumplings, you're sure to leave feeling satisfied. A go-to destination for many a return visitor, the service is top-notch, and we hear the Himalayan Nepalese chicken curry is especially worth your while.
Brantry Eatery
Rifle Range Road
Located under the ZeaYou Gallery, Brantry Eatery is run by local sisters Prue and Felicity Campbell. The menu features contemporary Aotearoa dishes informed by the seasons. Touted for a great, homely atmosphere, great portions and a bangin' wine list, plus a popular annual events lineup—including Gin High Tea and a Hunter Gatherer foodie affair—this spot makes for a great feed. Get their chocolate mousse dome on your plate, stat.
2 Mile Bay Sailing Club
Lake Terrace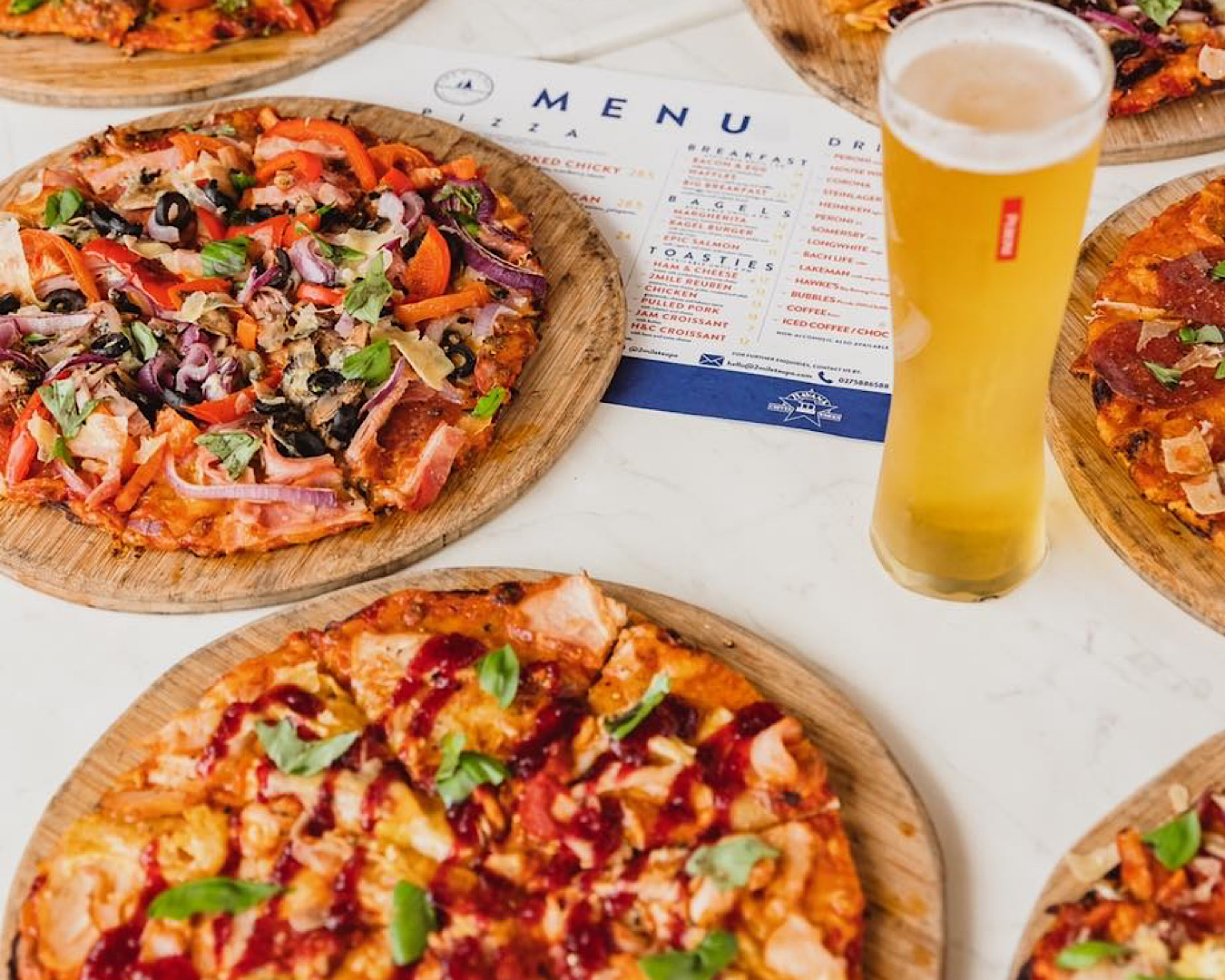 For top-notch pizzas with amazing views, pull up a pew at 2 Mile Bay Sailing Club. Get amongst the Dooza (ham, chorizo, pepperoni, olives, blue cheese, red onion and mushroom) or tuck into the Smoked Chicky-a tomato and cheese base with smoked chicken, cranberry jam and camembert cheese. Devour your weight in pizza, sip on a Peroni or two all while listening to live music and get this, the first Saturday of every month they even have a dog and grog event so your pooch can get in on the frivolities too.
Lotus Thai Restaurant
Tongariro Street
Sometimes the soul yearns for Thai food and for those moments there's Lotus Thai. Expect all your favourite eats—like crispy golden entree platters (yep, you know spring rolls feature), Tom Yum soup, pad thai, fried rice, and more. Whether you stick to your usuals or try something new you can rest easy knowing everything that appears on your plate will be authentic, spiced to perfection and delivered with wickedly good service. Been saving a special bottle of vino? Lotus Thai is also BYO.
Sorrento Italian Dining & Wine Bar
Tuwharetoa Street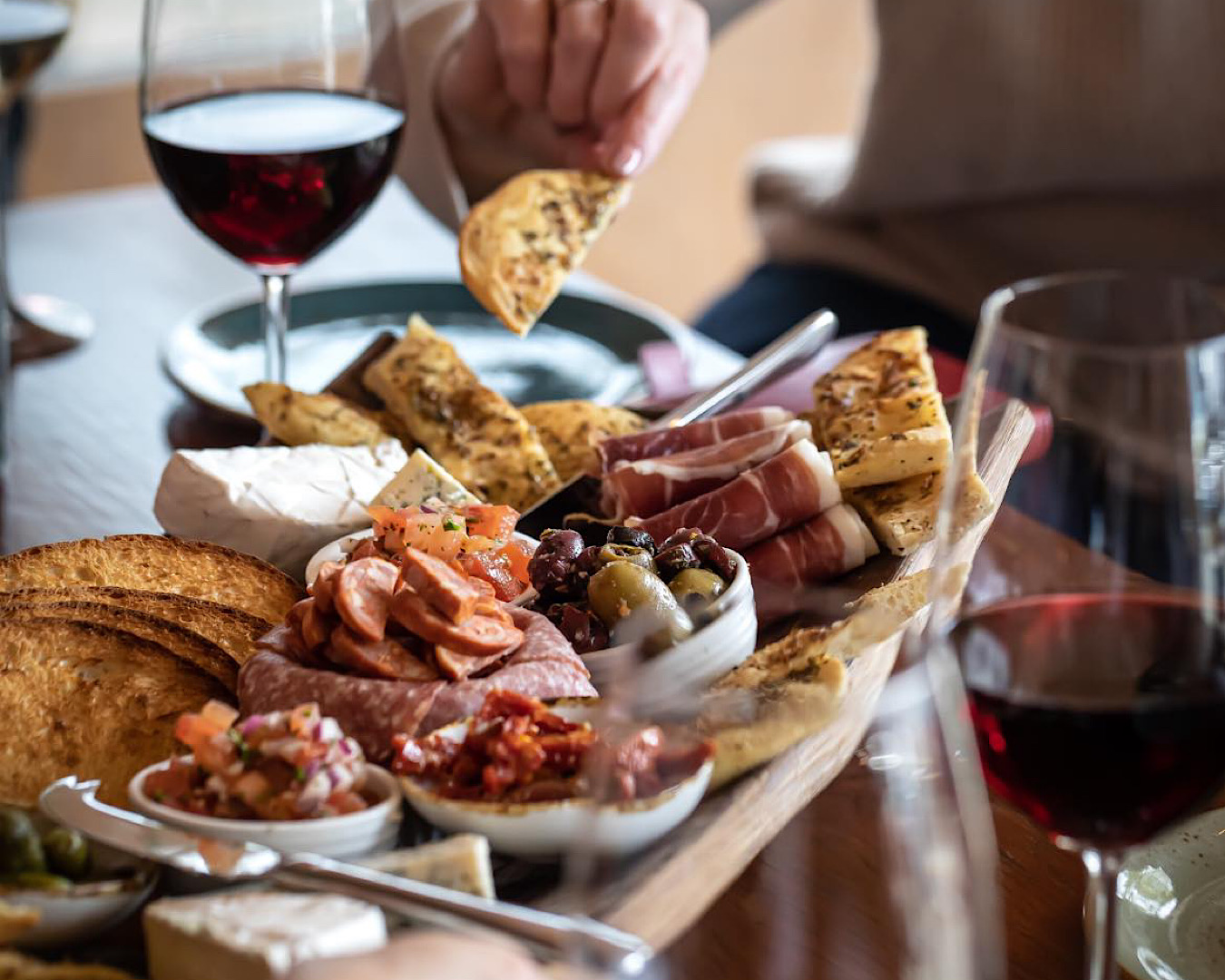 For a taste of Italia in the heart of Taupō make a beeline for Sorrento Italian Dining & Wine Bar. Here, local ingredients transform into sensational Italian dishes that'll have you waving your arms around in delight. Got allergies? No problem. Sorrento can whip up gluten-free pasta or bread on demand, and they've got vegan cheese on hand too, plus, they only use free-range poultry and pork so even meat-eaters can feel virtuous.
Grasshopper Chip Bar
Taharepa Road
Tearing into a newsprint-wrapped package of piping hot fish and chips, or wrapping your mouth around a lip-smacking helping of sweet and sour pork is practically a rite of passage when visiting Taupō, especially when it's cold out and Grasshopper Chip Bar comes up top of the crop. Opt for their buffet or order to go; don't forget the wontons.
Huka Lodge
Huka Falls Road
Another of the best restaurants in Taupō is the world-renowned Huka Lodge's in-house eatery so if you're living your best life staying at the world-renowned Huka Lodge, dining in is an absolute must. Their menu, which changes daily, features sustainably-produced ingredients and an enviable wine selection. Feast in the main lodge or enjoy a more intimate experience in their wine cellar, orchard or jetty pavilion.
Wild Roots Culinary Concepts
Wherever You Like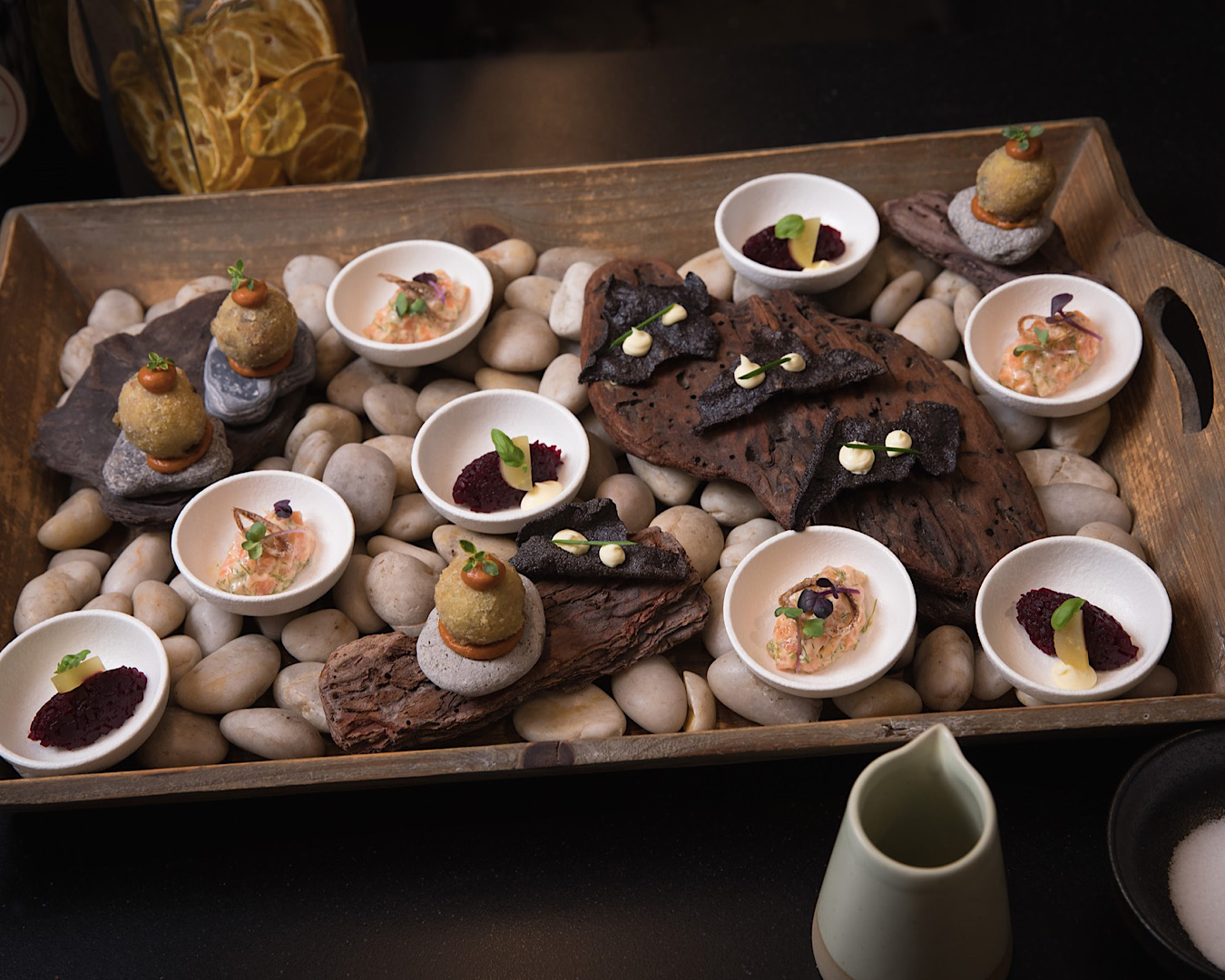 If you're overwhelmed by choice (we've all been there), or just can't even when it comes to dinner, have dinner come to you instead. That's right, Wild Roots Culinary Concepts is a private chef that delivers bespoke fine dining to wherever you're inspired to eat. And if you're hooked after the first bite you'll be stoked to know Chef Nikki can take care of your meal and food requirements for your entire Taupō stay if you so choose. Luxe.
The Steak House Taupo
Tongariro Street
As the name would suggest, you go here for the steak. Bacon-wrapped eye fillet, scotch fillet, sirloin, porterhouse with bone marrow, rump or 35-day aged T-bone… the gang's all here. And this carnivorous hive has been in operation since 1984 so it's safe to say they know their stuff. All Steak House beef is grass-fed, free-range from Canterbury, as well as being Halal accredited and includes a potato dish of the day, a demi-glace sauce and your choice of steak toppers and sides. Nice.
Vine Eatery & Bar
Tuwharetoa Street
Four words: huge sticky date pudding. As if you needed any further reasons to visit Vine Eatery & Bar the menu is a mix of Mediterranean and local flavours served à la carte or as a tasty series of tapas. As for the drinks, you've got Allpress coffee, Harney & Son's teas and an extensive selection of whisky, craft beer, wine and cocktails. From sticky sweet n' sour tempura cauliflower wings to serrano ham croquettes with manchego cheese and sriracha aioli, it's a total vibe.
K's Kitchen
Spa Road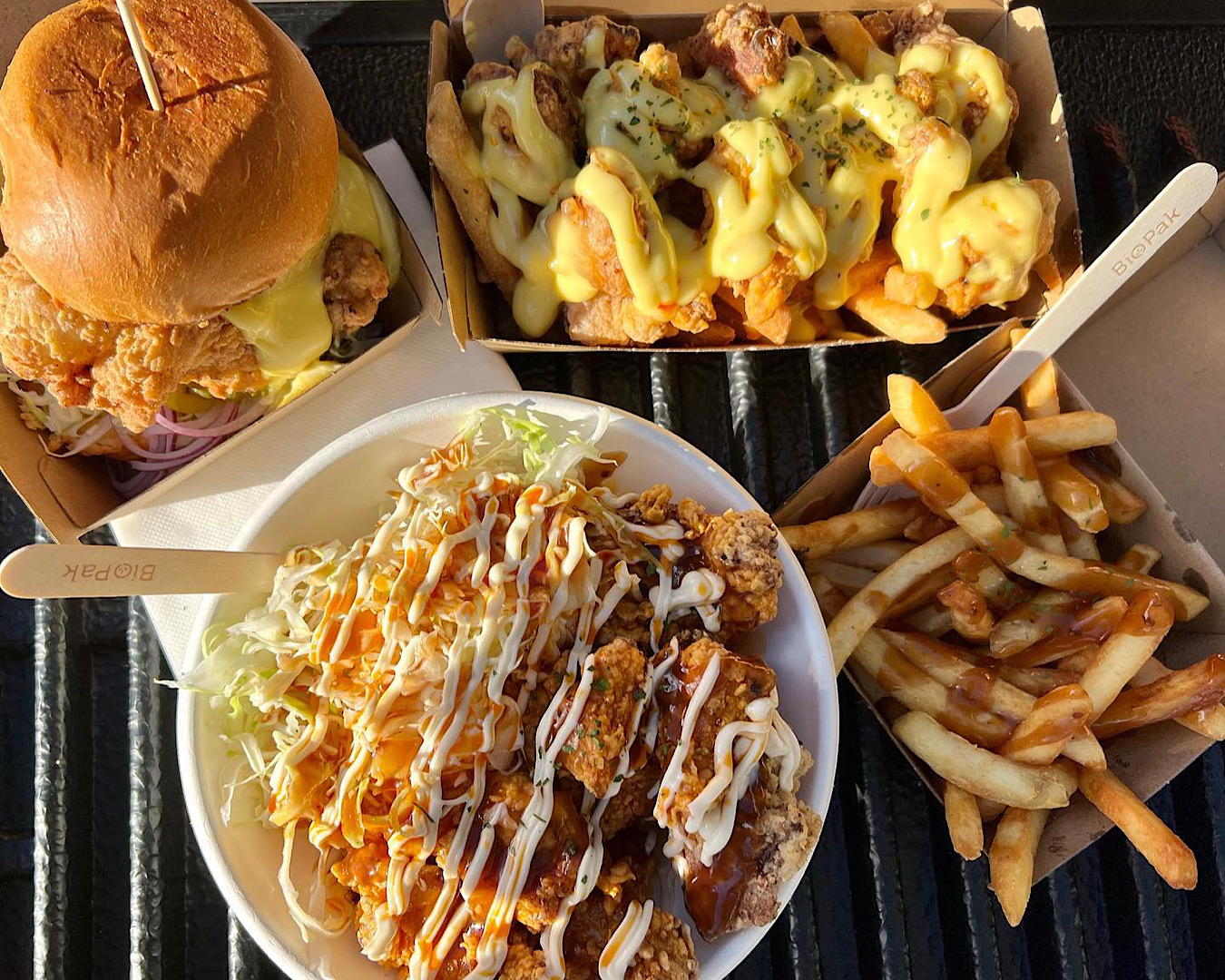 We couldn't write a list of the best restaurants in Taupō without mentioning K's Kitchen. The food truck is an icon among locals who flock to it for tasty Korean fried chicken, chips, burgers and dumplings. What's more, the folks at K's Kitchen sling gluten-free fried chicken, too, a.k.a. The Holy Grail for Coeliacs with a penchant for crispy bird. Their 'moon' bowl and burger is a culinary gem of chicken 'twixt cheese and garlic mustard, and their 'snow' bowl is on par with a dusting of cheese and garlic seasoning. Get amongst.
Feed sorted, how about accom? Here is the best accommodation in Taupō whether hotel, motel or Airbnb.
Image credit: 2 Mile Bay Sailing Club, Embra by That Green Olive, 2 Mile Bay Sailing Club, Sorrento Italian Dining & Wine Bar, Wild Roots Culinary Concepts, K's Kitchen.