With a multitude of species, from sprats to kingfish and everything in between, Auckland's watery playground is perfect for getting your fishing fix. And whether it's a quick flick before or after work, or an epic full day trip chasing moochers off a remote ledge, our vast coastlines offer ample opportunity for fisherpeople of all skill levels.
While a lot of Auckland's fishing spots are sheltered, with generally friendly conditions, some are rugged and remote. So always check the weather, wear a life jacket where appropriate, keep an eye on your mates and take your rubbish with you when you're done – we're lucky to have a relatively unspoiled resource right on our doorstep. We caught up with fishing connoiseur and all round legend Tom Johanson of
TRYCD
to give us the inside oil on where to find the best fishing spots in Auckland.
Before you start, Tom advises you pack the right tools of the trade: innovative products like the TRYCD
AllSalt
and
Allfly
fishing kits—which he invented with a single butt section and a bunch of interchangeable upper sections—means you can cover everything from softbaiting to stickbaiting to straylining with a single rod. See what we mean, legend.
So without further ado, here are the best places to go fishing in Auckland.
Murrays Bay Wharf
BROWNS BAY
This little jetty in the heart of the bustling East Coast Bays can be a busy spot, so best to focus your fishing efforts at dawn or dusk. Long casts to avoid the foul in front of the wharf will produce some good snapper fishing and at night squid filter into the shallows in great numbers.
Type: Wharf fishing
Catch: Snapper, Squid
Best time: Dusk and dawn for snapper, squid at night
Harbour Bridge
AUCKLAND CBD
An excellent, easy-access spot for novice anglers that provides some excellent fishing, with the bonus of a prime view of one of the city's greatest landmarks. Fish the changes of light at each end of the day with a dropper rig, 3-4oz breakout sinker and cubes of squid or pilchard for bait. Fishes best from late-November to mid-April when snapper fill the inner harbour in big numbers.
Type: Bank fishing
Catch: Snapper, Kahawai, Trevally
Best Time: Early morning, early evening
Pakiri Beach
LEIGH
This stunning beach only 90 minutes from central Auckland is well worth the drive. Surfcasting from the beach will provide some nice pannie snapper and kahawai, while the rocky ledges at the southern end are a hotspot for big snapper and kingfish. As an added bonus, if you strike out on the fishing you can always go and have a snorkel at the nearby Goat Island marine reserve to remind yourself of what fish look like.
Type: Beach/Rock Fishing
Catch: Snapper, Kingfish, Kahawai, Trevally
Best Time: 2-3 hours each side of low tide
Karioitahi Beach
WEST COAST
This rugged West Coast beach has it all – black sand, stunning scenery and epic fishing. But just be sure to pick your days! As with any West Coast beach, it can be treacherous fishing from the beach, so only attempt when conditions are good and always wear a lifejacket. Use fish ledger rigs or long-cast surf rigs, and spend some time watching the waves to figure out where the holes and channels are, and you could be lucky enough to experience some outstanding fishing.
Type: Beach Fishing
Catch: Snapper, Gurnard, Trevally, Kahawai
Best time: 2-3 hours each side of low tide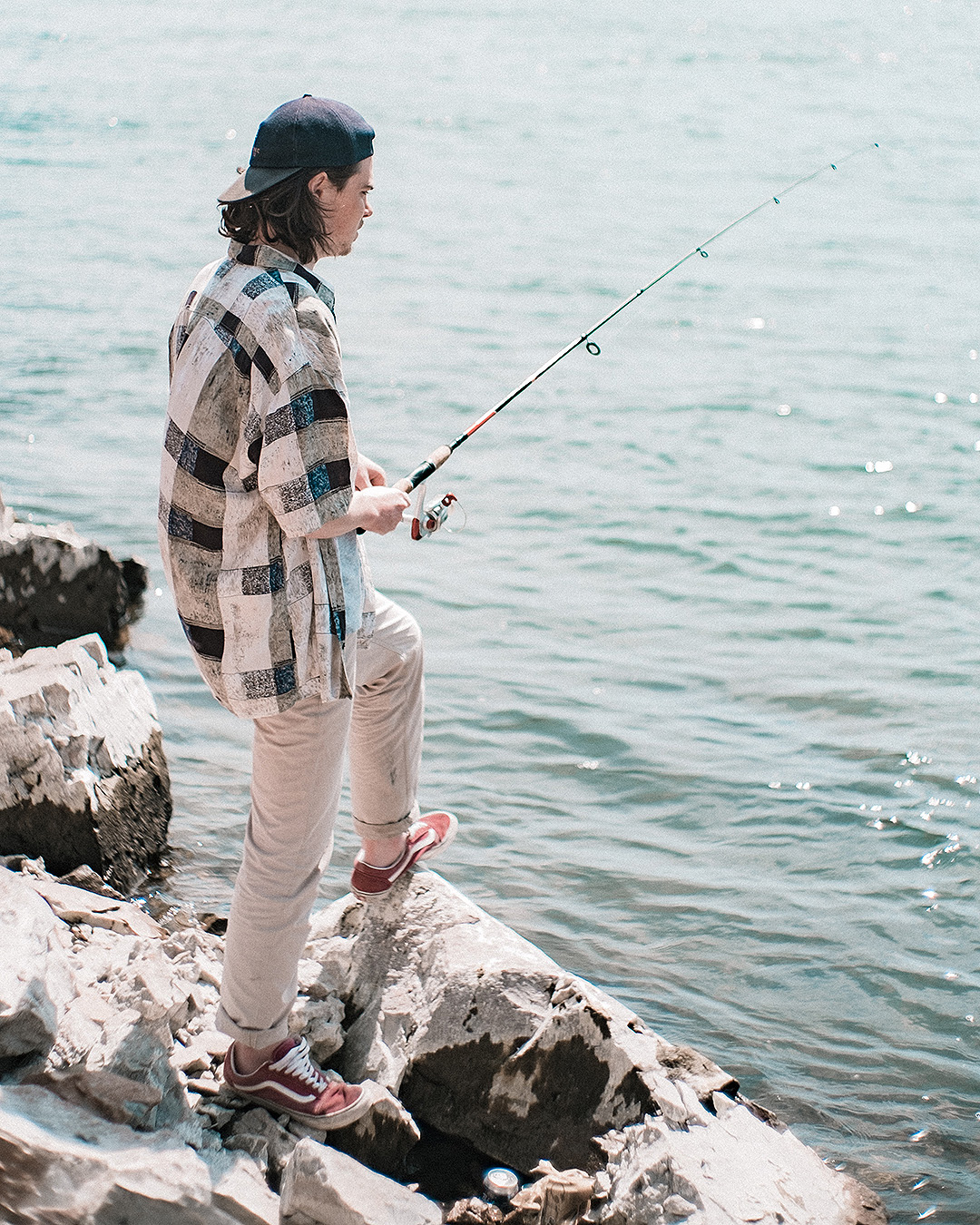 Rangitoto Channel
WAITEMATA HARBOUR
This easily accessible bit of water provides some truly outstanding fishing just minutes from Auckland's CBD. Drift along softbaiting in the channel and straylining the shallow foul; sure-fire ways to pick up a feed of snapper, kahawai and trevally. In summer, throwing surface lures around the channel markers can result in pack attacks of angry kingfish.
Type: Boat Fishing
Catch: Snapper, Trevally, Kingfish
Best time: All day
North Head
DEVONPORT
If you're an early riser, this is the spot for you! Rising at the crack of dawn is key to this spot, as once the city wakes up, this part of the Waitemata Harbour starts to resemble the Southern Motorway with rush hour traffic. Set up on any of the numerous ledges facing Rangitoto Island on a low incoming tide and fish a ledger rig with a long cast for snapper. Be sure to send a live piper or mackerel out under a balloon in summer for a passing Kingfish, or if you're feeling really brave, paddle a big bait out for Bronze Whaler sharks up to 200+kg.
Type: Rock fishing
Catch: Snapper, Kahawai, Kingfish, BIG sharks
Best Time: Early morning
Black Rocks
TAKAPUNA
This popular spot is made up of the rocky coastline from Takapuna boat ramp through to Milford Beach and is home to a whole smorgasbord of tasty critters. Long casts are needed to avoid the snags so a running rig or dropper rig with 2 4oz of weight is the way to go, and strips of bonito or squid are the best baits. Snapper, kahawai and even the occasional John Dory can be caught, and once darkness falls it is an excellent spot to rustle up some fresh calamari.
Type: Rock Fishing
Catch: Snapper, Kahawai, John Dory, Squid
Best time: Bottom half of the tide in each direction
Meola Reef
PT CHEVALIER
This little inner-city gem is an underrated playground for keen anglers. Snapper and kahawai patrol the reef in summer, and it is one of the few places in Auckland where saltwater fly fishing is easily accessible. Break out the Allfly set, wave a few clousers (artificial flies) around and have a ball hard fighting shallow water snapper.
Type: Fly Fishing
Catch: Snapper, Kahawai
Best time: Low tide
Waiheke Island
HAURAKI GULF
While travelling overseas to fish is out of the question, a day trip or weekend escape to Waiheke Island is the next best thing. With great wineries, beaches and even better fishing, the island has something to cater for all skill levels. Scope out likely ledges on Google Earth and pack your Allsalt set as Waiheke provides outstanding boat and land-based straylining, softbaiting and topwater action.
Type: Rock and boat fishing
Catch: Snapper, Kingfish, Kahawai, Trevally, John Dory
Best time: All day, every day
Lake Pupuke
NORTH SHORE
Want a freshwater fix but don't want to drive all the way to Taupo to get it? This urban lake in Takapuna is regularly stocked with Rainbow and Brown trout, and is also home to a good population of Tench, Rudd and Perch. Small spinners for trout and perch, and balls of bread for tench and rudd will do the trick, but just make sure you grab a licence to fish from
fishandgame.org.nz
first.
Type: Freshwater fishing
Catch: Trout, Perch, Tench
Best time: Evenings and into the dark
Okahu Bay Wharf
ORAKEI
This picturesque wharf on Tamaki Drive is the perfect spot to park up for an afternoon of productive fishing for all ages. The kids will have a ball catching sprats, piper and mackerel, while trevally, kahawai and snapper regularly cruise the channel in front of the wharf. Once night falls, the cephalopods come out to play – this is one of Auckland's most popular and productive squid fishing spots.
Type: Wharf Fishing
Catch: Baitfish, Snapper, Squid
Best time: Incoming tide during the day, night fishing for squid
Kauri Point
BIRKENHEAD
Smack bang in the middle of the bustling Waitemata Harbour, Kauri Point is just a short paddle or boat ride away. Fish the edges of the 24m hole in the warmer months, with smallish cut baits on a ledger rig or running rig, and you'll be sure to head home with fish to fillet.
Type: Boat/kayak fishing
Catch: Snapper
Best time: Two hours before and after high tide
ABOUT TOM
Tom Johanson is an engineer and co-owner of Composite Developments, a family-owned business that specialises in designing and manufacturing fishing rods. In 2019 he created TRYCD, a series of innovative fishing kits that combine the reliability of a traditional saltwater or freshwater rod with the convenience of a travel rod. He lives in Auckland and spends his spare time fishing.
Get up close and personal with 6 of Auckland's best snorkelling spots.
Image credit: Anders Wideskott, Murrays Bay by Nazar Abbas Photography, Waiheke Island by Jose Antonio Maciel