You've more than likely double-tapped a sweet treat from Real Rad Food on the 'Gram. And while you may initially hit follow for the drool-worthy cakes, slices and raw balls, you'll stay for the real and relatable content from their 23-year-old founder Hannah Mellsop.
Based out of the dream-town Mount Maunganui, what started as a personal hobby in 2016 has now evolved into a fully-fledged business supplying cafés and customers across New Zealand with raw, vegan, refined sugar-free, gluten-free and dairy-free desserts.
We caught up with expert raw ball roller and all-around boss lady Hannah to talk about scaling a business sustainably, the nostalgia of After Dinner Mints and overcoming anxiety.
Can you tell us a bit about yourself?
I'm a 23-year-old who lives in Mount Maunganui. I did a geography degree right out of school but quickly realised that after university I was more interested in the online community I had grown around plant-based food and in particular raw cakes.
What does your typical day look like?
I aim to be in the kitchen by 6.30am, do two hours of admin and dispatch wholesale orders. From there, my employees arrive and I'll set out their tasks for the day. Some days I might be in the kitchen, other days I'm doing things like admin, accounts, working on collaborations and new products. In the afternoon we process online orders and then I aim to be out of here by 4pm. Then I head to the gym and home to cook with my flatmate, and then I might open my laptop again for a few hours at night.
What's been one of your biggest 'pinch me' moments so far?
I think the ability to reach people across the country while living in my favourite part of the world. I get to live in The Mount, but I can connect with my community online every single day and I can provide them with a product that I am so proud of—it's really something that blows my mind.
Why did you start Real Rad Food?
I was working in a café after university and posting my raw cakes on this Instagram page and I had a few people wanting to buy them, so I would just sell them at cost-price because I wanted a pretty picture to post online. It started off as just a hobby really but I saw that I had an audience who had a demand for a product and I really wanted to be able to monetise this online platform. I thought 'how am I going to be able to do that with something that aligns with me?' Well I love healthy food and it looks amazing online, and people really buy with their eyes, so I believed that I could market this product.
Can you tell us about the brand?
For me, it's about creating a community around plant-based food and having beautiful food that connects people. I want my brand to be focussed around health, but not restrictive health, it's about having your cake and eating it too.
How did you initially get Real Rad Food off the ground?
When I made the decision to go full time into the business I first found a commercial kitchen space, and from there I just started making cakes for the markets and local cafés. As we've grown, we've taken over more space in the kitchen, bought huge walk-in freezers, a slice-cutting machine and hired employees. I've always been conscious of keeping up with the demand by growing sustainably and not over-investing, so we haven't taken on any investment and we've re-invested all profits back into the business. I've sort of let Real Rad Food forge its own path and I've learned so much in terms of myself and business—it's crazy to see what can happen in just two years.
How has social media impacted your business?
I've just always shown my journey on Instagram and I think that really resonated with people and they enjoyed watching us grow. Once Instagram built-in the stories feature, it made a lot of accounts become really personal—so a lot of people know me, they know that they're buying off Hannah. I use that to my advantage because I one-hundred per cent know that I'm the same person on Instagram as I am in real life—it comes second-nature to me. My business would not be here without Instagram and the community that supports us.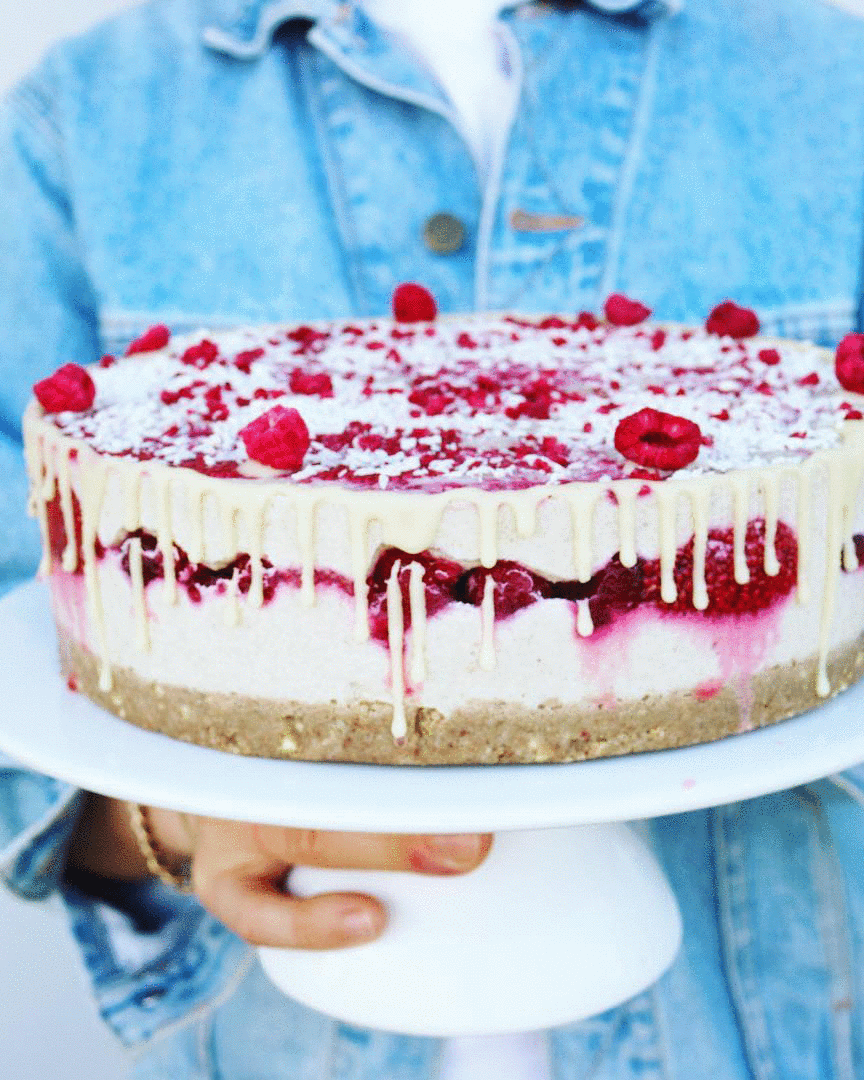 What inspires your creative and delicious treats?
A lot of it is nostalgia. I love recreating things I would eat when I was younger. For example, the After Dinner Mint is one of our most popular flavours of the Raw Ball, and it's purely because I love an After Dinner Mint biscuit and I would love to offer a gluten-free, refined-sugar-free option.
What's one of the hurdles you've overcome on your business journey?
A huge hurdle was securing frozen freight. It's very expensive and hard to come by, and a lot of the big companies won't deal with you unless you're sending pallets so it took a long time for us to negotiate to use their services. Again, freight for online orders was a challenge but we've innovated our packaging which means our treats now arrive frozen on an overnight courier.
What's one thing people would be surprised to know about you?
I feel like I put everything online. I'm actually quite socially awkward—not on the outside I guess, everyone thinks I'm super confident but actually on the inside, I often feel quite anxious. It's definitely gotten so much easier, my confidence has grown so much in the past few years. I remember when I was first doing sales around local cafés of this product no one knew about I would need to hype myself up and put a smile on because you can make people feel so much more comfortable with a smile on your face. I always say fake it 'till you make it and now I don't feel like I'm faking it anymore.
What's one piece of advice you would give young entrepreneurs starting out?
I would say a side-hustle is totally something I am a huge advocate for. Put your product online and test it out with a market you can reach for free and see how they react to it before you invest any money or quit your job and go full time. But also, don't be afraid to take the leap if there is a market—look inside yourself beyond the passion and see if you have the inner determination to do the hard yards.
What's next for you and Real Rad Food?
We'll continue to grow our stockist list across the country, I would love to start to explore export in the coming years. We're looking into a few shelf-stable products which would be amazing for us and maybe even our own premises. There are definitely big plans.
Fast Five
Favourite guilty pleasure treat?
A scone! A savoury scone with herbs, sun dried tomatoes, pepper and butter.
Kiwi businesswomen who are killing it?
I would say Bets of Magnolia Kitchen, she's a huge inspiration to me and Cherie, she's local and runs Pepper & Me.
Favourite thing to do in your downtime?
Boxing or snowboarding.
Your faithful food local in The Mount?
George Café.
Beats on repeat in the Real Rad Food kitchen?
I love a Beyoncé day in the kitchen but sometimes if we're under the pump I just put on Khalid.
Image Credit: Real Rad Food