With The World Of WearableArt (WOW) exhibition just around the corner, Auckland finalist Ian Bernhard is gearing up to send his daring designs out on the stage. Since his first entry in 2013, Ian has had three successful entries, and in 2016 won the coveted WOW Factor Award for his garment Incognita. This year, he has two finalist pieces being showcased.
We had a chat with Bernhard about what inspires him, his design journey and all things WOW.
When did you initially began to explore wearable art, and what inspired you?
I've always had a major interest in art, so when I discovered World of WearableArt it was something I had to try. I was introduced to it when I fit modelled for my art tutor's WOW entry back in high school. It was so intriguing to me, I started working on a piece inspired by waves which I entered the following year. That was my first selected entry.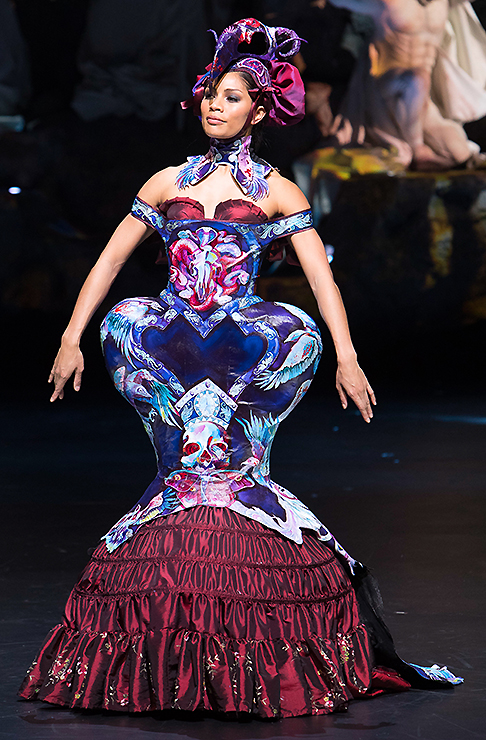 Congratulations on your 2016 win. How did it feel for you as a designer to have your art recognised like that?
Thank you! It was an incredible feeling. So rewarding and satisfying to not only see it come to life on stage, but for it to be recognised by some incredible and renowned experts in the industry. It's a feeling that just keeps you coming back.
What do you love most about World of WearableArt?
For me, the freedom that it gives you to explore and push your creativity is so rewarding and what I love most. There are few opportunities to do that, so I relish being able to push myself to expand my repertoire and try new things each year.
What's the most valuable thing that you've learned about designing since your first WOW entry in 2013?
To not doubt your concept, but to push it, develop it and make it suitable for the stage. Also, it's incredibly important to remember and consider the environment your piece will be or may be displayed in. They're seen from many perspectives and distances, and your design needs to provide for that. Interesting detail for close viewing, shape and impact from a distance and enough poise to allow for static display.
After all the work you put into them, how do you feel when your garments finally head out on the stage?
Excited, nervous, curious. I have no idea how they will look, move or how people will respond to them when they hit the stage lights. No matter how much you try to visualise it, WOW always supersedes my expectations. Often it's a feeling of relief, quickly followed by an eagerness for the next idea.
One of your garments this year is inspired by gothic medieval art and architecture, what sparked this?
History, in general, holds so much fascination for me. It's an almost eternal source of inspiration. Architecture is of particular interest, as once upon a time it was the direction I thought my career would take. For this piece, it was the sharp, angular silhouettes of cathedrals that influenced its shape. The vivid colours and dark themes of medieval art informed the print design. More macabre themes such as death, life and the passing of time are things I often represent in my pieces, alongside creatures of the world.

What about the glowing bird, the inspiration behind your second garment, where did that come from?
This particular piece has a beginning in my childhood. It is inspired by a story my mother would read to me when I was little, a Russian folk tale about the firebird. It's a foreign creature, with a fiery glow, that has a habit of wreaking havoc and destruction on those who seek it. I've wanted to make this creature for so long, when I heard of the themes for this year, I had no doubts about making this design.
For those of us heading to the show, which categories should we look out for to see your garments?
This year I have pieces in the Avant-Garde, and Mythology sections. However, I'm sure all the sections will be incredible to watch.
What are your biggest hopes for your entries this year?
Only that people love them as much as I do!
Who's your biggest inspiration?
Alexander McQueen and Thierry Mugler are my largest creative inspirations. In attitude and style, however, it has to be Iris Apfel.
How would you describe your personal style?
Preppy grunge meets unreserved design. A daily go-to of double denim, mixed with creative art pieces I've made or found.
Could you tell us a bit about your creative process for designing a piece of wearable art?
It's a very organic process. I start with a rough idea, but I let the process of making it guide my design thinking. My wearable art design is very driven by how the garments are formed. I then refine this as I go, finishing the pieces with considered styling choices.
Fast five
Best music to work to?
90s-00s pop. Something upbeat and fun. At the moment I'm listening to Ray of Light by Madonna.
Least favourite fashion trend?
Slip dresses over t-shirts.
Favourite café?
Little and Friday, or Baby. I have a huge sweet tooth and these two always spoil me for delicious treats.
Which famous person would you most love to meet?
I'm not big on meeting famous people, so I really couldn't name one. I enjoy experiencing the work of famous designers and artists though.
Early bird, or night owl?
Definitely an early bird!
Can't get enough? Check out Ian's 2016 winner Incognita in action here.