Battling with guy ropes, losing pegs and trying to figure out where you should even position the damn thing makes tenting not a walk in the park. But never fear—fallouts and deflating air beds will become a thing of the past when you get your glamping pants on. Feel a million miles away from home with one of these epic glamping escapes.
With so many beautiful glamping spots in and around Auckland you can be sure to catch a stress-free snooze under the stars. What are you waiting for? Get booking that getaway.
Slipper Island Resort
Coromandel
This place is almost too good to be true. Spend a few nights in paradise at a private island in the Coromandel that's just 15 minutes away from Tairua by water taxi. An absolute Coromandel gem, Slipper Island is one of the country's few private islands. Book an ultra-boujee beachside tent to take your glamping to the next level. You'll be just steps from the gorgeous white sand beach and the clear blue waters which are ideal for snorkelling and kayaking. Relax in comfort in your large tent which comes complete with a plush king-size bed, ensuite toilet, basin and shower. Fire up the barbie on the covered deck and watch the sun sink below the horizon, indulge in some heavenly stargazing and really take some time for yourself. After the year we've had, you deserve it.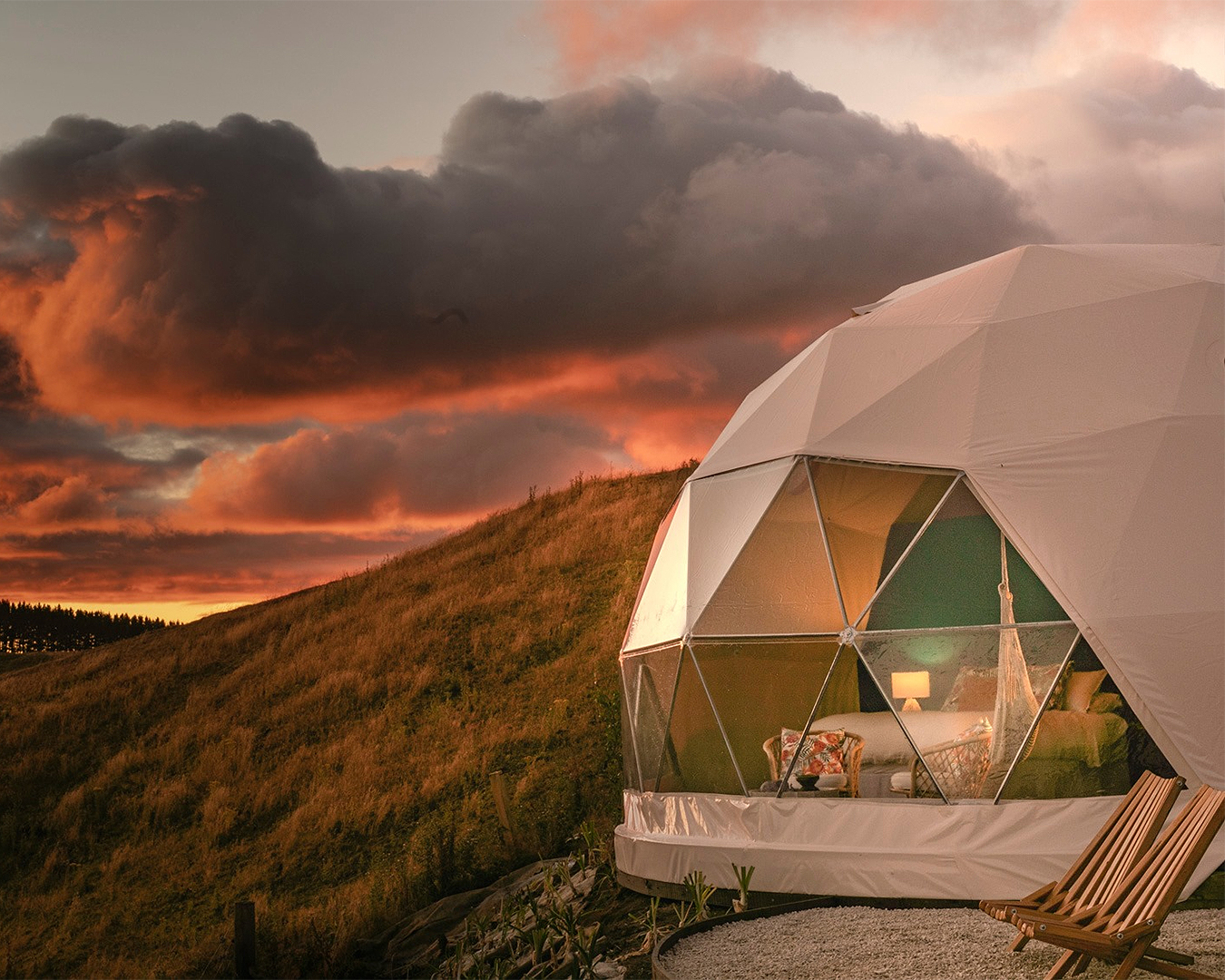 Te Tuhi Dome
Taupo
Picture this, a large dome sat on a hillside with pristine views across farmland, native bush and even a lake—sounds dreamy, right? Te Tuhi Dome is a large geodesic structure that looks out across Lake Taupo—literally, views for days and guaranteed to elevate your glamping experience. The inside of the dome is just as stunning as the outside, with a beautiful bedroom and lounging space, where you can enjoy your morning cuppa and gaze out at the horizon. Rustle up a delicious meal in the kitchen area, which has a BBQ, gas stove, kettle and all the necessities you could wish for, including tea and coffee. Next, take your bathing to the next level, with an outdoor shower and a luxurious ceramic bath that is truly out of this world. Snuggle down on the ultra-comfy bed and drift away to the sweet sounds of silence. Bliss.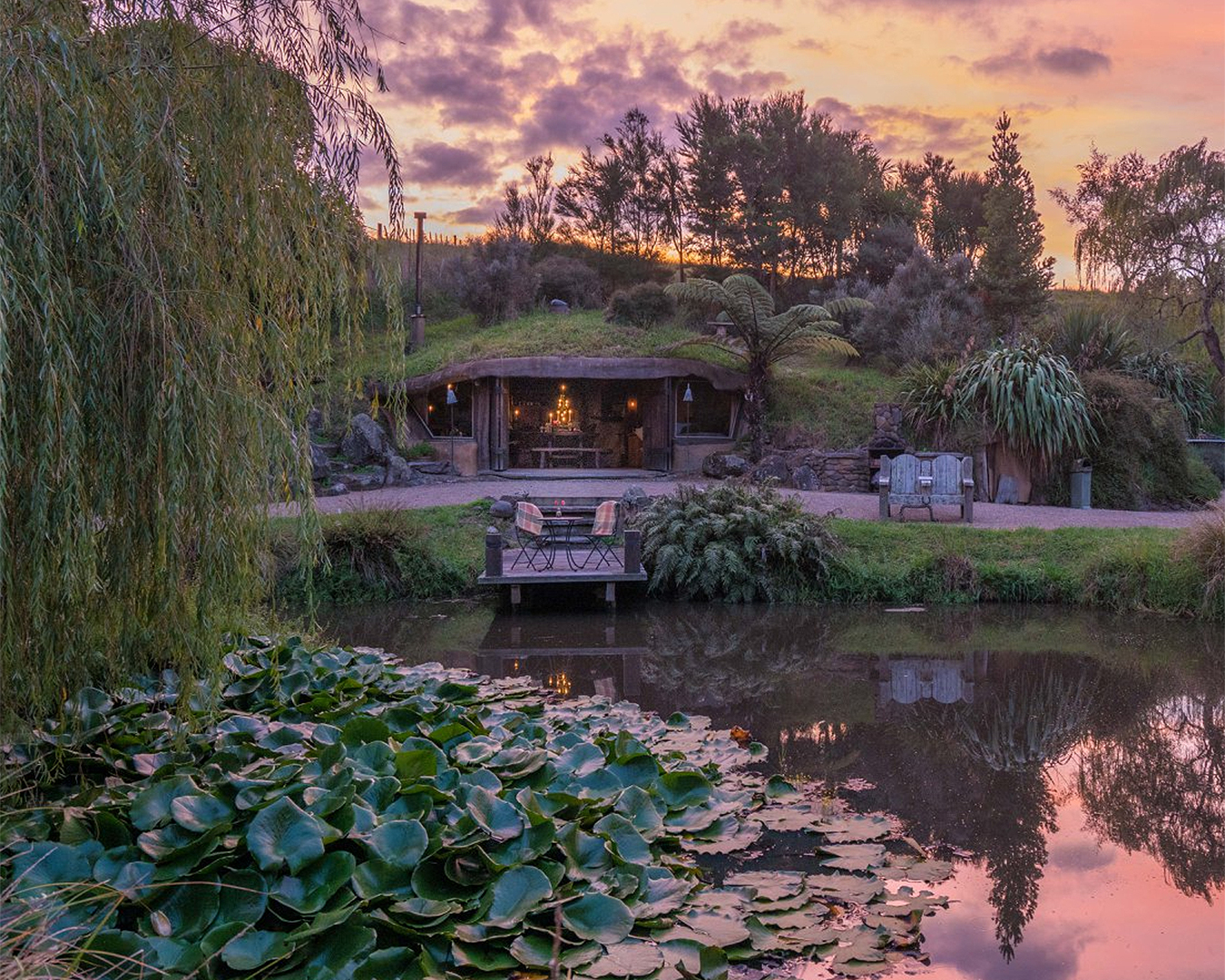 Underhill Valley
Waikato
Live as the environmentally-conscious hobbits did at the enchanting Underhill Valley, which takes its cues from Middle Earth. Built into the side of a hill this once-fiercely guarded family secret is now available for you to get away from the hustle and bustle of daily life. Lovingly handcrafted with beautiful rustic native timber and ironwork, this glamping getaway comes complete with a picturesque pond and farmland just outside the door. Soak away your troubles in the stunning outdoor bath while you wait for the coal burner to heat up, then serve dinner under the stars on the seat by the pond, glass of wine in hand. Life doesn't get much better than this, and brownie points from your beau are pretty much guaranteed.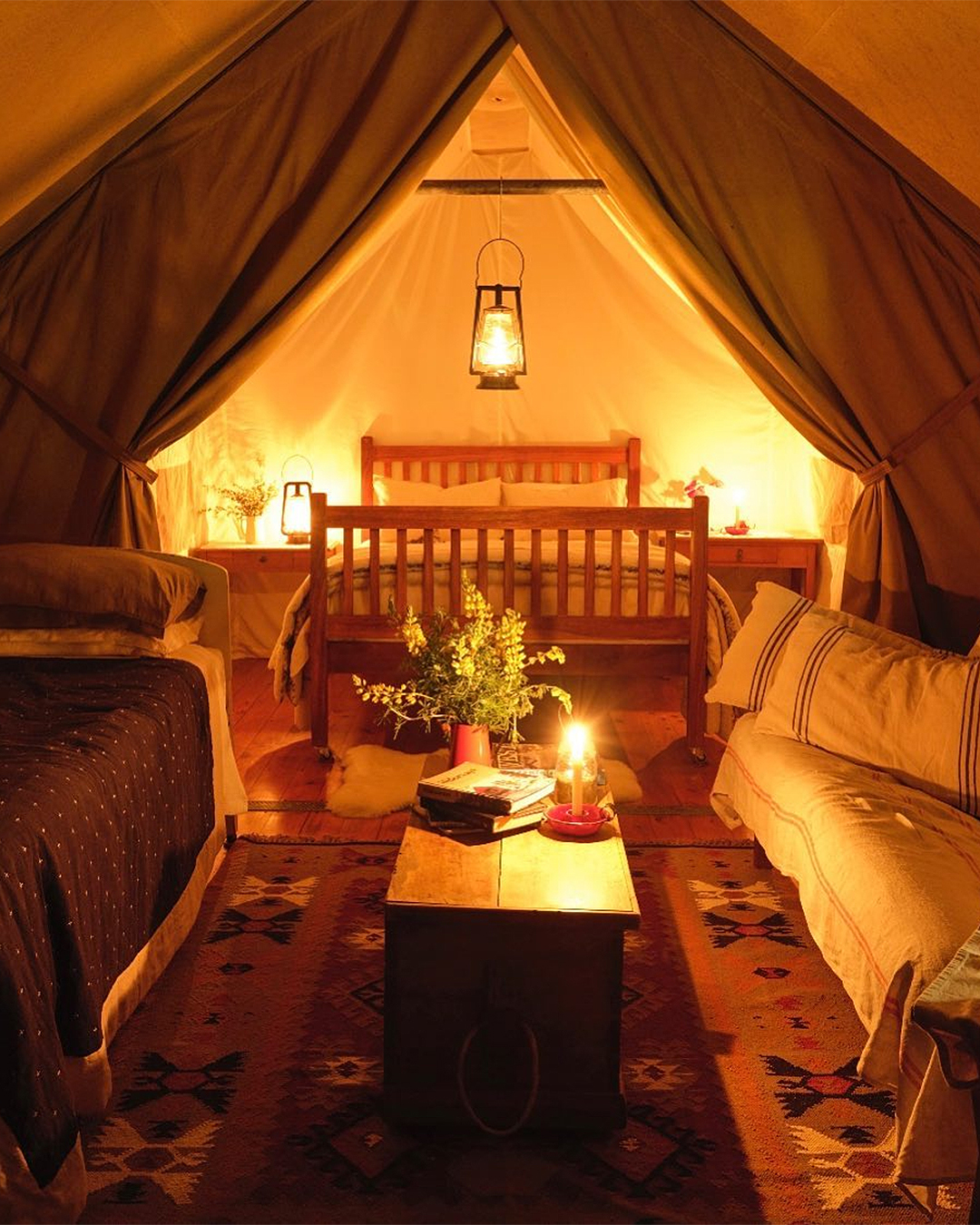 Wainamu Luxury Tents
Bethells Beach
Located at Auckland's Bethells Beach and noted for its infamous sticky, black sands, sunny skies and salty sea breezes, your glamping stay at Wainamu will be nothing short of spectacular. A short forty-minute drive from central Auckland, you'll be amazed at how secluded and tucked away you'll feel. Their safari-inspired tents come complete with recycled wooden floors, handmade Kiwi linens and rustic cooking facilities. Oh, and just a heads up—there is no, we repeat, no—cellphone coverage at Wainamu, so those Grams will have to wait. Sit back, soak in the starry skies and toast those marshmallows.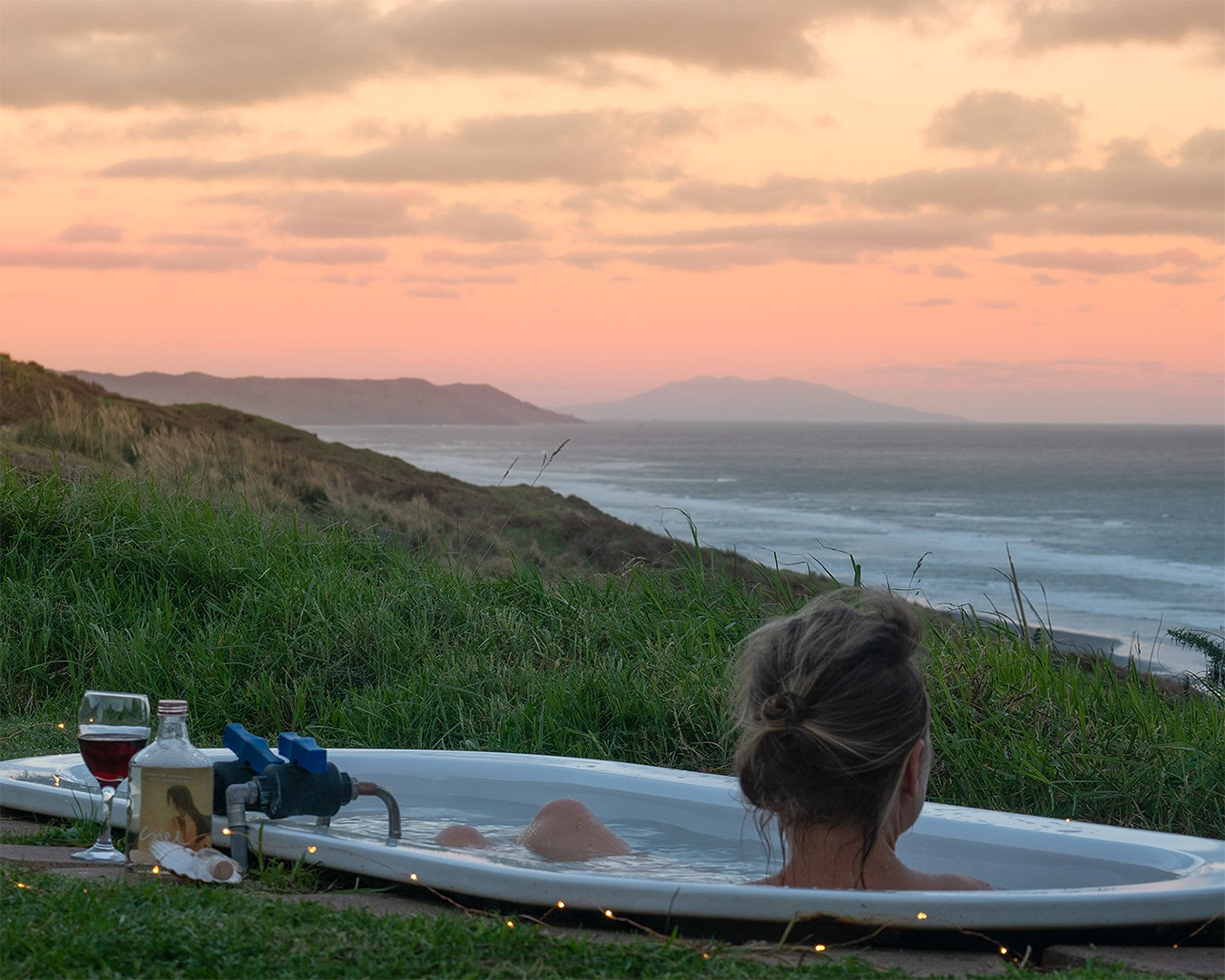 Castaways Resort
Karioitahi Beach
Special occasion? Need a relaxing escape from Auckland life? Look no further than the glam camping at Castaways Resort. In each package, they offer a king-size bed, kitchen, fresh linen, gourmet meals and wine—and not to mention, kick-ass killer views. Choose from an outdoor bath overlooking the swell or opt to be tucked away amongst native bush in your own treetop hideaway. Save those pennies as these indulgent and one-of-a-kind vacations don't come cheap, but are worth every, single dime.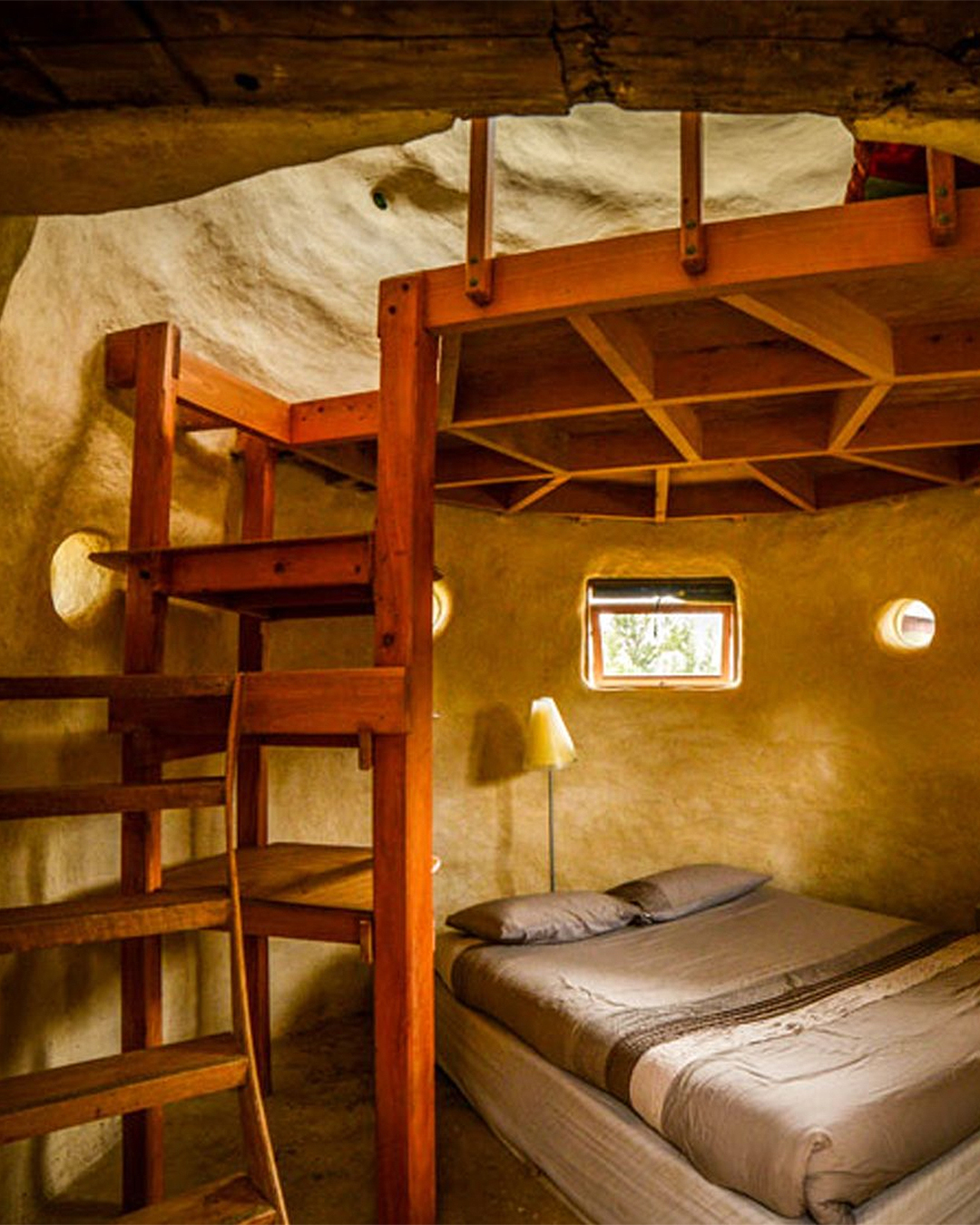 Solscape
Raglan
The team at Solscape is taking the glamping world by storm. With three completely different and unique glamping styles on offer, you'll certainly be spoilt for choice. One option is their converted, train cabooses, fitted with beds and dormitory-style sharing spaces. Want to feel more at one with nature? Hit up their 'Garden Belles' for a back-to-basics glamping experience, complete with open-air facilities and earth pizza oven! Pizza under the stars = game changer. Finally, their Earth Domes are a thing of wonder. Made entirely from natural materials, Solscape describe this sleeping experience as one of a 'grounding' nature. Pardon the pun.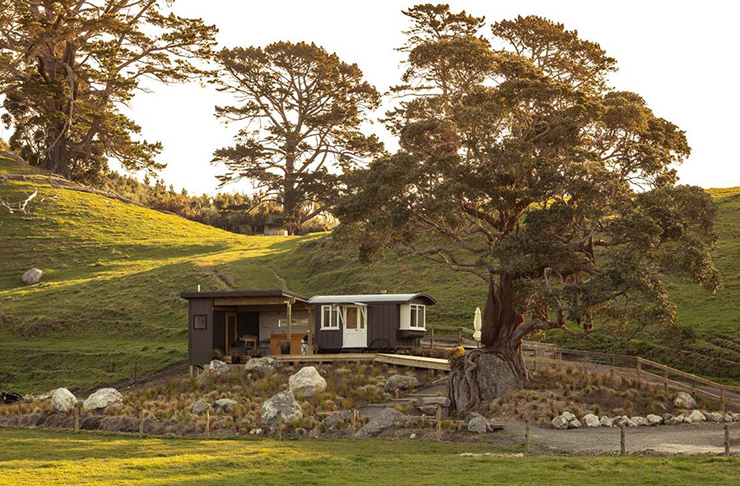 Wharekawa Farm
Coromandel
Inspired by the old English Shepherd's huts, this cute-as-a-button gipsy-esque caravan is the perfect summer retreat at Wharekawa Farm. Just a two-hour drive away from central Auckland, this glamping hotspot is located on the headland overlooking the horizon. Ideal for couples, the hut has complete with a queen-sized bed, window seat and wood burner for those chillier Auckland evenings, not to mention an idyllic hammock situated by the water. With ocean views galore and with just a 300m walk to the private sandy cove, you'll be getting your feet wet in no time.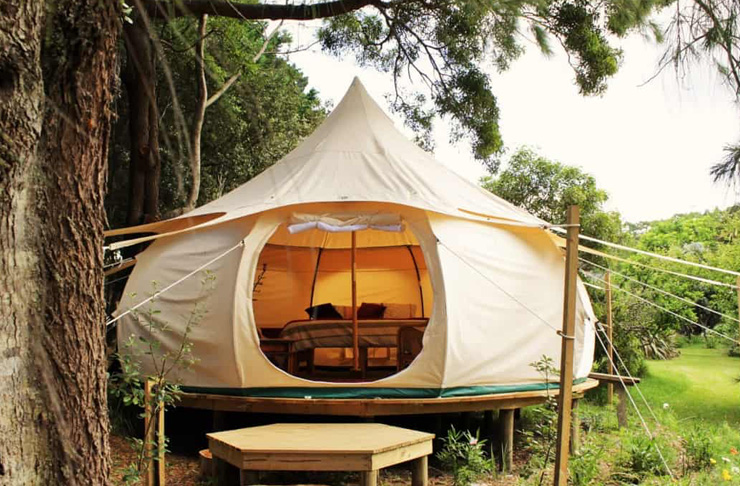 Fossil Bay Lodge
Waiheke Island
Waiheke is a haven in itself. With vineyards and views to boot, why not make your Waiheke experience even more unforgettable this summer. Book a stay at one of Fossil Bay Lodge's Lotus Belle Tents for a remarkable summer stay. These tents are always booking up quickly and it's no surprise why. With magnificent beds, large open spaces, and outdoor ensuite hot showers and bathrooms, these tents are a steal for an ideal summer getaway. You can also opt for one of the cottages or dainty apartments Fossil Bay has to offer.
Takou River Lodge
Bay Of Islands
With a range of safari and vintage style tents to choose from, we can't go past the 'Luxury Tent and Romantic Out Door Bath' package that Takou River Lodge has to offer. Perfect for a romantic retreat, your stay will include luxurious views, a quaint kitchen and your own private outdoor bath. Sheltered by Pohutukawa trees and with hot running water, you won't want to leave this tub, so get ready to rock those wrinkled fingers. Add a few candles, a star-filled sky and plenty of staring into each other's eyes and you'll start to hear those wedding bells chime.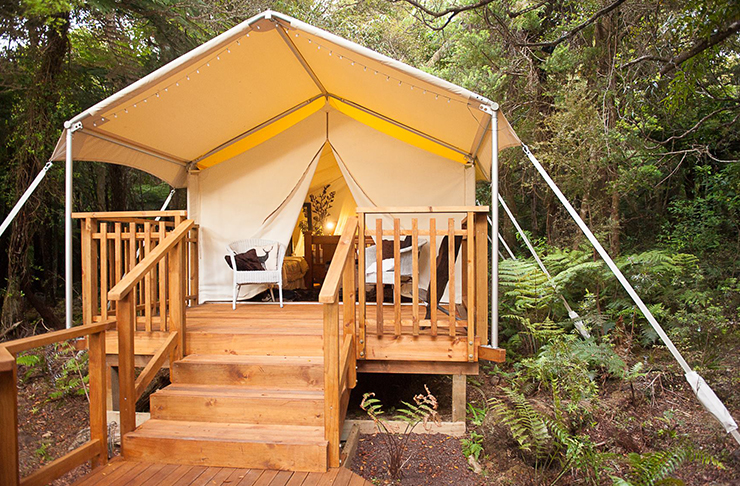 Highfield Forest Retreat
Kauri Coast
Set in a lush, native forest, your canopy will be surrounded by birdsong, trees and nothing more. Highfield Forest Retreat offers your own private tent, complete with bed and outdoor lounge area, you'll also have access to your own, private hut complete with an indoor lounge area. Talk about glamping perfection. Superbly sized for the amenities mentioned, it's perfect for small families and couples looking for a nature-filled getaway. Listen out for native birds and trickling waterfalls and with a boardwalk leading you into the trees, you'll be kiwi spotting in no time.
Staying closer to home? Here are 7 spots to take your breath away this weekend.
Image credit: Slipper Island Resort, Te Tuhi Dome, Underhill Valley, Wainamu Luxury Tents, Castaways, Solscape, Wharekawa Farm, Fossil Bay Lodge, Takou River Lodge, Highfield Forest Retreat.