One thing we've learned this year is that we're spoiled for choice with great coffee in New Zealand. So when we began working from home more, not having access to office coffee machines or our favourite café was a real bummer.
The good news is, you don't actually have to leave your home to get a seriously top-notch cuppa. From locally-roasted beans to must-have equipment, here we break down six simple steps to up your coffee game at home. The best part? You don't even need to ditch the loungewear to do it—how good.
First Thing's First, Get The Beans Right
90 per cent of why café coffee tastes so good is down to the beans. We could write a whole article on how to nail your bean selection, so here are the cliff notes. Figure out your flavour profile; do you like a more mellow bean, or a darker roast? Our advice is to order up a taster pack or chat with your local barista to find out. And when it comes to beans, fresh is best. Always check the roast date on your pack, keep it sealed and use it quickly. Wondering where to start? You can't go wrong with grabbing a pack from some of New Zealand's favourite roasters like Flight Coffee, Eightthirty or Red Rabbit.
Level Up Your Gear
With beans down, you'll want to get the actual making part of the caffeine equation right. While there's plenty of choices, the only way to master barista-level coffee at home is with an espresso machine.
Our pick for ease, quality and value for dollars goes to the Sunbeam Barista Plus Espresso Machine. For the price of about 80 lattes, you'll get access to an unlimited supply at home—score. This one does it all, with a digital grinder and shot timer making it super beginner-friendly. But if you've been around the coffee traps, check out the Café Series Duo Espresso Machine for an even more elevated experience.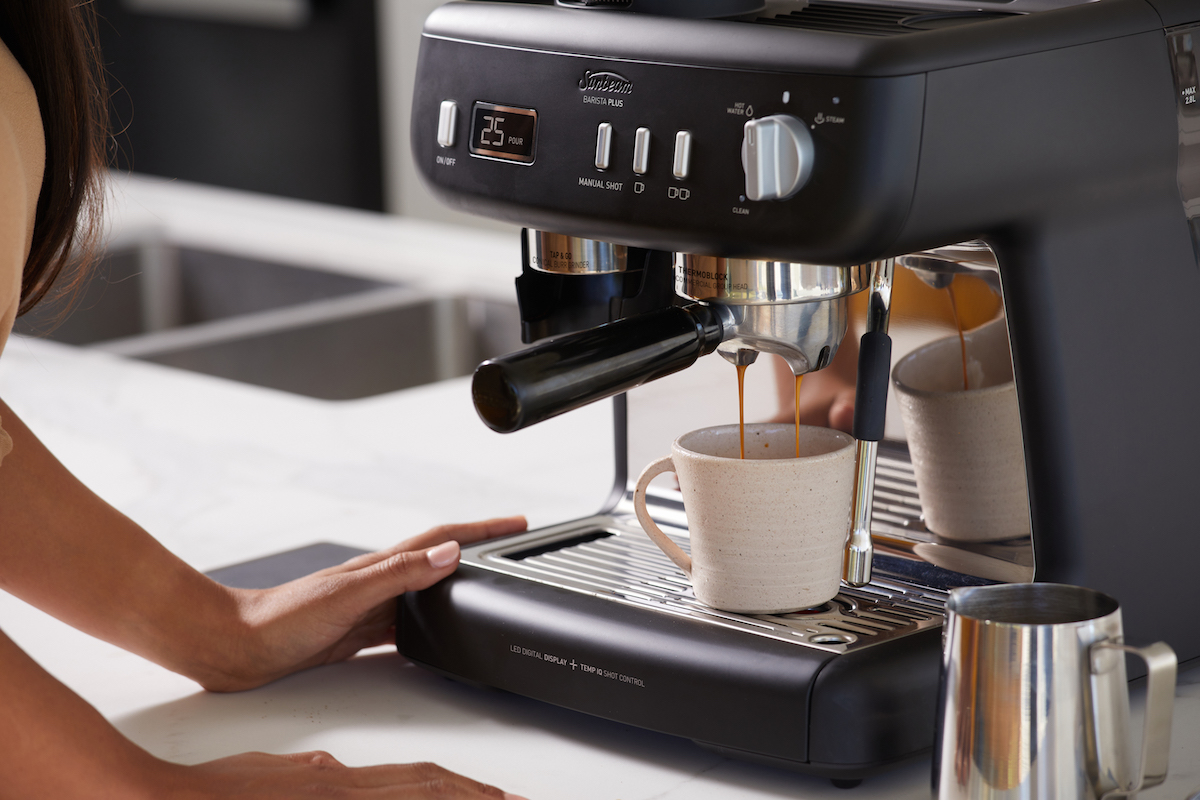 Get Schooled On CoffeeTok
Who needs a barista course these days? Jump on the interwebs and skill-up on anything you need to indulge your love of coffee from home. James Hoffmann is the coffee guru of YouTube and covers all sorts of weird and wacky topics, alongside beginner tips to getting started. For pure inspiration, head straight to #CoffeeTok to get among the latest recipes, ideas and tips from TikTok's coffee community. From pumpkin spiced cold brew to drool-worthy takes on Affogato and cookies and cream lattes, the sky's the limit.
Get Experimental With Flavours
Caffeine purists, you can skip this section. Attention sweet-tooths, coffee absolutely doesn't have to taste bitter. In fact, coffee is the perfect base to let your imagination run wild with different flavour profiles. Embrace cosy vibes with a cinnamon caramel latte, get all festive with a peppermint mocha, or skip the coffee all together with chai, matcha or tea-inspired lattes. And if you're a hot-chocolate fiend, an espresso machine is the gateway to getting frothy milk down pat. You can thank us later.
Pimp Out Your Mug Collection
There's nothing more satisfying than sipping a morning brew from your favourite mug. If, like us, you've accumulated a slew of odd cups over the years, it's time to get your mug game into shape. The truth is, it's okay to donate that 10-year-old mug with the inspirational quote from Aunt Mildred. As they say on the Tok… how would they know?
Slowly and intentionally replenish your collection with high-quality mugs from local brands and pottery artisans. Kiwi coffee shops love Acme & Co, whose collections are simple, functional and timeless. Or if you're looking for something more individual, try Westcoast Stoneware, JS Ceramics and Claybird Ceramics for one-of-a-kind wares.
Make Time For Coffee Moments
Look, half the reason we love going to a café is to escape from the mundane. It's to catch up with friends over brunch, take a meeting with a change of scenery or pass the time with a good book. If you're truly going to level up your at-home coffee experience, you need to create the space for equally memorable moments. Maybe it's early-morning journaling with your espresso, a DIY breakfast date with your fam or 5pm espresso martinis. Whatever the excuse, take a moment to disconnect from daily life with a damn good cuppa—you won't regret it.
Bring the café home with Sunbeam's Barista Plus Espresso Machine. Or if you're in the big coffee leagues, check out the Café Series Duo Espresso Machine. Brunch at yours next weekend?
Image credit: Taryn Elliott, supplied
Editor's note: This article is sponsored by Sunbeam and proudly endorsed by Urban List. To find out more about who we work with and why read our editorial policy here.