We love Japanese food an awful lot here at Urban List. And who's to blame us? From sushi to sashimi to sake, Japanese cuisine delivers deliciousness on all levels.
Lucky for us Aucklanders, we can find a slice of this culture on our doorstep at Auckland's many fabulous Japanese joints. From authentic experiences through to fusion fare, we've scoped out the very best Japanese restaurants in Auckland.
Here are the best Japanese joints in town.
Tanto Japanese Dining
Epsom
Friendly neighbourhood restaurant Tanto is absolutely deserving of a place on any self-respecting list of Auckland's best Japanese restaurants. Tanto in Japanese means 'a lot of food' and we can confirm you'll want to revisit this place time and time again just to sample everything on their extensive menu, though be advised you'll often need to book ahead. Helmed by the ever accommodating and charismatic Mitsukuni Shibuya (Kuni), this place is about as authentic as it gets and every dish that comes out out of the sushi bar and the kitchen is simply stunning. We can't go past their super fresh and beautifully presented sashimi and sushi, moreish takoyaki and karage not to mention the soft shell crab (or spider roll if you want a little rice accompaniment). The crispy tempura in all its guises is the stuff of dreams and watch out for the specials, (the seafood miso chowder that makes an appearance over winter is outstanding). Wash it all down with a little sake and a plum wine to finish while you tuck into dessert of green tea ice cream or chocolate brownies. You'll definitely be loosening that waistband by the time you leave, happy and replete. Don't say we didn't warn you.
Janken
Herne Bay
One of Auckland's best Japanese restaurants for vegans, vegetarians and meat eaters alike is Herne Bay's homely Janken. Book ahead or walk on in after strolling down Jervois Road, and settle in for a casual and cosy feed. With a menu heavy on fresh Shojin-inspired Japanese food, you can expect fresh flavours in light yet filling dishes. You'll find a number of your favourite Japanese lunch and dinner staples like sushi, sashimi, hotpots and ramen gracing the menu—in both meaty and plant-based options. Or sink your teeth into deliciously doughy mochi or organic tahini tofu—if these won't have you coming back for a second, third and fourth visit, we don't know what will.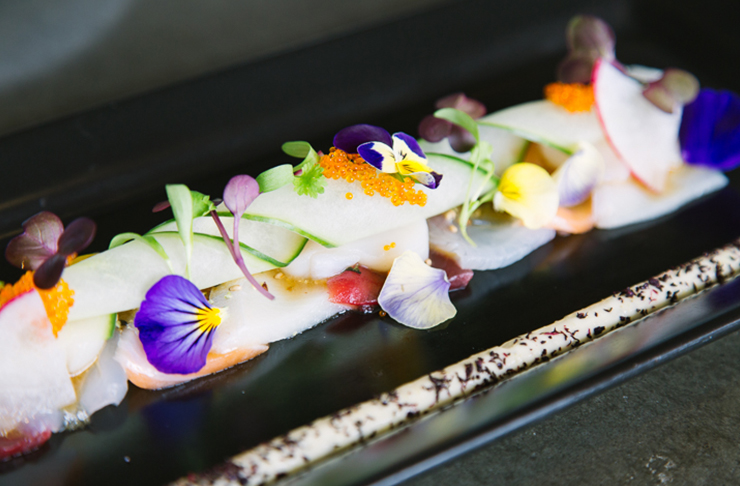 Ebisu
Britomart
Britomart is home to many restaurants serving up delicious fare, and Ebisu is no exception. Bringing together the best of Japanese and European cuisine techniques to one fiercely chic dining experience, Ebisu serves up modern spins on traditional Japanese fare. The team here understand that it's no easy feat to choose between their delicious dishes, so they've created a 7-course tasting menu alongside their a-la-carte menu, showcasing their signature dishes and seasonal favourites. There's even an entirely vegan version of this degustation for our plant-based friends to get in on. One of Auckland's best Japanese restaurants, Ebisu is a must.
Japanese Bistro Zen
CBD
The CBD is home to what can only be described as one of the best Japanese restaurants in Auckland. Seriously, Japanese Bistro Zen (formerly Industry Zen) is that good. Their succulent and sauce-covered teriyaki chicken is the perfect example of this. Paired with some edamame, tako-yaki and some insanely good spring rolls, eating out doesn't get much tastier than this. To make things even better, each and every dish comes out perfectly and creatively plated—so trust us when we say it's practically impossible not to document them in a cheeky 'gram.
MASU
Auckland City
One of the best restaurants in Auckland to treat yourself to top-notch Japanese fare is Nic Watt's MASU. Located in the Federal Street dining precinct, this Japanese robata restaurant and bar offers a bold and distinctive style of Japanese dining. Dishes are prepared in three separate areas of the restaurant—the sushi bar, the kitchen and the robata grill, with the robata grill being the cornerstone of MASU. The restaurant's menu includes smaller dishes made for sharing, as well as those more hearty dishes that you wouldn't mind digging into on your own.
Heizo Teppanyaki
Newmarket
For a truly mouth-watering and authentic Japanese experience, head to Newmarket's Heizo Teppanyaki. The restaurant is small and you can watch as the food is prepared before you. The experienced and friendly chef chops and cooks on the teppanyaki grill, with seating around it. There are a number of other tables if that is full. The waitresses dress in kimonos and are welcoming and friendly. Oozing with authentic charm, the menu is relatively small but absolutely delicious. The teppanyaki set menu offers miso soup, fresh green salad, yum yum prawn appetizer, teppanyaki vegetables and steamed rice. Choose between the likes of eye fillet steak or chicken thigh and it's a dream meal.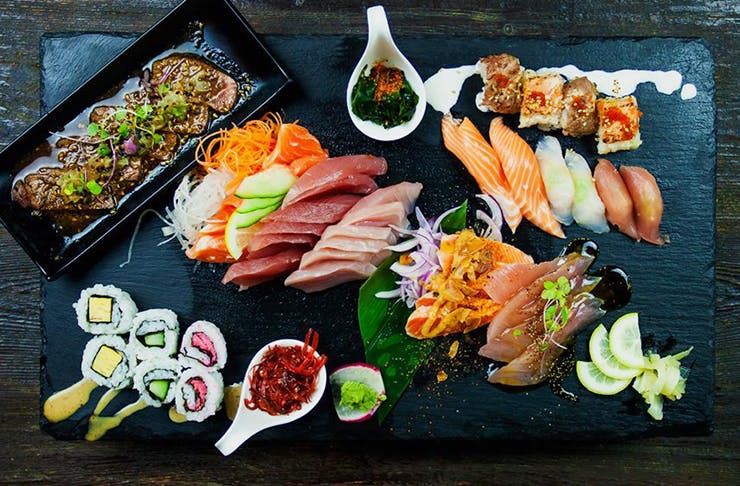 The Yakitori House
CBD
Another jewel in Auckland's casual Japanese restaurant crown is The Yakitori House. Tucked away downstairs beneath Shortland Street, this yakitori bar is easily the CBD's best kept secret. High ceilings, gorgeous paper lanterns and lines of decorative sake bottles give this dimly-lit joint an extra touch of charm, as does the incredibly friendly and attentive service. If you're on the hunt for Auckland's best express Japanese lunches in Auckland's CBD, you'll also find it here in the form of delicious donburi bowls and lunchbox sets. There's also succulent yakitori (i.e. skewers grilled to perfection), delicious side dishes, Japanese beer and all-you-can-eat karaage chicken on Tuesdays. Get in.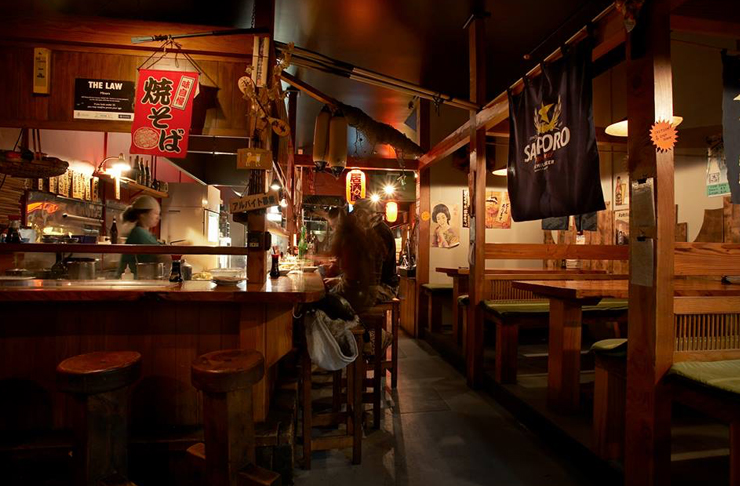 Sake Bar Nippon
Epsom & Takapuna
Fresh sashimi, sushi, tempura, and other Japanese favourites are all a-go at Izakaya-style restaurant, Sake Bar Nippon. If you fancy learning a thing or two about Japanese cooking, grab a seat where you can, and watch the chefs talented chefs, chop, fry, stir and perfectly plate your dishes before savouring the fresh flavours. Or if you prefer the food to come directly to you, wait by the Sushi train at their Epsom joint and pick and choose your favourite sushi and sashimi creations. Alongside the fare, theres' a tantalising menu of the best Japanese brews in Auckland, featuring hot and cold sakes, wines and spirits.
Tanuki's Cave
CBD
You'd be forgiven for thinking you were downtown in a Japanese metropolitan city while dining in Tanuki's Cave. Just next door to Kura and also tucked down a dark flight of stairs off Queen Street, this dimly lit Yakitori den is reminiscent of hole-in-the-wall restaurants you'd find wandering somewhere in Tokyo or Kyoto. With Yakitori skewers taking centre stage here, expect to see all kinds of vegetables and succulent cuts of meat grilled to perfection then popped onto a kebab, ready to dip in delicious sauces. Situated right around the corner from Q Theatre, The Civic, The Town Hall and Aotea Centre, Tanuki's is easily one of the best Japanese restaurants in Auckland CBD for a pre or post-theatre feed.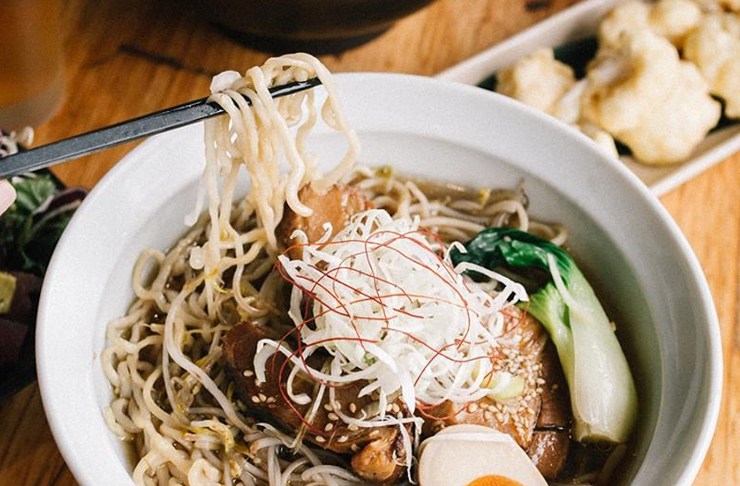 Ramen Takara
Ponsonby
Ramen Takara is our go to for the best bowls of ramen in Auckland. Doughy, hand-pulled noodles and three-hour-stewed savoury broths are made daily by the talented team. Topped off with fresh local ingredients, you can be sure that each and every sip and slurp of your ramen bowl will be bursting with quality, flavour and freshness. Alongside the wide selection of ramen, you'll find your favourite Japanese go-to dishes such as gyoza, karaage chicken and tempura veggies.
Moto Sushi Bar
Parnell
Down some stairs and tucked away in Parnell Village is one of the best Japanese restaurants in Auckland. Open for lunch and then again for dinner service, Moto Sushi Bar is on the more cosy side but the menu is as long as your arm, with all your favourites available in a range of flavours. With sashimi, sushi and bento boxes as well as special food combinations, there's something for everyone. They also serve mouth-watering udon, ramen and yakisoba, or pan-fried noodles. Choose between the likes of salmon, chicken or vegetarian. Naturally, there are tempura options as well as donburi on rice with choices such as unagi (eel), chicken katsu and tofu. And, if you'd rather dine in the comfort of your own home, you're in luck as takeaways are an option.
&Sushi
Newmarket, City Works Depot, Smales Farm, britomart
No list of Auckland's best Japanese joints would be complete without a special mention of &Sushi. Fresh, tasty, and ridiculously pretty, their sushi is literal works of art. If you can bring yourself to deconstruct these perfect pieces, then expect big flavours and incredible textures that'll hook you so good you'll make &Sushi your go-to lunch spot. For those wanting something a bit heartier, donburi, yakisoba and udon are on the menu as well as the not-so-usual dakjuk (aka Korean chicken porridge).
Kazuya
Eden Terrace
If you fancy treating yourself to fine dining at one of Auckland's best Japanese and European fusion restaurants, then Kazuya is where you want to be. You'll find dishes created using a unique process of low and slow-roasting for meat, as well as deploying traditional Japanese methods for preparing fish, all plated to perfection. While their cuisine techniques may be wonderfully elaborate, their philosophy is simple—to make their guests smile.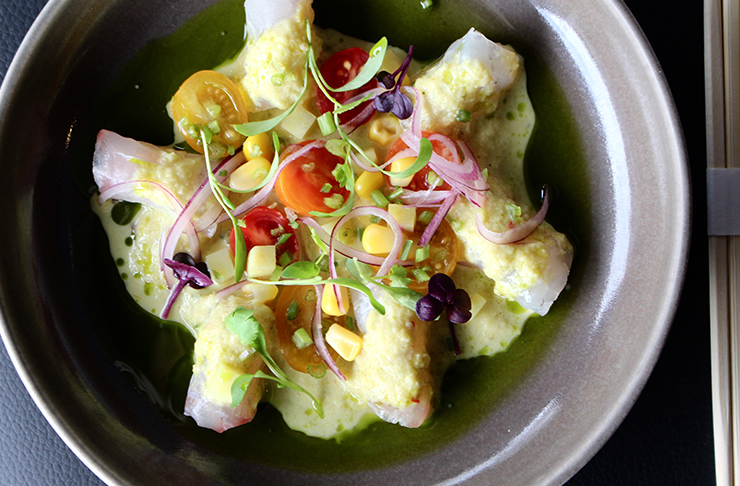 Azabu
Ponsonby and Mission Bay
One of Auckland's best Japanese restaurants comes with an extra international flare—Peruvian flavours. Enter Azabu: Ponsonby (and now Misson Bay's) Japanese Nikkei and Peruvian fusion eatery, where fabulous new flavours are skillfully infused into each and every dish. There's a lot to love about this place, from it's covetable decor right through to the plethora of small and large sharing plates bursting with colour and punchy tastes. The fun doesn't stop there—did we mention there's also a secret cocktail and sake bar called Roji hidden out the back of the building? As if Azabu couldn't get any better.
Zool Zool
Mt Eden
What happens when two award-winning Japanese chefs join forces and open up a joint? You get one of Auckland's best Japanese restaurants and most magical noodle houses, that's what. To see it for yourself, head to Mt Eden's Zool Zool, and be prepared to experience some of Auckland's best, and most authentic, Japanese ramen and sake. There are oodles of noodle-filled ramen bowls to choose from, as well as the lesser known—but equally delicious—Zool Men reduced broth dishes. Make sure you save room for dessert here, there's Yuzu sorbet, matcha ice cream and even wasabi ice cream to get in on.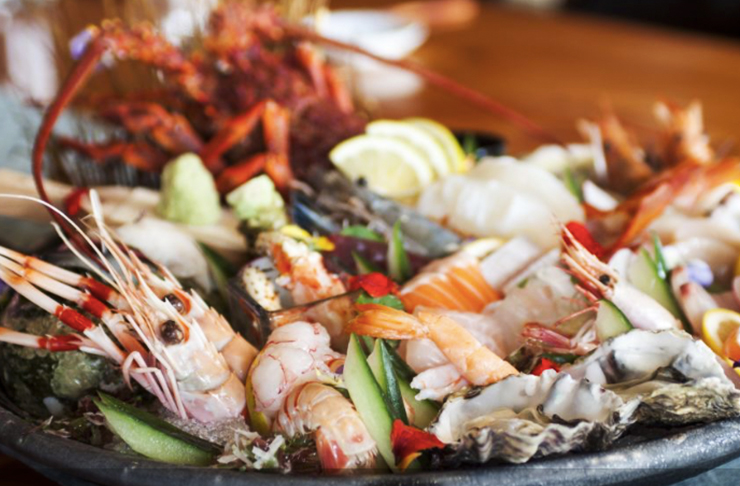 Cocoro
Ponsonby
Down a quiet side street off the not-so-quiet Ponsonby Road is the up-scale Cocoro, serving new-style Japanese cuisine in a cosy, yet contemporary setting. The restaurant places importance on providing an "Ichi-go Ichi-e" experience, in essence meaning "treasure every encounter, for it will never recur." A range of menus are on offer—a degustation course, sushi sashimi course, signature course as well as an à la carte option. This is fine dining at its best.
Kushi
Auckland City
Venture downtown to Durham Street West, and discover Kushi—a hidden gem that's easily one of Auckland's best Japanese restaurants. This kitchen and bar is sophisticated, modern and comfortable—much like their menu, which includes sleek renditions of classic favourites like Karaage chicken, sashimi, slow-cooked pork belly and gyozas among fresh fusion dishes like miso marinated lamb racks. Pop in for a quick lunchtime bento box, grab dinner on the go, or settle in for a long, sake-infused dinner—the possibilities are endless.
Kura Sake Bar
CBD
Possibly one of Queen Street's best kept secrets, the entrance to Kura is accessed through a sliding Japanese door and a steep flight of steps which will take you down below Queen Street. You'll step into a buzzing Japanese den and glimpse incredible dishes coming out of the busy kitchen. With authentic kimonos on the wall and sunken tables for groups of 5 and more—where shoes will need to be removed, thank you—settle in for a night of delectable Japanese fare. Kick off with some sashimi, impossibly tender beef tataki and maybe a few cheeky crispy fried prawn and cheese spring rolls. We can't go past a couple of succulent soft-shelled crabs, whether within a spider roll or alone, and their terriyaki chicken is also a winner. Vegetarians are well catered for here with delicious tofu salads and crisp vegetable tempura. Our gluten intolerant friends are also well looked after with a gluten free menu. Wash it all down with a flask of sake or three, finish with a plum wine and you'll be reliving this meal in your dreams. This place is always jumping so best book ahead. Currently closed until late 2021.
Brush up on your sake drinking skills with our guide on how to drink sake like a pro, Kanpai!
Image credit: Tanto Japanese Dining, Lydia Arnold, Jaiden Bhaga, Lauren Matilda Matthews, Andrew Wilson at Ebisu, Katsuya, &Sushi