Sometimes it's nice to get away from the hustle and bustle of city life and dine in calmer surroundings. So, if you feel like adventuring your taste buds elsewhere then listen up, we know just the place.
An exciting new eatery has just landed in Hobsonville Point and trust us when we say it's serving up sublime feeds. Kneads All Day is a modern yet quirky spot that is proving that west is best with its exquisite menu, bright space and daily fresh baked goods.
Hats off to owner Sam Raina who together with design company—and force of nature—Millé has transformed a completely new building into a work of art, creating an inviting space inspired by the old brick factories in the area. Adding a modern twist to the interior by using an explosion of big, bold and beautiful colours paired with earthy, pastel tones to represent the ceramicist history of Hobsonville.
The bright purple wall and bold blue tables paired with the baby pink coffee machine and lush greenery give out serious retro vibes and we totally dig it. Another thing we absolutely love is the dedicated baking section, where you can cast your eyes on all the live-action. So, if you're a baking enthusiast or simply just want to see how your fave brioche is brought to life, pull up a pew and watch the magic happen.
Let's talk about the kai, shall we? (We know that's what you've been waiting for and rightly so)
For all you savoury lovers out there, you'll be pleased to know that there is a savoury focus here, which means the cabinet selection will be jam-packed with salty savoury goodness— think home-maid pies, twisters and even a chilli brioche for those that can handle the heat. Sweet tooths are also well catered for with sweet treats to choose from like doughnuts, lamingtons, rocky road and lolly slices.
The menu is home to an impressive line-up of dishes that'll make all your brunch dreams come true so be sure to come hungry. If breakfast is your fave meal of the day, then get in early and grab the oat porridge with coconut crumble, pomegranate and ginger poached pear—it's the perfect winter warmer.
If you're after something more substantial, take your pick of the bunch—these dishes are on the larger side—sink your teeth into the creamy mushrooms served with hazelnut and macadamia crumb, poached egg, a hearty slice of sourdough to mop up all that creamy goodness and crunchy kale—oh, how we love a good crunch!
If it's new flavours your taste buds desire then the vegan toast is a must-try—this is no ordinary toast, no siree! It's a tower of deliciousness made up of fang Sichuan spiced mushroom, pumpkin, red beans, sesame crust and cashew pesto all served on toast made by Oh My Goodness Speciality Breads. Trust us, it's to die for.
Mixing it up a little or shall we say, a lot, is the stout beer pulled short ribs bene, which adds a tasty twist to the traditional eggs bene. Served on a turmeric-infused hotdog bun with poached eggs, broccolini and smothered in a beautiful green hollandaise sauce—this dish will leave you pining for more with every mouthful.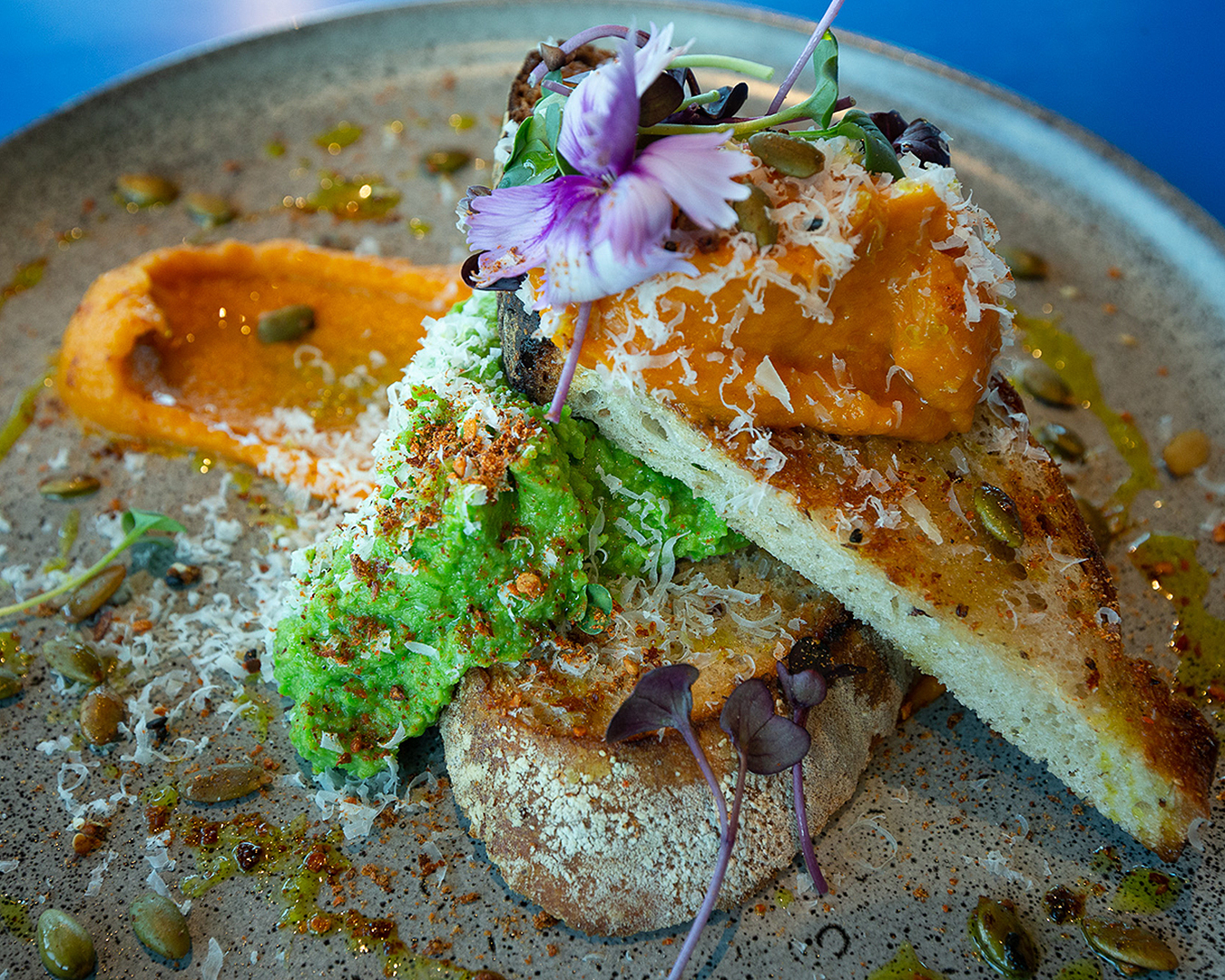 Or perhaps you'd like to give the smashed peas a go. We're talking vibrant smashed peas, spiced seeds, creme fraiche, pumpkin puree, grated parmesan all on toasted sourdough. Get in our bellies. Pair this with the raspberry, pomegranate and rosewater smoothie (which is vegan may we add) for an extra health kick.
Saving the best till last—The French Toast is the only sweet option on the menu, but boy is it a stand-out dish. A deconstructed delight made up of white chocolate cream, raspberry gel, spiced berry compote, tuille, apple caramel roll, fruits and if that isn't sweet enough, then it's accompanied by a little pot of maple syrup to really finish things off. It's practically a dessert for breakfast. Winning!
So, if you're after culinary masterpiece after masterpiece, then head to Hobsonville Point and treat yourself to the many flavours and wonders of Kneads All Day—a magical gem that will tend to your every 'knead'.
For more images and information, including opening hours, click here.
Image credit: Wono Kim