Māori Language Week—a whole week dedicated to celebrating te reo by incorporating more into our everyday lives. Although these seven days in Mahuru (September) are when where we're all encouraged to speak Māori—the buck doesn't stop on Sunday.
Te Wiki o Te Reo Māori was established in 1975 to uplift and celebrate speaking Māori—and this year we're celebrating 50 years since the Government was petitioned to formally recognise the language, which is obviously awesome. The stink thing is, once the week is through, most of us put the kupu and phrases we've learnt to bed for a whole calendar year. Hmm.
As one of three official languages of Aotearoa and the tongue of our indigenous people, Te Wiki o Te Reo Māori is but one small way you can honour tangata whenua (honour the treaty), but we can be doing so much more. And no, your Waitangi Day BBQ does not count.
So this week, and every week henceforth, we encourage you to go beyond learning how to order your coffee in Māori in exchange for a free brew at work and do something to create a lasting impact for yourself and te reo Māori.
Using the wonderful resource that is the Te Wiki o Te Reo Māori ~official~ website, we've pulled together some great ways you can support the kaupapa (you should also learn Māori myths and legends, karakia, waiata, colonisation and the Treaty of Waitangi once you're done with this) as well as a few people, places and things which will help you along on your reo journey. Check out the events section for things going on in your area—there's also a whole bunch of webinars too. It's basically a great time to learn te reo Māori.
Kia kaha te reo Māori whānau.
Resources
Scotty Morrison's Māori Made Easy series
The presenter of current affairs shows Te Karere and Marae Scotty Morrison, has written a series of books that will guide you on your te reo journey, no matter what level you're at. Māori Made Easy isn't just a great title, the books are designed in such a way that you'll only need to pick it up for 30 minutes a day, but the frequency in which you choose to learn is completely up to you. Available in print, ebook or as an audiobook, there are also four extra workbooks up for grabs to take your te reo to the next level.
Mahuru Māori
No matter if you're new to te reo, a seasoned or fluent Māori speaker, Mahuru Māori is a great way to commit to using te reo Māori throughout the month of Mahuru. Obviously, we're well through September, but there is no time like the present to get on board the waka. The challenge, should you choose to accept it, is to commit to speaking/writing/singing as much Māori as possible this month, whether it be for an hour a day, one day a week, in your sleep—whichever frequency is doable for you. Check out the website to register and get your hands on a load of great resources and downloads which will help you on your way.
Māori Dictionary App
Whilst you might not have your Raupo Dictionary of Modern Māori on your person at all times, you need not fear. The Māori Dictionary app (also known as Te Aka Māori Dictionary) is available to purchase on your Apple or Android device, or available online for free and fulfils all the functions you would expect of a dictionary. If you don't have access to a device or are out of storage, there are plenty of pocket-size (or full-sized) paper dictionaries just waiting to be purchased. Fill your boots.
KUPU APP
We live in the age of AI, so if you're at a loss for the English word of an object, please remain calm and download the Kupu app. Made by Spark and the Te Aka Māori Dictionary, it uses artificial intelligence and your phone camera to detect objects and give you its Māori translation. Take that, Alexa!
Tuhi Stationary
Diaries, calendars, wall planners. Ah, the joys and wonders of stationery. But do you know what would make it even better? If it supported your learning and vitalisation of te reo! Enter, Tuhi Stationary. As well as the aforementioned products for purchase, there are a bunch of free digital resources created by wāhine Māori Geneva Harrison (Ngāti Kahu, Te Rarawa, Te Aupouri) and Mihi Tibble (Te Whānau ā Apanui, Ngāti Porou, Te Arawa, Ngāti Awa), so you're not only supporting the kaupapa, but you're also supporting a Māori business. How about that?
Toro Mai
Created by Stacey and Scotty Morrison in conjunction with Massey University, Toro Mai is an excellent, interactive and FREE online resource to teach you te reo and tikanga Māori. With multiple tools and methods to make learning even more fun, it's designed for anyone to jump on board and begin learning the language. You'll be speaking Māori in no time.
Te Taurawhiti—Māori Language Commission
Besides the Te Wiki o Te Reo Māori website, The Māori Language Commission expands on helpful resources, with some exciting ways for you to learn.
Pronunciation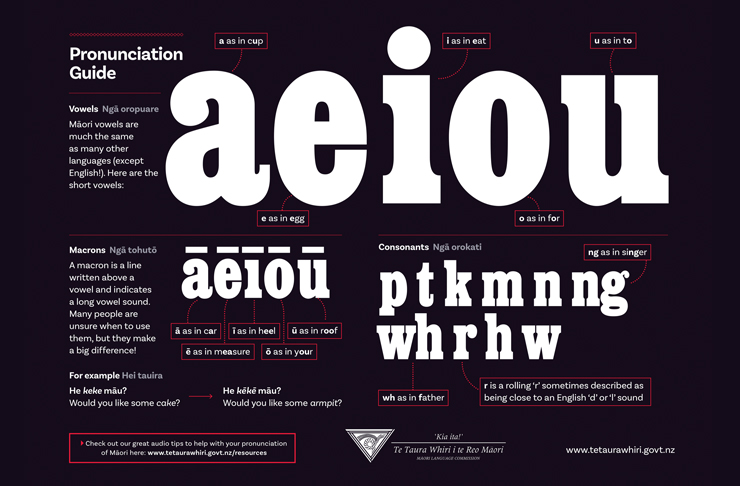 Every time you pronounce a kupu Māori correctly, a patupaiarehe gets its wings (note, patupaiarehe do not resemble Pākeha interpretations of fairies—the wings reference is purely whimsical). Whilst it might be difficult to unlearn incorrect pronunciations (cc: Taieri Plains lady) if you've taken a language in high school, then this is should be a piece of cake.
With many resources just a quick google search away (such as this one from The Māori Language Commission with audio tips), the best thing you can do to perfect your pronunciation is to practice. Don't forget to roll your R's, and if you see a line above a vowel (a macron or pōtae), it means that vowel has a long sound. Try it out in conversation, and if you're struggling with a tongue-twister—keep at it or reach out to a reo speaker. You've got this.
The apps mentioned above also have audio recordings of every word to get your reo polished and sparkling. Wash, rinse and repeat. Alternatively, Stuff has this year released a great series with video clips to help you nail your pronunciation.
Ways To Incorporate Te Reo Into Your Everyday
Order Your Coffee in Māori
First things first—kawhe. Some might find this a challenge before your daily brew, but once you've soldiered through, we're certain you can tackle anything the day throws at you.
Speaking of, he mōwai māku—e rua nga hōta koa.
Workplace
You're there for 40 hours a week, you might as well make the most of it. Why not spice up your regular email phrases (snooze), meetings (yikes) or things to do in your workplace with some kupu Māori? For example, if you work at a pencil shop, you could refer to your product as a 'pene rākau', or if you make your pūtea on a dairy farm, a cow is 'kau' and milk is 'mīraka'.
Good morning — Ata mārie, mōrena
Hello — Kia ora, tēnā koe (singular), tēnā kōrua (plural), tēnā koutou (three or more), tēnā koutou katoa (everyone) tēnā tatou katoa (everyone including yourself)
Apologies, sorry — Aroha mai
By [write your name here] — Nā [tuhi tō ingoa]
Kind regards — Ngā mihi
Thank you very much — Ngā mihi nui
Yours sincerely — Nāku noa
Have a good day — Kia pai to rā
Bye for now — Mā te wā
As per my last email — Kei tāku īmēra i mua
For more formal email remarks, check out this handy doc from the Library and Information Association of NZ, and for saltier responses, check out this article from The Spinoff.
Ngā Kupu Hou O Urban List
To celebrate Te Wiki o Te Reo Māori, we took a look at the things we write about and thought, here's a great idea—let's whakamāori some words to do with our content, that'd be great. And it is. Goodbye English verticals, hello ngā kupu hou o Urban List.
Things To Do
Porotēhi — Protest, speak out against, demonstrate
Hīkoi — To march, step, stride, trek, tramp
Haerenga — Journey, trip, parting
Ako — Learn
Food & Drink
Wāhi Kai — Cafe, restaurant
Kawhe — Coffee
Kai — Food, to eat
Inu — Drink, to drink
Parāoa — Paraoa
Huarākau — Fruit
Huawhenua — Vegetable
Waipiro — Alcohol
Wāina — Wine
Pia — Beer
Style
Kākahu — To put on clothes, dress, clothing, cloak, apparel, costume
Mau — Put on, wear
Pōtae — Hat, cap, beret, beanie, covering for the head
Poraka — Jersey, cardigan, jumper, sweater, sweatshirt
Hākete — Jacket
Tīhate — T-shirt
Tarau — Pants
Tarau poto — Shorts
Toroiho — Drawers, underwear
Tōkena — Socks
Hū — Shoes
Health & Wellness
Tākuta — Doctor
Hauora — Health
Oranga — Wellbeing
Māuiui — Sick, illness
Rōngoa — Medicine, remedy, drug, cure, treatment, solution (to a problem), tonic
Career & Money
Putea — Money
Hēneti — Cents
Umanga — Career
Mahi — To work, job, employment, trade, occupation, do, perform, make, accomplish,
Entertainment
Television — Pouaka Whakaata
Pikitia — Picture, film, painting
Kaiwhakaari — Actor, performer
Tiata — Theatre, show
Puoro — To sing, song, music, musical instrument
Whakarongo — Listen, hear
Travel
Waka, mōtoka — Car, motor car
Motopaika — Motorbike, motorcycle
Bus — Pahi
Plane — Waka rererangi
Atua Whiowhio — Railway train, steam engine, locomotive
Bike — Paika
Hoiho — Horse
Sustainability
Kaitiaki — Guardian, protector
Rākau — Tree, stick, timber, wood
Papatūānuku — Earth Mother
Ranginui — Sky Father
Wao, ngāhere — Forest
Ao — World, Earth
Taiao — Environment
So there you have it, a journey begins with a single step, so get out there and start marching.
Image credit: Atlas Green, Te Taura Whiri—Māori Language Commission, Te Wiki o Te Reo Māori.