Listen up team, because we're about to put the cherry on top of your summer. Mövenpick has opened a brand new boutique in Mt Eden and it's here to make your wildest ice cream dreams come true.
Taking over a spacious site on the corner of Dominion Road and Burnley Terrace, this sweet new spot is about one thing, and one thing only—filling your face with the most indulgent and utterly delicious ice cream imaginable.
If you're unfamiliar with the Mövenpick brand, here's a quick education: it originated in Switzerland and now has over 150 stores worldwide, including a handful here in New Zealand—while select flavours can also be found in the freezer at your local supermarket, or perhaps even alongside dessert at your fave restaurant.
The secret to Mövenpick's success (and insane deliciousness) lies in the cream, which comes from cows raised on small family farms in the Swiss Alps. Basically, when it comes to creating great ice cream—these guys know their stuff.
This ice-cold goodness comes in more than 20 incredible flavours at the new boutique, all available by the cone or cup as well as in some seriously next-level desserts (more on that later).
We definitely have our faves, including the pistachio, maple walnut and panna cotta raspberry—however those with more traditional tastes will be pleased to know that they also sling a damn fine scoop of vanilla, chocolate and strawberry. And let's not forget about their legendary fresh fruit sorbets, which will legit give you chills.
Top off your choice with lashings of chocolate, caramel or berry fruit sauce, sprinkles, roasted nuts and whipped cream, and you can consider your sweet tooth sorted.
However if you're looking for something that really screams 'sugar', may we suggest digging into one of their game-changing desserts (all served with ice cream, of course)—think chocolate lava cake, brownie, sticky date pudding, fancy coupes loaded with chocolate crumble and caramel popcorn, and some of the best sundaes of your life.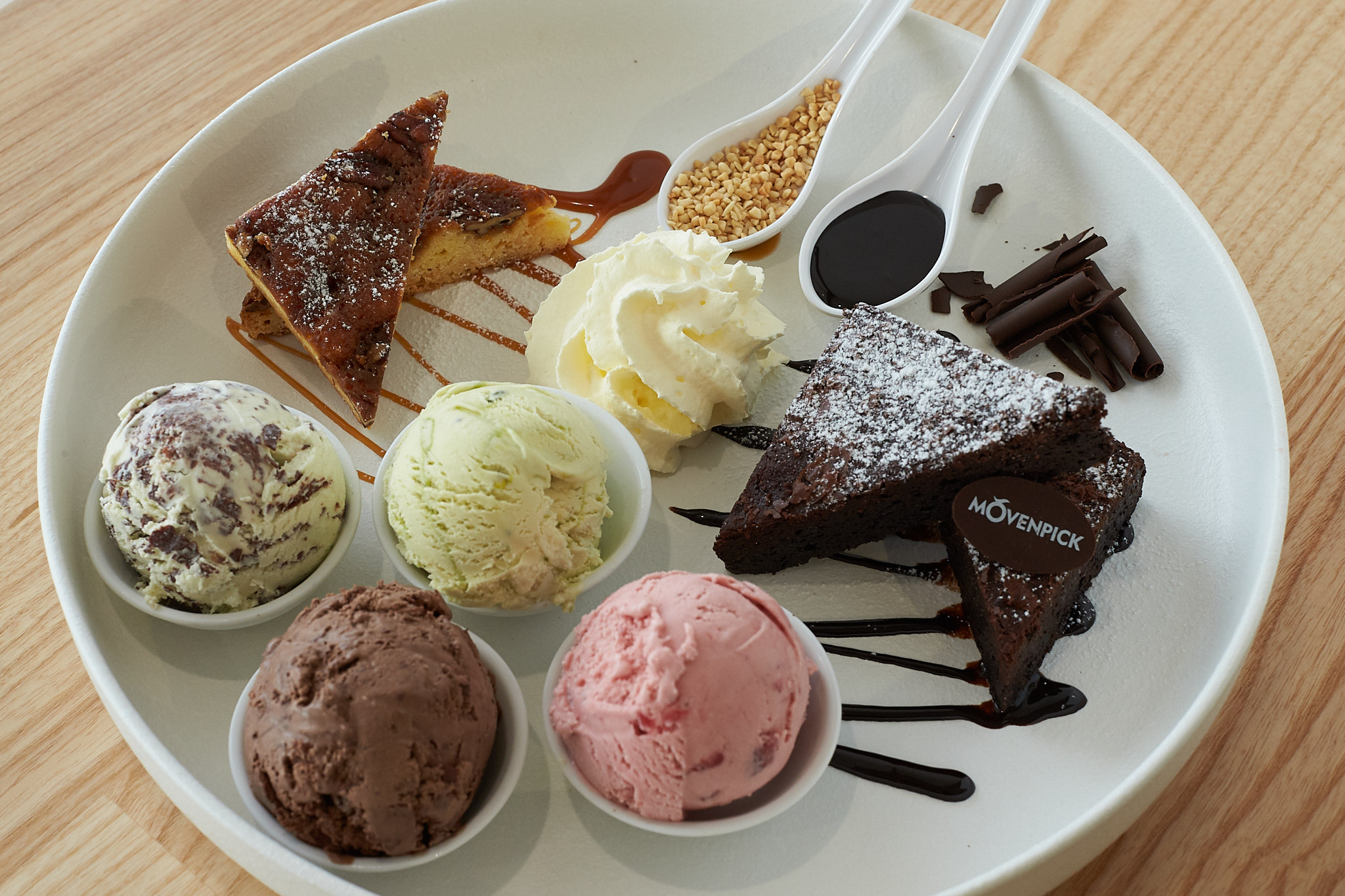 But the crème da la crème has to be their mind-blowing share plate (dessert for two or dinner for one, you decide). This is one seriously epic feed that will send your sweet tooth into a legit spin, with not one but FOUR scoops of heavenly Mövenpick ice cream, two different flavours of brownie (chocolate and pecan) and a couple of lil' extras to pour/sprinkle over the top.
You might like to take things even further by indulging in one of their mouthwatering milkshakes, thickshakes, frappés or smoothies, or perhaps a cup of organic coffee or T2 tea will do the trick.
Finally, should you want a little filler before all that ice cream, you can also pick up salad and pastries before you get stuck in.
So what are you doing still staring at your computer screen? Get there, lickety-split!
For more images and information, including opening hours, click here.
Image credit: Wono Kim