Too much to watch, too little time! If you're a fan of content from the likes of HBO and FX, Neon has plenty of that, but that is just the tip of the iceberg. We've scoured the service to bring you the best of what's worth watching, not because we've got too much time on our hands, but because we're good like that. Featuring epic dramas, crack-up comedies and binge-worthy moments, we've given them a go and so should you.
Watchmen
Who watches the Watchmen? We do. In an alternate 2019, gone are the days of vigilante heroes—it's now the cops who wear masks to hide their identities. Regina King is breaking bones and taking receipts as the masked detective Sister Night, working to take down a white supremacist group in Oklahoma. Made for TV as the next chapter in DC's beloved graphic novel series, find out for yourself why fans and critics are hailing this show as the best of 2019. Catch a new episode of the gripping drama with episodes dropping each Monday here. Tick tock.
His Dark Materials
Here's a free dating tip: if they haven't read His Dark Materials trilogy, kindly lose their number. We're forgetting the 2007 film The Golden Compass ever happened in favour of HBO/BBC's TV adaption, one which is getting all but rave reviews—including this one. In a world similar to our own, your souls take the form of animals, dust is a mystery, and children are disappearing. 12-year-old Lyra embarks on an epic journey to find her best friend Roger, and with the help of witches, armoured bears and a puzzling device, she'll unearth a sinister plot which transcends universes. Unlock the truth for yourself, streaming weekly each Tuesday here.

What We Do In The Shadows
In a renters climate like this, it's really hard to find a flat mate who doesn't suck. A reimagining of Taika Waititi's film follows the night-to-night activities of vampires who've been living together for hundreds of years. Filmed documentary style, Nandor, Laszlo and Nadja live in Staten Island alongside their human familiar and have to deal with the hilarious, age-old intricacies which come with flatting—particularly one which comes with an energy vampire who lives in the basement. Their original intent was to take over the known world, but jumping forward to present day 2019, it seems things haven't quite gone according to plan. Follow their after-hours adventures here, ahead of season two sometime in 2020.
Nancy Drew
The Devil works hard, but The CW works harder as the crew behind Riverdale and The Chilling Adventures of Sabrina reboot one of the most famous kid detectives of all time: Harriet the Spy Veronica Mars Nancy Drew. Nancy has sworn off crime-solving, but we all know that whenever a TV character retires, it's only a matter of time before they get sucked back in. So when Nancy and a group of teens are the prime suspects in a murder investigation, she dips back in the game clear her name. Seeing as The CW is going through a bit of a supernatural moment, it seems only natural that an angry spirit wants to throw a spanner in the works. Crack the case each week with new episodes coming each Wednesday here.
Euphoria
Zendaya's euphoric performance is one of the stand outs for 2019 as she portrays 17-year-old recovering drug-addict, Rue Bennett. But just because Rue went to rehab, doesn't mean she stayed clean. Fighting an uphill battle to get her life together, everything starts to feel better when Jules rides into town. This show exposes a dark side of growing up in 2019, opening a pandora's box of issues teens face, where sex, drugs and violence are amplified by social media and the internet. But viewer beware: this is the kind of show which will make some parents lock their kids up and throw away the key. Feel something, with the full first season available here.
Veep
As the newly appointed Vice President of the USA, foul-mouthed and quick-witted Selina Meyer rolls up her sleeves as she prepares to shatter the proverbial glass ceiling. It seems there is less shattering and more cleaning up of mess, as she's constantly embroiled in ridiculous scandals of her own doing. With her incompetent team at her side, navigating the murky waters of politics requires an epic insult at the ready and a disastrous plan to secure her legacy. She's the Veep, and the buck is going to stop… somewhere near here. Laugh til' you cry with all seven seasons here.
Younger
All good things start with a lie, at least this much is true for recently divorced mother Liza. Having been out of the work force for two decades, the truth about being in her forties is getting her nowhere. Similar to the rush you get when someone asks you for ID when you're clearly over 25, Liza levels up her life when she's mistaken for a 26-year-old. Created by the same man who brought us Sex and the City, it features onscreen help from Debi Mazar and the one and only Hilary Duff. Just how far will this lie take her, before it starts to spiral out of control? Settle in for all six seasons here.
The Wire
If we only had two points to sell this show on, one would be Idris Elba, and the other would be Dominic West. But this show encompasses so many stellar performances it would be a disservice to sell the show on just those two talents. Set on the streets of Baltimore, a drug-epidemic is raging, supplied by the gangs and swept under the (d)rug by those sworn to protect and serve. Detective Jimmy McNulty jumps onboard to try and put a stop to these prolific dealings using detective tricks such as investigating, wiretaps and stake-outs. Blurring the lines between the 'good guys' and the 'bad guys' this multi-layered show consistently tops out the lists of the best shows to watch of all time and we definitely have to agree. Tap in to seasons one to five here. Now's good.
Westworld
Artificial intelligence is becoming more intertwined in our everyday life (try, "Hey Siri, open up the Urban List website"), so the idea of Westworld doesn't seem too far fetched in the not-too-distant future. This is also a wonderful case study as to why it should never happen. Westworld is a wild, wild west inspired theme park where man-made, humanoid robots allow us to enact our deepest, darkest desires. When you're in the business of playing god, things almost always go to plan, that is, until the robots start to question the nature of their reality. Westworld. It seemed like a good idea at the time. Question the nature of your reality with seasons one and two here.
A Million Little Things
Friendship isn't just one thing, it's A Million Little Things—or so the saying goes. If you're in need of a show with enough plot twists for an entire season crammed into a single episode, have your tissues at the ready because this is the show for you. A group of friends are left reeling after the sudden death of Jon, the guy who brought them all together. Some are doing well, others not so much, but for all of them, Jon's death will be the wake up call for them to really start living. Season one is available in full, with weekly episodes of season two dropping Fridays here.
Pose
The category is: onscreen representation and visibility. Set in New York in the 1980s, it shines a light on the ballroom scene—an underground community for queer people and a safe space from everyday oppression. Now in this community, if you want to be seen, all you need to do is walk. From the man who brought us American Horror Story and Glee, Ryan Murphy is now responsible for thrusting icons Billy Porter and Indya Moore centre stage in a drama where a young woman takes charge of her destiny as the mother of House Evangelista. Catch both seasons of the groundbreaking show here.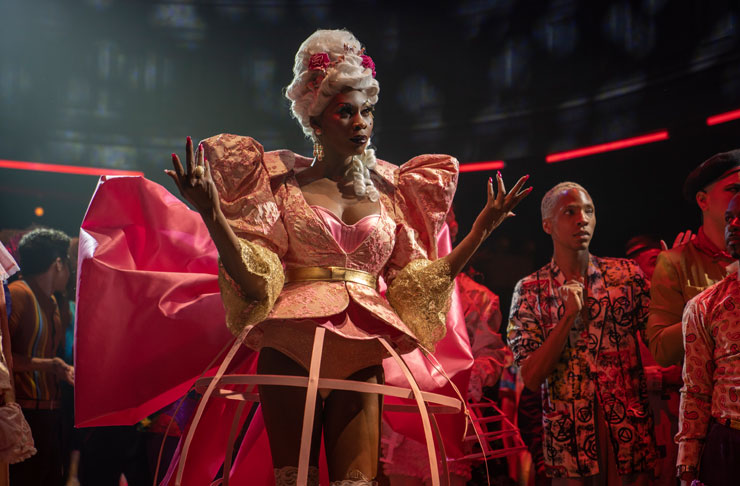 Big Little Lies
Tell me lies, tell me Big Little Lies. If you haven't watched this show yet, just what have you been doing? Bringing together heavyweights Nicole Kidman, Reese Witherspoon and Shailene Woodley for a darkly comedic drama about what happens behind closed doors, it also features support from Alexander Skarsgård, Adam Scott, Zoë Kravitz, Laura Dern and Meryl Streep (in season two). The beach-town of Monterrey is inhabited by people who live lives to die for, yet are all divided by petty gossip. Three mothers, an alpha, a new-comer and one who is hiding a dark secret have each others backs as lies spiral out of control to the point of murder. See how the other half live with both seasons here.
Chernobyl
Quick side-note, did you know there are still radioactive dogs living in the forests of Chernobyl? As heart-breaking as that may be, if you ever venture to that side of the world, that is a cuddle you definitely want to avoid. For the first two episodes, this show was a slow burner until the world caught on to its harrowing retelling of the 1986 Chernobyl Nuclear Disaster. With every moment, radiation clicks induce anxiety as this historical drama details the moments right before the accident, the evacuation, the world's reaction, and how its government tried to cover it all up. The mini-series, if you can handle it, is available here.
Succession
Siblings go head to head in this high stakes story where money, politics and power come into play within an incredibly rich and dysfunctional family. Keiran Culkin's (remember him?) stellar performance as all-round unpleasant human being and other strange family dynamics will have you laughing out loud as they hop from helicopter to private jet to massive launches while the drama plays out. The closest peek any of us will ever get to looking into the 1%, rags-to-riches head of a media conglomerate, Logan Roy is swiftly approaching his 80th birthday. With rumours he'll be stepping down from the top spot, his children are vying for his affections whilst grappling between one another for power, in a bid to sit at the head of a very wealthy table. Show me the money, with seasons one and two to binge here.
Nurse Jackie
She's bold, she's brave, she's a medical practitioner… and she's hooked on prescription drugs. Brilliant, yet deeply flawed—Nurse Jackie Peyton's life consists of the daily struggle that is managing her various affairs: her job, her husband, her kids and her actual affair. It's all a bit much for dear Jackie, and she occasionally needs a little something to take the edge off. We'd have recommended a good book, a glass of wine, some exercise or therapy, but each to their own. Binge all seven seasons here.
If all that isn't enough to be getting on with, check out the best movies on Netflix right now.
Image credit: Neon