We're not even going to try be humble right now (sorry, Kendrick) because we truly do live in the most magical frickin' country. We admit we've done some weird stuff, like invented jogging—and bungee jumping—and zorbing… but hey, we're quirky Kiwis for a reason.
So to make the most of our country's beauty, here are ten epic experiences to do at least once in your life. PSA. They're all FREE.

Visit The Hundertwasser Toilets In Kawakawa
Yep, we're telling you that one of the ten best free things to do in New Zealand is pee in a public toilet. Just trust us on this one guys, the toilets in Kawakawa are an international work of art… literally. Named the Hundertwasser toilets after the architect who conceived the project, the building sees ceramic tiles enveloping the walls, colourful sculptures and even a live tree incorporated into the mix. There's not an awful lot do to in the small town itself, but if you're on your way to the Bay of Islands and need a toilet break—make it this one.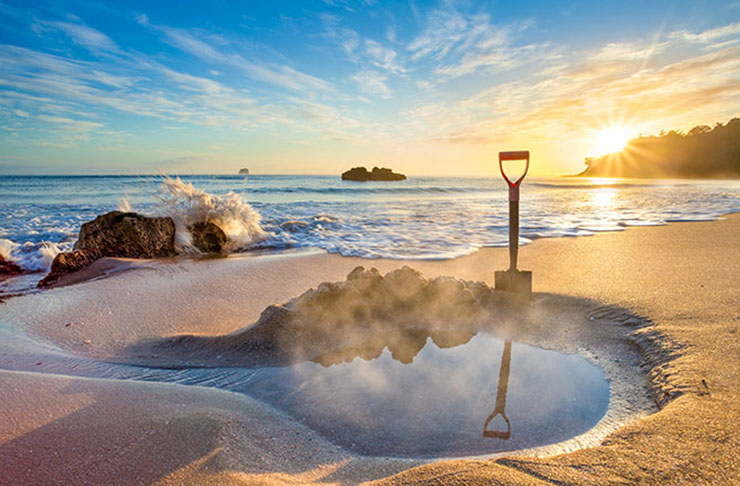 Dig Your Toes In The Sand At Hot Water Beach
The Coromandel is one of New Zealand's most iconic destinations. It boasts picturesque views, ideal road tripping scenics and refreshing white sand beaches. The destinations are endless but if there's one spot that cannot be missed, it's the infamous Hot Water Beach. This little wonder has hot water bubbling beneath the golden sand—so rent a bucket and spade from the adjacent beach cafe and get digging! Since you're in the area, drive ten minutes down the road to Haheii and make the trek down to Cathedral Cove. It's like Bora Bora… minus the expensive plane ticket. Summer roadie = sussed.
Head To Weta Cave For Some Cinematic Appreciation
Trust New Zealand to allow entry into one of the greatest film museums, FREE. Yep, that's right, you can check out original props and costumes used in Lord of the Rings, Kong and so many other epic films without spending a dollar. That means we can get an extra scoop of ice cream later, right? Weta Cave also offers unique photo ops and unique behind the scene documentaries for all you diehard cine-buzz fans. So if you're in Wellington for the weekend make sure this is checked off your to-do-list. We'd argue it's even cooler than a tour of the beehive—which on a side note, is also free. See, we weren't kidding when we said New Zealand was the best!
Explore The Bubbling Mud Pools At Kuirau Park
It's not everyday you get to go to a city that smells like rotten egg, so make the most of it! Kuirau Park is New Zealand's only geothermal public park. It boasts picturesque gardens, a crater lake, mud pools, hot springs, thermal foot baths and a beaut BBQ spot perfect for a few bangers. Or, if sausies and chips ain't your thing, time your visit here with the Saturday morning food markets. From 6am - 1pm you'll be treated to the best food stalls in town, marking the perfect introduction to an afternoon of geothermal relaxation.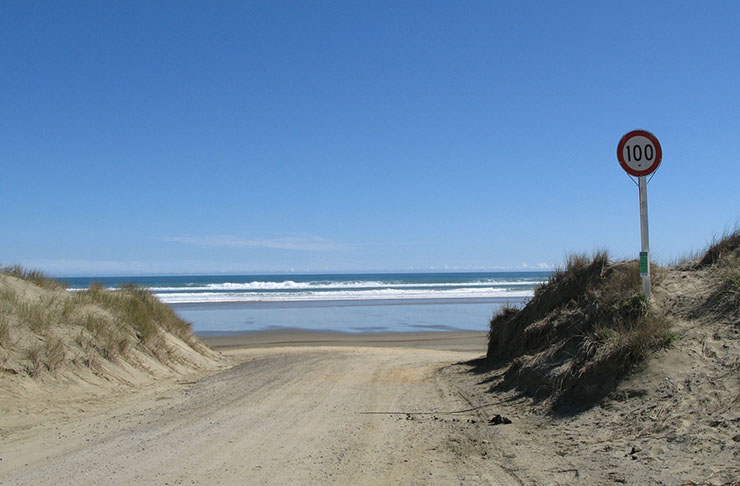 Boogie Board Down The Dunes At Ninety Mile Beach
Renowned for its breathtaking sunsets, Ninety Mile Beach is one of New Zealand's most treasured beauties. What feels like a never-ending beach, the white sand and epic surf has made this a must-see destination for many tourists. If you're like us and not quite destined to be the next Kelly Slater, hit the adjacent sand dunes with a cheeky boogie board and get slidinnn. This is quite possibly the most fun you can have with your clothes on—if you know what we mean. After a day here, cruise around to the iconic Cape Reinga lighthouse. After a trip here, you'll be able to say you've been to the highest point of the country, you badass thing you.

Make Your Way Up The World's Steepest Street
If you find yourself in Dunedin for any reason other than partying with the uni students, congratulations. Either way, make sure you check out Baldwin Street. This bad boy, according to the Guinness World Records, is the steepest residential street in the world! Head to YouTube and you'll find some crazy vids of people attempting to skate, bike or do any weird trick possible down here. We'll probably stick to attempting to walk up it… that seems like enough of a task in itself. The Otago Peninsula is also known for some prime penguin, sea lion and whale spotting, so cruise over to the beach and test the waters.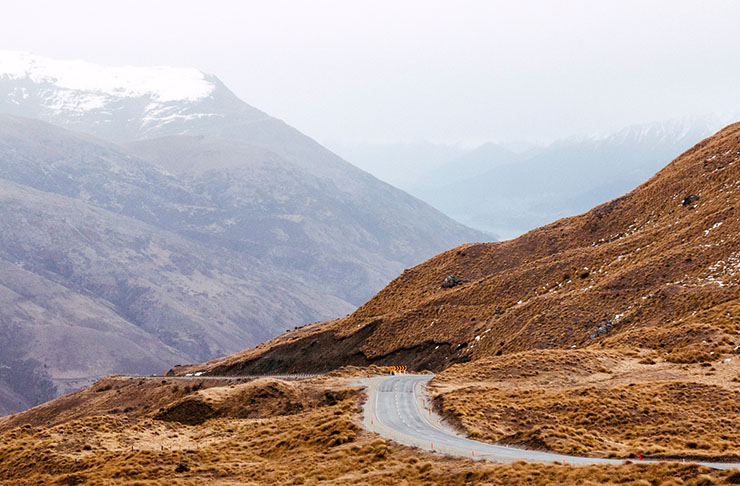 Drive The Crowne Range
The drive from Queenstown to Wanaka is truly a spectacular New Zealand experience. Choose the Crowne Range route and be prepared to have your mind blown—the views are utterly breathtaking. You'll see the famous Queenstown hills below and cruise between what looks like a volcanic crater. With viewpoints throughout the drive, a camera is an absolute necessity. To top it off, when you're out of the Crowne Range and passing through Cardrona Valley, you've got one of the world's longest bra fences at your fingertips! Weird and wonderful in every way, this beauty was a Kiwi attempt to break yet another world record. Points for effort, right?
Set Up Camp In Twizel
Twizel makes for one of the most picturesque camping spots in the world. With crystal clear water at your fingertips and snowy mountains as the backdrop, you'll find yourself spoilt for choice on arrival. A short 45-minutes drive out of Twizel lands you at the bottom of Aoraki/Mount Cook, New Zealand's highest mountain. Commit to a day of hiking or go for a cheeky kayak around the lake. If boating is your buzz, Twizel is renowned for its salmon and trout fishing. We're thinking smoked salmon after a kayak around the lake sounds pretty good?
Go Wine Tasting In Marlborough
Us Kiwis like to think we're runners-up in the wine industry. We'll let the Italians have first place because we love them for giving us pasta and pizza, but we've gotta admit our wine game is getting pretty damn strong. Marlborough is renowned for its winemaking industry and with winemaking brings vineyards which brings forth…yep you guessed it, free wine tastings. Boasting more than 130 wineries, a Marlborough wine tour is simply a must. To avoid the cost, do your research and DIY the wine tour, it's impossible to screw up.
Check Out The Franz Josef Glaciers
A sight we wish we could encounter on the daily, Franz Josef Glaciers is a true New Zealand miracle. Here we have a 12km long temperate maritime glacier that will literally take your breath away. Take your pick at checking it out from a viewing platform, taking part in a guided tour or go all out with a helicopter ride to get the renowned birds eye view of the glacier. It may not be free, but it is definitely worth it. The surrounding waterfalls, rain forests and lakes are equally impressive so do this South Island destination justice and dedicate a few days for exploring its beauty.
Image Credit: Adrian Hodge, Albert Oriol
Want More?
SaveSave