Whether you're planning a big birthday or a special shindig, only the best will do. Because we're about nothing but the best, we've got you covered. From secluded wine-infused venues to all-out rock-your-socks-off destinations, we've got it all.
For a fun time guaranteed, check out our round-up of Auckland's best party venues.
Everybody's
AUCKLAND CBD
Did you know Everybody's has a private upstairs booth for VIP treatment? With a view of the d-floor downstairs, watch everyone bust their moves and pick and choose your time to join them. When you're tired of dancing you can cruise back upstairs to continue the banter with your squad. It's a gorgeous setting for the evening, and in Auckland central CBD, you're never far from those 3am Burger Burger feeds—score!
Little Easy
PONSONBY
A popular choice among local partiers, Little Easy is your go-to venue for a night of ridiculousness. We're talking a hefty dose of alcohol, banger after banger on the dancefloor and a few too many drunken yarns shared on the patio. It's very common to see the upstairs area hired out for a 21st, but thanks to a few golden rules, it opens to the general public from 11pm—meaning mixing and mingling with novel groups of people just got a whole lot easier.
The Vodka Room
GREY LYNN
Did somebody say karaoke? The Vodka Room is the ultimate spot for a night out with your besties—because who else would you rather sing Forever by Chris Breezy with at 2am in the morning? This ain't your typical karaoke joint, however. This one is oozing with class—we know, you never thought the two could go together, but somehow, they've pulled it off with ease. Book a private room, grab yourself a mic and a strong vodka tonic and get singing.
Neck Of The Woods
KARANGAHAPE ROAD
Getting your boogie on is inevitable at a party, let's admit it. Whether you're two spritzers down or not, it's bound to happen. Where better to exhaust those dance moves than at one of Auckland's top party venues, Neck Of The Woods? Complete with not one but two bars, a DJ and stage, you're in for an absolute cracker!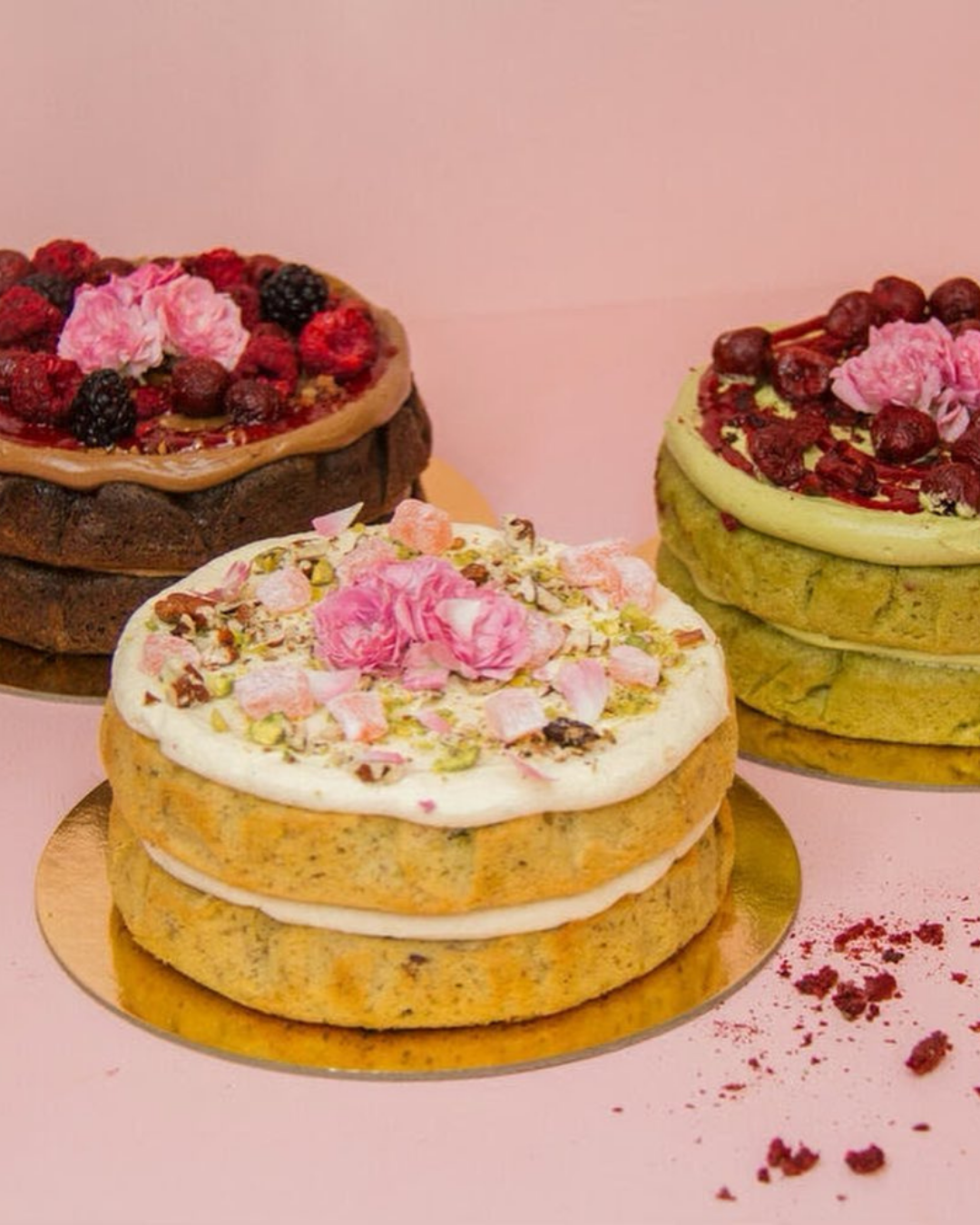 The Caker
KARANGAHAPE ROAD
If drunken party scenes don't agree with you, The Caker offers the perfect boutique venue that is the embodiment of glamour. Think baby pink walls, floral arrangements, the finest finger food and of course—a whole lot of cake. For those soon-to-be mothers, we're thinking this is the ideal spot for a treasured baby shower. Or feeling a little inspired by Legally Blonde? This is for you. It helps that owner Jordan Rondel and her team are absolute gems. They're sure to spoil you and your squad if you opt for this one.
Little Alice
VIADUCT
Saint Alice has a little secret… Meet: Little Alice, a perfect hideaway for parties or gatherings of up to 60 people. Set yourself up with a package deal featuring fresh kaimoana and seasonal produce, as well as some simply divine beverages, and you'll be sure to have a wonderful evening. Other awesome eateries with a private party space include Coco's Cantina, 46 & York and Tanuki's Cave.
Basement Theatre
Auckland CBD
Funny, profound and alternative, Basement's got it all. So for the theatre-lover, a party here is a must. Get amongst the Tucks & Bao truck or order Japanese from Tanuki's Cave, wash it down with a full range of spirits, bubbles, craft brews or non-alcoholic goodness and then revel in supporting the local arts scene.
Crave Cafe
MORNINGSIDE
If you're looking for more of a relaxed, cosy vibe for your get together Crave could be just the ticket. With great food and ample space, the team are poised to turn your vision into a beautifully bespoke reality.
The Vic
DEVONPORT
Dinner and a movie is a pretty standard way to celebrate an occasion, but when you hire out a gorgeous, vintage cinema space at The Vic you've got a next-level shindig with endless possibilities. You could throw an artsy sound-off flick on the screen or skip the film entirely and have a photoshoot on stage... Set up a bar (with the all-important hand-rolled ice cream cones) and arrange some stellar catering from a local haunt and you'll be all set for a magical night.

Sweet Axe Throwing
Auckland CBD
A party where you get to huck axes? Hell yes! Axe throwing is a super fun way to celebrate any special occasion and the team at Sweet Axe will make sure you and your guests have an absolutely epic night. And if you get hooked you can join their League and throw axes on the reg'—amen to that!
Holey Moley
VIADUCT
They had us at "ready to kick putt?" With 27 holes, a full cocktail bar, pretty patties (seriously—their burgers are pink!), a private karaoke room and golf puns for days, Holey Moley is well-versed in throwing ridiculously fun par-tees.
The Jefferson
Auckland CBD
The Jefferson is Auckland's superior underground whiskey institution. Focusing on all things bourbon, the experts have created a space worthy of a party or two. Choose to hire out the whole space or an enclosed section for your special occasion. With various packages to choose from, The Jefferson will make for an enjoyable event for sure. For drinks, they're offering all the classics from a Pina Colada to a good ol' Harvey Wallbanger.
Ellice Road
Auckland CBD
Decked out with picnic tables, pinball and plants Ellice Road is a 1950s retro tavern and social lounge that makes for a great party venue. The space can hold up to 100 people and there's loads to keep your guests entertained, from live music to pool, darts and table tennis. Retro dress up, anyone?
Archie Brothers Cirque Electriq
NEWMARKET
We've secretly always wanted to run away and join the circus so when we found out Archie Brothers has party packages we were super stoked. The cocktail bar X arcade madness, tucked away in the new Westfield complex, combines great food and drink with a feel-good atmosphere and a dash of nostalgia for a fun-filled, vibrant celebration, whatever the occasion.
Kick-off the festivities with a trip to one of Auckland's best bars.
Image credit: Everybody's, The Caker, Sweet Axe Throwing.