Like tacos and Tuesdays, and gin and tonic, New Zealanders and camping are a classic combo. When the urge hits, dust off the tent, load up the car and hit the road to some of New Zealand's best camping spots. But for some of us, there's a catch! What to do with our beloved pets? Most camping spots aren't pet-friendly but there are some excellent pet-friendly campgrounds scattered around New Zealand that will welcome you and your four-legged loved one with open arms.
These camping sites are situated all across the country and allow you to BYO pooch provided that you keep it under control, for both your fur baby's and other campers safety. Ready to hit the road? Here are the best pet-friendly camping spots in New Zealand.
Waitangi Holiday Park
Paihia
Located close to the Waitangi Grounds and the Paihia Shops and wharf, the Waitangi Holiday Park is a great campsite to visit while up North with Buster. This campsite welcomes dogs on request, however, they are not permitted inside the facilities or inside the guest rooms. There are powered and non-powered sites available, including some gorgeous spots where you can enjoy great views of the Waitangi River. Dogs are restricted in some natural areas in Northland, so make sure you do your research on where you can bring your dog along.
Piha Motor Domain
Auckland
A ten-minute walk from the dramatic black sands of Piha, Piha Motor Domain is a great camping option if you and your pet are feeling like a beach escape. Piha Motor Domain welcomes dogs, however, they need to be leashed at all times and obviously, you need to pick up after them. If you have sprogs in tow there's a fun playground for them to monkey around on.
Clarks Beach Holiday Park
Auckland
Situated on the beautiful shores of Manukau Harbour and a short 40-60 minute drive from Auckland City, Clarks Beach Holiday Park is a secret gem. They allow pets by prior arrangement as there are pet-specific camp spots and cabins that you can book. Pets during their stay need to either be contained or on-leash and can not access facilities such as the pool. There's plenty to do while camping at Clarks Beach Holiday Park, including swimming in their covered pool, playing mini-golf, or going for a bike ride. You'll also be a stone's throw away from Clarks Beach, where dogs are allowed off-leash during the colder months (starting from March) to splash and have fun in the surf.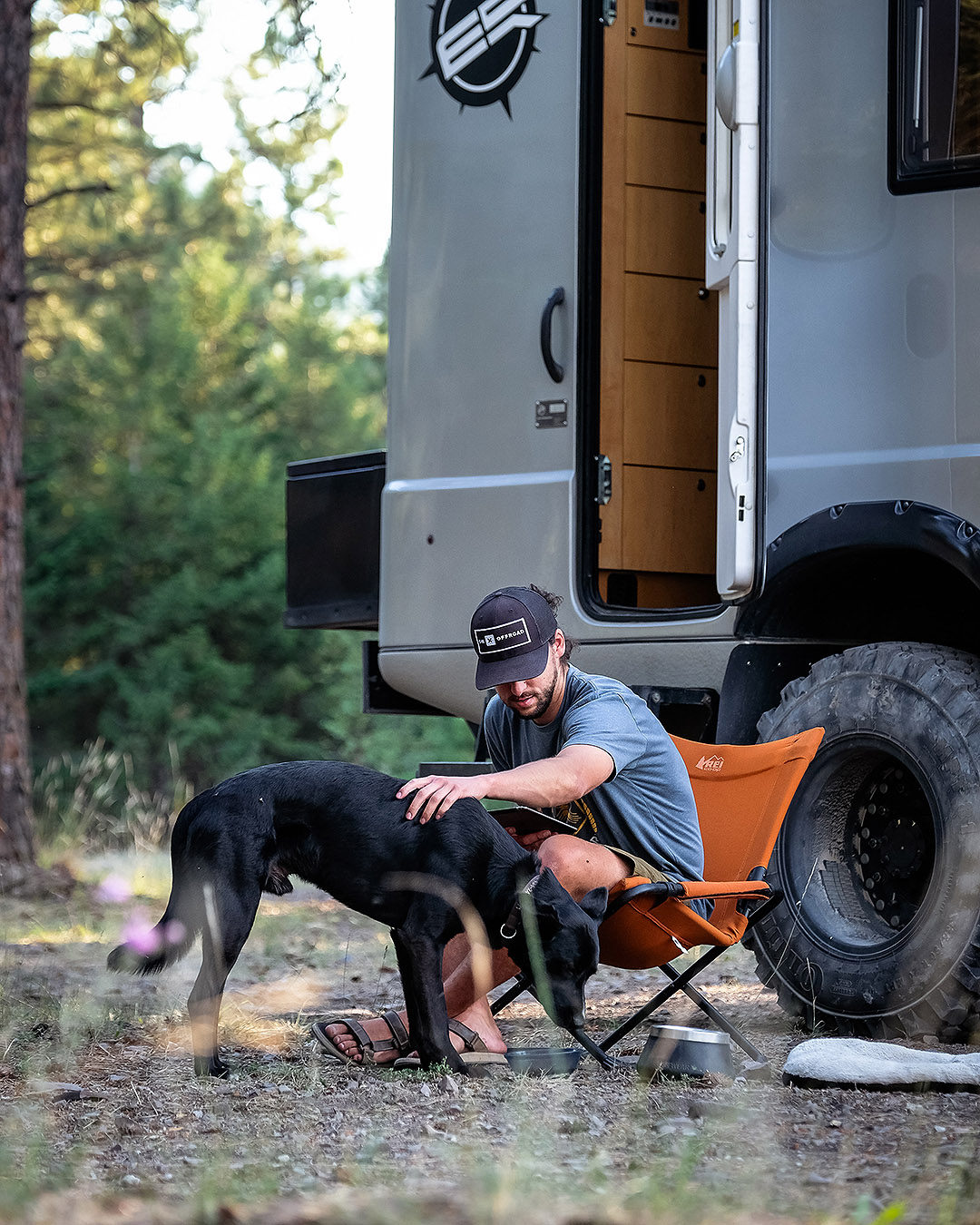 Muriwai Beach Campground
Auckland
A 40-minute drive from Central Auckland, Muriwai Beach is a favourite for many be it to windsurf, check out the cool gannet colony or simply walk along the beautiful wild coastline. Muriwai Beach Campground is a short five-minute walk from the beach and they welcome all pets, so you and your dog or cat can have a great beach holiday together. There are 67 powered sites, 66 unpowered and nine cabins at this campground, as well as great kitchen and shower facilities. If you want to wander the beach with your dog, be aware you're not able to take them near the gannet colony and will need to stick to the areas north of the surf tower. In this area, your dog is free to run and play on the beach all they want. No wonder this is one of the best pet-friendly camping in NZ.
Waiinu Beach Domain
South Taranaki
A hidden gem in South Taranaki, this low-cost campground which is run by the local council, will have you right by Waiinu Beach for your stay. Pets are welcome at this campground and the beach is a popular spot for locals to walk their dogs. Bookings are not necessary as it's first in, first-served, but this spot is huge so you're sure to snag a great beachside view. Payment is made via donation box, and it is $5 a night between March and November and $10 a night during the summer months. Next time you're exploring South Taranaki with your pooch or adventurous cat, give this spot a go.
Stratford Motel and Holiday Park
Taranaki
Stratford is a charming town located at the base of the Taranaki National Park, making this a great campground if you want to have amazing views of the maunga and be a short 30-minute drive from New Plymouth and Hawera. Stratford Motel and Holiday Park is a privately owned and run campground set on gorgeous park grounds and is close to beautiful native bush, where you may hear a ruru call out during the night. Stratford Motel and Holiday Park have two dog-friendly units and pets are permitted on the camping sites, you just need to let them know you are bringing them along. Splash around in the heated indoor pool or soak the day away in the private spa pool.
Kaikoura TOP 10 Holiday Park
Kaikoura
This award-winning campground is centrally located and offers beautiful sea and mountain views for visitors. They have a range of accommodation types from motel units to powered and unpowered sites. Make sure you call ahead and make it known you have a pet if you're keen for some furry accompaniment. Make sure you keep your pooch away from the seal colonies, as seals and dogs definitely do not mix.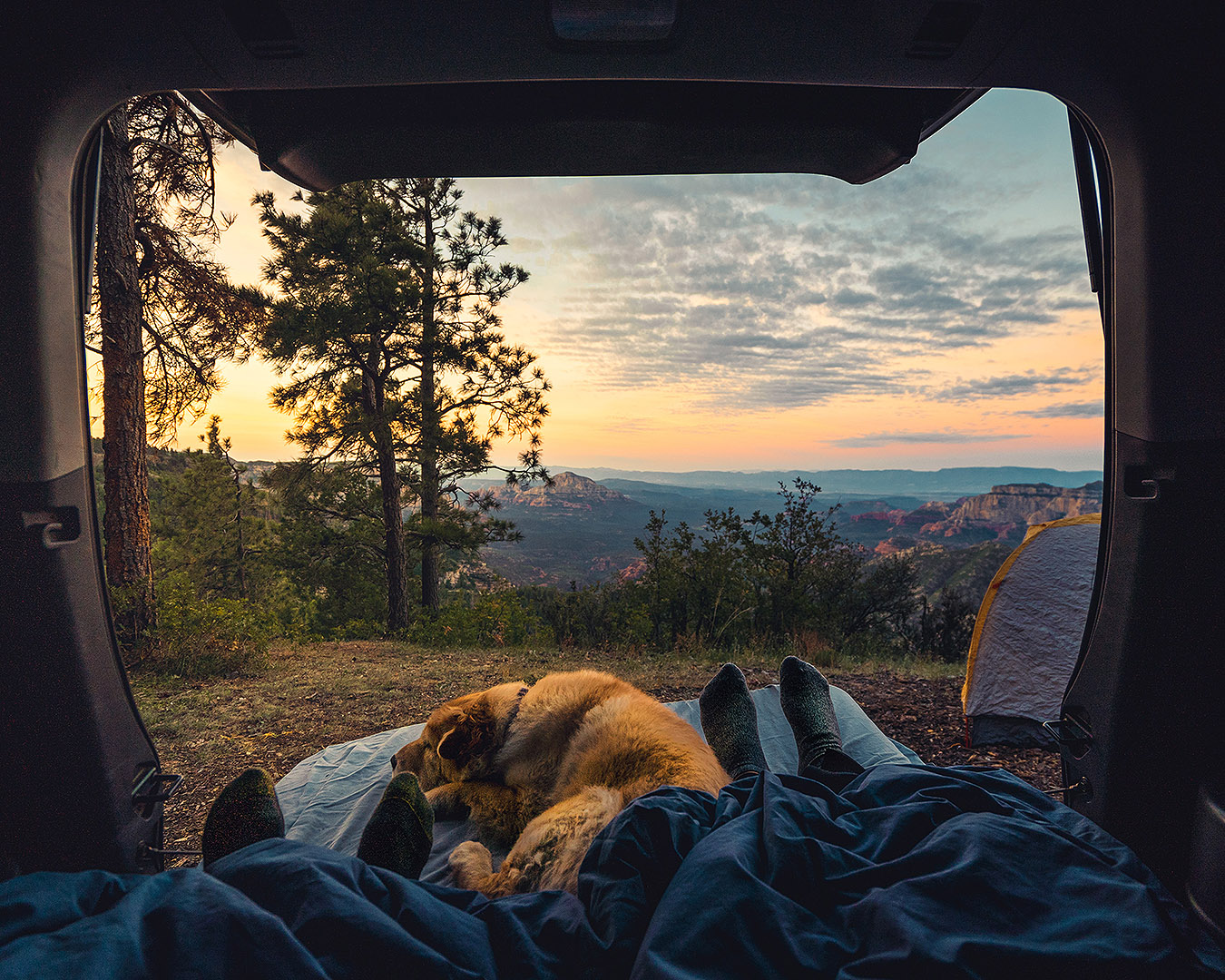 North South Holiday Park Christchurch
Christchurch
This is the pet-friendly campground to hit up next time you're in Christchurch with your furry friend. North South Holiday Park Christchurch is just a short five-minute drive from the airport and is set on gorgeous tree-lined grounds with a swimming pool and a playground. This family-run campground welcomes pets with open arms and has a range of campgrounds and accommodation for you and your pet to enjoy. Pets are welcome in all of the units but do incur a $10 per animal per night surcharge and pets are requested to keep off the furniture. There is no extra charge for pets when staying on powered or unpowered sites.
Kinloch Campsite
Glenorchy
This DOC Campground is situated in the picturesque Glenorchy region of Otago. You'll camp on the shores of the beautiful Lake Wakatipu, which is New Zealand's longest lake. At this spot, you can swim, kayak, boat or simply enjoy the views from your camping site and enjoy the peace and quiet with a good book. Dogs are welcome at this campsite but do need to be on a leash at all times. Get amongst and relax at the 15 unpowered spots at this idyllic spot.
Wanaka TOP 10 Holiday Park
Wanaka
Wanaka is a favourite holiday destination for many, with its gorgeous lake and mountain views, many hiking trails and tranquil surroundings. Luckily, there's a local campsite that you and your dog can stay at while visiting this beautiful corner of New Zealand. Wanaka Top 10 Holiday Park is centrally located and only a short ten-minute walk from Lake Wanaka, where you can spot that infamous tree and enjoy a magical sunrise or sunset. This campground welcomes dogs that are well socialized on their powered sites, but they're not allowed in the units or cabins. There are some dog-friendly tracks in Wanaka where your dog can join in on the adventure, such as Eely Point Track and Upper Clutha River Track.
Keen for four walls instead? Check out these great pet-friendly accommodation options around NZ.
Image credit: Hoang M Nguyen, onX Offroad, Jimmy Conover.