Let's face it our furry friends are like family to us, after all, they're not called 'man's best friend' for nothing. So it pains us to have to leave them at home or with others while we jet off on vacay.
It's high time our four-legged friends got to enjoy our weekend escapes too, so we've rounded up the best pet-friendly accommodation in Auckland, Tauranga, Rotorua, Taupo, Waikato, Hawke's Bay, Wellington, Christchurch, Queenstown, and Nelson so no matter where you live in New Zealand, there'll be somewhere paw-fect within a drive's distance.
Read on for the best pet-friendly accommodation in NZ.
Best Pet-Friendly Accommodation In Auckland
Paradise By The Sea
Mairangi Bay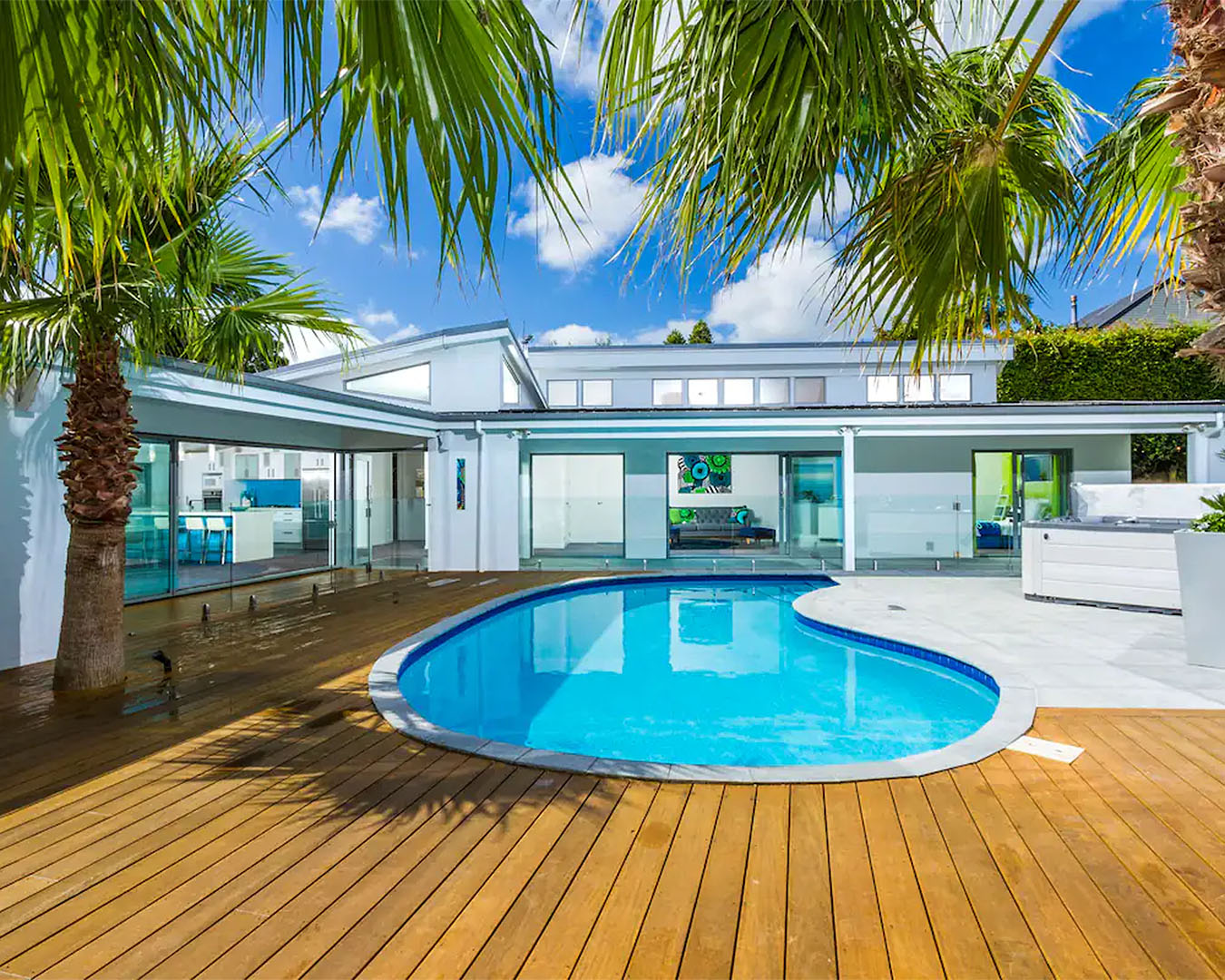 Round up the crew and treat yourselves to an epic stay at this luxury spot by the sea. Located right by Auckland's stunning Mairangi Bay this gorgeous villa has got your name written all over it. With a solar-heated pool, luxury spa, epic sea views and plenty of room for your furry friends—what more could you ask for?
Eco-Friendly Tiny House
Point Chevalier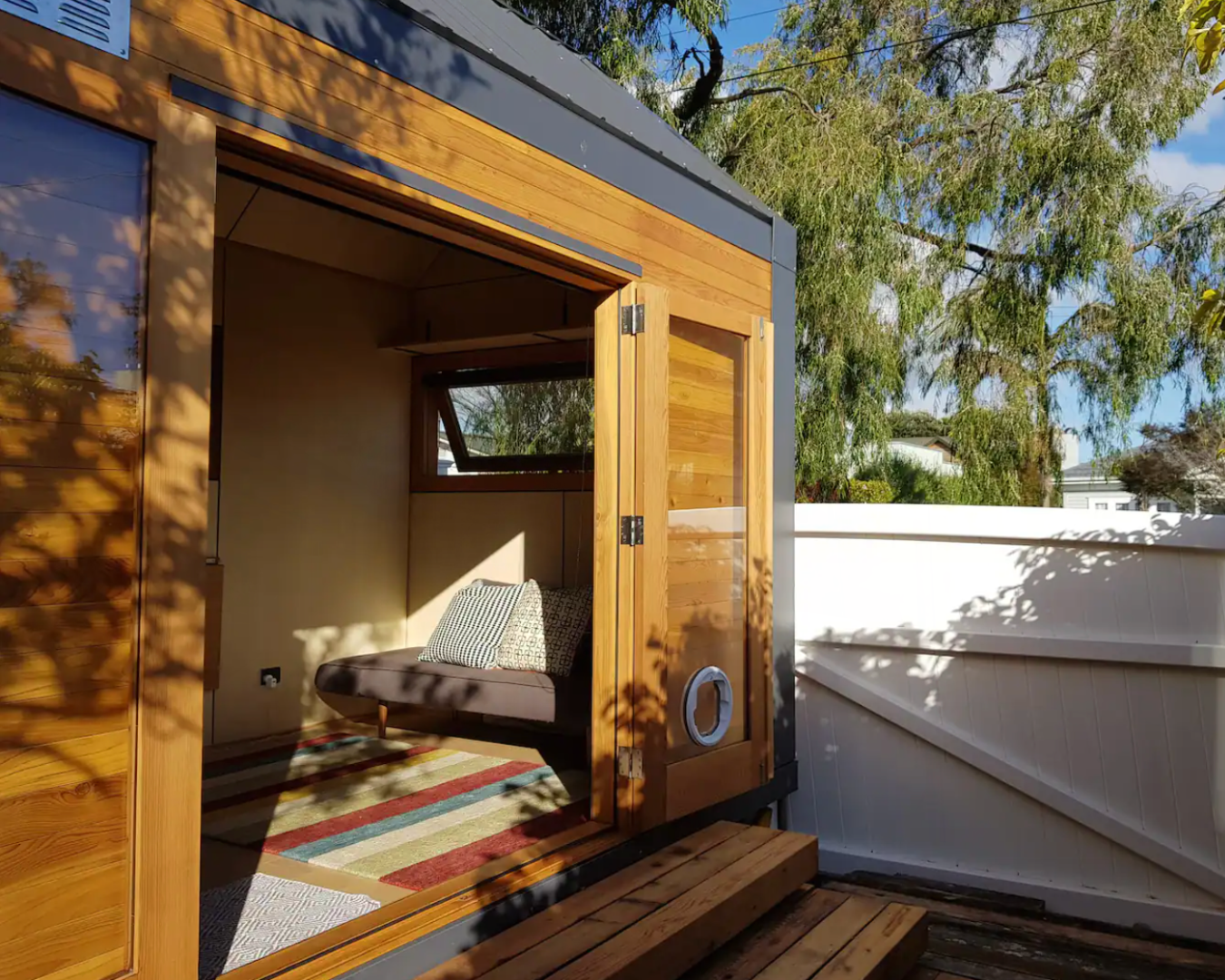 If you're after somewhere cosy to rest your head, then book yourself a night or two at this cute eco and pet-friendly tiny house in Auckland's stunning, Point Chev. With the beach right on your doorstep, take your pooch for a stroll by day and then relax on the outdoor sofa, listening to the sound of the waves crashing, with your fave tipple in hand and your pup by your side. Dreamy.
Godden Cottage
Mission Bay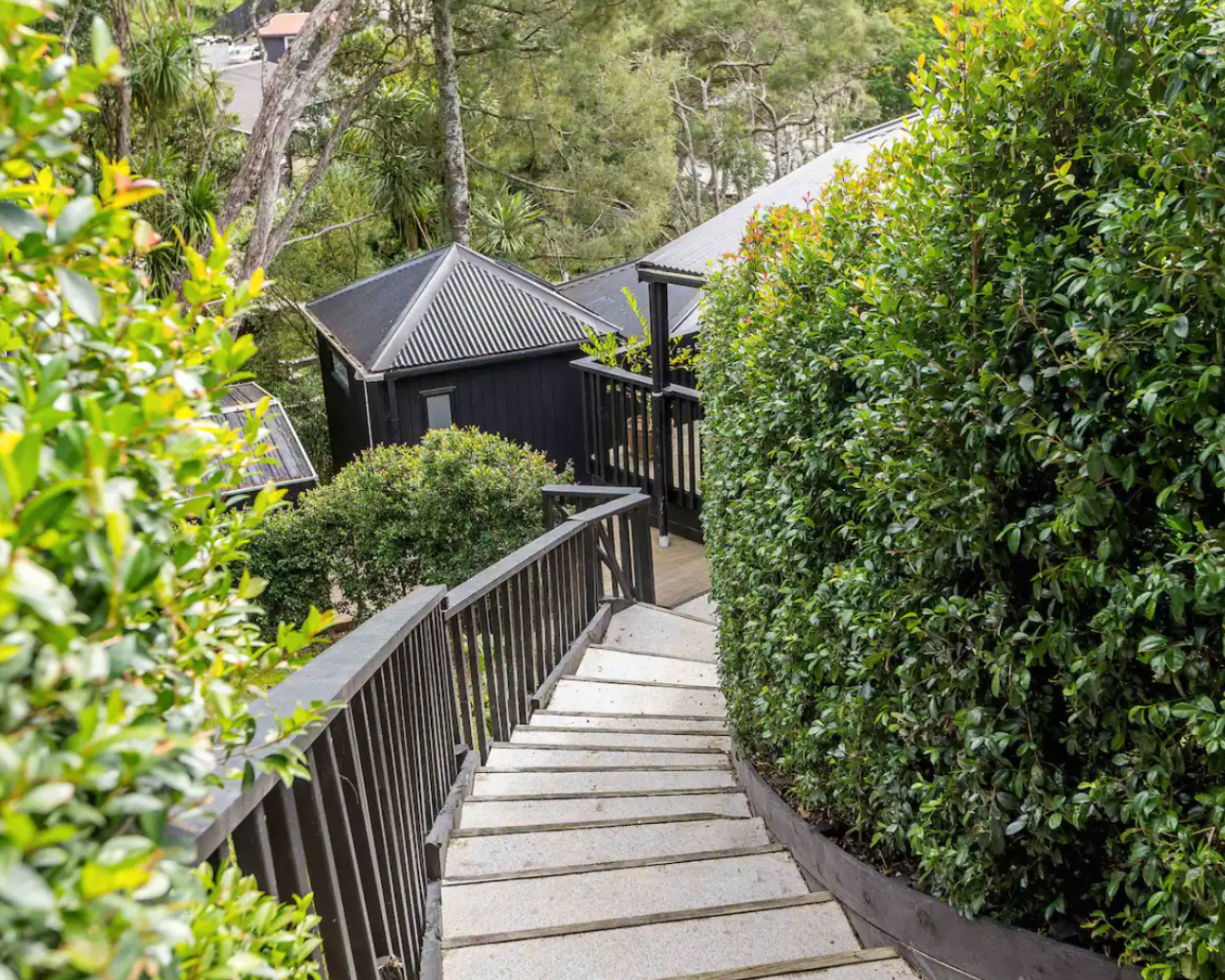 If it's a beach vacay you're after then pack your bags and check into this stunning cottage in Mission Bay, which is home to a private balcony, a swimming pool, and even a putting green for the keen golfers. With the white sandy beaches of Mission Bay and Kohimarama on your doorstep, it's the paw-fect place to explore with your furry friend. Go on, treat yo'self and your bestie (and by that we mean your pet) to this slice of paradise, after all, you deserve it.
The Palm Beach Treehouse
Waiheke Island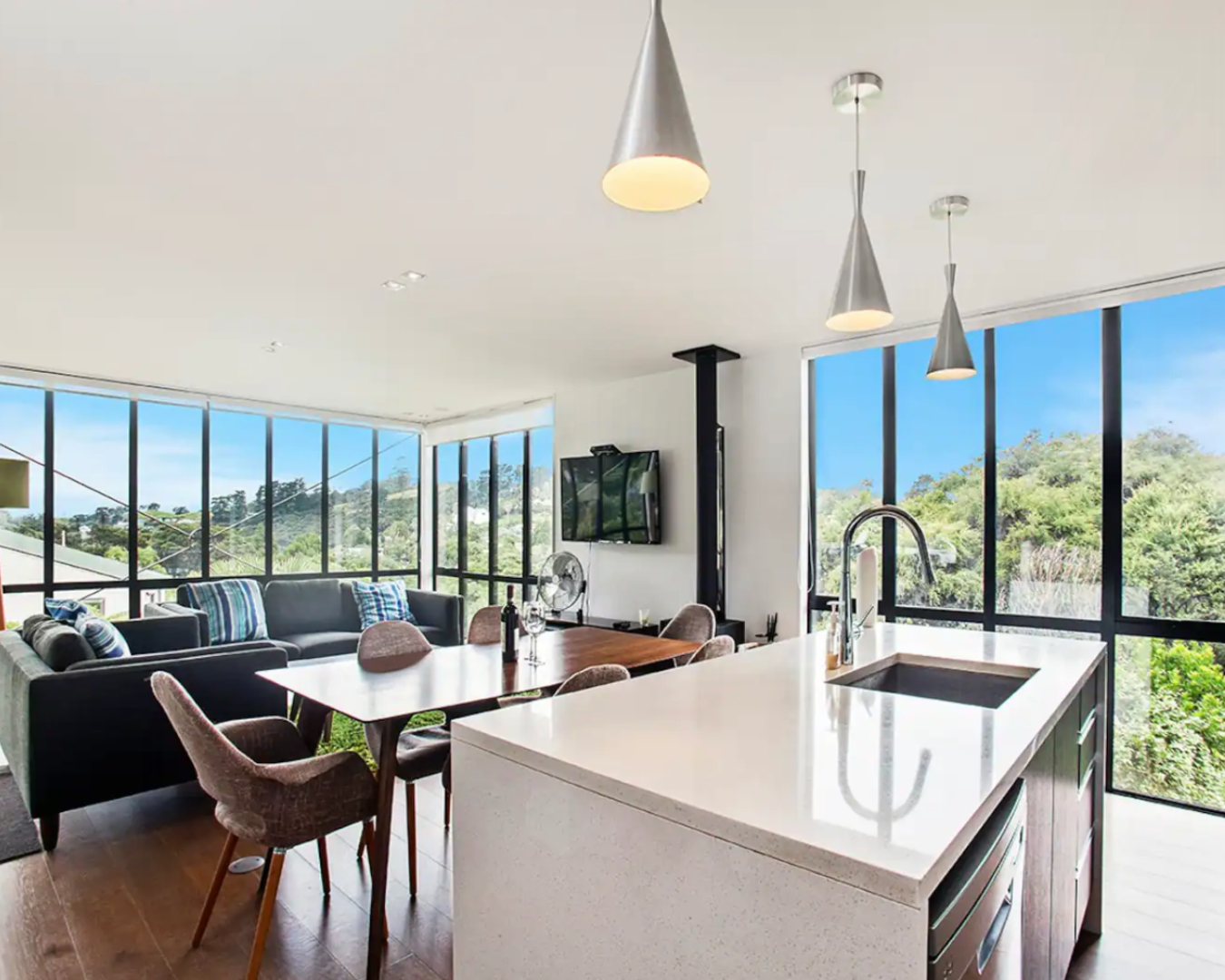 A hot tub and fireplace, need we say more? This stunning Palm Beach Treehouse on Waiheke Island will answer all your holiday home dreams. If you're looking to get away from the hustle and bustle of everyday life and just relax then this is the place for you. They even provide a car for you to explore your beautiful surroundings. Our bags are already packed.
The Best Pet-Friendly Accommodation Near Tauranga
Villa Casa Maria
Tahawai

If it's a truly tranquil getaway the doctor ordered, then we know just the place. Feast your eyes on Villa Casa Maria, a luxurious riverside retreat that will transport you and your pooch to the hillsides of Tuscany, Italy. This charming hand-crafted mudbrick farmhouse is surrounded by seven acres of lush farmland. Kick back in the hammocks and soak up the peace and quiet, with the only sounds being the river flowing and the local birds chirping.
The Best Pet-Friendly Accommodation In Rotorua
Mansion Moncur
Springfield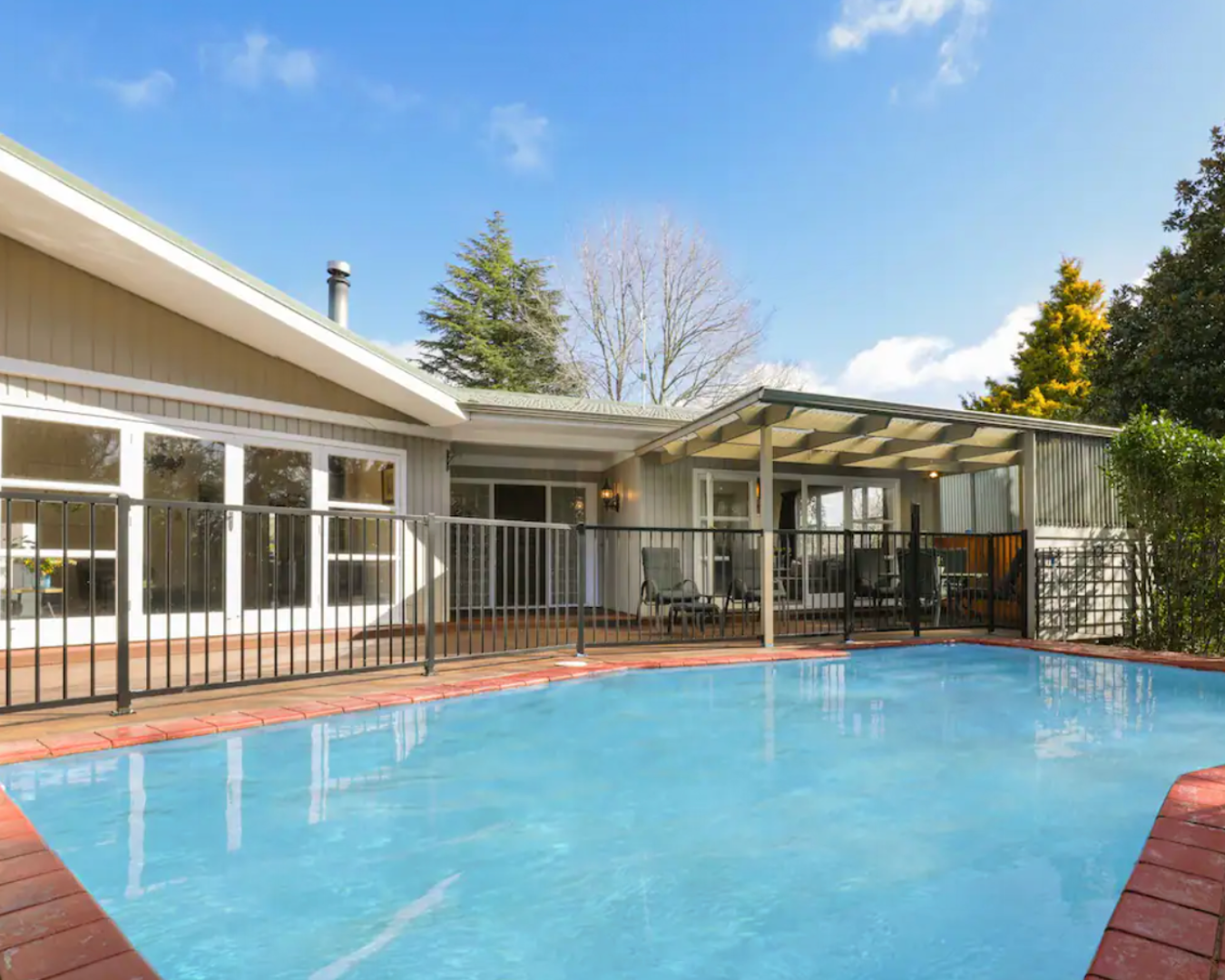 Take your vacay to the next level by booking a spot at Mansion Moncur—a beautifully renovated four-bedroom home that has everything you need for the ultimate getaway. Curl up on the sofa with your fur friends and catch up on that book you've been meaning to read or take a dip in the pool and soak up the sun, before dining alfresco. Grab a tipple from the bar (yes, that's right the bar) and challenge your pals to a game of pool or two in the billiard room.
The Best Pet-Friendly Accommodation In Taupo
Treetop Hideaway
Central Taupo

Unleash your inner Tarzan and Jane at this picturesque treetop hideaway. Picture this—a vintage bach with wooden barrel-shaped ceilings and 'Gram-worthy views across the Waikato River, sounds lush, right? Switch off from everyday life and unwind in this heavenly oasis.
The Best Pet-Friendly Accommodation In Waikato
Lone Oak Cabin
Okoroire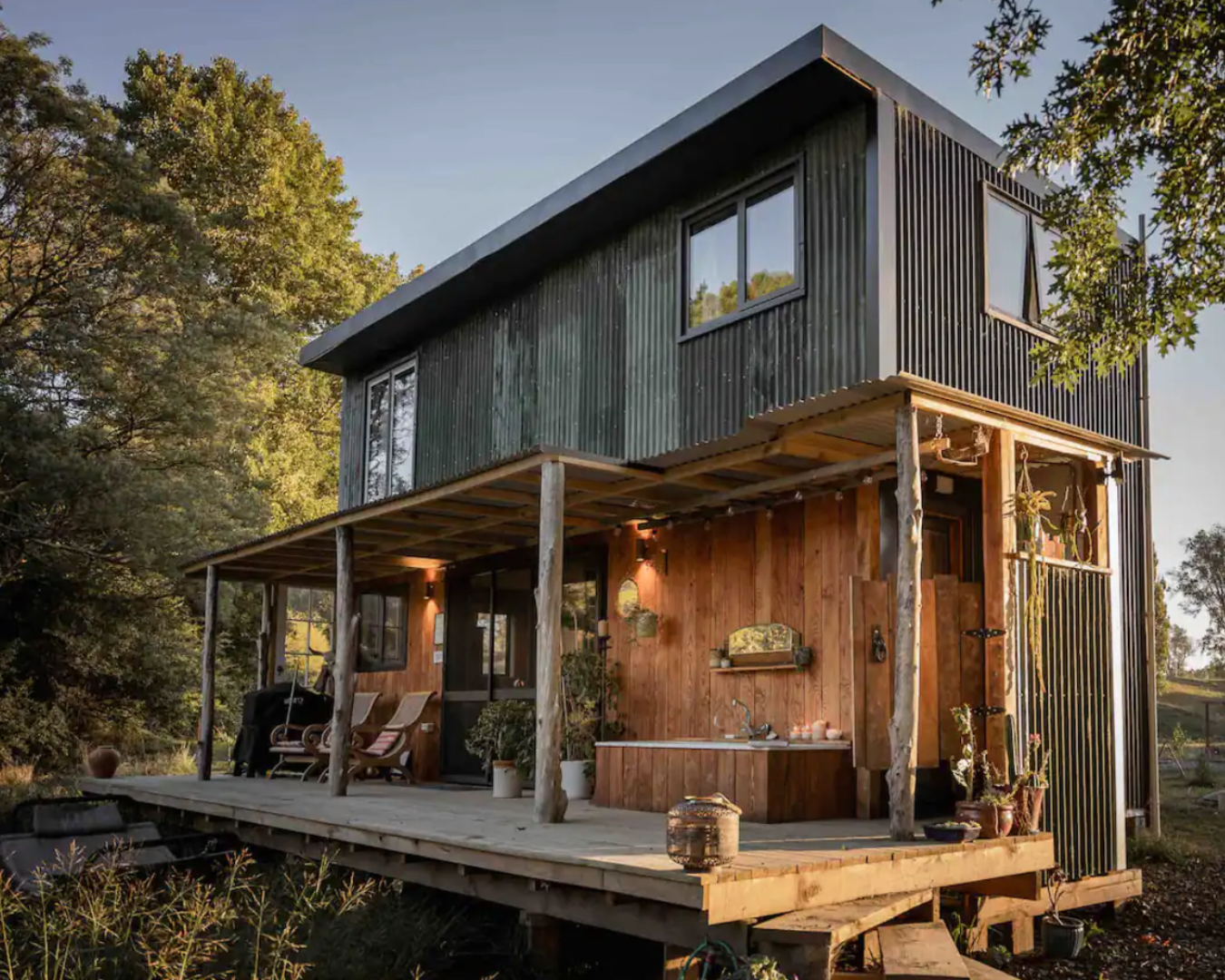 If you think comfort is key then book your stay at this cosy cabin located in Waikato. This boutique accommodation is pretty spesh as it's made from locally sourced wood and is completely solar-powered. If you hadn't guessed, pets are allowed, so explore the grounds with your well-behaved doggo or get snug by the outdoor fire pit. Oh, and we can't forget about the outdoor bath overlooking the Te Waihou river—get your relaxation on with a soak in a hot bath under the stars, absolute bliss! Unwind and reconnect with nature, while the river lulls you to sleep.
Harewood Grange
Raglan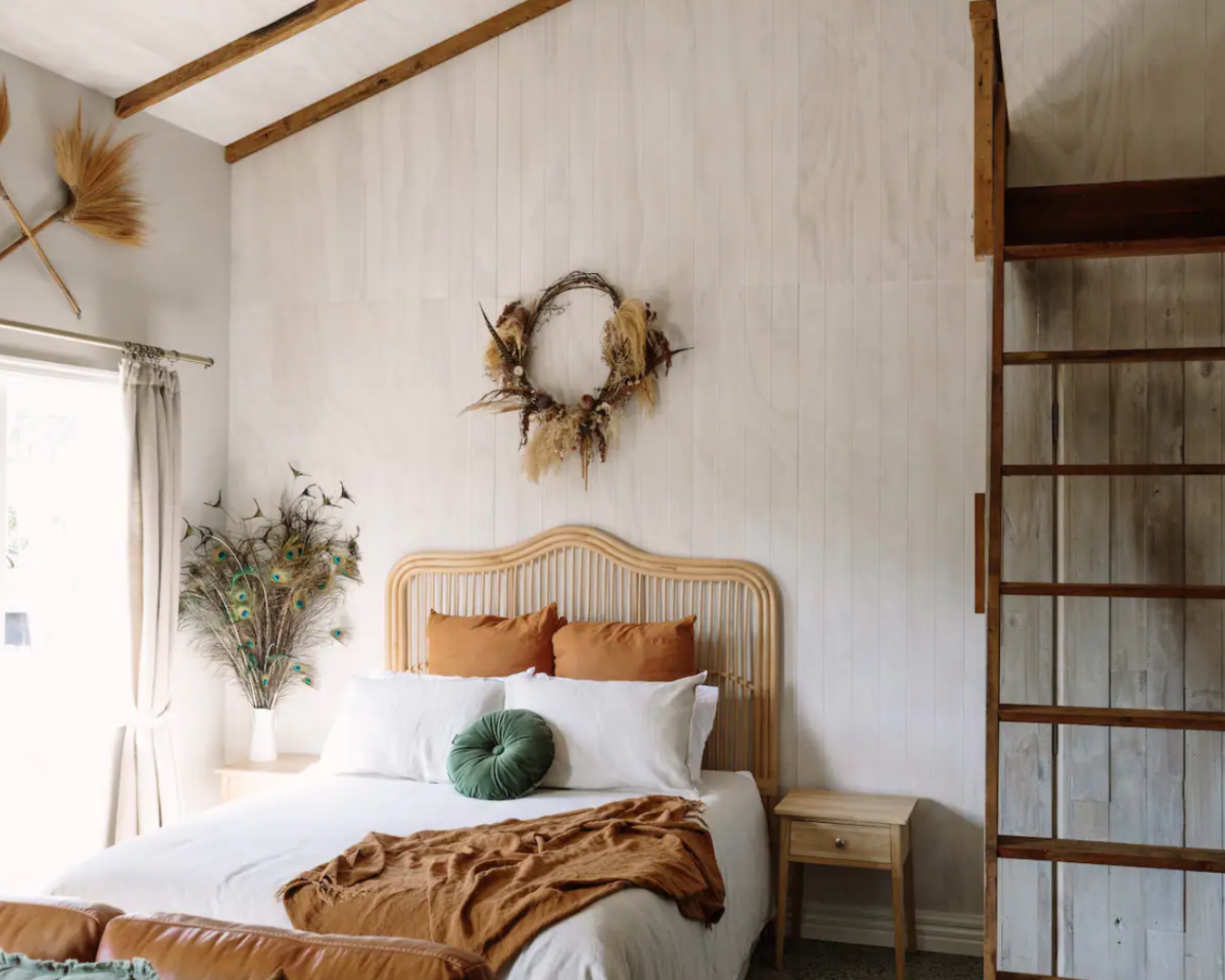 If you're looking for some peace and quiet, then escape the hustle and bustle of city life and book a night or two at this boutique pet-friendly accommodation. This converted barn is pretty spesh as it was created from recycled and preloved materials and is nestled on an 18-acre block surrounded by farmland. Dogs and horses are welcome, so kick back in the hammock with your furry friend and watch the sunset over Mount Karioi.
The Best Pet-Friendly Accommodation In Hawke's Bay
Sustainable Tuki Tuki Tiny Home
Kahuranaki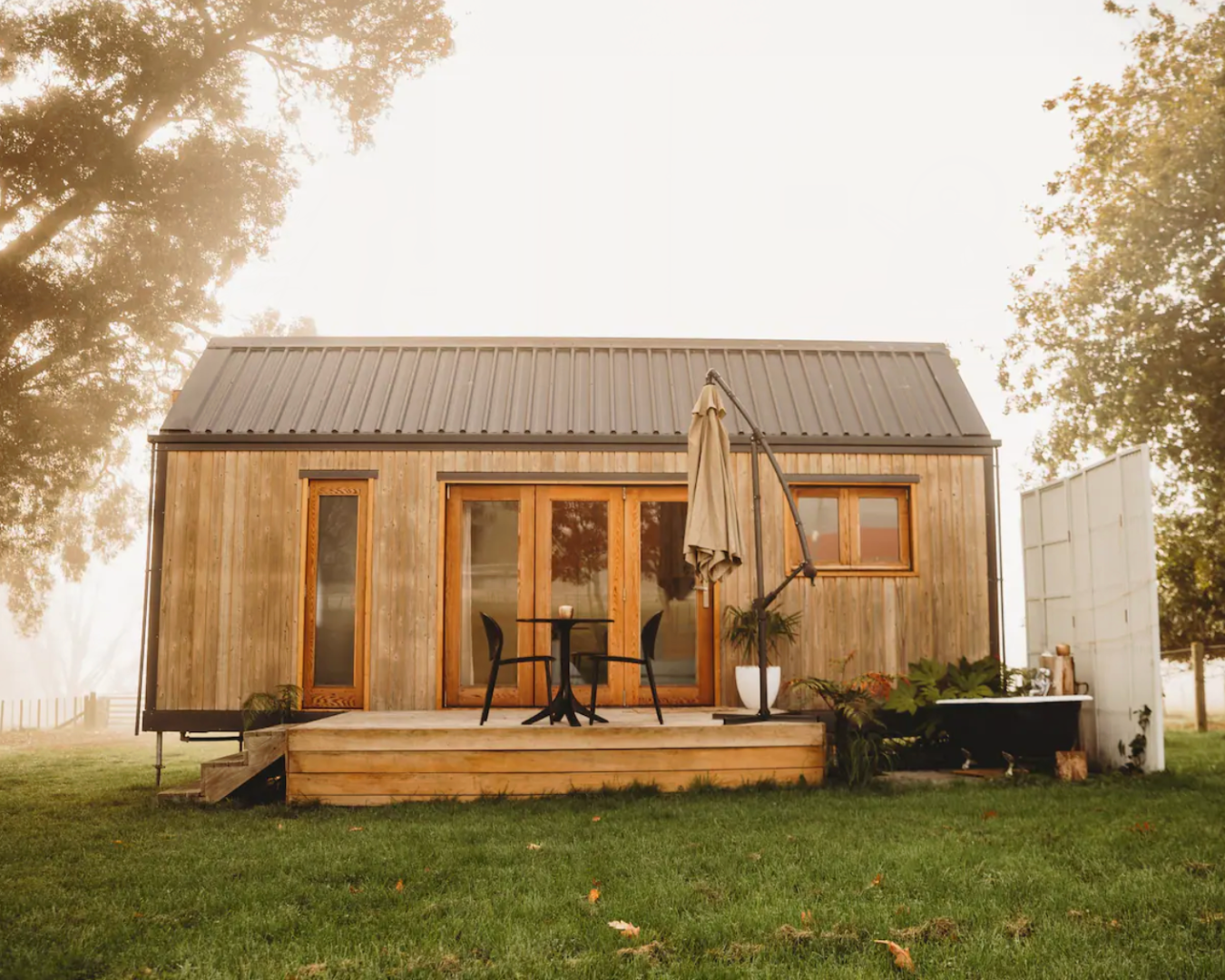 Need to unwind, stat? We know just the place. This sustainable tiny home in Hawke's Bay is the perfect hideaway to push reset. Set amongst picturesque farmland, this serene escape is the ultimate relaxation spot. There's even a variety of farm animals to keep your pooch company while you bask in the sunshine on the deck or relax in the outdoor cast iron bathtub. Take a morning stroll to see the sunrise and replenish with a cooked brekkie made with fresh eggs and herbs from the farm.
The Best Pet-Friendly Accommodation in Wellington
Cosy Caravan Amongst The Trees
Lower Hutt

If you're looking to escape the hustle and bustle of city life, then book a spot at this cosy retro caravan that's set within six acres of farmland in Wellington's Lower Hutt. Owned by local beekeepers, you'll be treated to fresh honey and eggs in the mornings and will even get a chance to get up close and personal with the local wildlife. Make friends with Frank and Joe the Alpacas and get acquainted with the sheep and chickens. So, if you're after a little farm stay vacay book your spot pronto.
Tree House Above Wellington Harbour
Lower Hutt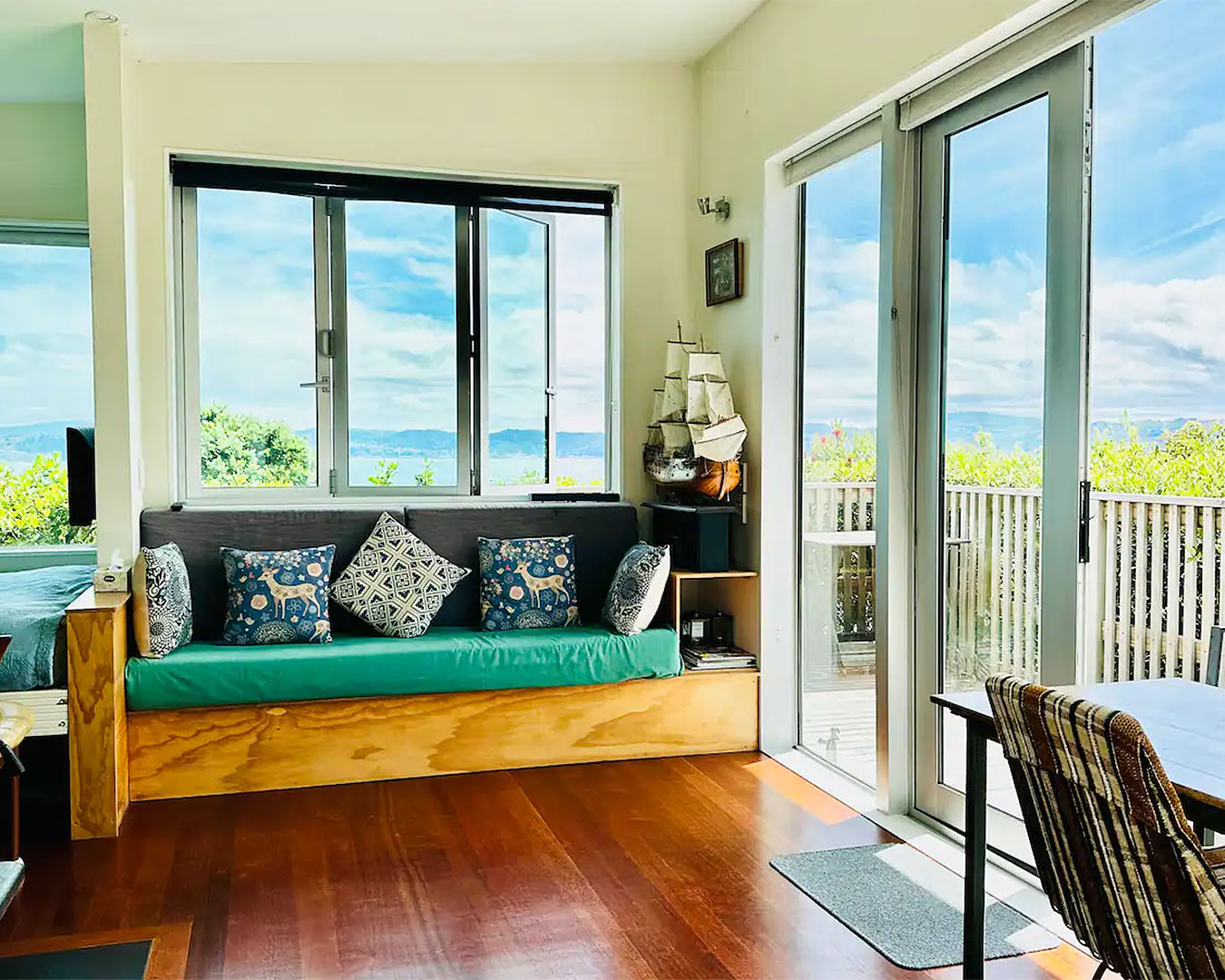 You just can't beat Wellington on a beautiful day, so why not pack your things and head there on a little vacay? If you're looking for somewhere to bask in the sun all day long then we know just the place, this cute treehouse is the ultimate place to stay. Take in the views of Wellington Harbour and don't forget to make use of the free bikes provided.
The Best Pet-Friendly Accommodation In Christchurch
Pet-friendly Central Hideaway
Christchurch City Centre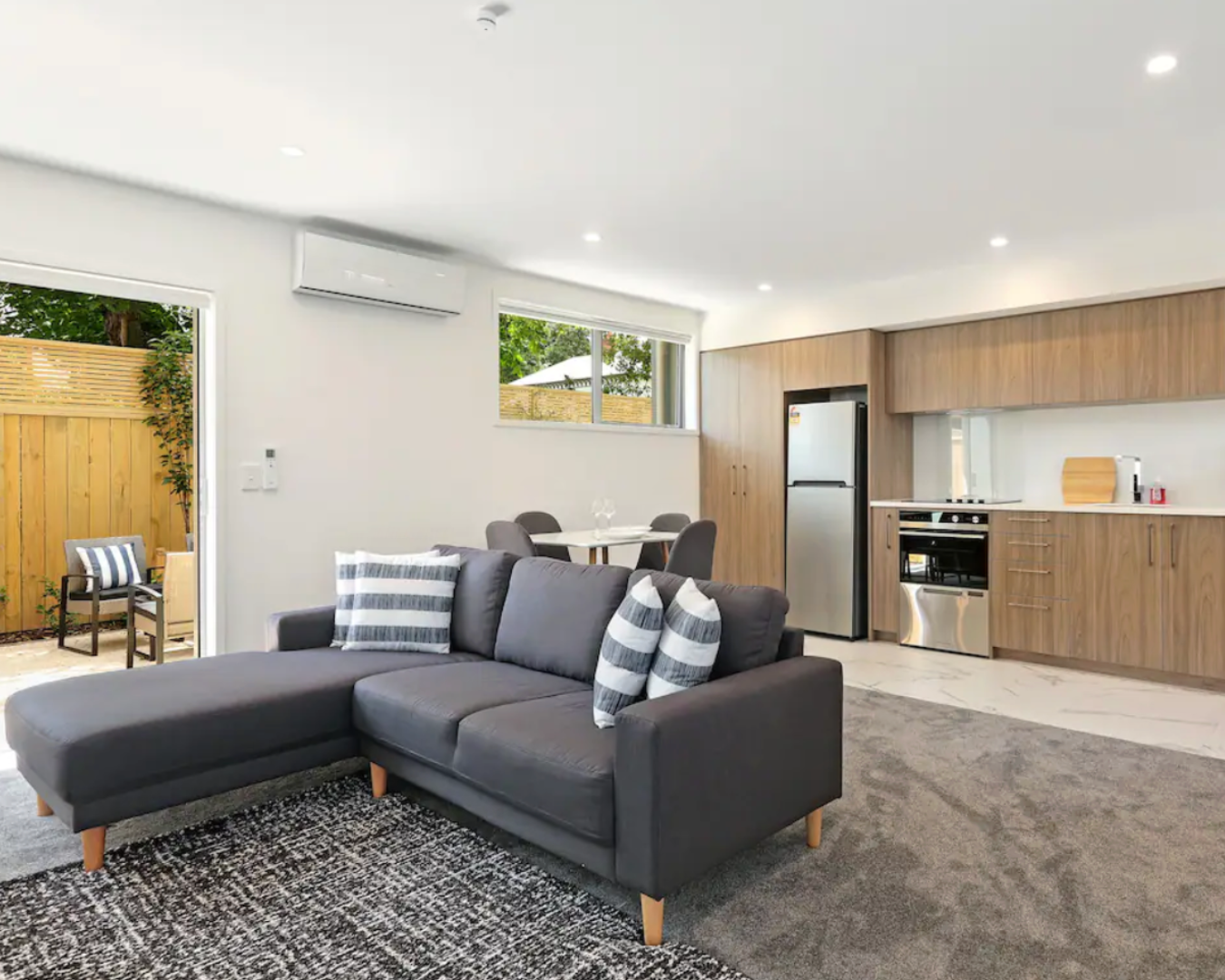 This pet-friendly accommodation is an epic spot if you're looking for a city break. Spend your days exploring the second-largest city in NZ—roam the botanical gardens, visit the Canterbury Museum, relax by the Avon River and don't forget to check out the tasty eateries and bars. You won't regret your stay at this central hideaway as it's the perfect base for an adventurous weekend in the big smoke.
The Best Pet-Friendly Accommodation In Queenstown
Highview Haven
Central Queenstown

It's no secret that Queenstown is a piece of paradise. If you're the lucky one heading to this wonderland, you will want somewhere equally as stunning to rest your head. Check out this Highview Haven—this ain't no ordinary accommodation no siree! It's up there with the best as it offers contemporary furniture, a spa pool to soak up all your worries and large windows that ensure the views out to the mountain ranges are uninterrupted and of course, pets are welcome. Ahhh bliss.
Viscount Haven
Central Queenstown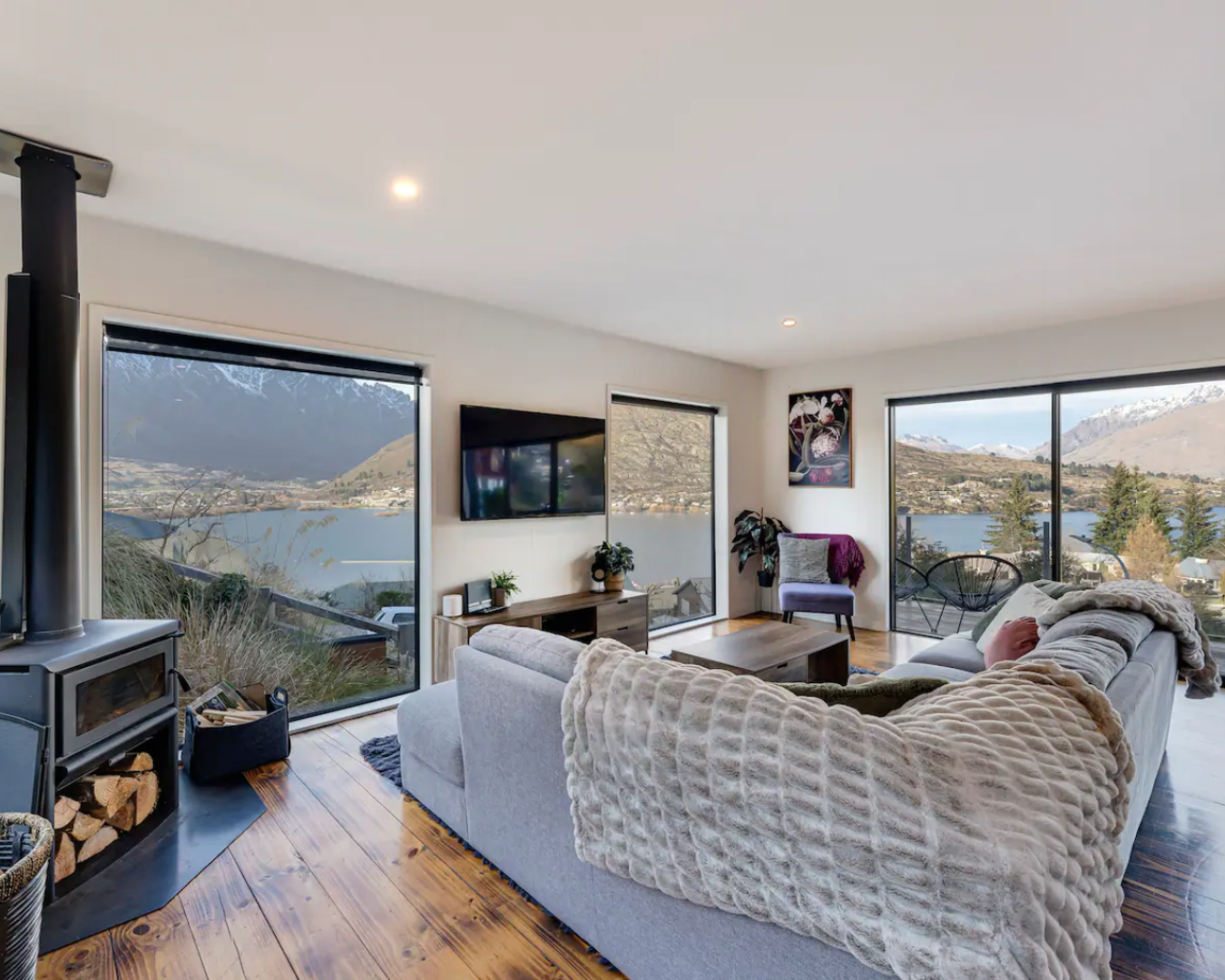 If you're planning on taking a trip to the glorious south island, then you're going to want to stay at this beautiful chalet, a little slice of paradise that is guaranteed to add a touch of luxury to your stay. With stunning views from every angle, make sure you spend time relaxing in the lounge or open-plan kitchen and take in the view of Lake Wakatipu, the Remarkables and Cecil Peak. Unwind in the custom-made wooden bath while sipping on some local wine and get nice and toasty by the wood burn fire afterwards. Can life get much better than this? We think not.
The Best Pet-Friendly Accommodation In Nelson
Kikorangi Retreat
Delaware Bay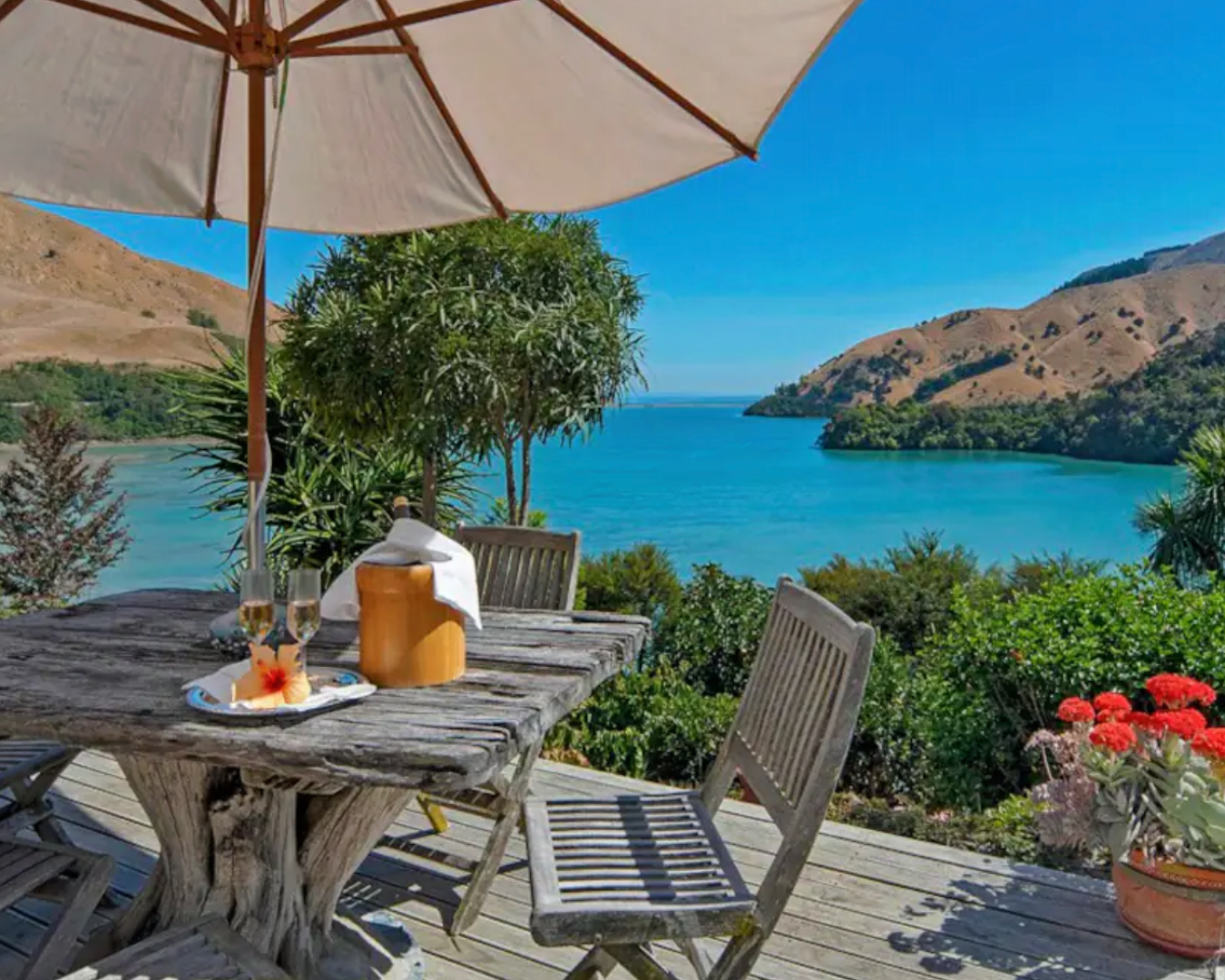 Unwind, recoup and soak up the luxury at this sunny beach house in Delaware Bay, Nelson. Prepare to be mesmerised by the idyllic setting, with stunning estuary views and native bush. Alongside serene views, the retreat has everything you need for a relaxing stay. Think fresh veggies and fruit from the garden and even some eggs from the chooks for your brekkie. Come morning take in the tranquil views and by night soak in the hot tub. So, what are you waiting for? RSVP to the ultimate weekend of relaxation now.
Tui's Secret
Abel Tasman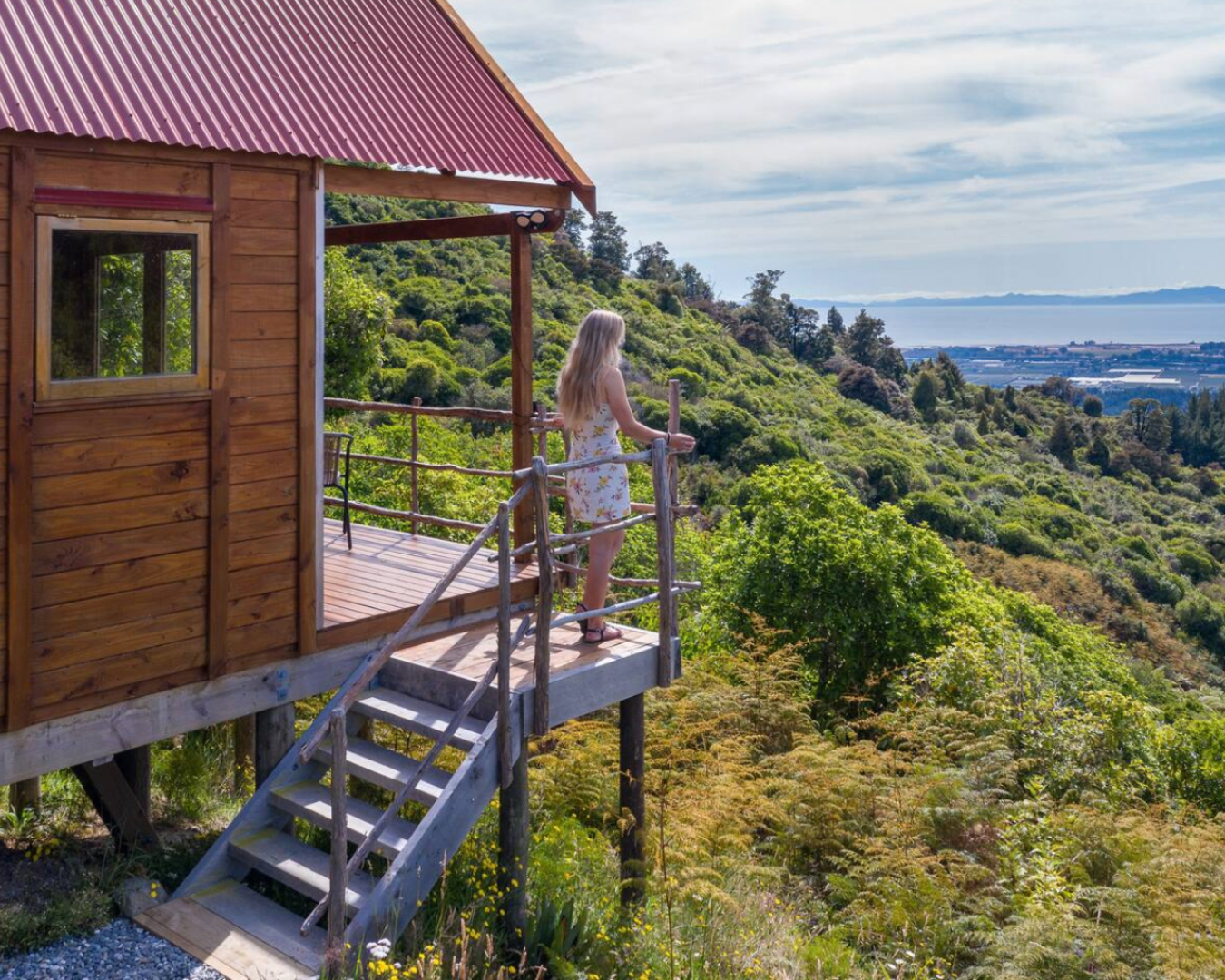 If you're lucky enough to be heading to the Abel Tasman, you will want somewhere pretty spesh to catch some z's. Check out Tui's Secret—a laid-back bush hideaway with a bird's eye view over Tasman Bay. This unique nature retreat is home to lots of animals, think dogs, cats, chickens, ducks, sheep, deer, goats... the list goes on, so your doggo won't feel lonely. It's also home to a huge outdoor bath, that's heated with fire and a coil oven, which means it stays hot for longer. Winning. So, after a day in the outdoors head back and immerse yourself in the tub while gazing up at the Southern Hemisphere's stunning night sky.
Fancy going off-grid with the pooch? Here's the best pet-friendly camping in NZ.
Image credit: Airbnb.
Editor's note: Urban List editors independently select and write about stuff we love and think you'll like too. Urban List has affiliate partnerships, so we get revenue from your purchase.