We're two weeks into lockdown and you've already eaten all your snacks? Honey—we hear you. But with all this newfound time on our hands, what better way to spend it than cooking up a storm? We couldn't agree more.
We caught up with Hannah over at Real Rad Food—the Mount Maunganui-based raw treats business—to get the lowdown on how she makes her famous Cookies and Cream Rad Balls.
Recipe | Cookies And Cream Rad Ball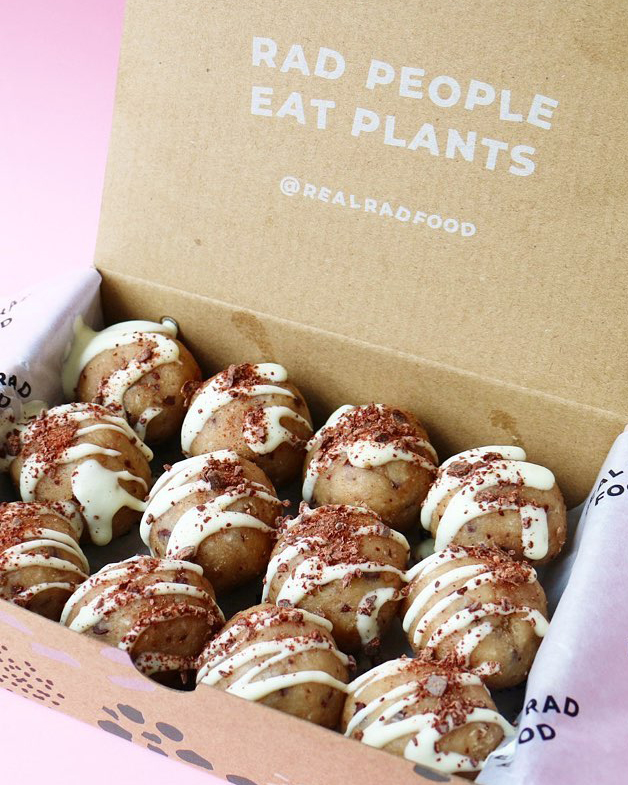 Ingredients
3 cups of almond meal (skin off)

¾ cup of desiccated coconut

½ cup of coconut sugar

½ teaspoon of vanilla bean

A pinch of salt

¼ cup of cacao nibs (or dark chocolate chopped up)

½ cup coconut cream

2 tablespoons of coconut oil (melted)
Method
Add all dry ingredients to a bowl and mix together with a spoon.

Melt coconut oil and add to the dry mix along with the coconut cream.

Combine all the ingredients together with a spoon or your hands.

Roll out into your desired Rad Ball size.

Store in the fridge for up to seven days or in the freezer for six months.
Tips And Tricks
We hit Hannah up for all the secret tips and tricks she uses in the Real Rad Food kitchen. She recommends putting some coconut oil on your hands to help with the rolling, to refrigerate your coconut cream overnight to make it thicker and more creamy, and if you're an avid at-home almond milk maker, you can use the leftover meal in this recipe.
Ingredient Swaps
If you're out of some ingredients, never fear! You can swap coconut cream for any plant-based milk and coconut sugar for other sweeteners like rice malt syrup, honey or agave. Should you be out of desiccated coconut, just add in more almond meal, or even ground cashews or cashew butter will work too.
Over the instant ramen and sandwiches? Cook away your isolation boredom with eight delicious recipes from creative Kiwi chefs
Image credit: Real Rad Food