Whatever the occasion or vibe, Hamilton's restaurant scene has it all. Whether you're after a sophisticated date destination, a culinary journey around the world, or simply on the hunt for some hearty comfort food, our local restaurateurs have you covered.
To point you in the right direction, here's where to find the best restaurants in Hamilton.
Gothenburg
Grantham Street, Hamilton CBD
Gothenburg never fails to step up to the plate (literally). The foodie destination is a Hamilton go-to, ticking the boxes as a restaurant, cafe and bar. The eatery is the definition of 'light, bright and beautiful' with floor-to-ceiling windows framing panoramic views of the Waikato River. Better yet, you've got the option to dine al fresco on the outdoor terrace—hello, sunny long lunches! The menu showcases the best of the Waikato, working with local suppliers to dish up their signature tapas. Enjoy the likes of harissa-spiced crispy cauliflower, slow-braised pork belly, and buttery garlic crayfish rolls.
Smith & McKenzie
Lynden Court, Chartwell
First designed as a tribute to the old New York steakhouse, Smith & McKenzie prides itself in serving up quality steaks that really hero their menu. The blend of industrial and modern themes combined with historical butchery elements and the amazing brick fireplace give the restaurant an awesome atmosphere. Smith & McKenzie dry-age its steak on-site and use a specific slow cooking technique to ensure the best flavour and experience. The steak menu lets you pick the kind of meat you prefer. Options include prime rib, smoked T-bone, Hereford sirloin and the Savannah Angus eye fillet. The award-winning team really know what they are doing with perfectly prepared steak and great service, head along and let the experts do their thing.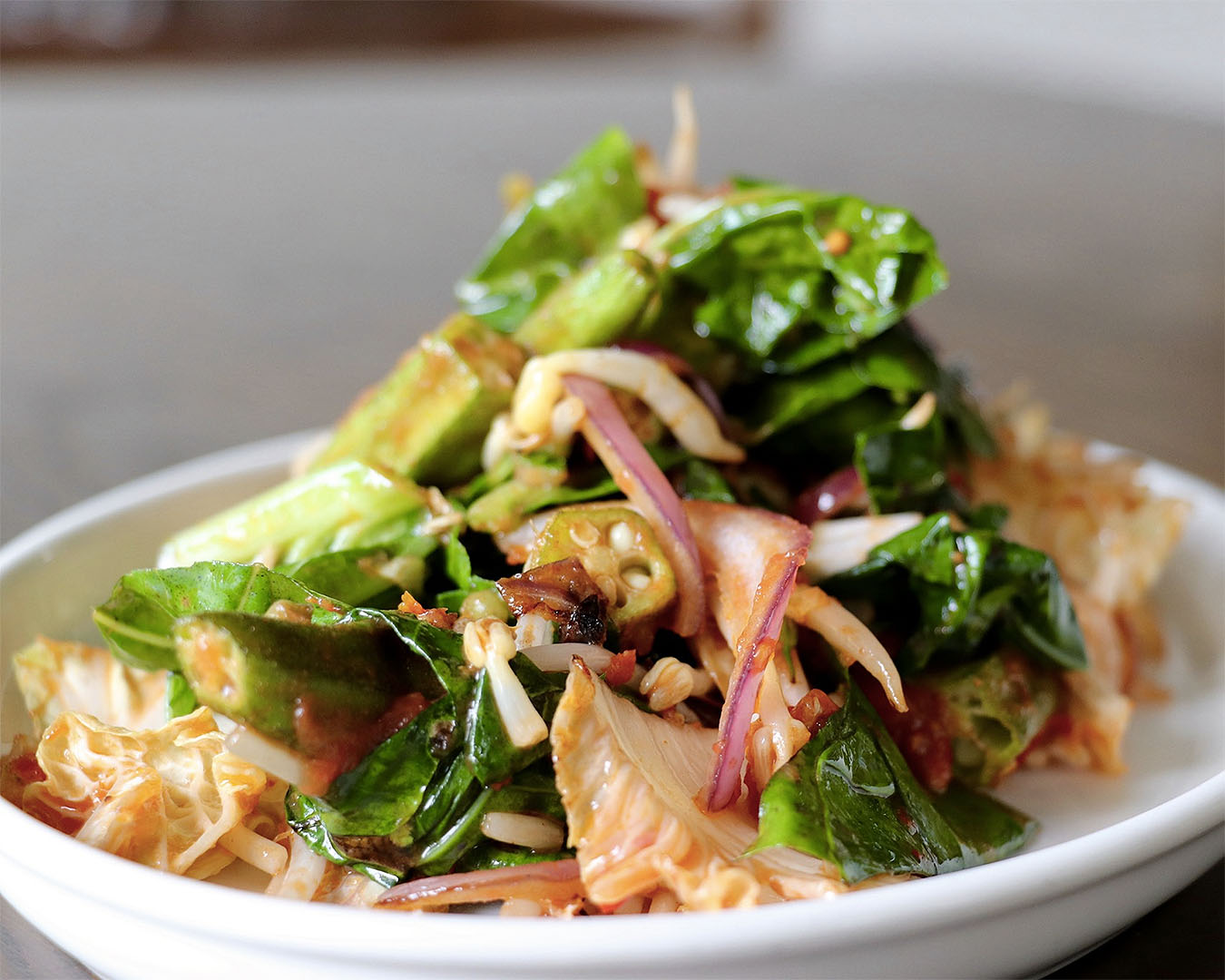 Madam Woo
Sapper Moore-Jones Place, Hamilton CBD
Allow yourself to be 'wooed' by the delicious fare at Madam Woo. The restaurant is the brainchild of Josh Emett and Fleur Caulton, who founded the original Madam Woo in Queenstown. The menu is bursting with bold flavours, taking inspiration from Malaysian street food. We suggest visiting with a group (and/or working up a hearty appetite), so you can experience an array of delicious dishes. Start with juicy wontons and dumplings before digging your chopsticks into spicy laksa, tender beef rendang, and unmissable smoky char kway teow noodles. No visit is complete without one of their iconic flaky hawker rolls.
Palate Restaurant
Alma Street, Hamilton CBD
Matching the right wine to the right meal is a real art and when done correctly can take a dining experience to a whole new level.
Palate Restaurant
understands this and prides itself on its true knowledge of food and wine. The menu changes seasonally to use locally sourced produce and the extensive wine list makes it easy to find the perfect combination. The light and bright restaurant has simple and modern features, which match the food well. The menu celebrates fresh ingredients with dishes such as the market fish with celeriac, grilled leeks, chives, poached oyster and smoked butter sauce. There is also the option to enjoy a seven-course degustation specially created by the chefs with the option of matching wines. Pro-tip, book early and request a table in the red wine cellar for a more intimate dining experience.
Banh Mi Caphe
Victoria Street, Hamilton CBD
Continue your culinary journey through Southeast Asia and visit Banh Mi Caphe to discover the flavours of Vietnam. Boasting a sleek, modern fit-out, the restaurant is the kind of place you visit for a meal and stick around for the good vibes… and epic cocktails. The menu showcases a mix of classic street food, noodle dishes and salads. Choose between rice paper rolls, banh mi, chicken curry and—of course—pho noodle soup bursting with warming flavours of cinnamon, clove and star anise. Like all good Vietnamese, the dishes are light, balanced with flavour, and loaded with fresh herbs. It's no wonder Banh Mi Caphe is one of the best restaurants in Hamilton.
The Chilli House
Victoria Street, Hamilton CBD
If you've got a hankering for Sichuanese cuisine, look no further than The Chilli House. The Victoria Street gem will magically transport you to the Chinese province of Sichuan with its punchy spices and flavours. Arrive hungry because the menu has you spoilt for choice with cucumber salad, kung pao chicken, hot pot, and crowd-favourite dandan noodles. Their handmade dumplings are served to your liking with boiled, pan-fried or served in a sour and spicy soup. You can even purchase a jar of their signature chilli sauce and recreate your favourites at home. Score.
Adriana's
Alma Street, Hamilton CBD
It opened in 1989 and is now Hamilton's oldest restaurant. Adriana's has a flawless reputation among Hamilton locals so if you're after real Italian food that is more than just pizza, then Adriana's should definitely be on the list. On the primo piatto menu, you will find dishes such as spaghetti marinara with Italian tomatoes and fresh herbs tossed with whole shelled deveined prawns and mussels. The secondo menu has slightly more hearty dishes like the daily market fish, pan-grilled with unsalted butter and a melted parmesan, chardonnay and lemon crust. The coffee and wine menu includes Italian espresso coffees, liqueur coffees and New Zealand and Italian wines to finish off your meal perfectly.
Hayes Common
Jellicoe Drive, Hamilton East
Cafe by day and more restaurant-esque by night, Hayes Common is one of Hamilton's best restaurants. The friendly neighbourhood local is famed for its delicious food served alongside craft beers, beautiful wines, and innovative cocktails. Daytime dining offers your brunch faves (the baked pancake has somewhat of a cult following), while the evening menu turns things up a notch. Visit for dinner from Wednesday to Saturday and savour slow-roasted lamb ribs, pan-fried market fish, and mushroom ricotta gnocchi. Save room for dessert because there's salted dark chocolate tart on offer.
Mr. Pickles Bar & Eatery
Victoria Street, Hamilton CBD
Nestled in Riverbank Lane, you'll find bar-slash-eatery Mr. Pickles. Eating here is a bit more of a casual affair with a menu allowing you to build the perfect platter with charcuterie bites and cheeses. There are bigger plates perfect for sharing with beef cheek croquettes, beer-battered fish sliders, and sticky pork ribs paired with Filipino barbecue sauce. Pull up a stool at the island bar and watch the staff work their magic or head to the outdoor courtyard to soak in views of the Waikato River. Mr. Pickles perfects the tricky balance of being sophisticated yet easy-going, making it the perfect date night destination. Book in for a table for two and experience the magic.
Sichuan Style Restaurant
Collingwood Street, Hamilton CBD
Fire up the group chat and head to Sichuan Style for a flavoursome feast. Bring your reading glasses too because the menu is seriously lengthy… not to mention delicious. There are chewy stir-fried noodles topped with lamb, peanuts and dry tofu in a tasty spicy sauce, sizzling eggplant stuffed with pork mince, and a plate of ever-popular fried rice with all the trimmings. We can't go past the pork dumplings served in a flavoursome sauce that perfects the balance of sweet, sour and spicy.
Chim Choo Ree
Anzac Parade, Hamilton CBD
Located in a converted brewery, Chim Choo Ree is a must-visit for your next date night. The award-winning restaurant serves modern dishes presented like works of art. To begin, there's beef tartare, prawn and crab rillette, and a popular butternut and goat's cheese tortellini. The mains keep things sophisticated—and delicious—with venison, eye fillet, duck breast, and a vegetarian take on a beef wellington served with parsnip and spinach. The drinks menu offers some of New Zealand's finest wines as well as the all-important espresso martini.
Saigon Noon
Alexandra Street, Hamilton CBD
If you're after lowkey vibes and don't want to compromise on flavour, check out Saigon Noon. The Vietnamese restaurant is another cheerful Hamilton favourite tucked away on Alexandra Street. Start with spring rolls (it'd be rude not to), before enjoying a main of pho noodle soup, bun noodle salad, or their signature curry loaded with tender beef brisket and creamy coconut. Better yet, Saigon Noon never fails to serve your meal with a friendly smile. They're open for lunch and dinner from Monday to Saturday.
Babaganush Turkish Restaurant & Cafe
Grey Street, Hamilton East
Located in the heart of Hamilton East, Babaganush is a local favourite catering to your Turkish cravings. The relaxed restaurant and cafe is open for lunch and dinner from Tuesday to Sunday with an extensive menu that will have you coming back time and time again. Begin with Turkish bread paired with moreish dips such as spicy walnut with sundried tomato, carrot yoghurt havuc, and the restaurant's namesake: smoky grilled baba ganoush. For mains, there's chicken date tagine, veggie moussaka, roasted lamb salad, and your classic doner kebab.
Garden Place Noodle Bar
Worley Place, Hamilton CBD
Tiny but mighty, Garden Place Noodle Bar is a casual eatery catering to the noodle enthusiasts among us (so basically everyone). You'll be treated to dinner and a show as the handmade noodles are stretched, pulled and served with a broth of deliciousness. Have yours with the likes of barbecue pork rib, roast chicken, seafood, or melt-in-your-mouth beef sirloin. Noodles aside, they also serve up steamed pork buns and juicy dumplings—the fried pork and cabbage morsels are a crowd-favourite. The Garden Place noodle joint has you covered for a cheap and cheerful meal to enjoy.
Mexico
Victoria Street, Hamilton CBD
Inspired by the streets of
Mexico
, this popular, nationwide spot is definitely up there with one of the best restaurants in Hamilton. The atmosphere is exactly what you would expect when you think of Mexico: colourful, bustling and full of energy. The menu offers so much choice you will have a hard time choosing, so opting for a few smaller dishes is the way to go. The famous Mexico fried chicken is arguably the best dish on the menu, while the array of soft-shell tacos and quesadillas will leave you spoilt for choice and full to the brim. The jugs of sangria will complete the full fiesta of an evening. With options of white, pink or red, there is something for everyone.
Take to the hills around Hamilton for a hike you'll not soon forget.
Image credit: Mr Pickles, Gothenburg, Madam Woo, Banh Mi Caphe, The Chilli House, Hayes Common, Mr Pickles, Chim Choo Ree, Saigon Noon, Garden Place Noodle Bar.