We get it, sometimes the finances are just a smidge too tight to be spending those extra dollars on anything except the necessities—you know food, rent, your Netflix membership and so on. But this is not to say you cannot still fill your days with various activities. Whether it's outdoorsy, fitspo, cultural or even the lazy, lowest effort available option, there are plenty of free things to do in Hamilton.
If you are local to Hamilton or just visiting, there are many ways to see the area and enjoy all it has to offer without spending a cent.
That's right, here are all of the best free things to do in Hamilton.
Walk The Riverside Walkway
Walk alongside the Waikato River, winding through beautiful native bush and parks with Hamilton's Riverside Walkway. The 11km path is mostly boardwalk and can be accessed at multiple points along the way if you are wanting a shorter walk. The gentle tracks make for easy strolling and nothing too strenuous, cyclists are also welcome. There are so many other great walkways in the area, these are a few that definitely deserve a shout out–The Kauri Loop walk, The Mangapohue Natural Bridge, The Blue Spring, and The Arapuni Swing Bridge.
Visit The Waikato Museum
The Waikato region is full of culture and the Hamilton Museum is the perfect place to immerse yourself into the Maori history of the area. The free entry makes the ever-changing exhibitions a great way to spend a few hours, especially on a rainy day. With 13 galleries which feature more than 25 new exhibitions and 100 public events every year, there is always plenty to see. Highlights of the museum include the majestic war waka Te Winika and the Waikato WW1 story, For Us, They Fell.
Hop Around The Many Parks
Hamilton is somewhat of a garden city with the number of parks around, (we are talking more than 200 to be clear). Ranging from spacious reserves to more neighbourhood gems there is plenty to explore. A good park makes for the perfect place to lay down a blanket, pull out a good book, take a much-needed nap, or just watch the world go by. A few worth checking out are Hamilton Lake Domain, Memorial Park, Garden Place and Claudelands Park.
Dig Your Own Hot Water Spa
One of nature's greatest gifts can be found right here in Hamilton. Kawhia's hot water beach is a true gem and one of the best free things to do in Hamilton. Head down to the end of Ocean Beach Road, climb over the sand dunes and have a scout for hot water bubbling to the surface. When you find the spot get digging and be amazed as you create your very own pool of hot water. The special resource coming straight from the earth is quite extraordinary, and if you close your eyes you might just believe you were getting pampered in a five-star day spa.

Go Chase Waterfalls
Throughout Waikato, there are some spectacular waterfalls to be found and most are pretty accessible and easy to reach. One of the most popular falls amongst visitors, Bridal Veil Falls is a 55m high waterfall near Raglan which boasts some stunning views. Wairere Falls near Matamata is the highest waterfall in the North Island reaching 153 meters and is very impressive, guarantee to make you feel tiny in comparison. The Marokopa Falls near Waitomo is known as one of the most beautiful waterfalls in the country, the Marokopa River runs over undercut greywacke basement rock causing a truly stunning sight. All of these falls make for great day trips with picturesque walks to and from and are all definitely worth it for the stunning scenes at the end.
Hamilton Gardens
What was once the city rubbish dump, now 40 years later the Hamilton Gardens is an internationally unique and award-winning attraction. The concept of the gardens has been compared to museums as each collection in the garden has a historic element, and provides a story of different civilisations, their arts, beliefs and lifestyles. You could spend hours wandering through the many collections in the Hamilton Gardens with so much to see and learn.
Take A Peek At The Mokena Geyser
What can at first seem underwhelming, given around 45 minutes and you will see why this attraction has been drawing crowds for over 100 years. The world's only hot soda spring geyser makes you wait and wait in suspense until it finally erupts. There are a few walks you can choose from whilst you wait which showcase small waterfalls but be careful not to misjudge your timing or you'll be waiting all over again. The real test is timing your camera to capture the magic at just the right moment.
Head To The Lake
Known as both Lake Rotorua and Hamilton Lake, when the weather gods bless us you just can't beat a day down by the lake. Pack a picnic, take a good book and settle in on the lakeside to soak up some sun and the seriously stunning views. The walks around the lake are picturesque and make for scenic strolls and keep an eye out for free events which are often held down there on the weekends.
Head To Raglan For A Cruisy Day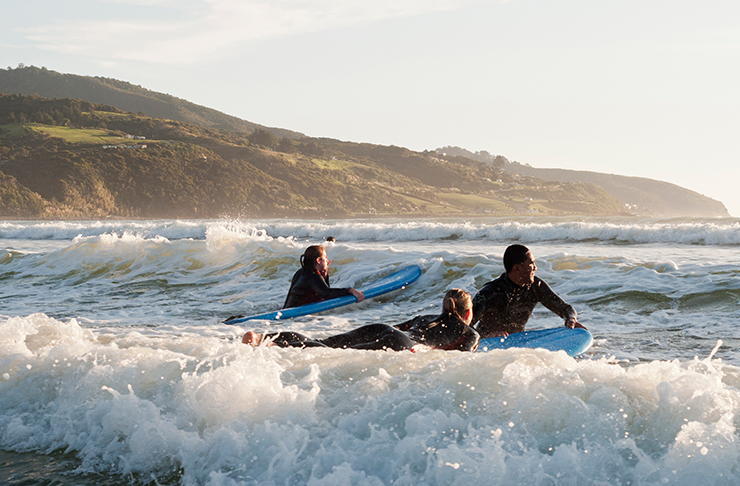 Only a short drive out of Hamilton will get you to Raglan, the coastal and laid-back town which makes for a perfect day trip. Home to one of New Zealand's greatest surf breaks, and one of the longest left-hand breaks in the world, Raglan's Manu Bay is a must for any keen surfers (or those just wanting to watch the pros do their thing). There are some stunning walks in the area including Mt Karioi, with the option of a short or long track you can choose to hike to the summit to get some seriously incredible views. If that is a little too fitspo for you then simply spend the day wandering around the friendly town and spend some time at the beach, soaking up all the easy-going vibes Raglan has to offer.
Keen for an adventure? Here are the New Zealand road trips you need to take.
Image credit: Hamilton Gardens & Paul Abbitt