There's nothing like a run in the sunshine (or even the rain if you're feeling hardcore) to get you out of the house when you start feeling a little cooped up. So why not reset your fitness, get your mind firing on all cylinders and hit two birds with one fit stone?
Whether you're a regular runner or trying something new, these running tracks around Auckland will bring you some inspo. Outside of this list, you can also search paths closer to home using this handy tool.
Orakei Basin
Orakei Basin is always a good vibe. The entire walkway is less than 3km, so it's perfect for runners starting out. If you want a bigger run, extend the loop through the 'walkway alternative' track, taking you through tree-lined streets and a bunch of reserves in the area.
Tamaki Drive
Tamaki Drive is an Auckland must-do—or should we say Auckland must-run? Curving 10km along the waterfront from downtown Auckland to St Heliers, the route is not only flat but there are minimal road crossings—winning. Better yet, the views have you spoilt for choice. Feast your eyes on the glistening Waitemata Harbour or gaze enviously at the mansions lining the cliff tops. Start at the ferry terminal and run along Quay Street through to St Heliers. A mandatory pit stop at Achilles Point must be made. Take a break and enjoy the lookout.
Westhaven Marina
Start at Silo Park and run through Westhaven Marina. You'll enjoy scenic views of the City Of Sails while running over the Westhaven Promenade. Follow the track under the Auckland Harbour Bridge and up into Herne Bay. You'll be marvelling at everything Auckland has to offer during this route.
Pukekawa Auckland Domain Walks
Feel at one with nature on one of Auckland Domain's great running tracks. The Domain Walk, Centennial Walkway and Lovers' Walk are a nature lover's paradise. Run with gleeful abandon through native bush while taking careful note of the beautiful scenery which will (hopefully) take some of the pain out of the steep incline.
Coast To Coast
This run gives you the ultimate bragging rights—you can claim you ran from one side of New Zealand to the other. The urban track starts from Auckland CBD's Waitemata Harbour and heads south to the Manukau Harbour. You'll pass five volcanic sites (just casually), suburban streets and places of Maori history. The route is 16km so make sure you're armed with blister pads and a drink bottle. Check out the course for yourself here.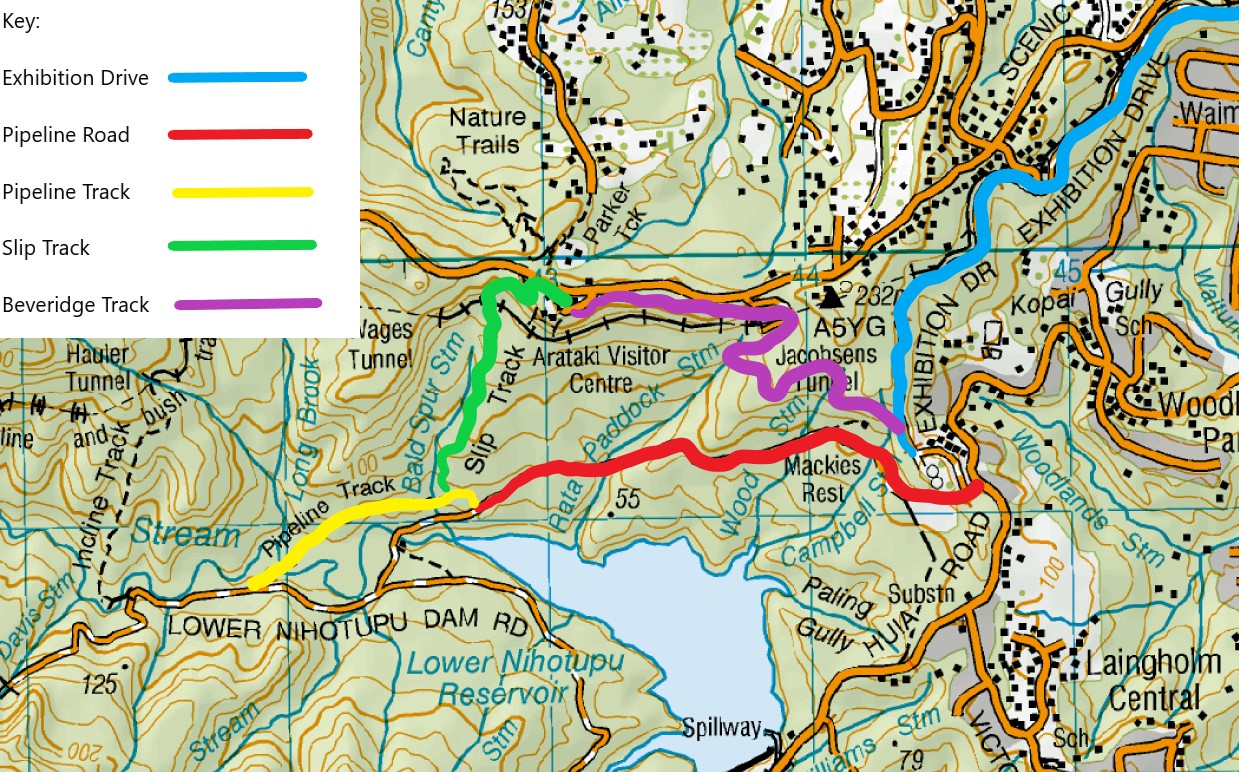 The Pipeline Track/Road
If you're out in the Waitaks, head to Titirangi and run the Pipeline Track for a scenic run. Go in the late afternoon and you'll have the sun beaming through the native bush. Enjoy listening to the birdlife and gaze at the amazing views while being at one with nature. For a really challenging track—using the map above, do a loop starting at the south-western end of Exhibition Drive, get onto Pipeline, up Slip Track (a good steep workout) past Arataki visitors centre and then onto Beveridge.
The Light Path
The shared-use pink cycle path that graces Auckland is short and sweet. For something a little out of the ordinary run it at night, you'll get to see the city light up and the reflection of the pink path underneath your gaze.
Devonport To Takapuna
We haven't forgotten the eastern beaches. Jog along the suburban Vauxhall Road until it becomes Old Lake Road. Take a right onto Hamana Street and cruise along until it becomes Seacliffe Avenue. While there are some gentle slopes along the way, it all makes for good training. Turn left onto Winscombe Street and hey presto, you're at Lake Road. Continue until you get to the heart of Takapuna and congratulate yourself on having run a not-insignificant 6km.
Cornwall Park
A beloved city oasis, you could do a different run every day for a week and still not have covered everything this park has to offer. Run around the base of the volcano and time your laps, and once you've got that sussed, challenge yourself with a run-up to the summit (not for the faint-hearted). You'll be rewarded by a cooling breeze and the sight of the whole of Auckland laid at your feet.
Western Springs
We all know and love Western Springs for its stadium and zoo, but it's also one of the best running tracks in Auckland. The lake is surrounded by a wide footpath, perfect for getting your jog on. Three full loops (don't take the shortcut) form a 5km-course. Six loops and—you guessed it—you've run 10km. There are no road crossings involved, meaning you can really get into your running zone but watch out for any wildfowl plodding around.
Murray's Bay To Browns Bay
North Shore locals will be familiar with this track. Starting from Murray's Bay, the track begins just before Murray's Bay Wharf. Run up hills and through the bush, with clifftop pit stops on the way. Take your run down to Rothesay Bay beach and, if you're super keen, make it all the way to the Browns Bay stairs. If you're game, do some stair sprints.
Totara Park
Thanks to Totara Park, South Auckland folk are spoilt for running routes. Stretching over 200 hectares, there is no shortage of running or walking tracks—you can even bring your mountain bike. The park has it all: rolling farmland, native bush and a bubbling stream. Download a map and create a route to suit your personal fitness levels. Our advice? End your run at the nearby Botanic Gardens for a tranquil post-run stretch.
None of these close to home? Check out the council's handy tool to find a path near you.
Image credit: Hamish Melville, Auckland Council.