Whether you're in self-isolation, putting physical distancing into practice or need something to take your mind off things, you can be grateful that we're graced with one of the most beautiful outdoor playgrounds in the world.
And while times are tough, there's hard evidence that a little bit of fresh air, nature and a good sweat out does the soul wonders. Plus, it doesn't cost a dime!
So, lace up your Sneakers, chuck on a good podcast and head outdoors to one of the best running tracks in Queenstown. Note: they can be walked too (phew!).
Queenstown Trail
Queenstown to Frankton
The Queenstown Trail, otherwise known as the Frankton Arm Walk is lakeside bliss. Starting at the Recreation Ground car park, run along the edge of Lake Wakatipu while admiring the beautiful mountain scenery around you. The 10 km path is a great spot if you're an amateur runner, with its flat terrain and a coffee stop midway from the legends at The Boat Shed (if you know, you know). End at the Kawarau Bridge or turn around and get your jog on back into town to complete a full 20km—that way you can basically tick the Queenstown Half Marathon off your bucket list.
Jack's Point Track
Jardine Park
Jack's Point Track is, well, on point. Starting at Jardine Park, the 10.3 km path journeys through beautiful and wild grassland, past a scenic golf course and provides ridiculous lake and mountain scenery that you get to admire from elevation. This moderate to challenging run will get the blood pumping, with an incline of 234 metres.
Queenstown Hill Walkway
Belfast Terrace
If you're wanting to wake up the good ol' cardiovascular system, Queenstown Hill Walkway is a grand place to start. It may only be 3.5km long but don't let that fool you, it's a steady climb to the top of Te Tapanui, 468 metres to be exact. Starting at Belfast Terrace, you'll run through a Douglas fir forest, rock cairn fairy garden and past the impressive, "Basket of Dreams" iron sculpture before reaching the summit. When you get there, you'll be pleasantly rewarded for your efforts with panoramic views across the Wakatipu Basin and surrounding mountains.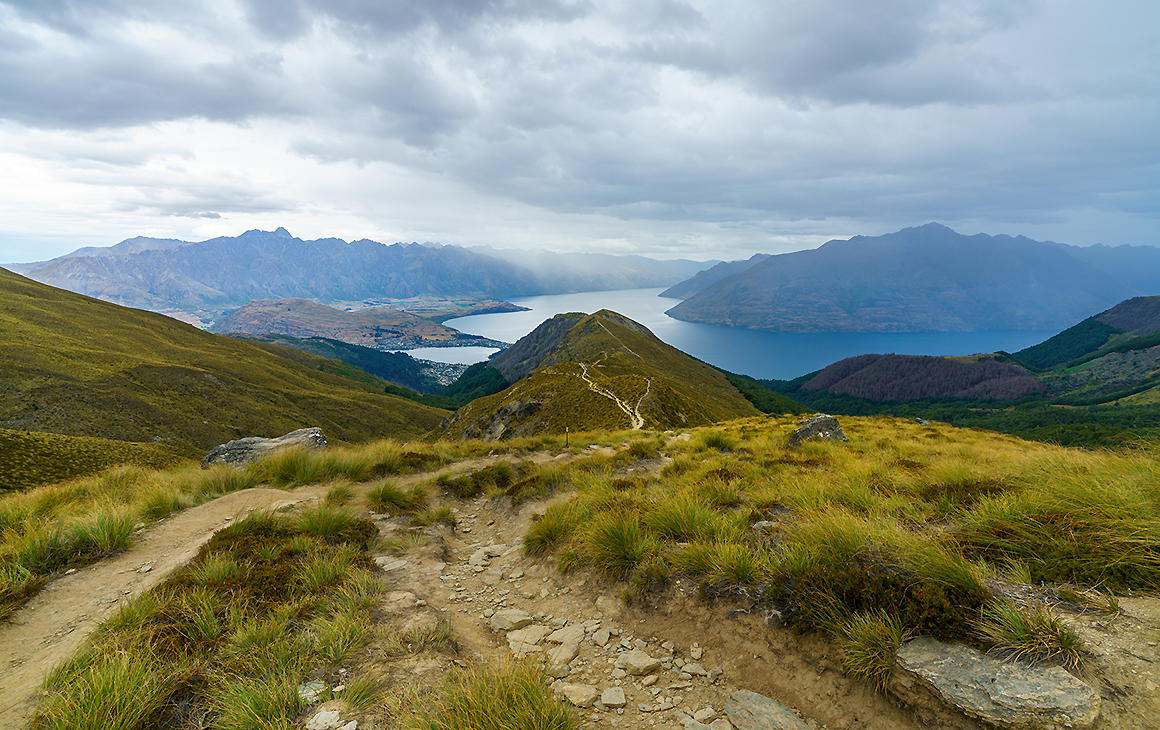 Ben Lomond Track
Skyline Access Road
It may be the most 'Instagrammed' track on our list, but it's definitely not one for the faint-hearted. Whether you're a seasoned pro planning to run, or hiking is more within your capability, the Ben Lomond track is a demanding feat. You'll begin the climb through Douglas fir, then leave the tree canopy for alpine tussocks and shrubs (those ones you'll recognise from your feed) before reaching Ben Lomond Saddle at 1,326m—that's where the uphill battle begins. The climb up to the peak at 1,748m is challenging but well worth it for the epic 360-degree views over Queenstown. Just remember, when you get to the peak it's only the halfway point…
Lake Hayes Trail
Lake Hayes
Situated halfway between Queenstown and Arrowtown, Lake Hayes is the perfect running spot for those wanting some alone time in nature. Breathe in the fresh mountain air as you weave around the gravel track and take in the stunning views around you—they won't stop for the entire 8 km journey. With a few little inclines this circuit is enough for a challenge, without being too challenging. Even better, it's located just across the road from Amisfield Winery, so you can reward yourself with a cheeky Central Otago Pinot Noir afterwards.
Mt Crichton Loop Track
Glenorchy-Queenstown Road
This loop track combines scenery with history, which makes for a fun little adventure. As you run along, you'll get a glimpse into the life of a 1860's gold prospector, passing a large sluiced canyon, tail race tunnel used for washing gold-bearing gravel, and Sam Summers' Hut—a gold mining hut built in the 1930s. Keep running and you'll cross 12-mile creek before climbing up to a ridge with unbeatable views over Lake Dispute. Make sure to keep your eyes peeled for signs on this track, as they can be easy to miss.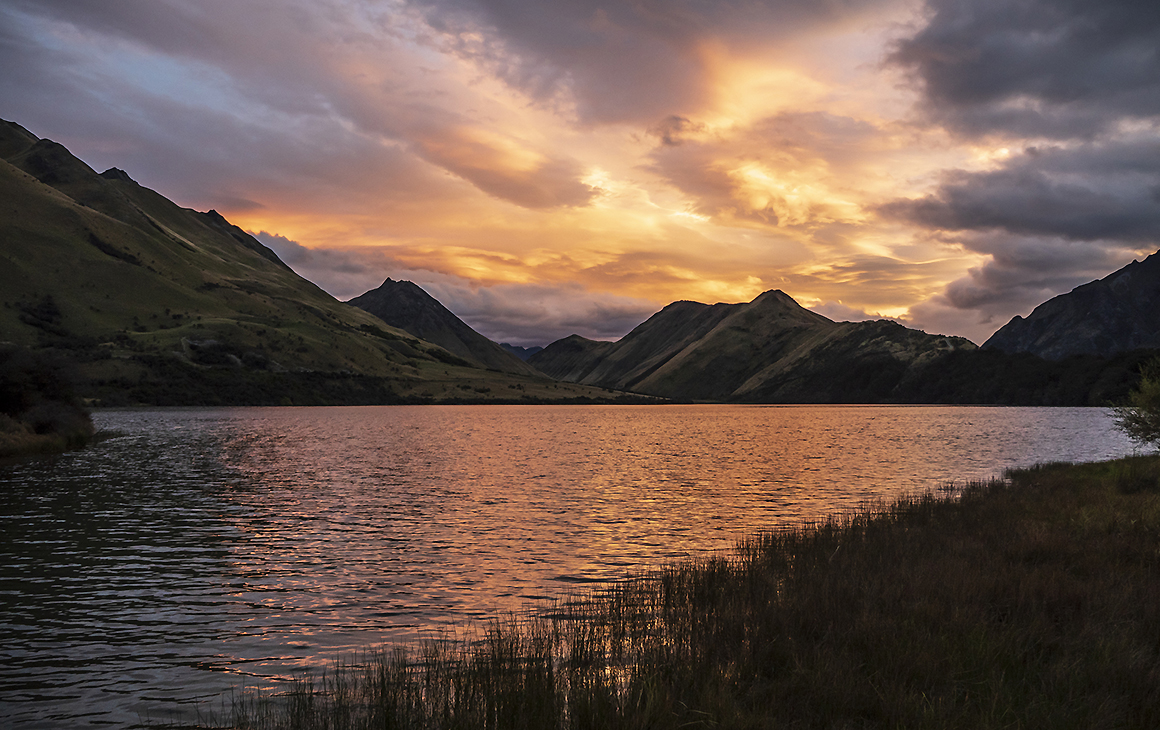 Moke Lake Loop Track
Moke Lake Road
Half an hour's drive out from Queenstown lies the stunning yet remote Moke Lake. What better way to make the most of nature's therapy than by surrounding yourself in the midst of four mountains—Chrichton, Hanley, Ben More Peak and Ben Lomond—on the Moke Lake Loop Track. With gentle gradients, this 4.5 km track should take you around 45 minutes to complete as you loop around Lake Moke and all its beauty. Little forest cover means you'll need to slip, slop, slap and wrap before you take off—especially if you're planning on taking a post run dip in the lake.
Kelvin Heights Sculpture Trail
Kelvin Heights
If you're just a beginner or want a cruisy run, this one's for you. The easy track is 3.5 km long with the Kelvin Heights Golf Course to one side, and the stunning Lake Wakatipu to the other. Admire the golfing action but beware the players have right of way on this track, so watch out for balls when they're hit a little too far left. As you navigate through forest and past little beach coves, you'll come across four impressive sculptures as well as nature's own artwork—views of Cecil and Walter Peak. When you reach the beach near Kelvin Grove you can relax and give yourself a pat on the back, you made it.
Gibbston River Trail
Stretching 11 km from the historic Kawarau Suspension Bridge along the Kawarau River, the Gibbston River Trail is made up of three easy to run tracks. From the 2.7 km Peregrine Loop, to the 3.2 km Highway Trail or 5km Gibbston River Trail (or 6.7 km via Peregrine Loop) there's a run for every fitness level. Pick a track and take in the peace and tranquillity as you run along the riverside (mother...you know how it goes) and be sure to keep an eye out for the local jet boat operators speeding by.
Reward yourself with a trip to one of Queentown's best restaurants.
Image credit: Lake Wakatipu by Artie Photography (Artie Ng), Ben Lomond by C. B. / 500px, Lake Moke by Bruce Touron