Movie lovers and entertainers, we've got just the thing to level up your next binge-watching session or weekend crew hang.
Meet Samsung's The Freestyle portable projector. This highly-anticipated projector delivers on both the technology and fun factor, making it a must-have for your entertainment stash.
Anywhere, anytime, you can take your fave shows on the go with this pint-sized design—just make sure you've got a power source and internet sorted! All the essentials are covered, like a breezy set-up and top-notch 360-degree sound. Plus, all your fave Smart TV features like Netflix and YouTube are part of the package.
Let's be honest; you'll be the envy of your friends with one of these baddies. Wondering how you can give your projector the starring moment it deserves? Here's how we'll be entertaining with The Freestyle.
Upgrade Movie Night
It goes without saying an outdoor movie night is top of the list with a portable projector. You've seen them all over TikTok—complete with DIY snack bars, dreamy sunsets and ambient fairy lights.
Keep things chill with an evening in the garden, or take it to new heights (literally) with a rooftop screening. Who needs to pay $20 and queue for ages when you're got a boutique cinema right at home? BYO beanbags and Oodies.
Throw A Stay-At-Home Festival
Couldn't quite make it to Coachella this year? Skip the expensive holiday and questionable camping set-up, we'd rather host our own festival at home. Instruct the crew to come dressed in their fave festy threads, pre-batch the cocktails, set up a delicious foodie spread and let the good times roll.
We'd recommend upgrading your old laptop set-up by splashing the live stream across the wall with a projector. Did somebody say life-size Harry Styles? It's a yes from us.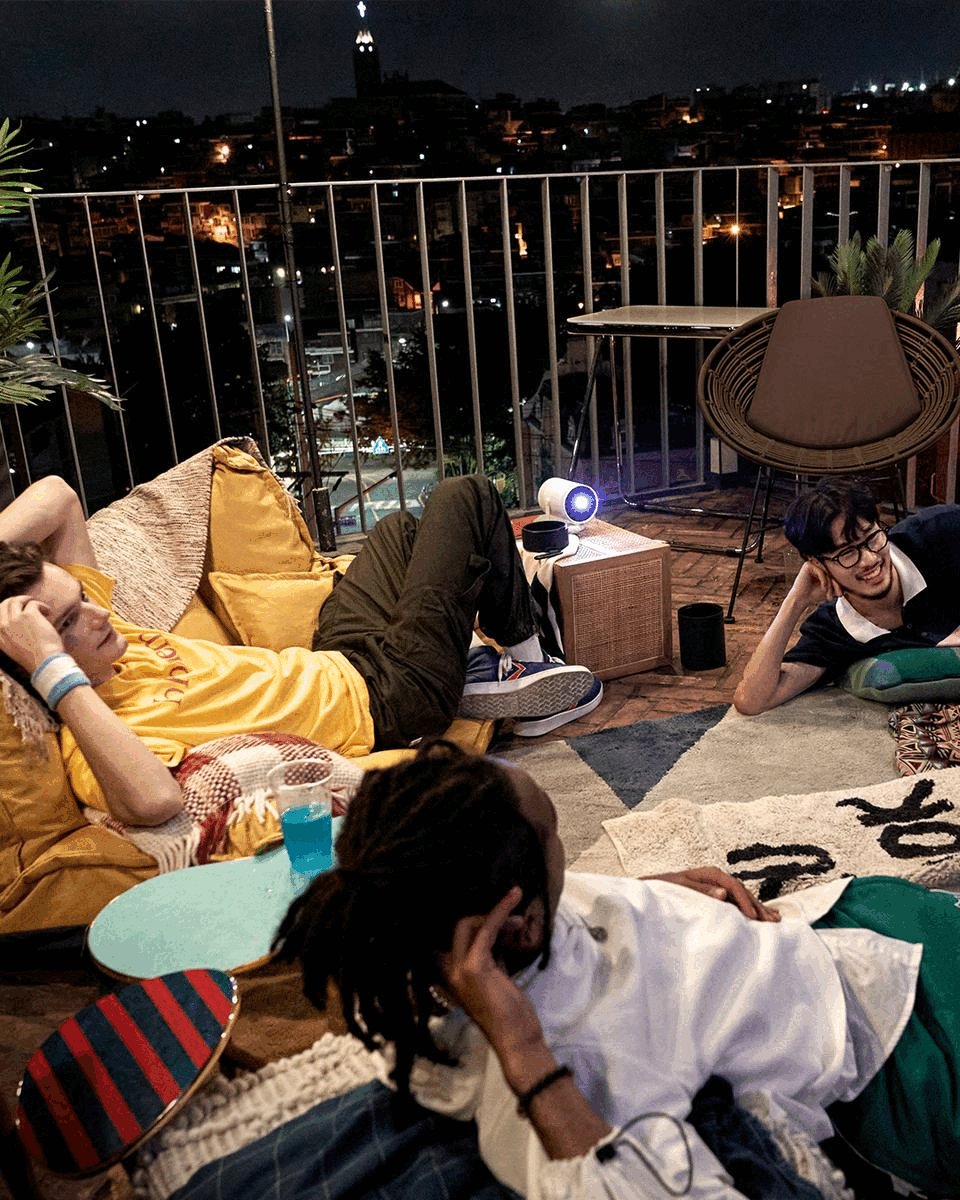 Catch The Game In Style
Ready to show that mate with the massive TV KO what's good? Screening the game on a projector is one way to do it. Whether it's a nail-biting All Blacks match or an early-morning Wimbledon game, you'll become the go-to house for all things sports.
Of course, watching a game is only half the fun (shhh, don't tell the sports-obsessed). Go all-in on the theme with some American-style game food; think Buffalo chicken wings, juicy sliders or loaded nachos. Your guests will thank you later.
Go Virtual With Games Night
Switch up your traditional board games evening and have a go at duking it out on-screen. The Freestyle lets you mirror your mobile to the projector, so your whole crowd can get in on the fun. Indulge your inner train nerd with the digital version of Ticket to Ride, get to know your crew with a round of That's You! or take your pick of party game faves with ​​Gartic Phone.
Already obsessed with ​​Samsung's The Freestyle portable projector? Break out the gifting wishlist—you'll want to send this one straight to the top.
Editor's note: this article was produced in partnership with Samsung. Thank you for supporting the partners who make Urban List possible. To read our editorial policy, click here.
Image credit: Supplied