When it comes to writing (or snacking on delicious donuts), we seem to do it in our sleep. Put a paintbrush in our hand and our creatives juices run out faster than a flash. You know what they say—different strokes for different folks. This is not the case for Bonnie Brown of Studio Bon—the 26-year-old artist followed her passion for drawing and has built her brand from the ground up working with local Kiwi businesses as well as huge global brands. Adobe, American Express, Cosmopolitan, Essie, Estée Lauder and L'Oréal are just some she's worked with in the past.
Her latest project is a collaboration with Cadbury to redesign the iconic Limited Edition Cadbury Roses box. Yes, you read that right. Just in time for Mother's Day, the Roses box received a new outfit drawing inspiration from elements of beautiful Aotearoa as an ode to thank all the unsung heroes who raised us.
We caught up with Bonnie to find out how she snagged the job of her dreams.
Take us back to the beginning, what made you want to work for yourself?
I grew up in a super creative household and was always encouraged to paint, draw, and get my hands dirty. When I was leaving school, my mum actually encouraged me to study art at university but having been brought up in a single-parent household where money was pretty tight and being put off by the starving artist trope, I studied architecture which felt like a happy medium between art and something "more practical". After graduating I was feeling creatively unfulfilled working at an architecture firm and started drawing again and sharing my illustrations online. This slowly started to lead to paid opportunities and the thought I could actually turn this into a career. This August it will be two years since I jumped into illustration full time. I never set out thinking I would end up working for myself but now I couldn't picture any other career.
How did you initially get Studio Bon off the ground?
I didn't set out thinking Studio Bon would become anything more than my Instagram handle, so it was all pretty casual at the start. I just started sharing what I was working on for fun and as one project led to another it quickly began growing. After my first few paid opportunities I decided I needed to think seriously about how I could turn this into a career and treated it more as a business than a hobby. I think Instagram played a major part in my work being seen by different art directors and brands around the world.
Were there any major turning points that jump-started your career?
One of my first big projects was creating giant illustrated banners for The Daily Edited which were hung in a luxury department store in Singapore. That one job got my work noticed by a wider audience and it continued to grow from there.
Could you tell us a bit about your creative process for designing a piece?
Even though most of my work is created digitally I like to start by creating a physical sketch to help get my ideas on paper. I look to beauty, fashion, architecture, and design for inspiration and a lot of times this comes through in my work. From there I take the roughs onto my iPad and begin the process of redrawing and refining my initial sketch. I use a variety of software to create a piece, from Pro Create on iPad through Illustrator and Photoshop depending on the required result. Usually, the process is collaborative between the client and me, but it can also be entirely up to me sometimes which is very fulfilling creatively.
What's your go-to thing to do when you stumble upon illustrator's block?
I love to get outdoors and clear my head. I've found there's no point trying to work through a creative block because I never end up happy with the result. It's much better to put down the tools and take a break.
You have already achieved a lot at quite a young age. What were the biggest hurdles you have had to jump?
As I'm sure it is with many other young artists, I definitely found some frustration with not being taken seriously at first. Even in a social context, people can be unintentionally dismissive toward artistic careers. I'm at the point now where I feel confident that my work speaks for itself and I'm so proud of the brands I've worked with that it doesn't bother me so much if someone doesn't understand what I do. That doesn't help the constant battle with imposter syndrome though! I think I'm my own worst critic.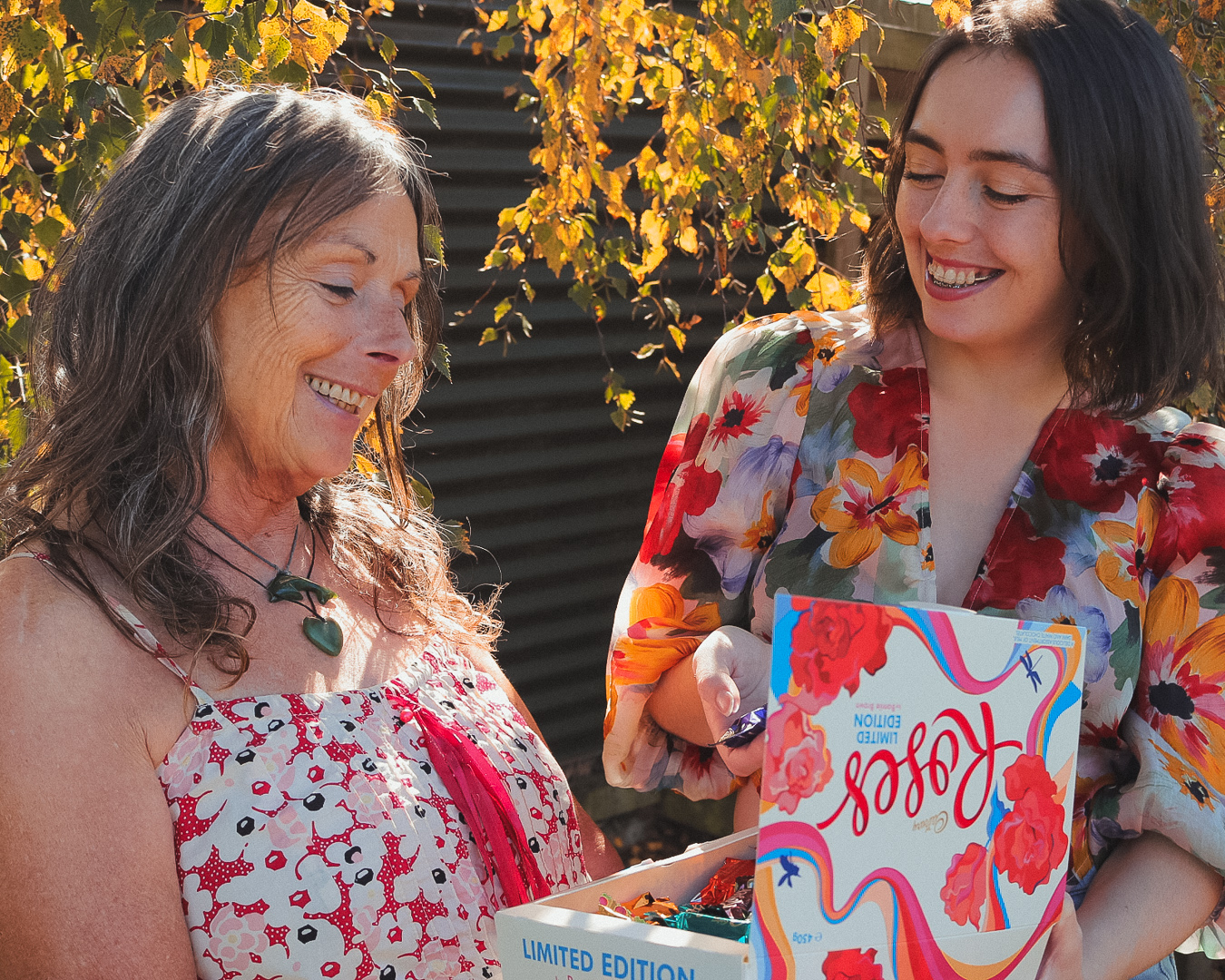 Where did you start when approaching the design? What inspired you?
I started with presenting a range of different concepts to the Cadbury team, from more traditional designs to more out of the box, abstract designs. As this was the first time the Cadbury Roses box had been redesigned in Aotearoa, we knew it needed to strike a balance between still being recognisably Cadbury Roses, but also pushing the boundaries a bit to create something beautiful and unique. I think the final design achieved that balance well.
The design was inspired by my upbringing growing up in Nelson and Queenstown having summers on the coast. I wanted to create something to say thank you to my mum, and all the women in my life.
If you were to give one piece of advice to young entrepreneurs, what would it be?
Take your time getting started and don't jump into anything full-time until you can be sure you'll be financially secure. Running a business isn't easy and it's much more than taking a hobby you enjoy and turning it into paid work. I knew I didn't have a safety net when I started Studio Bon so I had to create that for myself in case things went south. That doesn't mean you shouldn't pour your heart and soul into doing what you love—just be smart about it!
How would you describe your personal style?
In terms of my art, it is very bold, bright and feminine. Lately, I've been exploring different textures and funky wavy lines which has been super fun. I think my sense of fashion and design is much the same, and I gravitate toward striking colours and prints.
Finally, What's next for Studio Bon?
Following Mother's Day, I'll be working on creating personalised portraits for 15 lucky winners who have purchased the limited-edition Cadbury Roses and entered the draw at rosesmothersday.co.nz. I'm looking forward to this as I love capturing peoples' personalities and essence in portrait form. I have a few other exciting projects that are due to be released soon, but for now, those are top secret! I would love to expand the Studio Bon business into other areas like products, and I've been exploring mediums other than digital such as screen printing and painting.
For more inspirational chats check out our Getting The Gig hub.

Image credit: Bonnie Brown