Equal parts sun, salt and sand, it's no wonder surfing is a favourite Kiwi pastime. There's nothing quite as exhilarating as cutting through a wave or riding inside a barrel, escaping its grip just in time, before it comes crashing down over your head. Surfing is a religion, a lifestyle, an addiction and a special connection to Mother Earth and nature. It's a form of meditation and a way to stay wild and free. The best part? Chasing waves can take you on some crazy adventures to unbelievably stunning locations. Full of great surf and stunning wilderness, New Zealand beaches deliver pumping waves and ripping swells year round.
Here are the top surfing spots in New Zealand.
Raglan
World famous in New Zealand and, actually, famous worldwide, Raglan is a mecca for wave chasers and kicks off our list of the best places to surf in NZ. Sitting on the West Coast of the North Island, the picturesque town provides world-class wave action. In fact, several international surfing competitions are held here. The surfing culture is facilitated by three pristine point breaks: Manu Bay, Whale Bay and Indicators, with Manu offering the longest left-handers on the planet which can cruise up to two kilometres. While the three big breaks are more suitable for experienced surfers, there's also plenty of spots suitable for beginners. For those looking for somewhere a little calmer to practice your pop-up, there's Ngaranui Beach.
Surf Highway 45, Taranaki
It's all in the name. Taranaki's Surf Highway 45, is—literally—a road with great surfing spots plotted down its length. Along the highway, you'll find favourite New Plymouth mid-city surf spot, Fitzroy Beach. Famous for great drop-ins and hollow waves, it is close to all the conveniences of New Plymouth, meaning you can get a good coffee post-surf. Other highway favourites include Kumera Patch, full of fast-breaking lefties that reel you along for ages, Ahu Ahu and Opunake. Back Beach is known to pick up great swell, and if you're looking to carve up some walls, head to the Graveyards or Stent Road.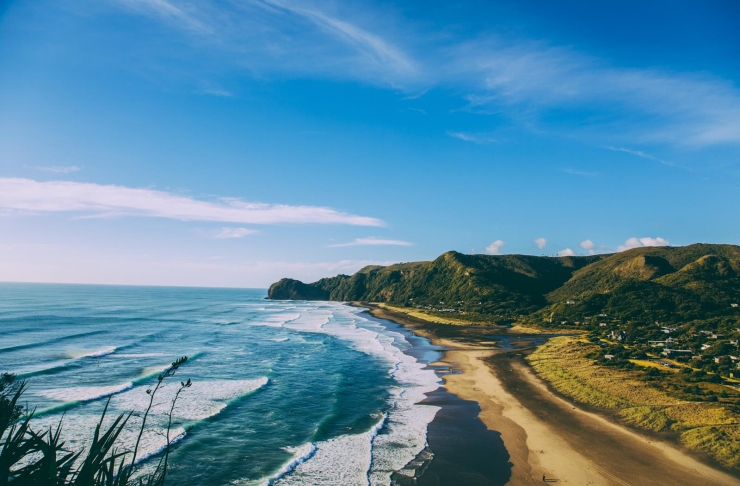 Auckland's West Coast Beaches
Auckland's West Coast offers brilliant black sands and ocean waters brimming with powerful waves which guarantees a place on the list of best places to find great surfing in New Zealand. The biggest star of the wild west is Piha, renowned as one of the best surfing spots in the country. Located just a half-hour out of Auckland, the place offers solid beach breaks right, left and centre. South Piha has good left-handers off Camel Rock, while the North has several peaks running down the beach and near the stream mouth. The rip near Lion Rock makes for an easy paddle out, and the rock formation itself has good peaks of both left and right-hand waves coming off both sides. Due to backwash, heavy double-ups are a frequent occurrence, resulting in extremely powerful waves. Dotted around the coast you'll also find great surf at Karekare, Bethells Beach and Muriwai, all of which offer left-handers and right-handers alike, with the occasional hollow wave.
Auckland's East Coast
Auckland's East Coast boasts stunning white sands and many a beach with great surf. If you're looking for a challenge, head to Mangawhai Heads. Known for long rides, the beach is full of peaks, with waves peeling off Sentinel Rock in both directions. The waves at Mangawhai are constantly changing due to movement of the bar and are sure to keep you on your toes. For powerful hollow waves, look to Te Arai Point. Described as a 'swell magnet' the place has several peaks to choose from, in the form of both left, and right-handers.
Whangapoua
Located on Great Barrier Island, Whangapoua is sure to blow any surfer's mind. Secluded, with pristine white sands and Pacific swells of up to two metres, this place is challenging with waves breaking in all directions. The waters pump with force, resulting in endless barrels to navigate. You'll need nerves of steel but it'll definitely be an exhilarating ride.
Northland
As the northernmost chunk of the country, Northland is famous for its relatively warm waters. Close to Ahipara town, at the southernmost point of 90 Mile Beach, you'll find Shipwreck Bay. Known as one of the absolute top spots for surfing in the country, Shipwreck picks up southwest swells, wrapping them down the headlands. The result? Numerous breaks, with some providing soft, cruisy waves and others delivering barrels and walls. Another local favourite is the Bluff, also at the southern end of 90 Mile. Full of both lefties and righties, the Bluff has heaps of waves and good, forceful swells. And if the surf is down, you can always surf the nearby sand-dunes, instead.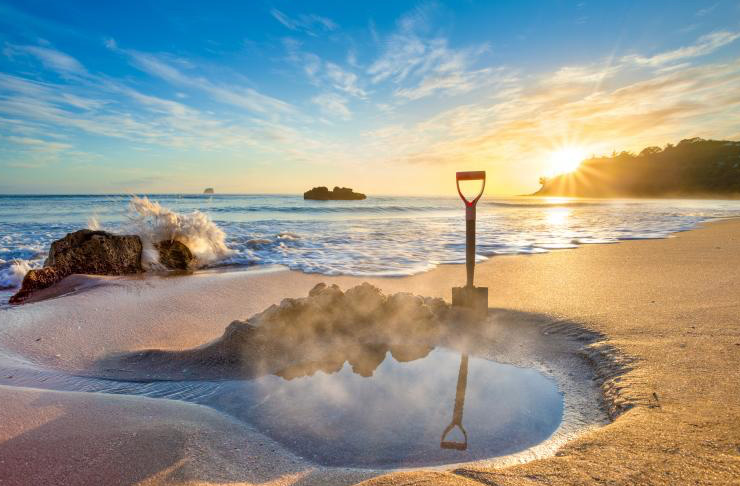 The Coromandel
Located in the North Island, Coromandel Peninsula is blessed with wild, natural beauty of green pastures, misty rainforests, and glowing golden beaches. A popular getaway destination, the place is also great for those wanting to dominate the ocean and is one of the best places to surf in New Zealand. One of Coromandel's favourite, most picturesque beaches, Hot Water Beach, doubles as a natural hot spring and an amazing surfing spot. With left-hand pointers in the North end, righties in the South, and hot springs in the middle, you can catch some waves first, and relax in your own hot pool after. Another Coromandel gem is Whangamata Beach, where beach breaks provide good surf for all levels, while the bar keeps the pros happy with its long left-handers that start with a steep drop-in, go into a long barrel section and develop into a nice wall to smash.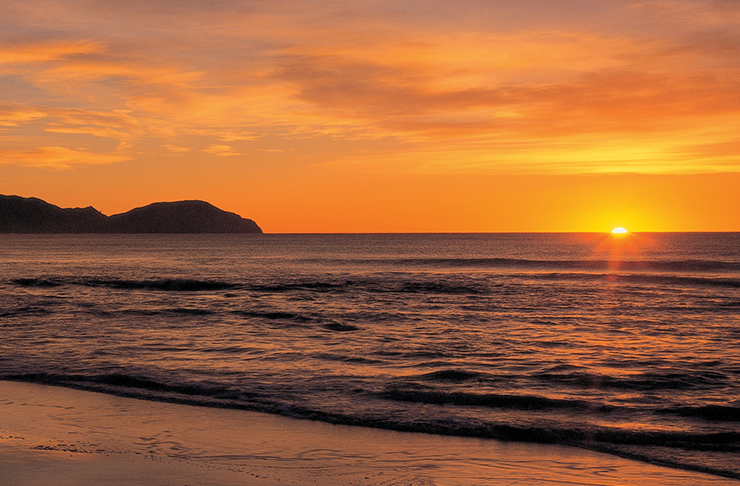 Gisborne
Gisborne is known to produce a lot of pros so it's no wonder good surf can be found across the region. Known for consistency and fast-breaking barrels, Wainui Beach is one to check out with waves reaching up to eight feet tall. Facing south you'll find suitable conditions for surfing at Tokomaru Bay and Loisell's Beach, both.
Pillar Point
If you're looking to ride the waves with not a soul around, opt for Golden Bay's Farewell Spit, where you'll find Pillar Point. Located on the very top of the South Island, Farewell Spit is a paradise of golden sands and blue ocean waters. Exposed and windy, the Point offers fast, long rides and is usually rather uncrowded and makes the list as one of the best places to surf in New Zealand.
Kaikoura
Want to feel like you're riding in a National Geographic video? With twenty-foot waves, snow-capped mountains in the background and plenty of friendly seals and dolphins in the water, there's no place more stunning to surf than Kaikoura. Catch big swells at Kahutara and dreamy right-handers at Mangamanu, peeling off for several hundred meters resulting in an incredible ride. For a powerful wave with a fast take-off, check out Meatworks and for fat, wally waves—Blue Duck and Iron Gate.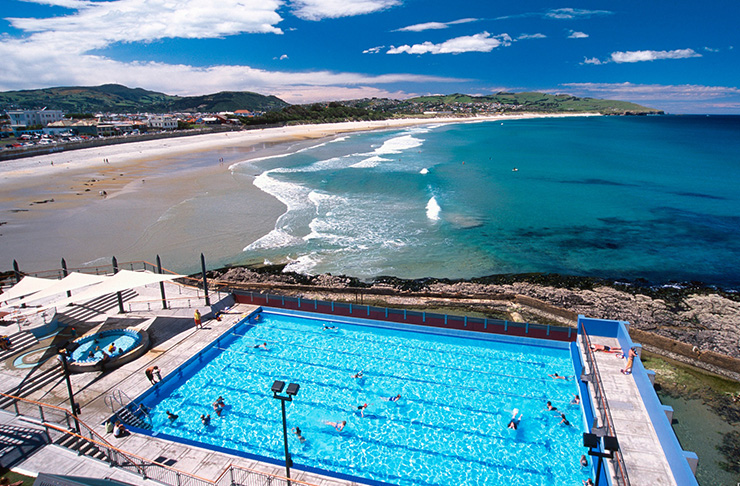 Dunedin
Concluding our list of the best places to surf in New Zealand—the entire region of Otago is good for carving up waves as it's rarely flat. The best swells and beaches, however, can be found in the city of Dunedin. Just five minutes from the city, St Clair's is the local go-to, full of beach breaks and sometimes even hollow waves. A tiny bit further, at only 15 minutes out of the city, you'll find Brighton and Blackhead, which offer forceful, steep drops-ins, good barrels and sandy beach breaks. Less crowded than St Clair's, both Brighton and Blackhead are packed with wildlife for you to feast your eyes on and share the water with.
While you're at it, check out New Zealand's best under-the-radar beach towns.
Image credit: David Wall, The Coromandel, Pure New Zealand