If you haven't heard of local electric design powerhouse PERA MAY, chances are you've definitely clocked her otherworldly, sustainable fashion designs on your social feed.
Since launching her pop-up Parnell store, May has continued to make waves in the New Zealand fashion scene, and she's now gearing up to unleash her second official collection—and first internationally.
To uncover what makes May tick and why we need to embrace slow—but incredible—fashion, we teamed up with MINI—the brand passionately charging ahead to an all-electric future with people and planet at the heart.
Tell us about yourself—where did your journey in fashion begin?
I grew up in an extremely creative family environment, so I was heavily influenced by all things creative. My Grandma and I used to sew clothing for my dolls; I would design them, and she would sew them. Fast forward 20 years and Grandma still sews my samples while I design.
As I graduated secondary school, I actually had no idea where to channel all of my creative energy. I thought styling for a magazine would be amazing but hadn't considered making my own clothes as I couldn't sew very well—or didn't have the patience. It wasn't 'til a very special person said to me, "Why would you style other people's designs when you can make your own?" I always had it within me, I just needed that little push. She told me failure doesn't exist and asked what I was so scared of. I've never looked back.
What's your earliest memory of fashion? Was there a moment you knew, yep, that's what I want to do?
Both my Mother and Grandmother supported local designer fashion. They both have an artistic eye and would always invest in quality over quantity. They had their mini concept store where I'd spend a lot of my time as a kid. Surrounded by Italian leather shoes and garments, beautiful New Zealand-made jewellery and art, it was all so captivating for me at such a young age. I'm hyper-observant, so that tactile, innovative environment led to my path.
I never thought, "I just want to be a fashion designer from a young age." I don't think I've ever wanted to do just one thing. The closest people around me will tell you each week that I have a new idea or I've changed the collection for the 100th time.
This is why PERA MAY expresses a vision. Every step of this process takes me down another path of discovery. As humans, we are constantly evolving and transitioning into advanced versions of ourselves. As I grow and learn, I discover new things that I want to explore— that's what creativity is, an exploration of discovery. I'm curious about the world, and I'm inspired to explore something new. I still don't know what I'm doing. That's what's so exciting about it all—every day there is room for new opportunities.
Who or what inspires your work and creative direction?
Everything! Music, nature, art, people, world events, topics that need a voice, a conversation, experience, or painting. I often get most of my ideas while driving or in the shower— I think it's a meditative place where I can think, free of daily madness.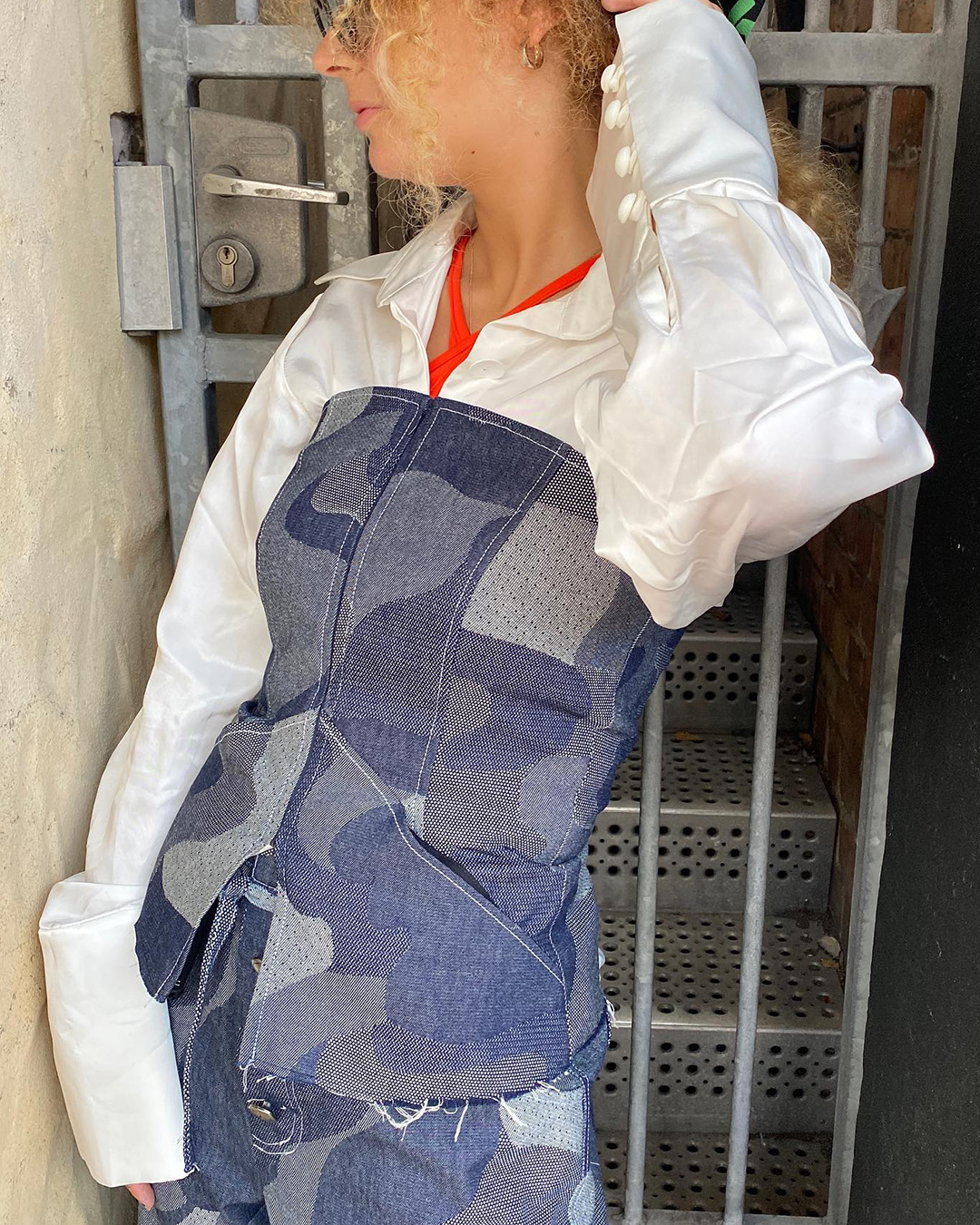 How has sustainability influenced your style?
Wildly, it's no small feat. Every decision we make at PERA MAY is heavily considered with this pillar in mind.
Personally, I don't purchase any product unless I require it. Even then I ask myself, 'Do I really need this?! Is it because I genuinely love it or the hype around it?' Then I investigate the practices of the company I'm supporting—are they ethical, sustainable, greenwashing etc.?
I have to be able to recycle something else in a transaction or the piece that I'm purchasing, considering what its lifecycle will be and if I can recycle it. I don't purchase anything synthetic. It sounds like a rigmarole, but it's really simple. It's a set of morals for how you consume and stick to your guns. It's about simplifying and respecting the pieces we have—I find I appreciate and adore the smaller amount of things I collect versus just consuming for the sake of it.
For those who are unfamiliar with the concept, what is slow fashion, and why should people embrace it?
Slow fashion is the pure, considered, original craft, whereas Fast fashion is mass-produced products created at the sacrifice of people and the environment. The world has developed so fast and in many ways to the detriment of this planet and our people.
Slow fashion is the future; there are no two ways about it. It's quite a mental game, we can wait a year after purchasing a concert ticket until we see the artist live, but we struggle to wait three weeks for a pre-ordered garment with a three-week turnaround—which saves incredible amounts of wastage and dead stock. We all owe it to one another and the planet to educate ourselves on this topic.
I have a few articles on the PERA MAY website that can offer you more information about slow fashion. I would advise following things like fashion revolution, sustainable fashion forums and sustainable bloggers for helpful tips.
Can you give us a quick wrap of the overarching concept behind your upcoming collection?
Take No Prisoners is launching at the end of the year through to early 2023. It's all in the name—take no prisoner, become no prisoner!
It will be an incredibly liberating and creatively expressive moment for me to share. I have developed this body of work for almost two years in the background, and it's finally ready to have its moment. There will be four custom-designed prints in the mix, and I also have the first taste of something I have been working on for the last year, launching in November.
Can you give us a snapshot of what a typical day looks like for you?
No day is the same. I wear many hats, designing, sampling, production, accounting—yuck—and social media/marketing. Honestly, it's chaos. Most of the time, it cycles, so I'll do design for a bit and sourcing fabrication, sampling, more design, then we got to shoot, then selling, then production, then we do it all again but slightly different each time as we gain a better flow.
I work between Auckland and Christchurch. I feel more connected to my creativity in the South Island with nature and space, but Auckland is where final sampling and production happens, so I split my energy more efficiently in each location. I am more creatively driven and prefer the human connection to the online or systematic side of the business so I try to offload those systems and stay more connected.
Can you walk us through your creative process?
Yes, it's very conceptual and intuitive. I create when I'm inspired and learn through what I explore—a lot of psychology goes into the concept. I work with fabrics/prints alongside themes, colours and forms. I paint many of my prints, so I'm never just looking at garments. That's the last thing that comes together is the range plan. I'm a circular thinker, so everything intersects in this hot mess then somehow, over the course of sampling, I pull it all into a logical structure.
When Take No Prisoners launches, you'll see how in-depth they go. It's never just an item of clothing. A lot of the time, they're political statements in their own way. I work with the fabric and let it tell me how they want to form; it's an organic process. That's slow fashion—that's art.
What has been your biggest career 'pinch me' moment so far?
Launching my showcase collection at London and Vancouver fashion weeks in 2019 was phenomenal and a blessing to experience. I have also had the privilege of connecting with some pretty amazing people and mentors, they're so important to me, and I wouldn't be here without their guidance.
Honestly, just the fact that I'm doing what I love every day is a pinch-me moment. I'm grateful daily.
What's next for you? Is there anything exciting in the works?
Yes, first time hitting the international market with Take No Prisoners! Keep your eyes peeled for something exciting and new arriving in November.
Any final thoughts or insights into your creative world that you'd love to share?
Creativity is joy. We all need a little joy in our lives. Fashion expresses who we are and what we represent before even speaking. I encourage everyone to fall freely into what makes you happy, wear what you want to wear, support companies that align with your ethics, do your research, but most importantly, have some fun with it all. Life's too short.
If you're amping to kick-start your sustainability journey, be sure to scope out MINI Electric here.
Editor's note: This article is sponsored by MINI and proudly endorsed by Urban List. To find out more about who we work with and why read our editorial policy here.
Image credit: Pera May via Instagram