New Zealand's adventure capital is conveniently blessed with a disproportionate number of amazing cafes. Perfect for brunching and lunching in between activities, Queenstown cafes range from healthy to indulgent. Whether you're looking for sustenance post-skydive or wanting to enjoy a long lunch with a view, these are the best cafes Queenstown has on offer.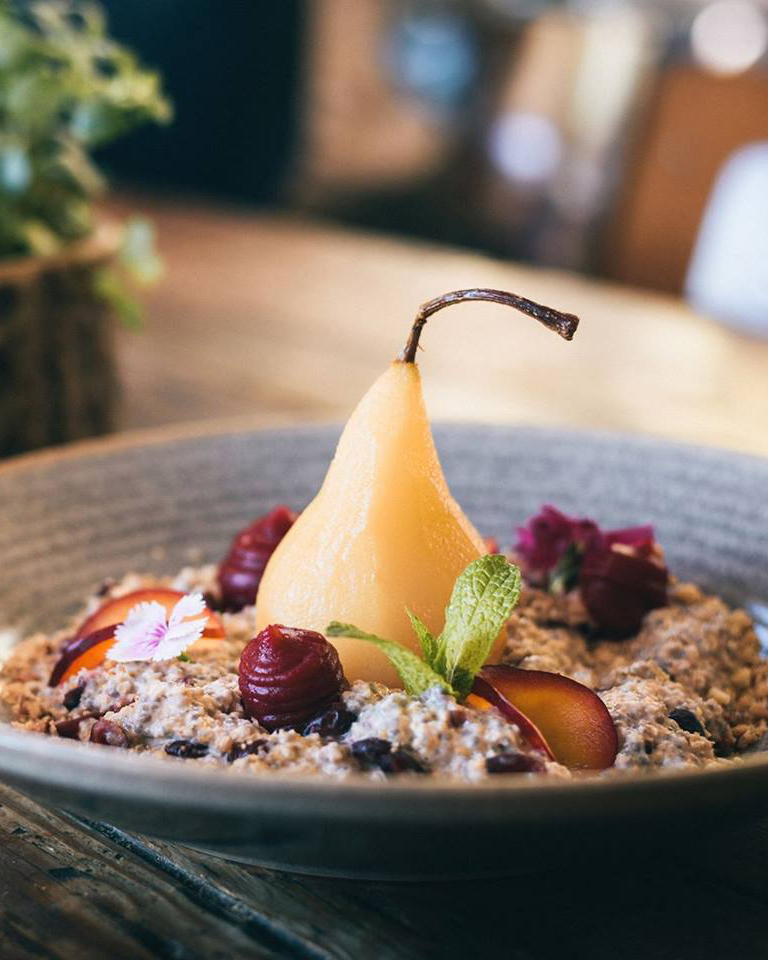 Bespoke Kitchen
Isle Street
Nestled on the hill, overlooking the bay and the Remarkables, Bespoke Kitchen feels worlds away from central Queenstown. The specialty cafe has a decidedly summer camp feel to it, with its wood features and forest green accents. Grab a seat outside amongst the pine trees or inside, where it's constantly buzzing. The carefully crafted menu is filled with healthy and fresh breakfast options that change with the seasons. For a yummy and light option, we can't resist the pure gold smoothie bowl with banana, mango, pineapple, turmeric base and topped with coconut, blackberries, pepita seeds, maca and passionfruit gel. The eggs benedict is equally amazing, made with either bacon, salmon or mushrooms. Named New Zealand Cafe of the Year in 2015, no trip to Queenstown is complete without breakfast at Bespoke.
The Chop Shop Merchants
Arrowtown
During your time in Queenstown, you'll want to head over to historic Arrowtown to explore its main drag. While you're there, be sure to visit The Chop Shop Merchants hidden down Arrow Lane. Set amongst the stone cottages, just behind the historic main street, Chop Shop is filled with vintage and industrial decor. Settle in for a decadent breakfast of huevos rancheroes, ricotta hotcakes (served with tamarillo) or the newest menu item, purple kumara waffles. The coffee here is brewed to perfection and they also do an excellent espresso martini, if you prefer your brunch with a kick. Chop Shop is a must-visit destination for both locals and visitors, so be sure to stop in when you're in next in Arrowtown.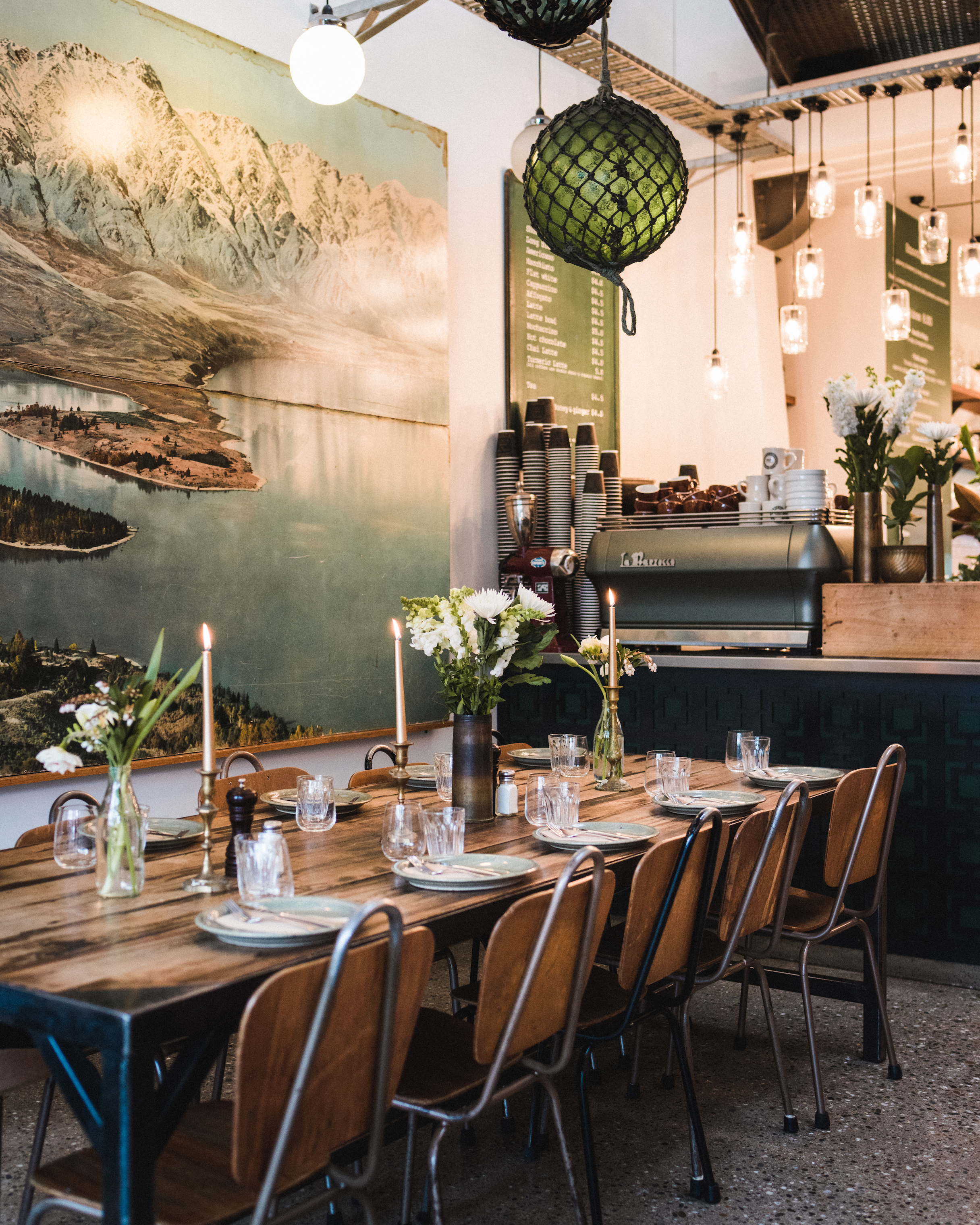 Vudu Cafe & Larder
Rees Street
Located in the heart of Queenstown with seating overlooking the picturesque Lake Wakatipu, Vudu Larder is favoured by locals and visitors alike. Order an Allpress coffee and peruse the menu while being seriously tempted by the cabinet, which features decadent looking cakes, sandwiches and slices. The menu ranges from the nutritious to the decadent with the summer superfood bowl topping our list. Made with crispy tofu, root vegetables, brown rice and heaps of other flavourful toppings, you're definitely getting your five a day. We can't resist the Vudu Burger though — choose from rosemary, sage, seaweed salt beef or kumara and chickpea falafel, both are served on an activated charcoal bun with hand cut agria fries. Absolutely teeming from morning until night, you'll need to get there early to grab a seat.
The Exchange
Ballarat Street
An excellent spot for breakfast or brunch, The Exchange is a bit of a local institution. The small, minimalist cafe is a wonderful place for your morning meal. The menu is stocked with all the classics, from buttermilk pancakes to eggs benedict served on rosti, plus an enticing-looking cabinet with plenty of options. Coffee at The Exchange is consistently good as is the Bloody Mary's if you're wanting a morning tipple.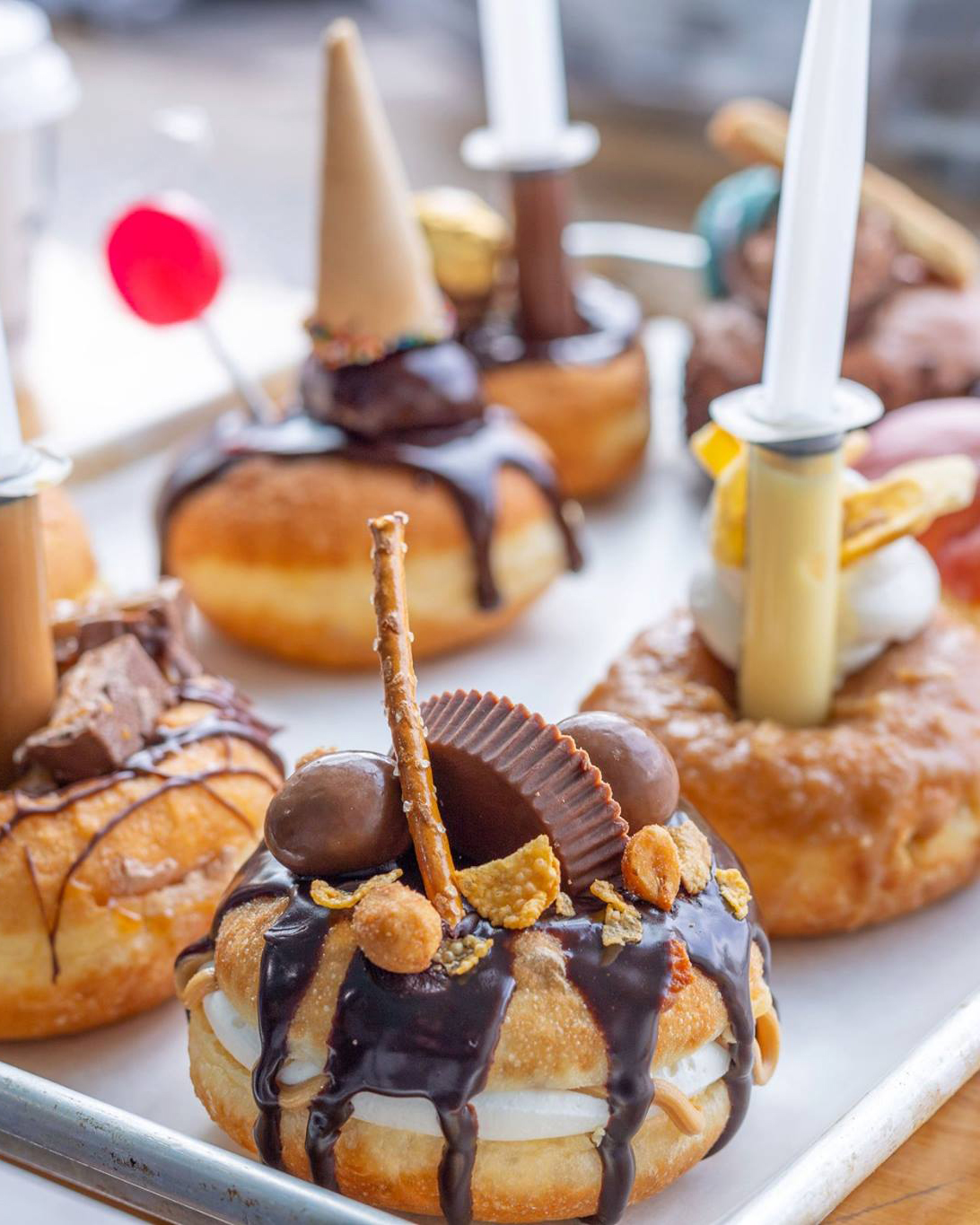 Balls and Bangles
Church Street
Doughnuts and bagels, need we say more? Balls and Bangles doesn't have an extensive menu, rather it's known for doing two items really well. Since opening in 2016, Balls and Bangles has becomes Queenstown's go-to for decadent donuts, freakshakes and bagels you'll crave all day long. Order a coffee and a bagel—The Bagel Cure is a must-try, made with bacon, egg, pulled pork, swiss cheese, hash brown, rocket, aioli, BBQ and relish. There's also a soup of the day that pairs nicely with a cheesy ball (doughnut, aioli and cheese). The ultimate comfort food, it's easy to see why Balls and Bangles is one of the best cafes in Queenstown.
Big Fig
Shotover Street
For lovingly made food and quality coffee, head to Big Fig. The contemporary cafe is a go-to spot for locals and visitors. Brekkie is served deli-stye with gozleme, chia or bircher brekkie pots, middle eastern granola with stewed fruit and sweet labneh, ricotta buckwheat pancakes, shakshuka, veggie and herb frittata, and spiced fruit sourdough with homemade jam. The cabinet is stocked with delicious cakes, slices, biscuits, and pittas all day long and housemade dips and mezze bowls are available to grab and go. The Big Fig team is committed to reducing their environmental impact, so all food scraps go to pigs and customers get a discount when they use reusable takeway cups and bowls.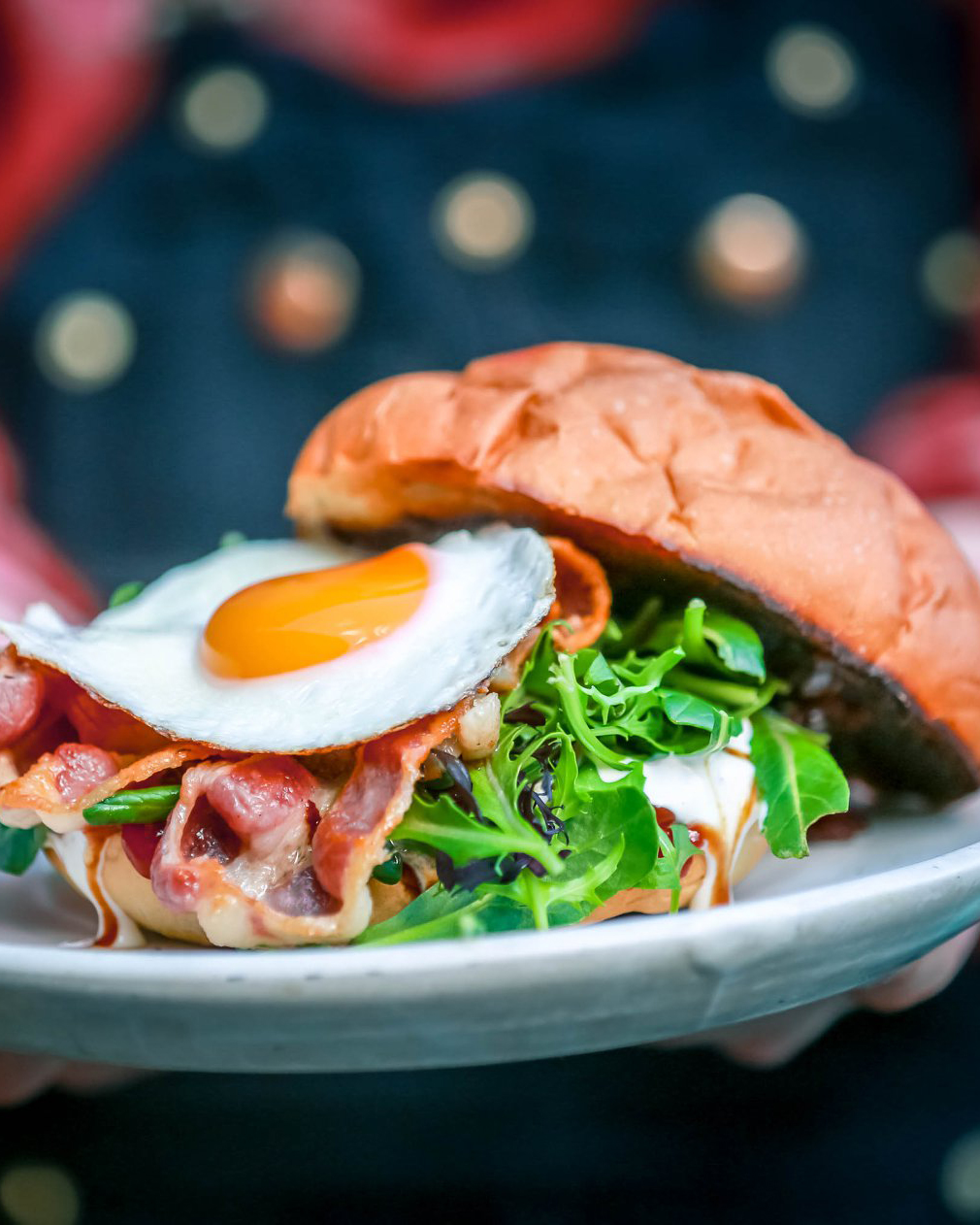 Yonder
Church Street
If you're looking for the best coffee in Queenstown alongside plenty of brunchy favourites, then this all-hours hangout is a must. With plenty of space both inside and out, we suggest hitting the patio for your morning meal. The menu is extensive and caters to all diets. We suggest tucking into the braised pork belly, the panna cotta passionfruit granola or the vegan Mexican scramble. Pro tip: if you're cutting back on caffeine, they also do excellent turmeric, beetroot, black sesame and matcha lattes alongside a long list of teas.
Odelay
Frankton
Odelay is a go-to for Frankton locals for its quality coffee made with Allpress beans and absolutely scrumptious menu. Located just a hop, skip and jump from the airport, it's a great place to grab a cuppa on your way into or out of Queenstown—even better it offers spectacular panoramic views from Coronet Peak to the Remarkables. The space is no frills, but the menu is spectacular. You'll find fresh dishes made with locally sourced ingredients. If you're hungry, try the standout brunch platter with wilted greens, poached free range egg, toast, vegan kale pesto, napoli sauce and potato croquettes. The breakfast bun with bacon, free range egg, relish, spinach, hollandaise and potato croquettes is the stuff dreams are made of.
The Boat Shed Cafe
Frankton

If you like your coffee with a view (who doesn't?) head to The Boat Shed Cafe at Sugar Lane in the Frankton Marina. Set in the restored New Zealand Railways Shipping Office, the building dates all the way back to 1869. With relaxed waterfront vibes and a delicious menu including brioche French toast and pulled pork eggs benedict, this kid-friendly cafe will tempt you to stay awhile. Luckily, it's open from 8am to 5pm every day of the week.
Image Credit: Bespoke Kitchen, Vudu Cafe, Balls and Bangles, Yonder