Everywhere I turned in Fiji's Yasawa Islands there was an opportunity for relaxation and indulgence. From hammock-dotted white-sand beaches to bespoke spa treatments and menus stacked with fresh seafood and local delights, the place was begging me to relax—with a fresh coconut in hand, no less. If you, like me, have felt overdue for a little indulgence to help shake off the stresses of daily life, the Yasawas is filled with soul-satisfying activities that'll help you reset.
I ticked a heap of them off my to-do list as I island hopped from Blue Lagoon Resort to Nanuya Island Resort, Mantaray Island Resort and Paradise Cove. There was an unforgettable 17-course Japanese feast, a luxe spa treatment and the simple pleasure of whiling away the hours in a hammock as the coastal breeze ruffled the pages of my trashy holiday read courtesy of the book exchange in Blue Lagoon's reception.
Read on for my top six indulgent experiences in Fiji's Yasawa Islands.
Beachside Living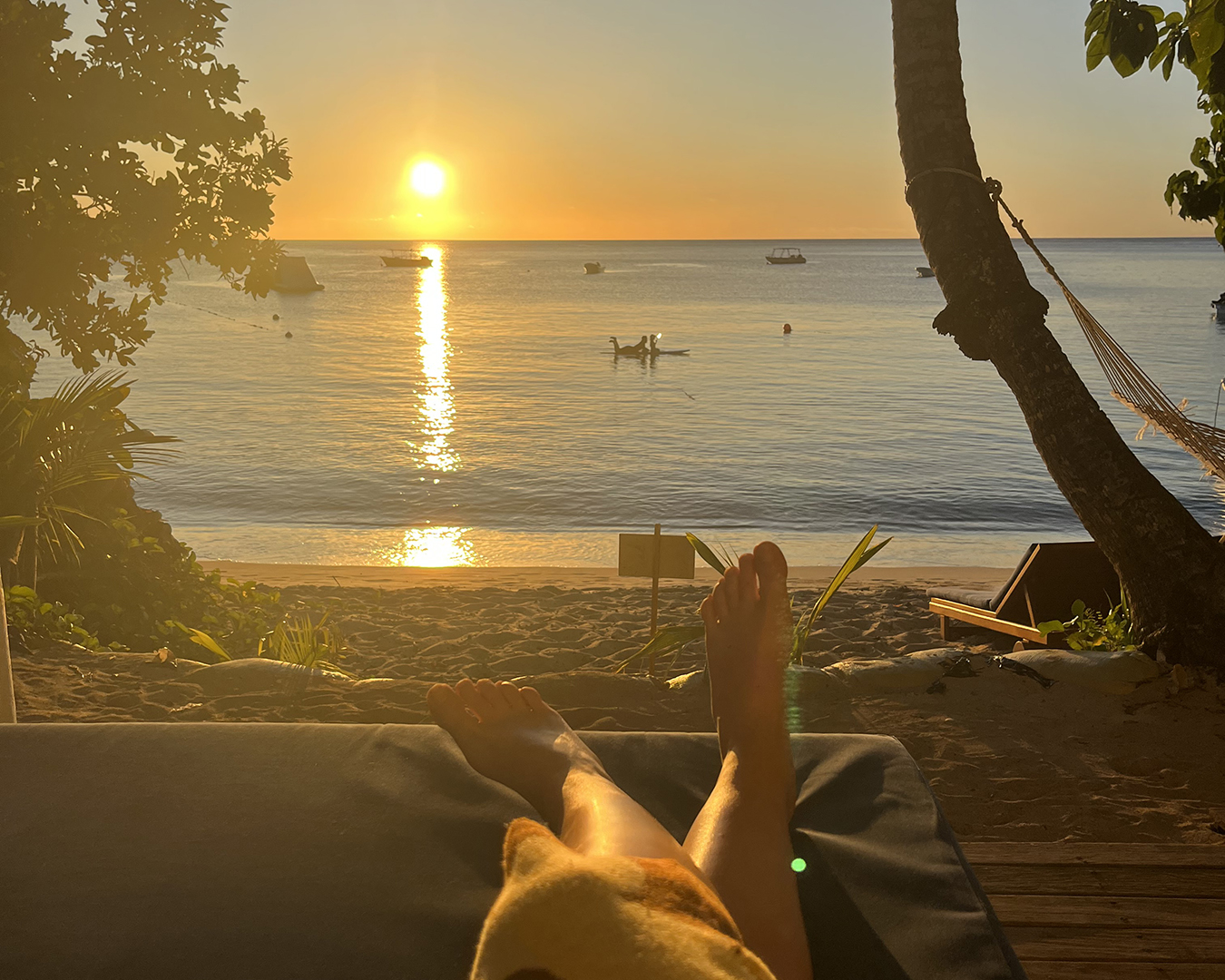 Looking back through the pictures on my phone, the images I swoon over the hardest are the quintessential arrival photos taken as we motored into shore from our South Sea Cruises transfer. The moment when I first spotted the idyllic white-sand beaches with villas perched along the shore is captured in my mind and phone forever. The most memorable moments were the mornings I woke up, threw on some togs and walked straight out the door of my villa, onto the beach and into the ocean. Proper pinch-me holiday vibes.
Blue Lagoon Resort's Beachfront Villa felt like a dream for the entirety of my stay. The gentle sound of waves breaking on the sand outside, golden sunsets streaming through my door from across the sea and the ritual of gently massaging the balls of my feet in the purpose-built pebble foot-wash basin before entering my villa introduced me to the Yasawa lifestyle with open arms.
What really levelled up the sense of VIP access to the natural beauty of the Yasawas was the ease of access to lazy-day facilities and underwater wonders. Large hammocks waited patiently to rock me gently in the coastal breeze. Beach lounges beckoned from under an assortment of palms and coastal flora, offering dappled rays throughout the day. It seemed that all of the resorts account for the perfect guest-to-relaxation ratio because I never once felt the need to stake my claim on the perfect spot—there was always a cabana to go around and every view was incredible.
The cherry on top was being able to put down my book, pick up my snorkel and within a few steps, dive into the ocean to find an abundance of reef life just off the shore. There's nothing like surrounding yourself with underwater wonders to forget any woes you left above the surface.
Treat Yourself To Fiji's Outdoor Showers.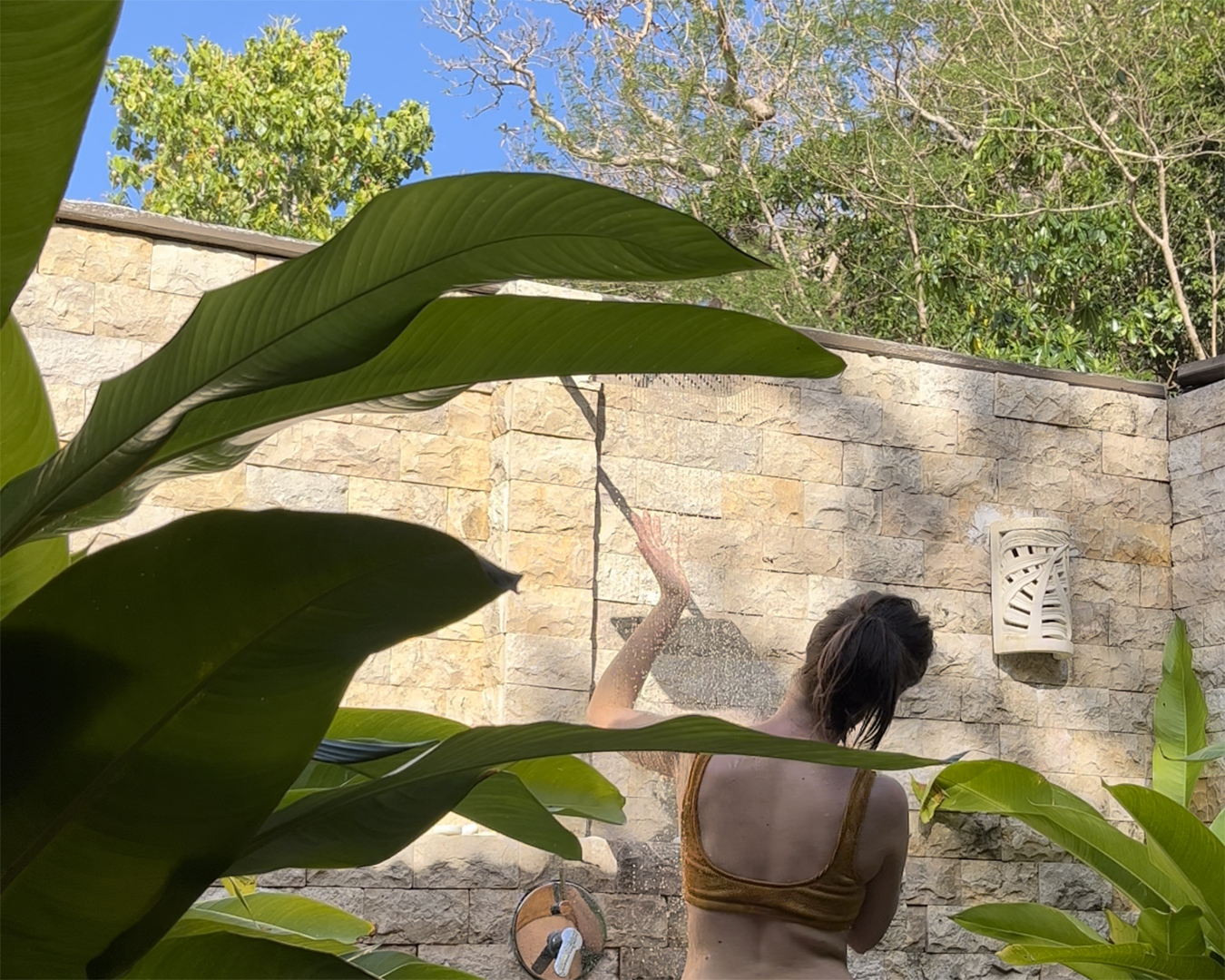 There's something about an outdoor shower that hits differently. When purpose-made for comfort and privacy, and paired with wide open skies and lush green surrounds, they can instantly activate holiday mode. As I island-hopped through the Yasawas, I rinsed the salt from my hair and the sunscreen from my limbs in four different outdoor showers, each one providing its own unique, indulgent, extremely out-of-office vibe.
Shout out to the gently swaying palms that framed my view of clear blue skies and star-filled nights from the stunning Beachfront Villa outdoor bathroom at Blue Lagoon Resort. Nanuya Island Resort stepped up the experience even more with a private jacuzzi in the palatial bathroom courtyard attached to the Superior Villa. Winding down in style with a view of the stars? You can't go wrong. Mantaray Island Resort's Reef Bure bathroom captured the gentle sounds of the tide whispering against the shore and Paradise Cove's Garden Bungalow glowed golden in the soft dusk light. One sec while I get a quote to reconfigure my apartment bathroom into an outdoor beauty to keep the holiday dream alive.
Spa Day Essentials
When I think of indulgence, I think of slow days, no alarms and the tension melting away from the knots in my muscles. If you're like me, you might have more knots than you'd like to admit and need something with a little more elbow grease than a fresh coconut and a hammock to relieve lingering stress that has settled into your neck and shoulders.
This is where the dedicated spas of the Yasawa Islands' resorts step up as holiday indulgence MVPs. I recommend your first port of call when you arrive is the reception desk, to lock in your preferred treatment time. Roll out of bed, enjoy a leisurely breakfast, and then head to the spa for facials, massages and bespoke skin treatments. I chose the Paradiso massage at Paradise Cove's Nauka Spa, where my knots were deftly massaged and the aroma of locally produced coconut oil encouraged my mind to give in entirely to holiday mode.
If you're keen to go all in on the indulgence, Nanuya Island Resort offers an immersive, 2-hour 'Weleti' Papaya Body Ritual which nourishes and exfoliates the body before finishing with a luxurious wrap and mini papaya facial. Nauka Spa also offers an extensive range of treatments ideal for every stage of your holiday. Try the Island Journey treatment which includes a relaxing full-body massage followed by an express facial and your choice of a mani or pedi (plus a cheeky glass of bubbles for added indulgence).
An Unforgettable 17-Course Dining Experience At Paradise Cove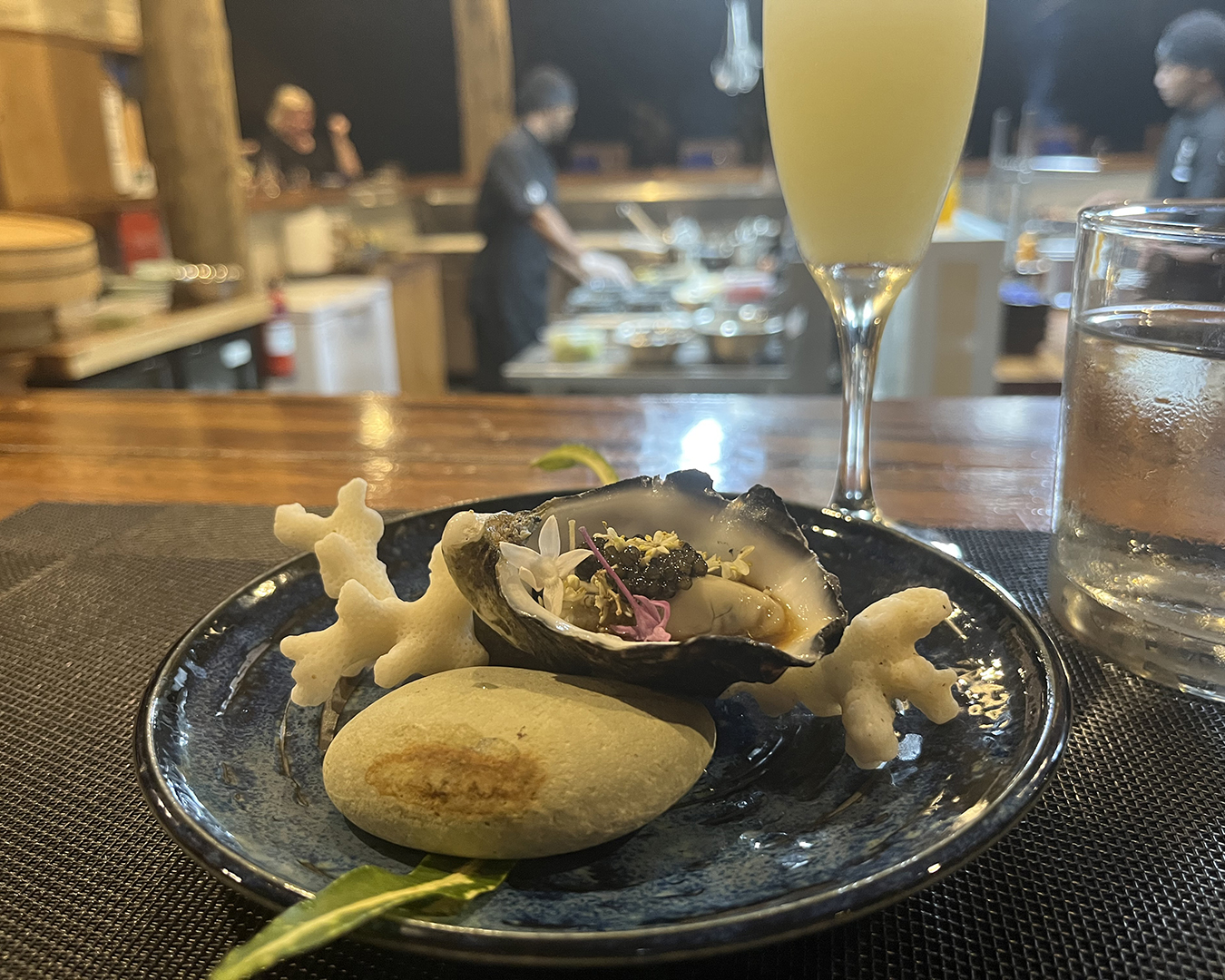 I didn't expect to indulge in one of the best Japanese feasts I've ever eaten in the pristine oasis that is Paradise Cove—but I did and it will live rent-free in my memory forever. Fair warning, bring an appetite with you because every single bite at Donu's exquisite 17-course omakase offering is not to be missed.
The experience begins with a stroll past the waterfront (with a quick stop to marvel at the moon lighting up the early evening sky), through an inviting tunnel of glistening lights that take you to the other side and into The Cove. Grab a seat at the bar that wraps around the entire open kitchen. From here, you'll be in a prime position to watch in awe as a calm and harmonious team of chefs effortlessly serve up course after course of beautiful dishes, each one more exciting than the last.
My dining experience began with a Sydney Rock Oyster and truffled roe, quickly followed by a seaweed salad with charged red pepper, sesame and pickled radish before moving on to a mini serving of pork ramen. From there we enjoyed a culinary tour through various seafood creations including tempura prawn (big shout out to the first tempura celery I've ever had that was a surprise favourite), salmon with avocado and rice puffs, a delicate crab cake and a sashimi trifecta with salmon, tuna and swordfish. Next, we ventured into yakitori territory and a range of delicate nigiri. The standout dish of the night was the smokey, butter-poached lobster with salmon roe. Not only did it provide a theatrical moment as the tiny glass cloche was pulled away, freeing the swirling smoke and revealing the delicate lobster morsels, but it was just as impressive to taste. That, melt-in-your-mouth, I-never-want-this-to-end, kind of good.
The menu changes frequently to reflect seasonal produce and booking ahead is recommended for this bespoke dining experience.
The Happiness Blanket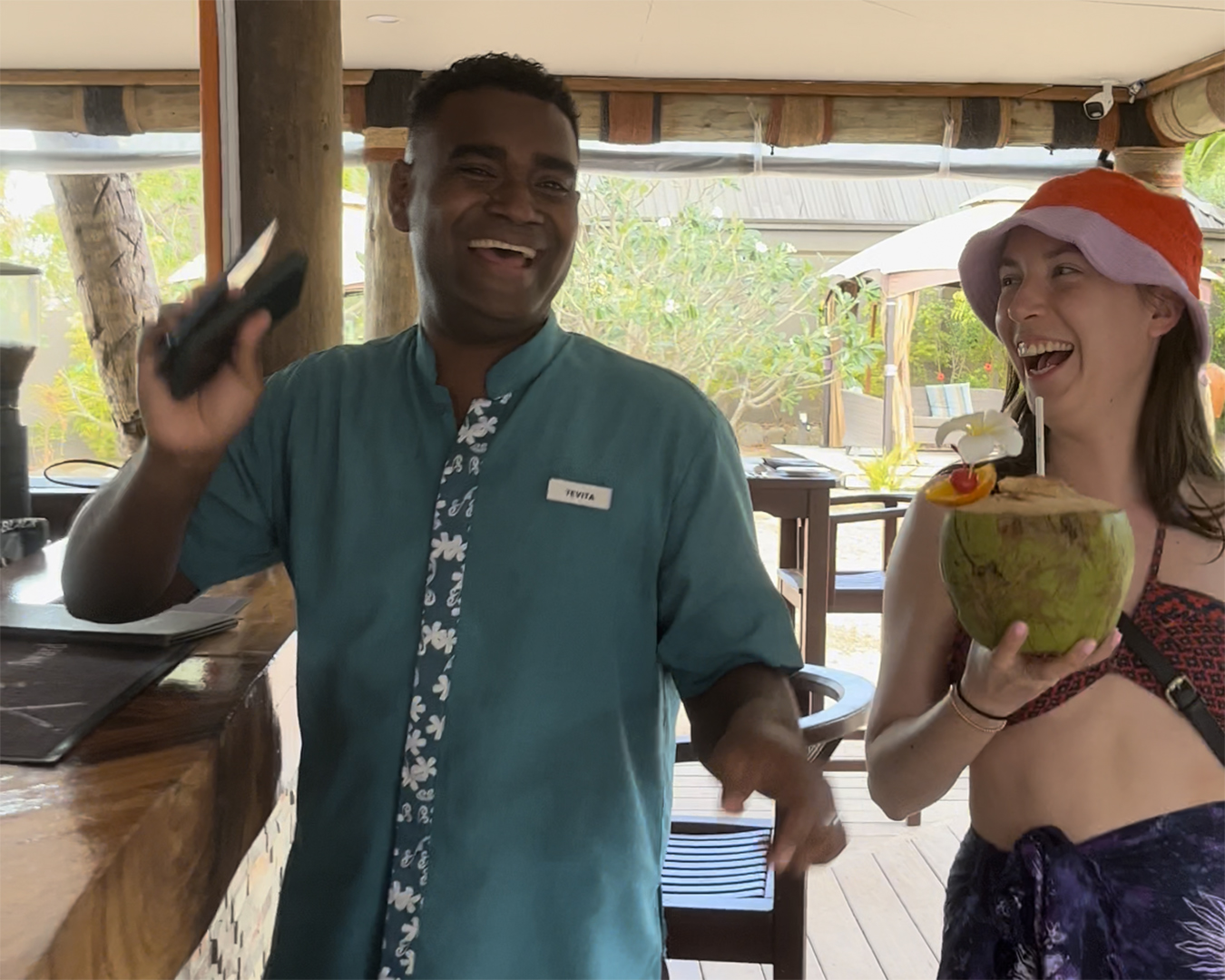 This might sound a bit strange, but truly the most indulgent thing in the Yasawa Islands was the palpable sense of happiness floating through the air from sunrise to sunset. It was such a treat to let go of the stress that creeps in during life back home and replace it with positive energy.
Music was ever-present throughout our stay. Joyous song welcomed us at each and every destination alongside the constant and melodic presence of 'bula!' (welcome!) and 'vinaka!' (thank you!). Barbeque nights and kava ceremonies encouraged conversation between the staff and other guests, and the gentle babble of conversation at meal times became indicative of the feeling of community that enveloped us for the entire time we called the Yasawas home. There was always a guitar or two, strummed with the deft hands of the staff at sunset and throughout dinner. Plus, there were countless times when we were out on day trips that our guides and boat captains were singing along to the whispering of the waves.
It was hard not to allow the embrace of happiness and appreciation for the welcoming staff and stunning surroundings to seep in. Plus, while Wi-Fi was available at the resorts in varying capacities, this is the perfect opportunity to switch off and indulge in a digital detox before returning to the fast-paced world back home.
If you're overdue for an indulgent holiday, the Yasawa Islands will deliver. As a bonus, Fiji is an easy flight, coming in at under three hours from New Zealand and the team at South Sea Island Cruises will make your transfers between locations in the Yasawas a dream.

Ready to book your next indulgent holiday in Fiji's Yasawa Islands? Head over here for all the details on how to book.
Image credit: Urban List
Editor's note: This article is sponsored by Tourism Fiji and proudly endorsed by Urban List. Thank you for supporting the sponsors who make Urban List possible. Click here for more information on our editorial policy.