There's no doubt that Dunedin is filled with world-class art, fashion and eateries. And don't forget the beautiful Edinburgh-inspired architecture (Dunedin is Gaelic for Edinburgh, after all.) Its vibrant student population makes the Octagon a fun and eclectic place to be. Regardless of your interests, you'll find plenty to do in this charming city that truly knows itself. Don't be put off by the cold, bundle up and get ready to explore.
Here are the best things to do in Dunedin.
Stroll Through The Dunedin Botanic Garden
When you're wanting to escape the daily grind, the lush Dunedin Botanic Gardens is a must. Here, you can immerse yourself in a little slice of heaven. You'll find playgrounds, herb gardens, duck ponds, aviaries filled with parrots from New Zealand and Australia, woodlands and glasshouses. Sit back with a book and soak it all in or pack a picnic to enjoy with a loved one. Taking time out here is a wonderful way to recharge the batteries. Oh, and it's one of the best free things to do in Dunedin.
Shop At The Otago Farmers' Market
One of the best things to do in Dunedin on a Saturday is heading to the Otago Farmers' Market. Located at the railway station, this market has something for everyone. Sample pastries, pies and cheese or take home fruit, vegetables, flowers and herbs to be enjoyed later. Popular stalls include the Bacon Buttie Man's van, La Crepe, where delicious crepes come both sweet and savoury. If you're around early enough, be sure to head inside the train station to Peasant Bakery, where you'll find breads, pastries and lots of goodies that are swooped up quickly.
Peruse Local Galleries
The Dunedin Public Art Gallery receives plenty of praise and rightly so. The architecturally stunning gallery showcases local, national and international work and boasts an impressive permanent collection. A large part of the collection is English and European, but you'll also find Japanese and Australian works here, too. There's also a constantly changing programme of exhibitions, a quality shop and excellent cafe.
If you're a fan of contemporary art, be sure to visit the Blue Oyster Project Space. The largest contemporary art project in Otago and Southland, there's a new exhibition every month. Dedicated to supporting art produced in New Zealand, the non-profit allows artists, writers and curators the opportunity to create, experiment and test their ideas without commercial pressures.
Next up, escape to Olveston House, an eccentric family home that was gifted to the city in 1666 by the wealthy heiress, Dorothy Theoman. There are four floors with over 17,000 objects to admire and every room is filled to the brim with famous artwork by Goldie and Frances Hodgins.
Attend iD Fashion Week
There's no dying the strong creative community in Dunedin. It's a city that exudes style, imagination and cleverness. It's home to local designers like Margi Robertson and Liz Findlay, so it makes sense it also has its own fashion week. iD Fashion Week takes place at the Dunedin Railway Station every March. The event is the perfect blend of high profile designers from New Zealand and abroad coupled with emerging fashion from up and coming talent. This year, iD celebrated 20 years with a stunning new show and a brand new venue at the historic Regent Theatre in the heart of the Octagon. Originally an industry-only event, they've opened up the Saturday runway show to the public in recent years, so grab your tickets and come along.
Enjoy Dunedin's Coffee Culture
You don't have to venture far to find some of Dunedin's best cafes. For a hearty breakfast, Vogel Street Kitchen is a must. Vanguard Coffee Co. also manages to tick all the boxes with ample seating, lots of light, beautiful fauna and florals and an extensive breakfast menu that runs all day. Kiki Beware has the most swoon-worthy interior and tastiest fries served with a vast array of salts and dips.
Morning Magpie and Modak's Espresso are two of the cosiest, most eclectic cafes in town and popular with students. If you're on a health kick, stop by Taste Nature, which is an organic grocery store that sells everything from kale to kombucha. Until 2pm on weekdays, they have a menu of salads, soups, sandwiches and green smoothies galore.
Shop Local Brands
For its size, shopping in Dunedin is very extensive and local. Avoid the malls, and meander along George Street. Hit up Slick Willy's for all the best Kiwi threads, Company of Strangers for jewellery by local artists, a range of shoes and essential fashion pieces. They also host film screenings and art installations, so look out for those. Utilising their geographic isolation, the label has successfully escaped the conservatism of larger cities. Plume, a multi-brand boutique and home to NOM*d, which has a uniquely curated blend of local and international fashion labels. RUBY also deserves a mention for its gorgeous fireplace!
For lust-worthy homewares, head to Vull Design. The interiors shop stocks beautiful and unique items you've likely seen in your favourite magazines.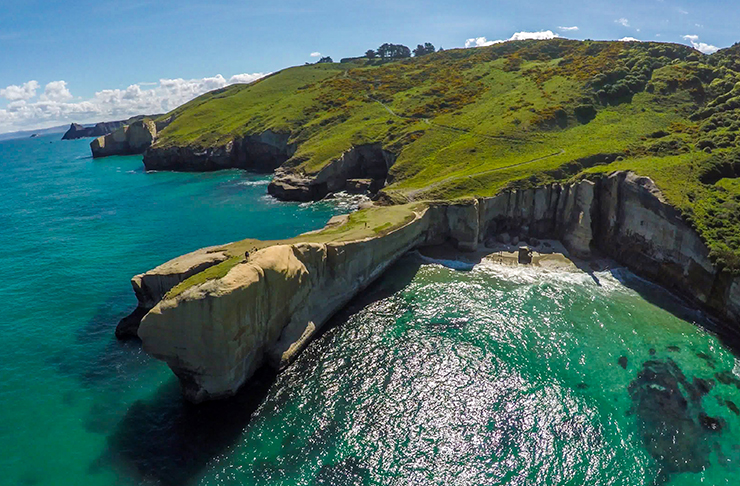 Visit New Zealand's Most Romantic Beach
Dunners has plenty of beaches scattered along its coastline and many are only a few minutes drive from the city centre.
Tunnel Beach, which has been called the most romantic spot in New Zealand, is a definite Dunedin highlight. Here you can explore sea-carved sandstone cliffs, rock arches and caves. Look out for fossils while heading down the hand-carved tunnel.
An easy escape is to St. Kilda and St. Clair, which are one long stretch of white sand facing out into the Pacific. St. Clair is also home to one of our go-to eateries, The Esplanade. It's a great place to spend a sunny evening or any time of the day, really.
Walk Up And Down The (Second) Steepest Street In The World
You can't visit Dunedin and not visit the second steepest residential street in the world. Just because its crown was recently revoked, it's still seriously ridiculous and a pretty good way to burn a few calories. There's still a Jaffa race down the street every year. It's truly a sight to behold.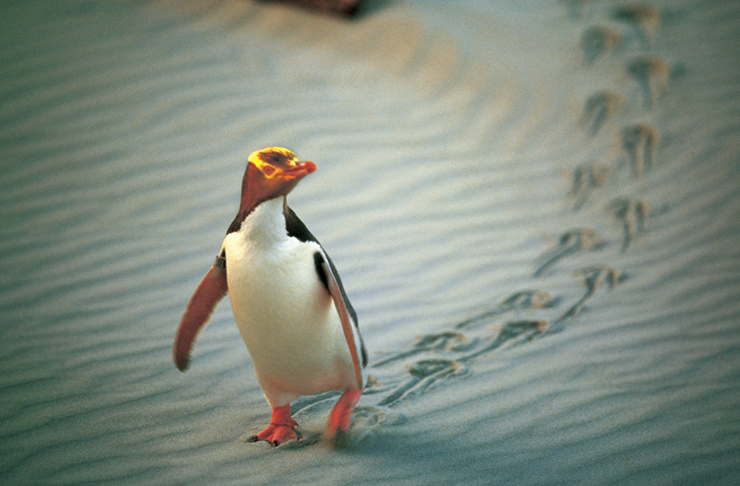 See Penguins, Seals And Albatross
Dunedin is home to some the world's rarest wildlife, from penguins to seals, sea lions and albatross. For a fun (and free) activity, walk along the Otago Peninsula, one of the best locations for wildlife spotting and an overall good place to spend an afternoon.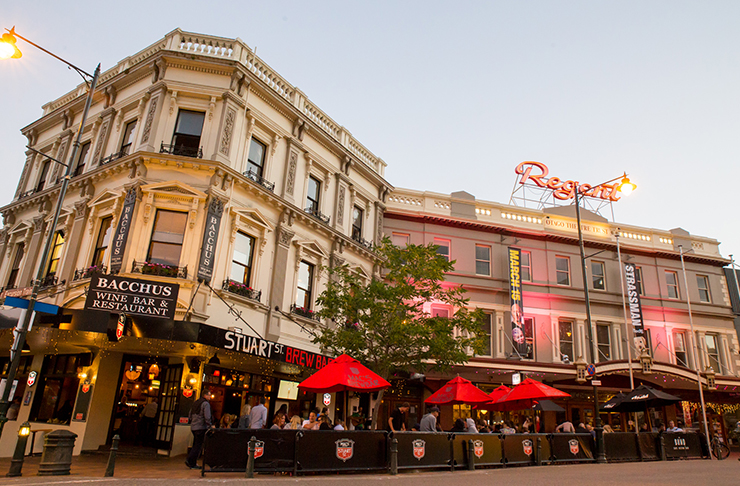 Enjoy Dunedin's Best Eateries
There's no denying Dunners is home to some quality eateries. A few of our favourites include BYO, Best Cafe and Bacchus in the Octagon, housed in one of the city's oldest buildings. We can't go past No. 7 Balmac, for bistro-style dining.

For something casual, don't miss burger joint, Good Good. The menu is simple, but you won't leave disappointed. Oh, and Mamma Mia has the best pizza in town.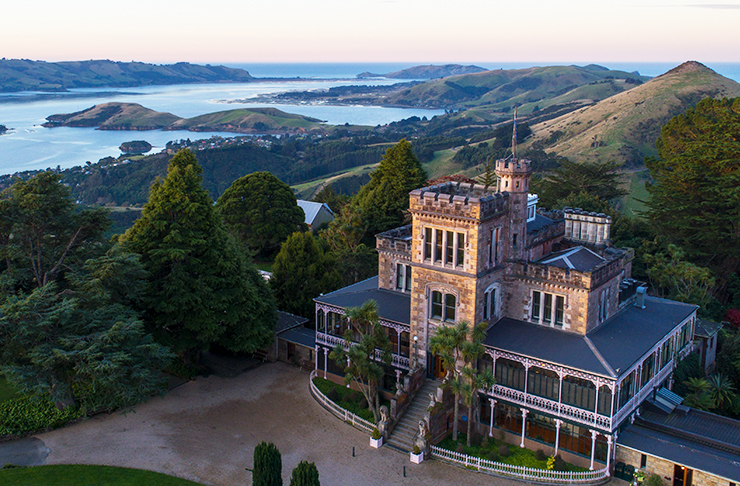 Visit Dunedin's Only Castle
Larnach Castle is Dunedin's only castle and a mandatory stop for anyone visiting Dunedin. Located on the picturesque Otago Peninsula, the castle was built by William Larnach in 1871 for his first wife. Meander through the extensive (and award-winning) gardens and you'll notice the Alice in Wonderland themes throughout. Fun fact: the exterior of the castle took 200 men three years to build and the fit out and furnishings of the castle's 43 rooms (yes, 43) took an additional twelve years. They've since been restored to their former 19th-century glory.
Image credit: Dunedin NZ & David Wall