You're halfway through the year and that calls for a well-deserved break. But winter means all you want to do is snuggle in bed. But, what if we told you that you can have a winter escape that's cosy and requires #nofilter? The answer is secret cute cabins. Not only do they make you feel as if you're in a movie, but they also provide picture-perfect panoramic views.
We've done the hard yards and picked out 11 of the dreamiest winter cabins to be found the length and breadth of our fair country.
Woodbank Park Cottages
Hanmer Springs
Get active and relax at the same time at Woodbank Park Cottages. All you need is your favourite wine and an aptitude for adventure. Some cottages include a balcony with mountain views—you'll never want to leave. These beaut cabins even have a garden, bbq, sun terrace and so much room for activities. You can even head out for golf and hiking while you're there too. This time you have no excuse—your only job is to have fun.
Turoa Yurt Village
Ohakune
Turoa Yurt Village is the definition of living outside the square. Inspired by the traditional Yurt design, artist Bret Gibson designed this unique ski village in Ohakune. The Yurt chalet has an open living area with a dome ceiling, with windows facing Mt Ruapehu. You can expect snow to cover your roof with a scenic backdrop of snow-covered mountains.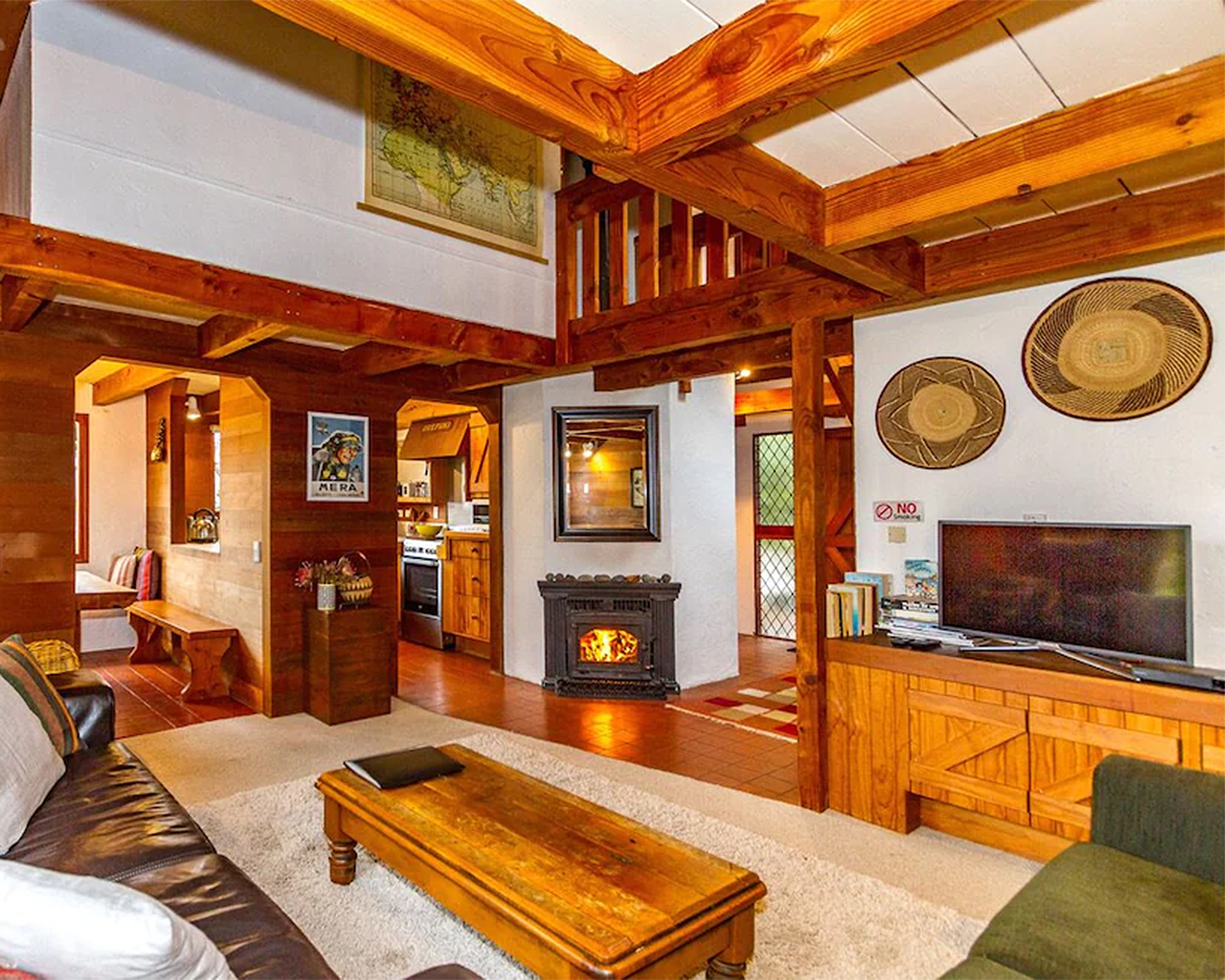 Swiss Chalet With Mountain Views
Ohakune
This beautifully appointed Swiss Chalet With Mountain Views is sure to tick all your winter getaway boxes. With room to accommodate the fam bam or mates with three bedrooms and two bathrooms, the Swiss cedar chalet is an ideal base for skiing and even comes complete with a drying room for your clothes and boots after a day on the mountain and a toasty log fire and endless hot water. As if you needed further convincing, you can even bring your pets to enjoy your holiday with you. Let's go!
The Camphouse
Egmont National Park
If you're feeling adventurous, head to The Camphouse. The backdrop of the mountain makes you feel as if you've walked straight into a painting. Here, you can climb to the summit of Mt Taranaki and even walk the Pouakai Circuit. Afterwards, head down to the Kamahi Cafe for some well-deserved brunch. Sounds like our kind of holiday.
Wainui Country Retreat, Waterfall Lodge
Wainui
If you're looking for a more luxe getaway head to Wainui Country Retreat. A private waterfall and an outdoor bath—what more could you need? This holiday cottage is on a 45-acre farm stay a.k.a the ultimate escape. This is the perfect location to capture the views and the vibes. You can even cook your own pizza on the wood-fired pizza oven. What are we still doing here? Let's go.
Hapuku Lodge & Tree Houses
Kaikoura
Located in the South Island on a deer breeding farm, Hapuku Lodge & Tree Houses are not to be missed. Staying there is one of those fairy tale moments where you'll have to pinch yourself to check if you're awake. This luxury accommodation is right on Kaikoura's coastline. Remember when you wanted to build a treehouse in your backyard? Well, now you don't have to, instead have a weekend escape here instead.
Te Kouma Harbour Cottages
Coromandel
Both a treat and a retreat, Te Kouma Harbour Cottages provides a tranquil setting, making it the ideal location to relax and get away from any of your stress or worries. Overlooking the Te Kouma Harbour, you're guaranteed breath-taking views of the sunrise and sunset. There's also a free pool and kayaks that you should definitely take advantage of. Being surrounded by beautiful farmland, you even get to see cute little ducks and peacocks going about their day to elevate your country style getaway.
Warm Earth Cottage
Bay Of Plenty
Treat yourself to a perfect weekend away from your hectic lifestyle. Throw away the watch and spend some quality time with yourself at Warm Earth Cottage. The name says it all—it's all about cosiness and warmth here. The wood-burning stove will keep you snuggled, providing all the necessary warmth required. A cute breakfast hamper will be at your door in the morning for you to cook your delicious brekkie. While you're there, make sure to have a bath in a tub right under the stars, #magical.
Tidal Waters Loglodge
Waihau Beach
If you're looking for a place to have your next business conference or family event then this is the place. Tidal Waters Loglodge is New Zealand's largest log house set on 24 acres, overlooking a stunning beach. Sounds like it's time for a photoshoot! You can even take your pets along too, giving them a well-deserved break and chance to be #instafamous. Make the most of your time there by indulging in the wine tasting, cycling and surfing on offer. Furthermore, the lodge is solar-powered and supported by a generator so you can sleep knowing your footprint is minimal.
Rainforest Retreat Tree Huts
Franz Josef Village
Logs, logs and more logs! Rainforest Retreat Tree Huts are log cabins in the rainforest, each with its own private deck. It's like something out of a movie. Activities such as lagoon kayaking, walking on glaciers and skydiving are all close by. This is the place you'll make memories you'll never forget. Discover New Zealand's hidden treasures and have the time of your life while you're at it. The opportunities are endless.
Plan for summer vibes with these awesome glamping getaways in and around Auckland.
Image credit: Woodbank Park Cottages, Swiss Chalet, The Camphouse by John Spenc | DOC, Hapuku Lodge & Tree Houses, Warm Earth Cottage, Rainforest Retreat Tree Huts.
Editor's note: Urban List editors independently select and write about stuff we love and think you'll like too. Urban List has affiliate partnerships, so we get revenue from your purchase.