It's International Women's Day, and whilst it's great to celebrate women, equality and creating a gender-balanced world on this special day, it's also important that we live it forever and always. There are so many women working to equalise inequalities through their work, and as a result, we're lucky to be inspired and confident to go out there to do things on our own terms. We had some insightful chats with cool local businesswomen, dishing out thoughtful advice on what it takes to run the show and demonstrating that although The Future is Female, they're living it in the here and now.
Natasha Ovely
Starving Artists Fund
To put it simply, Natasha Ovely fuckin' rules. As the head and heart of fashion brand Starving Artists Fund, she's putting inclusivity at the forefront, celebrating individuality, diversity, body positivity and non-binary perspectives. A self-taught designer, Natasha created Starving Artists Fund in 2018, making gender-neutral garments that are fulfilling and fit a range of shapes and sizes. Working with a solid code of ethics, she's changing the game. If this is your first introduction to Natasha and SAF, you will not be disappointed. You'll be honoured.
When did you realise you wanted to be your own boss?
Having entrepreneurial parents, I knew from a fairly young age that I'd want to start something of my own. This wish wasn't driven by not wanting to work for someone else but by the urge to create a community that upholds the values I'd like to see in our society. To create a celebratory, safe space for those ideals and the people who embody them to thrive.
What gave you the confidence to go out on your own?
I started the brand from a place where I felt I had nothing to lose. I was at a point where I felt like I had silenced my voice for the comfort of others and sacrificed my autonomy to a certain extent. Adversity is an opportunity, if you allow it to be. I decided to take action towards something I'd wanted to build for a very long time, it felt like taking back the reins. I hoped to contribute to a purpose larger than myself through my work, which felt more important than my financial security. I was deeply afraid to fail but had to try, it was more urgency than confidence that allowed me to take those first steps towards Starving Artists Fund.
What are some of the struggles you've faced being a woman in business?
I have had the joy of being nurtured by so many on my way to establishing my own business. However, I have noticed how I prefer to use the word 'brand' instead of 'business', knowing that an entrepreneurial spirit in women is often dismissed as a hobby. I have sometimes had any recognition attributed to factors that have no relevance to my work. During a meeting with discussing funding for the business, the advisor suggested I should be using my appearance to get funding off a white senior lawyer because he "has a thing for young girls." Before SAF, I worked in male-dominated fields where I've been cat called at conferences, had my hand held by a senior client as if I were a child while crossing the street to a meeting and been referred to as a girl. I've had people call me by the names of other WOC (Women Of Colour) in professional settings. I still downplay my accomplishments and struggle to value my work enough to comfortably receive payment or ask for funding because I feel lucky to even have the opportunity to pursue a venture like this. The most important challenge has been not to let these dismissals manifest themselves as self doubt and to continue speaking up and working on my sense of self-worth based on my work.
WHAT DOES BEING A WOMAN IN THESE TIMES MEAN TO YOU?
My first instinct was to say that it means whatever I want it to. However, that statement is equally false as it is true. We still do not have full ownership over our own bodies and choices, at the very least. True equality has not been attained unless it is reflected in all elements of society, from basic social interactions to legislation. I have a voice and a platform, which is a great privilege but also my right. Not only mine, but our right as women as a part of larger society. I commend our progress towards equality but I am also aware of the great work still to be done. Being a woman, to me means holding everyone including myself to a higher standard. Our greatest strength as women is our camaraderie. It means sharing knowledge and opportunities, being empathetic and speaking honestly with the women around me. It means using my work to attempt to heal some of the damage my industry has manifested in generations of women, made to feel unvalued based on their physical appearance. Recognising that in order for feminism to evolve and progress, our views of masculinity and non binary identities have to evolve with it. I'd like to give as many women as I can the space to express themselves freely and without judgement, until the statement rings true. Being a woman should mean whatever I want it to mean.
Follow @starvingartistsfund on Instagram
Tiffany Jeans
CurioNoir
Hidden behind velvet curtains in Ponsonby, you'll find Curionoir's flagship store. Whilst it's best known for its fragrances, the shop itself is a tiny museum of sorts—an esoteric fantasy filled with hand-crafted parfum, candles, soaps, curios and the creator and curator herself, Tiffany Jeans. A strong, independent Māori woman, Tiffany has had award-winning success in fashion and advertising, but her magnum opus is most certainly Curionoir. Her desire to create came after her wedding where she crafted bespoke gifts for her guests. The act of celebration and giving proved too seductive, and Curionoir was born.
When did you realise you wanted to be your own boss?
To be honest I don't think I have ever consciously wanted to be my own boss, it's something that has happened organically.
What gave you the confidence to go out on your own?
I come from a long line of strong and independent Māori women, and I feel they give me the confidence everyday to continue. I am also lucky enough to have some amazingly talented women who are such close friends, they are my whanau.
What are some struggles you've faced being a woman in business?
I think being a mother and juggling the physical and mental capacity of being pregnant, giving birth, raising children and then continuing to run a business is a struggle for all women. While things are changing in some parts of the world, as a woman I personally felt the financial and creative pressure along with the pull to want to be with my children more.
WHAT DOES BEING A WOMAN IN THESE TIMES MEAN TO YOU?
I don't think I have the right to dictate what being a woman is to anyone, but for me this year I will be owning being a boss and making some changes with our business as we grow, that suit my whanau over anyone.
Follow @curionoir on Instagram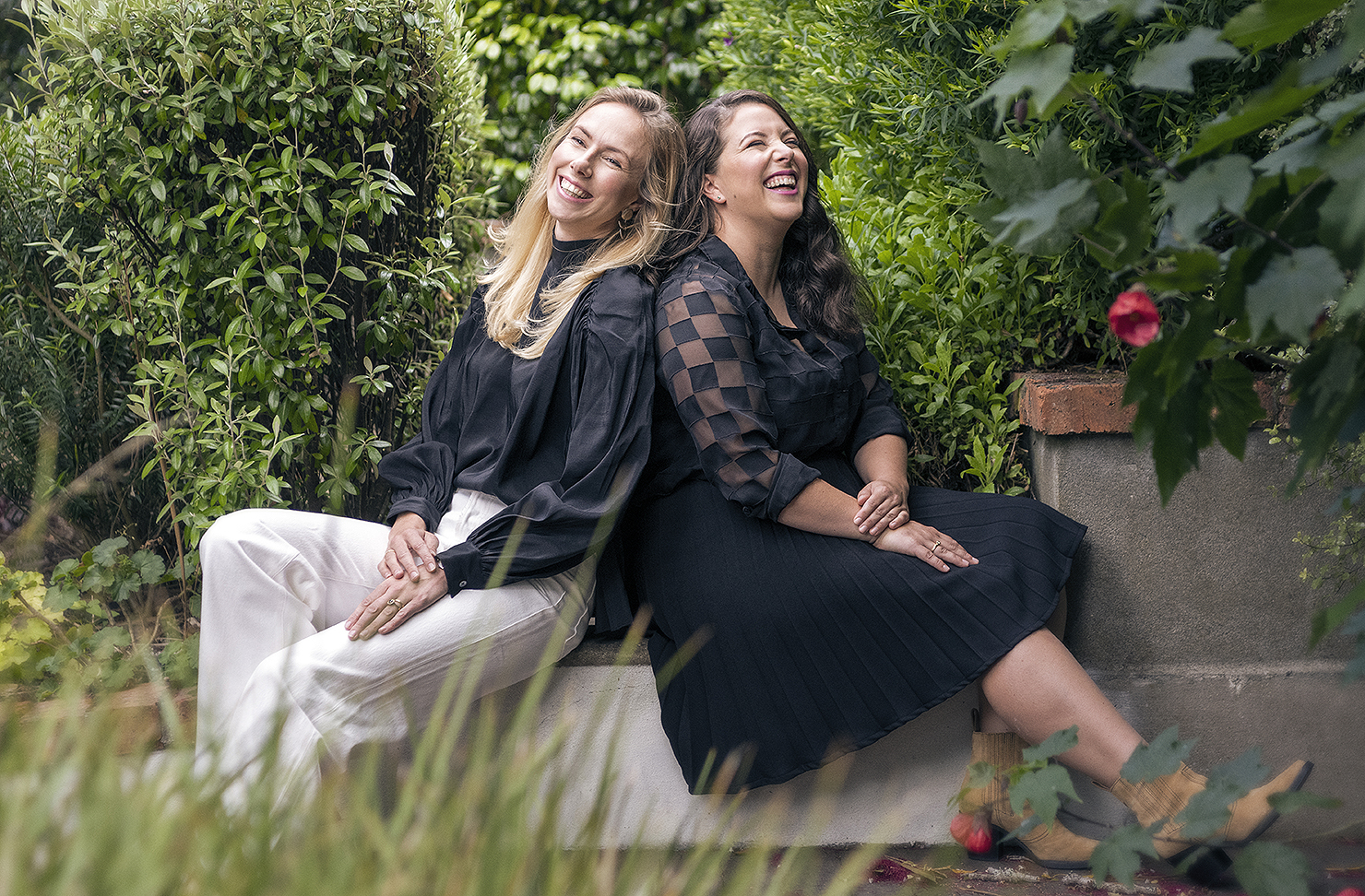 Sonya Williams and Brooke Roberts
Sharesies
Sonya Williams and Brooke Roberts are co-founders and co-CEOs of wealth development platform Sharesies. A powerhouse duo, they share an extraordinary journey shaking up a traditionally male-led industry and have enabled accessibility for Kiwis to trade.
WHEN DID YOU REALISE YOU WANTED TO BE YOUR OWN BOSS?
Brooke: I'm not sure exactly what drove me to be my own boss, more to be able to create the world I want to live in. When I was in high school I started two companies, I knew I really enjoyed leadership and entrepreneurship.
Sonya: I think growing up I always wanted to have my own business. The main draw was the idea of being able to join a passion with a career. I can't remember a time when I wasn't looking around noticing things, and then wondering how it could be improved.
WHAT GAVE YOU THE CONFIDENCE TO GO OUT ON YOUR OWN?
Brooke: The risk of not doing it always felt greater. I was just so excited about making investing accessible and breaking down the barriers that stood in the way for so many. I had the backing of my employer at the time, Xero, to take three months of unpaid leave to make Sharesies happen. Even though I was taking the leap regardless, I can't deny that did provide a bit of confidence too.
Sonya: Once we actually started talking to people about it. At first, it was solving a problem I had personally—wanting to invest and not knowing how or finding the right place for me to do that. But then we did six months of customer validation to understand it more, and actually hearing from people about how they felt about money and investing I realised how much solving this problem could have a positive impact on people's lives, that was really all the motivation I needed, and at that point it didn't really feel like an option.
WHAT ARE SOME STRUGGLES YOU'VE FACED BEING A WOMAN IN BUSINESS?
Brooke: With my time at Sharesies, I think the opportunity I've had to face as a woman is being pregnant not long after starting Sharesies and now having two children, I think I've had to find how to navigate motherhood and being an entrepreneur. At Sharesies our board is 60% women and have a strong team of wāhine too. Our whole team is so supportive. Also, with Jacinda navigating motherhood and leading Aotearoa, this has definitely taken a lot of the heat off.
Sonya: My biggest growth was when I learned to trust my perspective and found my voice (with the help of amazing support). Through reframing this, I learned to believe that often your difference in perspective is your superpower. Seeing things differently allows you to observe and question things that don't sit right and allows us to create a new way. Which is such a powerful driver of innovation. This has helped us really focus on the type of workplace we're creating with Sharesies and how we hold ourselves accountable to be a place that is inclusive and celebrates diversity— there are definitely more voices that need to be heard!
WHAT DOES BEING A WOMAN IN THESE TIMES MEAN TO YOU?
Brooke: Empowering women and anyone who is facing inequality. Creating space for equity to occur. I really like this quote "as she rises, we all rise", so supporting and shining a light on other women who are doing great things. Hopefully this helps support future women leaders see themselves in any career or path they want to pursue.
Sonya: I'm hugely excited and optimistic for the future. But I'm noticing a shift where it isn't enough for women (and other underrepresented voices), to simply just have a 'seat at the table'. We should be making sure we're creating environments where all can thrive. There are some pretty challenging, uncomfortable conversations and actions needed to change it. The willingness is there from a large number, now it's how we can get there and create a more equitable society.
Find out more about the Sharesies platform here.
Hannah Davis-Gray
Dangerous Goods
Hannah Davis a self-taught jeweller is the creator and crafter of Dangerous Goods, crafting timeless, stunning pieces with sustainability in mind. Not only is each piece made by hand from recycled sterling silver, many of the stones and gems used in her creations have either been given new life from other pieces of jewellery, sourced second hand or grown sustainably in a lab. Hannah also does custom pieces, and all her designs are made to last generations, although you'll likely want to take them to the grave.
When did you realise you wanted to be your own boss?
I've always been an eager organiser, initiator, creator, and doer. In the past I've organised exhibitions, markets, an online vintage clothing store and I'm currently an organiser at Samoa House Library—a community run arts library on Karangahape Road. I've always idealised running my own business as it allows people the ultimate freedom to create, practice, and work in the way that best suits them. As a small business (literally just me) I exist as a spectrum of workers from boss to slacker, so I have to do my best to stay motivated. I'm lucky I love what I do and have so many fun commissions and projects that get me into the workshop each day. The fun thing about doing it all is that I've been able to gain experience in a myriad of things—the actual making which I've always done, as well as marketing, accounting, writing, web design. The list goes on. As my own boss, my vision and values get to be front and centre.
What gave you the confidence to go out on your own?
I wouldn't have had the confidence to go out on my own if I hadn't had such a positive response and immense support from all my family, friends, stockists and customers. I started making and selling jewellery while I was still at art school. It just grew naturally from there and slowly, step by step, I was able to replace other work with jewellery making. I'm happy to keep making as long as people are happy to keep wearing!
What are some struggles you've faced being a woman in business?
There are a lot of women working in jewellery and craft, so the community is very welcoming, supportive, and uplifting. I feel very lucky to say that I haven't experienced any struggles as a result of my gender.
Follow @_dangerous_goods_ on Instagram
Georgie Maylon
Greenpoint Florist
Everything grows if treated right. Not only is that a sentiment for life in 2021, but when it comes to running a flower shop, you need only stand in front of Greenpoint to see this statement taking a life of its own. Nestled in a row of shops in Grey Lynn, you'll find Georgie, the owner of Greenpoint. Having a flower shop has enabled to her to meet some incredible people, and it's allowed others to share a stories, kindness, commiserations and beauty. Having Greenpoint is as much a privilege for her as it is for us.
When did you realise you wanted to be your own boss?
It's always been somewhere, in the back of my mind. Even when I was working for someone I was always motivated to start working on an idea or project of my own. My drive to create beautiful flowers with my own twist was so strong that I knew my point of view and difference needed to be put out into the world. My first step was making floral art in my spare time which lead me to doing it part time and this was the stepping-stone to starting a flower shop. My friends and family are super supportive and always encouraged me to start sharing my work. Over time, it gained momentum and with a small following and supportive network I started to find the confidence, although confidence is only part of the story.
What gave you the confidence to go out on your own?
I had no other choice, it was a 'now or never' feeling. An opportunity to open a shop that had never been presented to me before came along and it was there right in front of me. A little rundown shop in Grey Lynn, it was truly one of those moments where I knew this is was what I had been waiting for—a chance to take a gamble! But the belief that if you start something, it doesn't matter if it's small and not particularly perfect. Everything grows if treated right. Over the past two years of caring for Greenpoint Florist, I can look back and feel very proud of what I have learnt and of the business I'm building. I'm very excited about what the years ahead hold.
What are some struggles you've faced being a woman in business?
There are never any struggles, only challenges and accepting challenges is what a small business is about. I don't think my gender in this industry gets in the way or causes struggles in how I run my business, in saying that floristry is predominantly a female-run industry. I have noticed a shift in how we share and communicate and it's feeling very positive. There are so many amazing women running small flowers shops that are happy to help and talk business and give words of encouragement when you need it. Actually—there is one struggle and that is getting enough sleep (very early starts are so tricky when you're a night owl) and eating right, ha!
WHAT DOES BEING A WOMAN IN THESE TIMES MEAN TO YOU?
To be independent, strong and to be heard.
Follow @greenpoint.florist on Instagram
Amelia Gain
Preno
Amelia Gain is co-founder and CEO of Preno, a software that has revolutionised hotel management both in New Zealand and overseas. Preno was inspired by Amelia's time owning and operating The Spire Hotel in Queenstown when she realised there was a valuable gap in the market that needed to be filled by a purpose-driven platform.
When did you realise you wanted to be your own boss?
Following my first business venture, co-owning a boutique hotel with my sister Lucy Cooper-Dixon (The Spire Hotel, Queenstown), I soon recognised an idea for a product that could help hoteliers. Starting my own business was inspired by a variety of elements, but it was less about becoming my own boss, and more about following a vision to help hoteliers, as after owning a hotel, I knew first hand how hard it can be.
What gave you confidence to go out on your own?
Having a strong network of friends and family helped me greatly in the initial stages of starting Preno, but I was never "on my own" as such. My confidence also came from having a passion to create a product that solved a problem – this was the main driver. Today, my confidence to continue growing Preno stems from the great difference our product makes to hoteliers on a daily basis, in addition to our talented team.
What are some struggles you've faced being a woman in business?
When I first started studying IT, and later working in the tech space, I was mostly surrounded by males. I'm not sure that I saw this as a struggle, but I definitely noticed the gender gap back then. I understand that the industry has, in the past, been predominantly males, but I feel very fortunate to be doing what I'm doing now. There are a lot more conversations around supporting more female-led companies and ensuring that there are equal opportunities for accessing capital or raising investment. It is great to see more and more women succeeding in the tech space, – there are some incredible female founders who inspire me on a daily basis.
WHAT DOES BEING A WOMAN IN THESE TIMES MEAN TO YOU?
Being a woman in business in 2021, to me, is about continuing to follow my dreams of growing Preno, helping our customers and leading our talented team.
Find out more about Preno here.
Maeve Woodhouse
Hera Saabi
Maeve is the goldsmith, designer and director of fine jewellery label, Hera Saabi. Having studied jewellery making in Melbourne, she returned to New Zealand to create her business, crafting pieces using traditional, time-honoured gold smithing techniques. Because they're made by hand it also means each piece is unique. Inspired by nature, her work signifies feminine strength and beauty, and we were honoured to be able to talk shop and the journey it took for Maeve to bring the world Hera Saabi.
When did you realise you wanted to be your own boss?
I'm not sure I ever thought about being my own boss! I have just obsessively made things ever since I was a little girl. I worked seven days a week for years and saved money so that I could turn my passion into a career. As I do everything myself at this point it doesn't quite feel like I am a boss in the traditional sense. I'm sure it'll feel more like that when I expand the team.. which will be soon i think!
What gave you the confidence to go out on your own?
I made my first collections of jewellery for Zambesi. When I moved back to Auckland I worked part time in their stores with a girl called Margie Cooney. My jewellery was stocked in the store at the time and Margie noticed how shy I was at selling it. I think I was so emotionally invested in the work I didn't really have the confidence to push it or really tell the story. She suggested that we start something up because we had different skill sets. Margie has a calm confidence that is contagious and together we founded the brand. She has moved on now but we are still the closest friends and I hope she always feels a part of the HS story. So yeah, all thanks to a dear friend.
What are some struggles you've faced being a woman in business?
I'm not sure I've ever felt that being a woman is a struggle in business! I mean obviously being tired and sick because of menstrual cycles is frustrating when you are on a deadline, but I've always gotten on with men and women in the industry equally and I don't really think of being any better or worse off due to my sex. I also listen to lots of podcast about female run business which are really empowering! Lady Start Up is as Australian one available on Spotify and I'd recommend it to any woman in the infant stages of business.
WHAT DOES BEING A WOMAN IN THESE TIMES MEAN TO YOU?
2020! I think being a woman at this time is exciting. There are so many incredible, strong female figures around us at the moment. In my social bubble it seems like there is equality—I know this isn't the case everywhere but I am so thankful to our ancestors (male and female) who fought for our rights and respect.
Follow @herasaabi on Instagram
Sian and Tina
Hunting Ground Store
The Auckland fashion game has stepped it up in the past two years, and that's not to say we didn't always look cool—it's just that we didn't look as cool before sisters Sian and Tina Kolose came into the fold with Hunting Ground Store. Originally an online store, they've now got digs in Newmarket and are always on the hunt to find the best vintage streetwear, literally scouring the globe to source a collection of clothing which celebrates self-expression without compromise. From Los Angeles to Tokyo and all the way back to Auckland, business is booming and it's not hard to see why.
What would you say are the most important things women who want to run the show need to know?
Working in male dominant fields can always be a struggle and I think it's really important to be confident and hold your own. Don't be afraid to say no and don't be afraid to ask.
Have you ever struggled with confidence?
Definitely. Especially in the beginning, the vintage game is a big world of hustling and you need to learn to be confident pretty fast. It's really scary taking any risk and finding the confidence to deal with people on a day to day basis can be a lot, but practice makes perfect.
What advice would you give to others about gaining confidence?
If you don't ask, you won't get. What's the worst anyone can say to you, no? If someone says no it's not the end of the world and if you keep knocking a door will open. Keep pushing your comfort zones and trying new things!
WHAT DOES BEING A WOMAN IN THESE TIMES MEAN TO YOU?
Being a woman in 2020 means breaking down boundaries and creating our own spaces instead of trying to be included and recognised in other people's. Being successful in our own right, taking risks, believing in ourselves and bringing our dreams to life.
Follow @huntinggroundstore on Instagram
Kathryn Wilson
Kathryn Wilson Footwear
Many of you will own a pair of Kathryn Wilson shoes, and that's not surprising. Once upon a time she was an up and coming designer, now she's a household name in New Zealand fashion. Heck, even Beyonce and Blue Ivy own a pair. With a career spanning almost two decades, success hasn't happened overnight, Kathryn has worked incredibly hard to build a brand and herself. Meticulously designed by Kathryn here in NZ, she takes footwear just as seriously as the impact her business has on the planet.
When did you realise you wanted to be your own boss?
My career in footwear design came from having a love of shoes which years later has developed into a business with 20 employees. I don't think I ever gave it much thought, it just evolved over 17 years of growing the brand. There are awesome benefits to being your own boss but its also super challenging and requires your attention 24/7 to ensure all the balls stay in the air!
What gave you the confidence to go out on your and own?
My mother encouraged me to choose a job you love so you never have to work a day in your life. She's been my biggest cheerleader throughout my career and a sounding board for tricky times. I've had incredible mentors and advisors over the years who have kept me in check and encouraged me to be bold and brave, so I'll always be grateful for the support around me.
What are some struggles you've faced being a woman in business?
Managing to be a patient, calm, fun mother to our beautiful daughters, and at the same time being present and engaged with the team so they feel supported. It's a juggle that so many working mums are managing the best way we know how. Over the years I've had to ignore comments or assumptions from manufacturers and suppliers overseas who assume you are the junior assistant—not the owner of the company—because you're a young female. I've learnt to laugh it off!
WHAT DOES BEING A WOMAN IN THESE TIMES MEAN TO YOU?
I like to think I am being a great role model for our daughters who are being shown they can be anything they want to be in life. I hope to continue to think big, be brave and lead our all-female team towards bigger and brighter things. I am proud of the female friends I have around me who are also leading by example and inspiring me every day.
Follow @kwfootwear on Instagram
Alliv Samson
Kami
Alliv Samson is the COO and co-founder of Kami, an Auckland based edtech company which has taken the world by storm, transforming the modern classroom for more than 24.5 million teachers and students in over 180 countries. In the last year Alliv has scaled her business to a global audience at a breakneck pace while welcoming her first child into the world and working alongside her husband (and Kami CEO) Hengjie.
When did you realise you wanted to be your own boss?
Ever since I was young, 6 or so, I always wanted to create and build something and do things my way. I would come up with hundreds of ideas and projects to work on and get started on them immediately. I'd open pretend shops and made-up businesses during playtime which made me realise later on that I'm pretty good at doing things my way.
What gave you the confidence to go out on your own?
I think it came out of necessity because I'm a stubborn employee and I would always challenge the status quo at work, so I had to learn how to be more confident being on my own. I believe confidence comes in stages. At first, I started having the confidence of being my own boss, which later progressed to having confidence that I can do more and do it well. And now I'm learning how to be confident with who I am and my voice as a female entrepreneur.
What are some struggles you've faced being a woman in business?
With what I learn from other female entrepreneurs overseas, I find that we are more privileged here in New Zealand as we have more opportunities and support compared to other countries. That said, it is still not perfect. One of the biggest challenges I face is having a voice and an opinion. I remember during the early days of Kami, I would be mostly quiet in meetings with others. I'd politely nod and smile and just listen to a room full of men. Nowadays I have learned how to be more vocal and brave.
WHAT DOES BEING A WOMAN IN THESE TIMES MEAN TO YOU?
This is the year we should see even more women on top and more female voices being heard and listened to.
Find out more about Kami here.
Sarah Hyndman
Little Mango
It's not often we stop and consider what goes on our armpits, and by association, what's going into our body. When Sarah became a mother, she found there are many ethical alternatives for the potions and lotions we use on our person, but couldn't find a natural deodorant that fitted the bill. Being the resourceful woman she is, she created her own solution to the problem—Little Mango. Natural deodorants sans nasty chemicals which actually work. From a garage project for herself, friends and family, it's now become a movement with people across the country coming to love their pits, naturally.
When did you realise you wanted to be your own boss?
Having children really rocked my world. I took on a completely different outlook to life and what I wanted from it. The goal of climbing the career ladder quickly went out the window and my family became my focus. I worked part-time while raising my children in the early years, but the passion was never there. Being my own boss allowed me the flexibility to be there for my family and build something for them too.
What gave you the confidence to go out on your own?
I knew I had an amazing product, but my confidence held me back originally. I had no business knowledge or experience and no idea what I was doing, so I held off for about five years! Then, I actually went through a bout of post natal depression and anxiety with the birth of my third child. I was in such a deep dark space, and I remember just thinking to myself 'If anything good is going to come out of this situation, this is going to be it'. It was a terrible space to be in, but it's what pushed me to bite the bullet and jump in the deep end.
What are some struggles you've faced being a woman in business?
The expectations put on women, mums in particular, to achieve are so high. You need to keep up your business or job, and you're still expected to continue being the full-time mum, domestic goddess and all with a smile on your face. It can definitely be challenging finding that balance. I'll often have meetings with children causing havoc in the background or screaming in the middle of important phone calls, but you just make it work.
WHAT DOES BEING A WOMAN IN THESE TIMES MEAN TO YOU?
Being a woman in 2020 is such an exciting opportunity. We've grown up in a world where you're taught that you can achieve anything—and it's so true! I've been really surprised by the support within the female business community and met so many encouraging women. There's a real sense of connection and collaboration and it helps motivate you. It's really cool to be part of this space.
Follow @littlemangobody on Instagram
Natalie Procter
Mina
The last time we spoke to Natalie was ahead of fashion week in 2019. A year later and she's still making waves in the fashion industry, crafting incredible looks which embody her sustainable ethos—to create simple yet elegant looks not designed to last a season, but a lifetime. Natalie launched Mina soon after her degree in fashion design with an inventive tactic—using deadstock fabrics. Deadstock is where she uses the leftover fabrics that have been produced by another fashion label who aren't going to use it, saving excess resources being created and rescuing fabric from being wasted. She's young and she's onto it, and showing the world that sustainable fashion is slow, steady, and wins the race.
When did you realise you wanted to be your own boss?
I think just my short time working in the fashion industry I quite quickly realised I wasn't interested in working for a big fashion house. I wanted to make an impact on the industry so going out on my own seemed like the most fulfilling life step for me. I never considered being my own boss but now that I am, I realise how much it lifts my life. Yes it's damn hard work and it's not easy running a business, but in exchange I have full control over my life and the path I want to lead my business.
What gave you the confidence to go out on your own?
I don't really know, I think I surprised myself to be honest. I'm not a super confident person and was never the girl at school or uni who talked about having her own business or fashion label. But after university I went to India for six weeks for a fashion trip and I think this just gave me the drive and passion to do something that I loved that would contribute to the fashion industry in a positive way.
What are some struggles you've faced being a woman in business?
I am actually really lucky to work in an industry that is dominated by women who are all empowering each other to succeed. So besides the fact that I am a woman, business is hard and there are struggles I am faced with daily. Some of those just being the fashion industry and navigating its very fast paced and consumer driven system. As a young person in business I have also struggled with the lack of mentors and support for designers in the industry. At university, you have your lecturers and your teachers to guide you through your degree but when you leave, you're left to navigate it on your own.
WHAT DOES BEING A WOMAN IN THESE TIMES MEAN TO YOU?
Being a woman in 2021 to me is standing tall and disrupting systems that hold us back. It's an exciting time for all women I think, knowing we have the power to create the career and environment that we want to live in. Today as I write this, the 'Be a Lady, they said' film narrated by Cynthia Nixon has just gone viral. It speaks to the pressures and expectations placed on women. I love it, it's powerful.
Follow @minaforher on Instagram
Michaela Powell
Rose Quartz Hair Studio
One of the best things in life is a good salon pun. From Hair She Is to Scissor Sisters, Hairway to Heaven and Unbeweaveable, when it comes to styling hair—Michaela Powell ain't here to play games. Located in Parnell, Michaela has been a trusted and an award winning hairdresser for over a decade so making the jump and opening Rose Quartz Hair Studio was her obvious next step. There it is, and here we are.
When did you realise you wanted to be your own boss?
A few years ago now, but I think deep down I always knew this would be my path. I was ready for a new challenge—I had been in my career for about 12 years and was craving change.
What gave you the confidence to go out on your own?
Honestly, I was just thinking why not? What is actually the worst that can happen? It's super scary, but I didn't want to live my life based on fear and not taking a chance on something that could be amazing.
What are some struggles you've faced being a woman in business?
I feel very lucky to have always been in a female dominated industry, surrounded by such strong, hard working, determined women. To then go out on my own and learn not every industry is like this, I wouldn't say struggles as such, just some massive learning curves! Not everyone is on your team. You actually know more than you think, so always trust your gut and back yourself.
WHAT DOES BEING A WOMAN IN THESE TIMES MEAN TO YOU?
I am all about a bit of Spice Girls Girl Power! Being a woman in 2021? How amazing. I've had such a strong feeling about 2021. To now be in a world where we have complete power to live how we want. I love seeing other women breaking the mould, doing something different, not living the copy-paste lifestyle of how it "should be done". How boring?! Being a woman in 2021 means go for it! Have your own back, but also have each others. Support, encourage and be excited for other women around you.
Follow @rosequartzhairstudio on Instagram
Image credit: Chloe Manickum of Us Places (Starving Artists Fund), Sharesies, Tiffany Jeans (Curionoir), Lucia Jane Taylor (Dangerous Goods), Ozone Coffee NZ (Greenpoint Florist), Amelia Gain (Preno), Fraser Chatham (Hera Saabi), Tina and Sian Kolose (Hunting Ground Store), Kathryn Wilson, Alliv Samson (Kami), Sarah Hyndman (Little Mango), Natalie Procter (Mina), Michaela Powell (Rose Quartz Hair Studio)