BOSSI Restaurant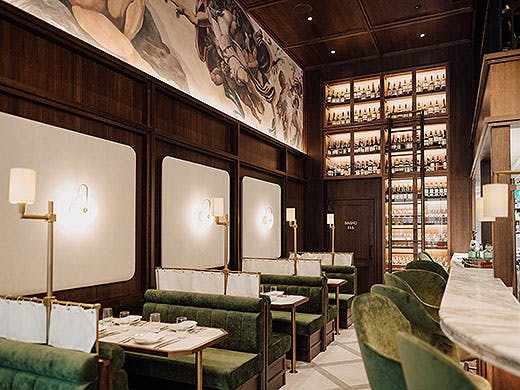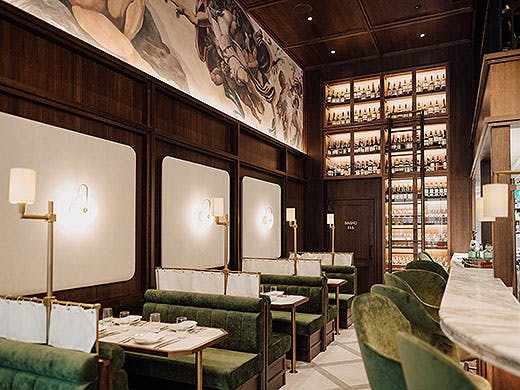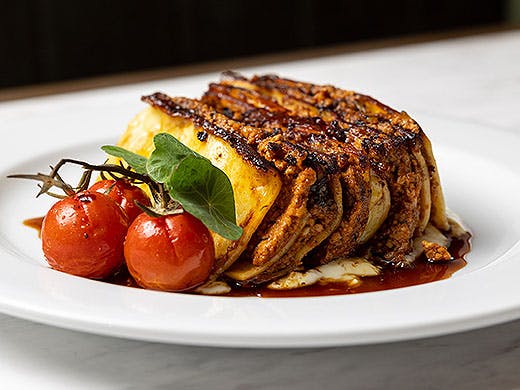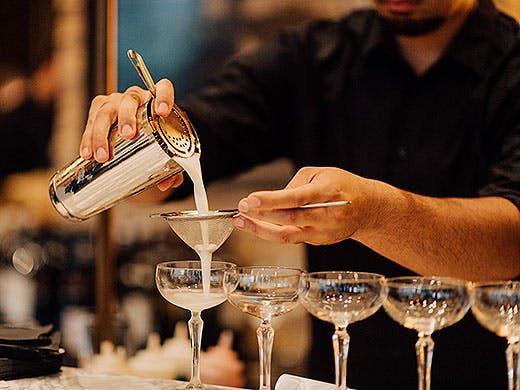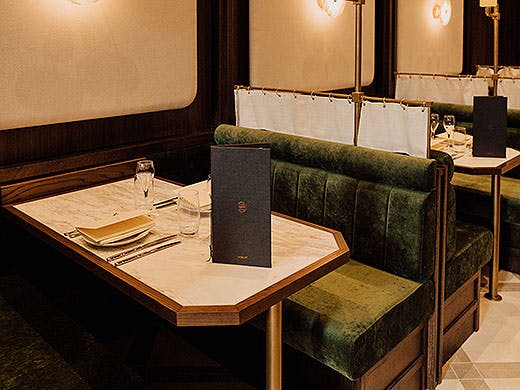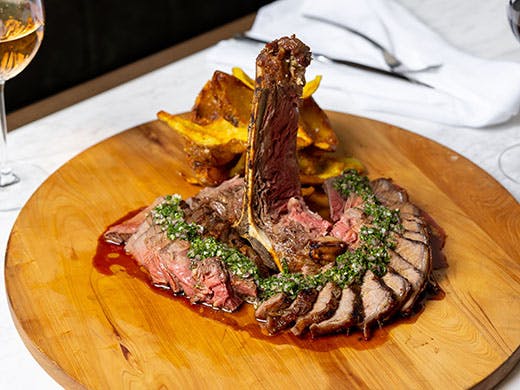 The Verdict:
Introducing BOSSI, an exquisite new Italian restaurant nestled into the ground floor of The Pacifica, the country's tallest residential skyscraper located on Commerce Street in Auckland's CBD. Some may already be familiar with the BOSSI name—they opened an authentic Italian deli named DELI di BOSSI, right next door in April.
Jenna Carter is the face behind BOSSI, and together with executive chef, Shaun Dowling, she is hoping to bring real-deal Italian cuisine to our little corner of the world—albeit with a pinch of luxury, because, you know, la dolce vita and all that.
And luxury is certainly the vibe you get when you walk through BOSSI's front door. Decked out with white marble, warm wooden tones and flourishes of sage green, with glistening chandeliers, a wine library (complete with its own ladder) and a jaw-dropping version of Michelangelo's famous fresco—The Creation of Adam and authentic music from the 50s—dining here is certainly a very special experience.
For the best seats in the house, make your way to the mezzanine on the second floor—cute, cosy and with up-close views of said artwork, you could be forgiven for thinking you were dining in the Sistine Chapel itself (especially, we might add, after a cheeky tipple or two).
However, don't confuse luxury with pretentiousness. This eatery has famiglia and hospitality at its heart, with warm, friendly service and nods to Jenna's late Italian-born Nonna featured throughout (we especially love her portrait behind the bar—just look at those incredible shoes!).
This welcoming atmosphere is an integral part of the Bossi brand, as it's Jenna's memories of growing up with her Nonna and wider family in Melbourne that inspired the idea for the restaurant, and DELI di BOSSI, in the first place.
And we reckon Jenna's Nonna would be incredibly proud of the kind of food coming out of the kitchen here. Think fresh takes on Italian classics which will both surprise, and delight.
The baby calamari ripieni is an excellent place to start—these little suckers are stuffed with a subtle mix of pancetta, garlic, lemon, basil and Italian parsley served alongside chunky bread, that will transport you straight to the sun-soaked shores of Italy. However, there are also oysters, fried potato skins, Australian king prawns and a salumi board to begin, if that's more to your liking.
As to be expected, the antipasti game here is strong and features a gorgeous take on the classic Caprese salad—the mozzarella Caprese insalata. Arguably the most memorable dish on the menu, you'll be served a bowl of bonafide Italian treasures—think creamy stracciatella, juicy roasted tomato, tender zucchini spaghetti and basil—to mix and mash to your heart's content. Add prosciutto for a little extra oomph (though really, we think this dish is perfetto as is).
You'll also want to dabble in the culurgiones (Italian dumplings), pretty little parcels made to look just like wheat, pumped full of mashed potato and gorgonzola and served on a bed of rich fungi sauce. Buono, squisito, delizioso—however you choose to say it, this one's a flavour bomb.
Naturally, plates of pasta are also on high rotation here—personally, we like ours hand-cut and stamped with the Bossi logo, served alongside a fillet of crispy-skinned market fish with corzetti, lemon, and pinoli.
If room allows, round out your meal with a rocket and parmesan salad, porcini mash, broccolini in garlic and other quintessentially Italian sides.
And if a limoncello-soaked sponge cake bursting with cream, served alongside gelato and fresh fruit sounds like the perfect way to end your meal (erm, yes!), we'd have to agree. Order the baba and you'll get exactly that, though bear in mind this is just one of many delightful desserts on the menu including cannoli, ricotta and pistachio cookies and of course, tiramisu.
Last but not least, don't forget to pop open a bottle of Prosecco, check out one of the many vinos up for grabs (Italian varietals included), or order up on one of their exquisite cocktails including the gorgeous house-made limoncello-laced Sorrento Sunset.
If you're looking for an incredible spot to dine on authentic Italian cuisine—but which is ultimately so much more than that—then do yourself a favour and book into this exquisite new eatery downtown. It's nothing short of magnifico.
Image credit: BOSSI.
---