Everybody's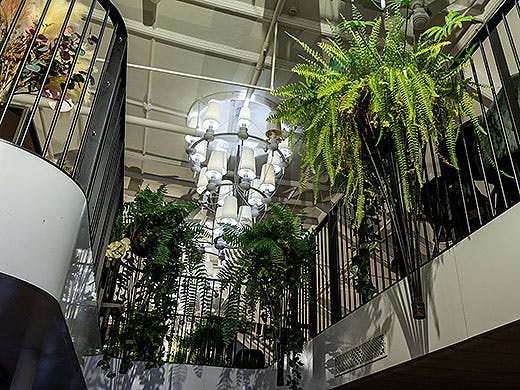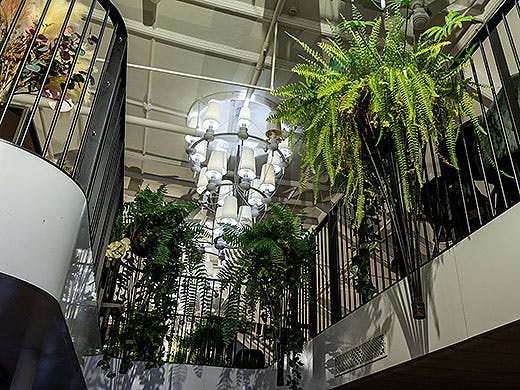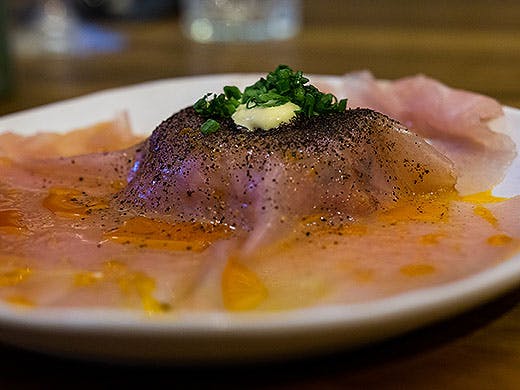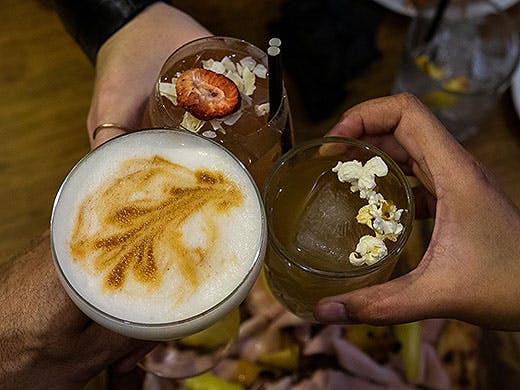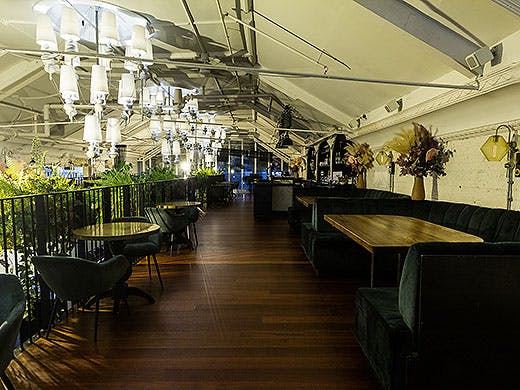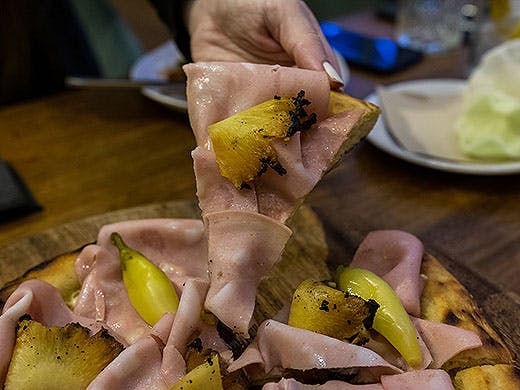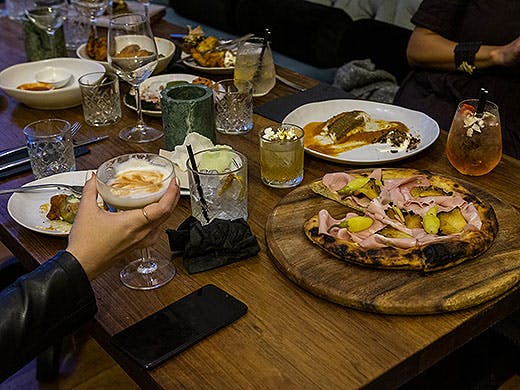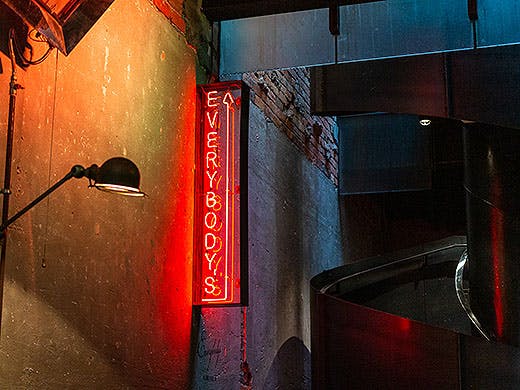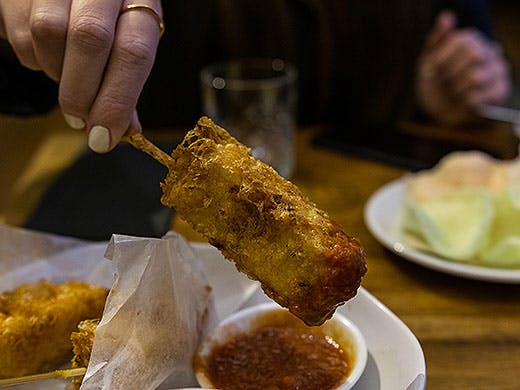 The Verdict
If you haven't checked out downtown hotspot Everybody's just yet—nigh is the time. This stunning, split-level venue—located in what was once the country's first-ever cinema—is one of the city's absolute best places to sink a drink/grab a bite to eat/have a boogie, especially now that they have two all-new bar and dining menus to get amongst.
Ascend the stunning spiral staircase hidden along Imperial Laneway, and enter into an oasis of glam, old-world charm. Lush greenery, exposed brick and chandeliers the size of small cars create a distinct art deco vibe, which you can soak up from a dedicated bar area with outdoor seating or the main restaurant, complete with cosy booths and a stunning second-storey mezzanine (aka the best seats in the house).
If you wanna keep things casual, head to the bar for a tipple or two. As well as the usual suspects (beer, wine), there's champagne, a six-strong gin selection, and an enviable cocktail menu. Their espresso martinis always hit the spot—in fact, they regularly appear on our best espresso martinis list—and their latest version comes laced with salted caramel syrup. Bliss.
However, we're also rather partial to the Pineapple And Chilli Margarita—their Popcorn old fashioned—and finally, the Strawberry and lychee spritz (if you like your drinks quaffable, you're gonna love this). Now might be a good time to also mention that Everybody's has one of the city's best happy hours, running every day from 4 pm-7 pm.
Be sure to take advantage of the bar snacks while you're here—they're kind of incredible. We're talking crispy, melt-in-the-mouth haloumi corn dogs that you'll dunk in IPA ketchup and sprinkle with smoked salt (aka the most boujee hotdog you'll ever eat and bonus, it's vegetarian)—a fancy-pants version of prawn toast, featuring crunchy seeded bread topped with soy, mayo, and flakes of bonito—and saucy fried chicken wings, which you'll load with salted cucumber before dipping in gojuchang vinegar. Even better, get all of these treats and more when you order one of their incredibly epic platters, or 'boards'.
Rounding out the bar food is a short but sweet menu of pizzette, including an incredible mortadella number with burnt pineapple, juicy chillies, and a lush fennel cream slathered across the base—talk about an epiphany.
If you really wanna go to town, treat yourself to Everybody's dining menu—where fancy French haute cuisine is given a fresh spin. Expect Croque madame, oysters (which, FYI, you can snap up for $1 a pop between 4 pm and 6 pm daily), pork cotelette, and a tonne of other drool-worthy dishes that are big on luxury and even bigger on taste.
The standout here has to be the deconstructed big-eye tuna and beef tartare, with fermented chilli and duck fat mayo. A real hands-on affair, this one requires you to slice and dice the ingredients yourself until you get the perfect tartare texture (read: teeny tiny pieces that will legit melt in your mouth).
This is closely followed by the poisson du jour—that's fish of the day, served with a vibrant Basque sauce, smoked yoghurt, hazelnut and bonito, and the chicken liver parfait—dusted with nori and served with pickled carrot and onion gelee, plus crunchy prawn crackers for the scooping.
Finish with dessert (we'll be opting for the bombe Alaska), or perhaps a nightcap at Inwards Goods (the hot new street bar, owned by the same crew, that's just opened downstairs). Depending on the day, you may even be able to stick around for a dance—Friday and Saturday nights see appearances from some of the city's best house DJs and other musicians.
So whether you're down for a simple drink and some bar snacks, in the mood for a full-blown French feed, or up for cutting shapes until the wee hours of the morn, this spot definitely lives up to its name—offering something for everybody.
Image credit: Eric Jang.
---
on U:L By You
Bars & Pubs
Whether you're planning a big birthday or a special shindig, only the best will do. Because we're about nothing but the…
Bars & Pubs
Whether you want to get fancy at a rooftop, dance away your problems or just have a cold one after a long day, there's a bar somewhere…
U:L By You
Wine and cheese are the perfect partnership and while it's true that the best cheeseboard is the one you make yourself, sometimes…
Restaurants
For some of us, lunching is a part of work life—whether it's to impress a client, meet with the boss or even a busy worker bee…
Restaurants
Well, didn't the festive season just creep up on us like a snowball to the face?! Season's greetings, Auckland. After the…
What's On
Have a nifty fifty in your pocket and not sure what to do with it? Worry not, because there's plenty of cheap things to do in…
Bars & Pubs
Whether you're planning a big birthday or a special shindig, only the best will do. Because we're about nothing but the…
Bars & Pubs
Sometimes you just need a little something extra to get you through the week. And, lucky for us in Auckland, it doesn't matter what day…
Bars & Pubs
Life's too short to drink in ugly. Sure, it's nice to have a vino or two in your onesie on the couch, but it's even…
Restaurants
There's no denying that each and every one of us loves a bargain. There is also no denying that we are all head over heels in love…
Bars & Pubs
Whether they're hidden down alleyways or local institutions, we've compiled a bucket list of Auckland's best bars. While…
Restaurants
Got a hot date coming up? Have a business client to impress? Or feelin' just plain fancy? Look no further—Auckland has a…
Restaurants
Get your knives and forks at the ready, we've got many a meal from Auckland's best restaurants (and cafes) you should have eaten…
Bars & Pubs
A measly bowl of mixed nuts no longer cuts the mustard when it comes to bar snacks. These days, Auckland bars have upped their snack-age…
What's On
Auckland can be an expensive place, but that doesn't mean you have to slum it. From bargain blow waves to express lunches at…
Restaurants
Look, we all like to dine like royalty now and then—nobody's gonna judge you for that. However, sometimes our desires are beyond…
Restaurants
We know that the weekend is really just an excuse just to eat out so, in preparation for the delicious weekend ahead, here are our top picks…
Restaurants
Let's be real. There's a time for #cleaneating and then there's a time for shoving your face with one of life's…
Bars & Pubs
Started to tick off places on our 30 Bars You Should Have Been To If You Live In Auckland list yet? Hopefully you've discovered some…
Bars & Pubs
Daily grind getting you down? Conquering adult life can be thirsty work. Fortunately for you, this fine city is home to a rather large…
Restaurants
November, what are you doing here?! The silly season is on its way, which means end of year work partay planning should be in the works.…