Harbour Society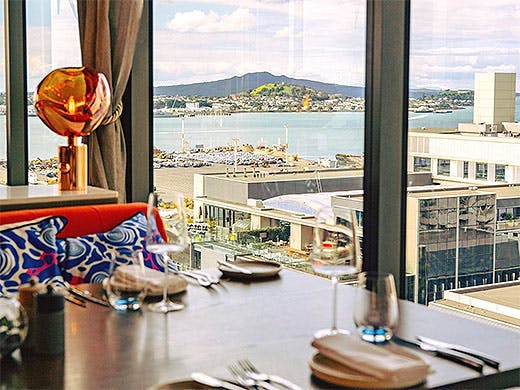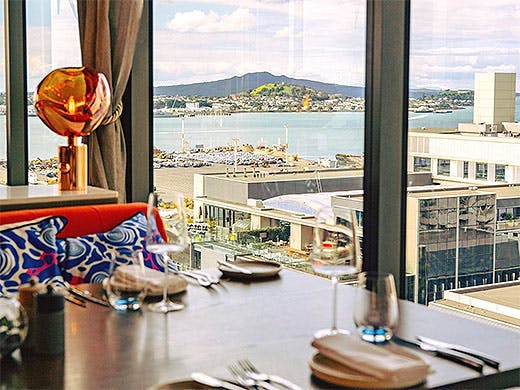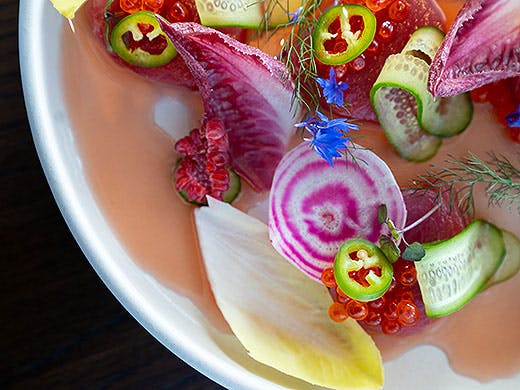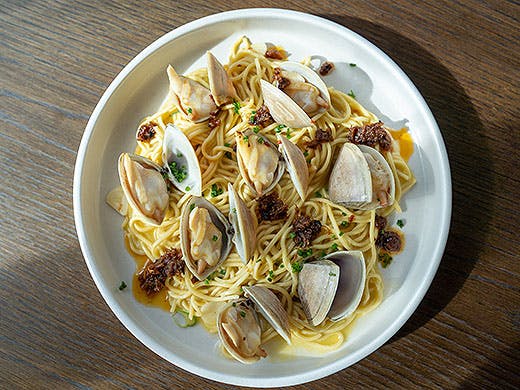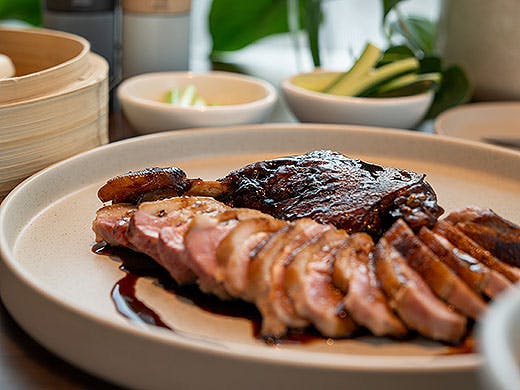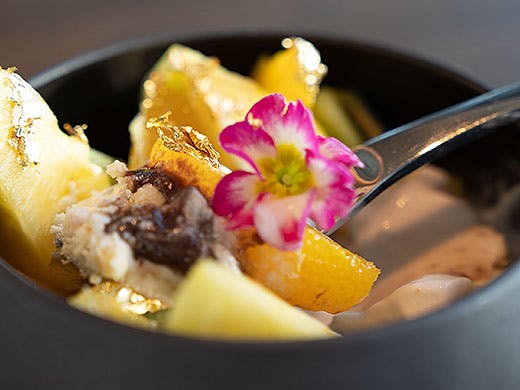 The Verdict
The only thing better than straight-up seafood is seafood with sea views—can we get an amen? Even better if those views are of the sparkling Waitemata Harbour, seen through floor-to-ceiling windows 15 storeys up.
Enter Harbour Society, the chic signature restaurant over at SO/ Auckland which joins a host of other top-notch eating and drinking venues (HI SO, Javalab and MIXO) inside what is arguably the city's funkiest hotel.
Leading the charge here is chef and Director of Culinary Marty Kindleysides, who draws on his four years living in Korea to deliver a menu that seamlessly blends Asian flavours with Kiwi ingredients, and you know what that means people—plenty of lush local kai moana.
All dishes are designed to be shared and just as well, as they (and the scenery) are too good to enjoy solo.
Start with something scrummy from the raw bar—a round of juicy oysters, perhaps. This prized shellfish comes in a whopping seven different flavour variations, so be prepared to make some tough decisions. Keep it classic with the mignonette and lemon or house-made Kiwi vinegar and baby cucumber—or spice things up with a hot (yes, hot!) version featuring smoked bacon and bulldog sauce or even one woodfired right in the shell. Rest assured, they all go down a treat.
Small and medium plates are up next, and a good place to start is the chilled burrata, served on a bed of sous vide beetroot and drizzled in Japanese onion dressing. This is a refreshing departure from the oozing hot Italian-style burrata we know and love and is sure to be especially popular over the summer months.
The Cloudy Bay Clams spaghetti is an absolute dream of a dish (our fave, in fact), and features delicate, perfectly cooked shellfish perched atop a mound of thick XOXO-laden noodles, peppered with Chinese chives and spring onion. It's a big call, but we think we might just like this Asian take on spaghetti vongole better than the OG.
And that's not to overlook what is hands-down the most gorge-looking dish on the menu, the raw market fish. This is a sight for sore eyes and a treat for the tastebuds all in one, featuring an abstract spread of mouthwatering fresh fish with herbs, chilli, raspberry ponzu sauce, cucumber, jalapeño, and the luxurious addition of Aoraki malossol salmon caviar. Some say too pretty to eat, we say too pretty not to.
The selection of large plates is not to be outdone—specifically, the Eastherbrook's Farm roasted duck (a spin on the traditional Peking duck pancake). Here you'll stuff your own piping hot bao buns with slices of wonderfully tender wood-roasted duck, cucumber and spring onion, before drizzling (or in our case, drowning) with manuka honey hoisin. Quack!
Dessert certainly isn't short on indulgence, especially if you order the aptly-titled Blingsu. Inspired by the popular Korean shaved ice dish, bingsu, this version comes with sweet milk sorbet, red beans, seasonal fruit and dulce de leche, decked out with 24K gold leaf for a lil' extra luxury and why not.
Order a flute of oh-so-light French rosé (or other wine—their selection is rather impressive) and you have a feast fit for a king—you're sitting on quite the pedestal up here, after all.
We feel it's our duty to also inform you that Harbour Society runs a bottomless brunch on Saturdays, with sessions running every half hour between 12:00 pm and 1:30 pm. Expect seafood platters, pasta, ramen, sweet treats and of course, bottomless bevvies. Seriously, can this place do no wrong?
So for a spot where you'll dig the views as much as the food, give Harbour Society a go. It's next-level dining, in every sense.
Image credit: Harbour Society.
---