KOL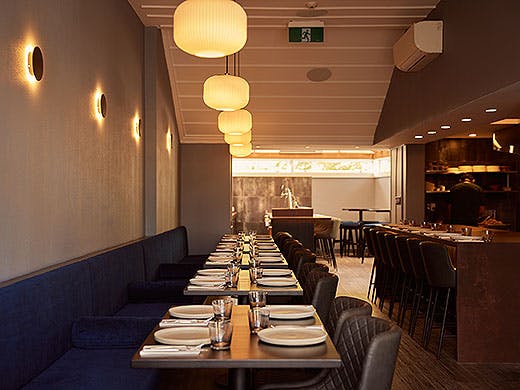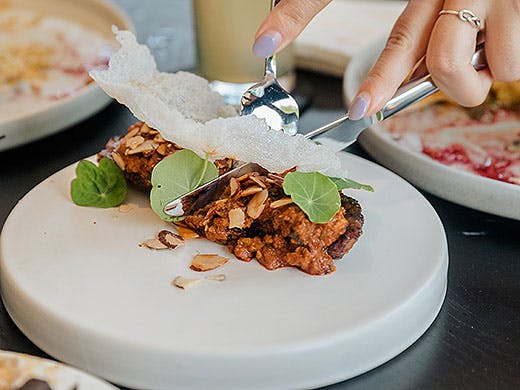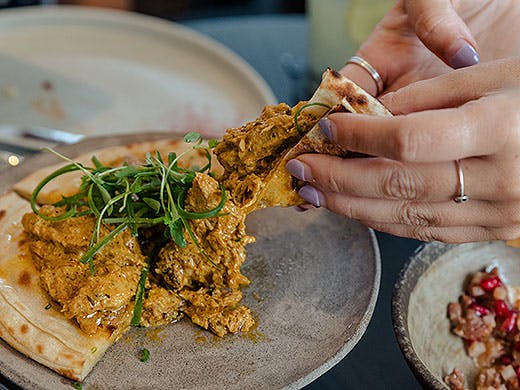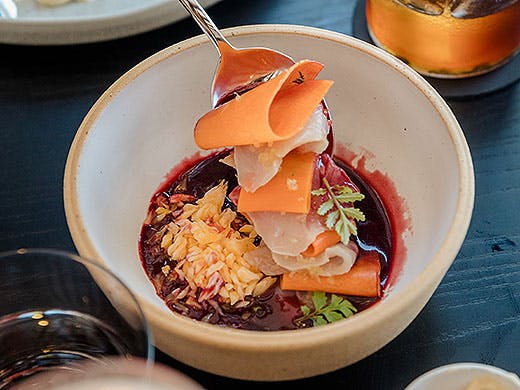 The Verdict
The brains behind much-loved Indian-inspired eatery Cassia and Sid at the French Cafe, Sid and Chand Sahrawat, have done it again but this time they're bringing us some Indian flair to an iconic spot in Ponsonby. Say hello to KOL—an Indian cocktail bar and tandoor eatery.
The hospo super duo sure know how to dish up some tasty kai as their food is consistently jam-packed with flavour and is beautifully presented—and their latest venture is no different.
Located in the iconic two-story villa on the corner of Ponsonby Road and Hepburn Street, which has housed many restaurants such as MooChowChow and 10Eleven by Marvel. The space, designed by Chand, has now been transformed into a casual yet stylish eatery where the emphasis is on dishing up innovative cocktails and fiery flavours.
KOL (pronounced 'coal') is no ordinary Indian eatery, no siree! Proving that there is so much more to Indian food than a spicy curry. The menu is a masterpiece filled with delectable delights, showcasing New Zealand's incredible produce with an Indian flair.
The menu has been carefully crafted by Sid and head chef Vicky Shah taking inspiration from the Indian chulha, paying homage to a traditional way of cooking over fire. It's packed full of colourful cuisine that intertwines big, bold, and boisterous flavours.
Treat your taste buds to some boujee snacks such as the Amritsari prawn toast, served in a blend of aromatic spices, the beef tartare which packs a punch, and the vindaloo fries, which are just devilishly moreish.
The kingfish served with carrot kanji is a light, vibrant summer dish, while the chicken and saffron kebab is not to be missed, complemented by the smokey tandoor taste. For those of you that are vegetarian or are more partial to some greens, then the grilled cabbage served with smoked tomato and the charred kumara drenched in a rizala sauce is equally as special.
If you're looking for something a bit heartier then the pork belly served with Goan chorizo will certainly hit the spot, the crispy yet tender meat will leave you pining for more after just one bite.
If you're mad on spice then the medley of mushrooms with ghost chilli and macadamia is a must-try, while the kid goat laccha has got to be our fave. The 12-hour marinated goat leg is just melt-in-your-mouth perfection, while the traditional Indian-style bread is used to mop up the succulent spiced sauce. Get in our bellies.
Don't forget to save some room for dessert, because trust us you're going to want to taste what's on offer. The dessert offering may be small but it's certainly sweet. The chocolate, mango, and walnut pudding made up of brownie, chocolate mousse and a mango topping is to die for and will send you to chocolate heaven and back. That's a promise.
To wash down all that goodness, we think a tipple or two is in order. You're in luck as there is an emphasis on serving up great drinks at this joint. With a sophisticated drinks list filled with cutting-edge cocktails, a dedicated gin menu, and an extensive wine list— you're truly spoilt for choice.
Pull up a pew and sit on the outside veranda, sipping on one or many of the impressive cocktails on offer. The Wolof Punch is the drink of choice if you like tropical flavours, whilst the Agni is a smoky gin number served in a light bulb. The Arils caught our eye—an Insta-worthy cocktail made up of vodka, pomegranate, cardamom and cucumber and served with a smoky bubble topping.
So, whether you're looking for a wee snack to warm the cockles or want to wine and dine until your heart's content, KOL certainly does cater for all. The Sahrawats have worked their culinary magic once again and one thing's for sure, you're guaranteed to leave with a full belly and an even fuller heart.
Image credit: Jamin Drupsteen & Josh Griggs.
---