Ooh-Fa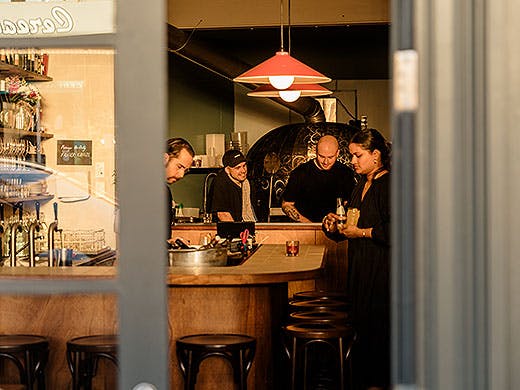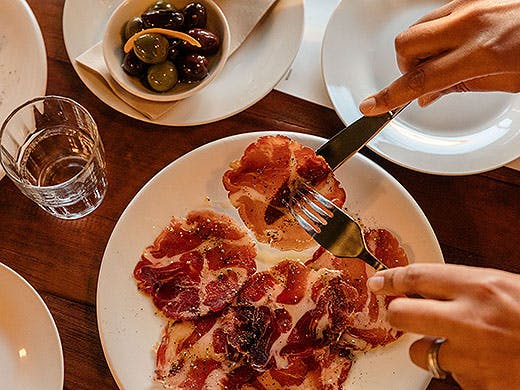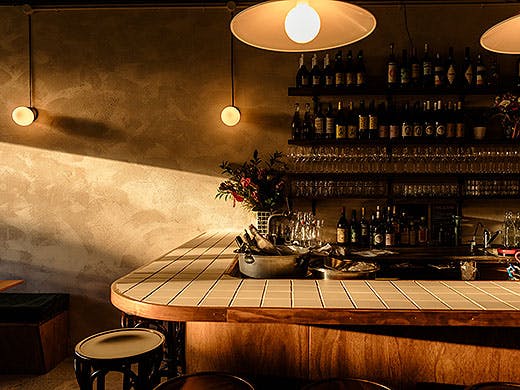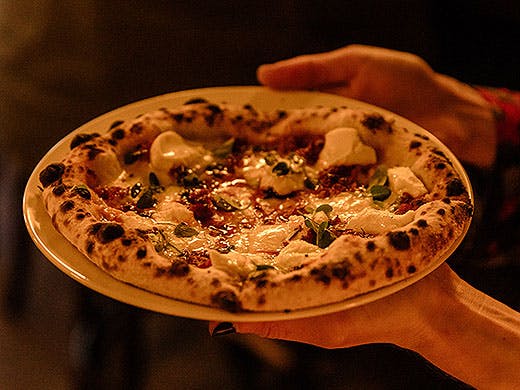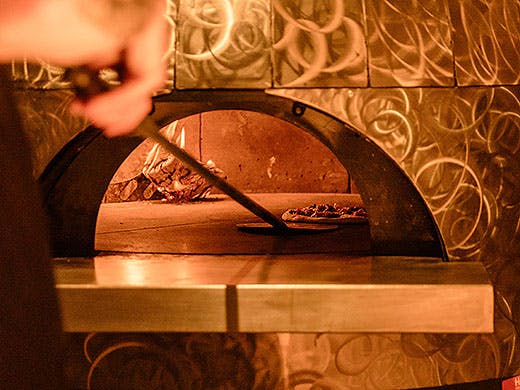 The Verdict
The hottest ticket in town right now is Ooh-Fa—a brand-new pizza and wine bar from the masterminds behind Karangahape Road's phenomenally popular pasta joint, Pici. That's right fam, in what could be the most genius move of 2022, the team that acquainted us with cacio e pepe and olive oil cheesecake have opened a dedicated pizzeria on Dominion Road.
This newbie that's named for an Italian expression for delight—ideally said with pinched fingers—is every bit as incredible as you'd expect. Serving up a boujee, 22-seater space that oozes friendly neighbourhood vibes, the focus here is on simple yet delicious slices, washed down with natural wines. Basically everyone's dream dinner scenario, right? Right.
Sourdough pizza is the name of the game here, and if you know anything about the beast that is sourdough, you'll know that it's an absolute labour of love. Indeed, head chef Fraser Childs (who joins Jono Thevenard, Gemma Hareb and Kazuya Suzuki on the new project) is pouring his heart and soul into this particular breed of dough—we're talking 70+ hours of fermentation time, topped off with another six or so for proofing before taking a trip to Ooh-Fa's gigantic woodfired pizza oven.
The result? The most perfect pizza base you'll ever taste (seriously), finished off with a short but sweet list of toppings set to change regularly, but all of which will have you declaring 'bellissimo.'
Expect the likes of potato, mozzarella, parmigano, prosciutto and rosemary—tomato, garlic and oregano (with the option of added stracciatella, which in our opinion is an absolute no-brainer because, cheese)—and kumara, spring onion, garlic, mozzarella and black pepper.
However, the slice that changed our life is Ooh-Fa's nduja number—a dish so unparalleled in its deliciousness, it gives even the aforementioned cacio e pepe a run for its money. Featuring clouds of fluffy ricotta punctuated with spicy nduja, gooey mozzarella and a glorious garlic honey, this is one slice we'll certainly never forget.
That's not to overlook the snacks and desserts, both of which are delicious in their own right. The woodfired carrots with whipped ricotta and pistachios are a perfect way to kick-start your meal and go down especially well when paired with a plate of mouthwatering gabagool (a traditional Italian cold-cut) and marinated olives.
And we've got a whole lot of amore for dessert, which comes in the form of housemade gelato and sorbet in flavours like dark chocolate and lemon, and buffalo milk pannacotta with extra-virgin olive oil and sea salt (a nod to Pici's famous olive oil cheesecake). An unexpected yet delicious combo of savoury and sweet, this is an absolutely essential way to end your meal.
Finally, special mention must be made of the drinks menu, which has been carefully curated with a focus on natural wines (special shout-out to the chilled reds), cocktails, beer, and limonata for those wanting something booze-free.
If you live in the area, consider Ooh-Fa your new local, and if you don't—you'll want to make (very, very) regular trips. Because like we said earlier—it's the hottest ticket in town.
Image credit: Jamin Drupsteen.
---