Ragtag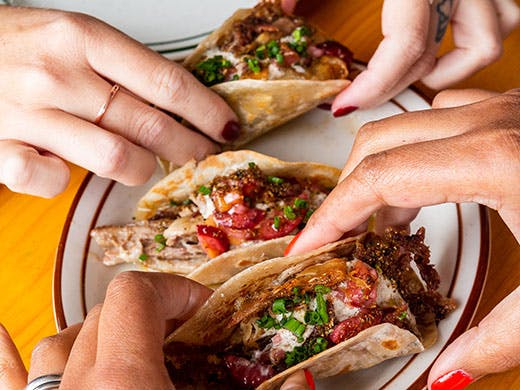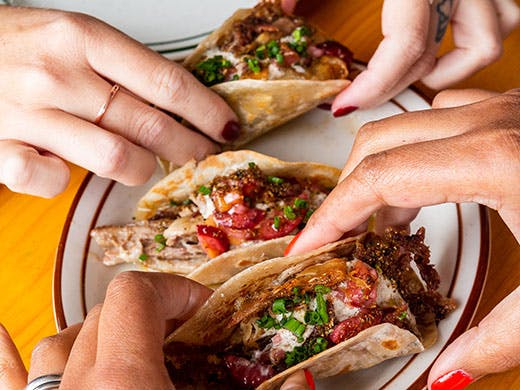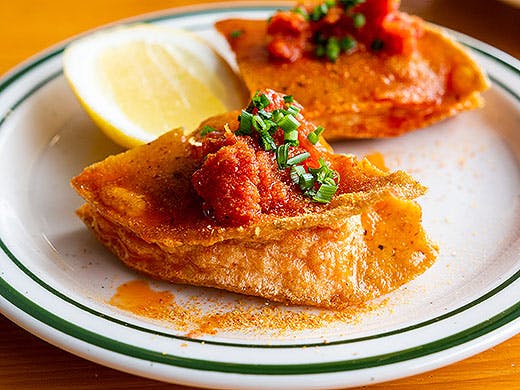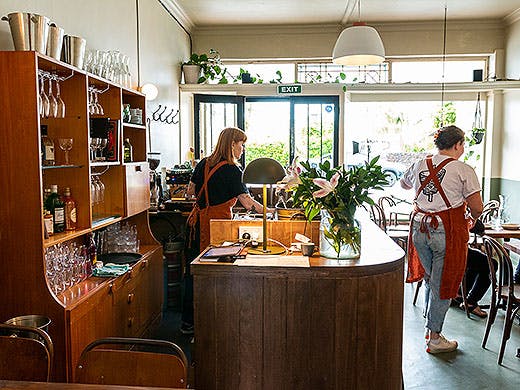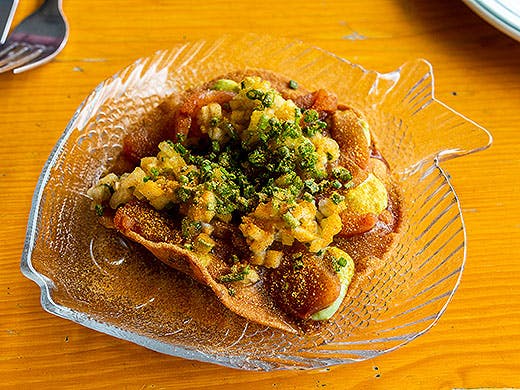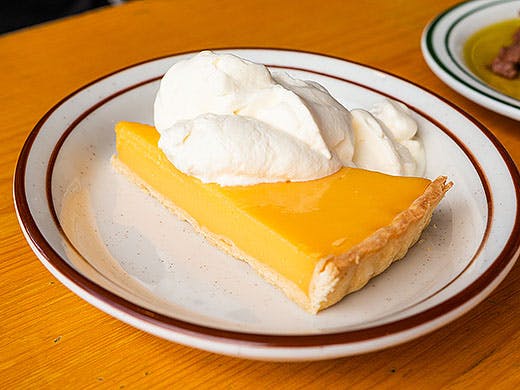 The Verdict:
Picture this: succulent pieces of slow-cooked duck, drenched in a peppery sauce and apricot salsa, all poured into a soft duck-fat flour tortilla. Or perhaps a mountain of fluffy chocolate mousse, dripping in olive oil and sprinkled with salt. Or how about some crunchy beef 'nuggets', stuffed with juicy meat and dressed in a punchy green chilli sauce?
If this sounds like your idea of heaven, we have to agree. The good news is, you don't have to take a trip to the pearly gates to try it—a trip to Westmere will do just fine. That's where you'll find this bonafide food-of-the-gods, at a brand-new restaurant by the name of Ragtag (the precise location: 162 Garnet Road).
If the name Ragtag rings a bell, we're not surprised. Run by the talented Dan Freeman (ex-Alma and once upon a time, a contestant on My Kitchen Rules), Ragtag has been responsible for filling thousands of tummies across Auckland with delicious, unauthentic tacos during its time as a food truck, which has included pop-ups at respected eateries like Candela and Ozone Coffee, to name but a few. The fact that they've now opened a brick-and-mortar store certainly bodes well for their success (not so much for our waistlines).
The spot itself is a total vibe, embracing that cool neighbourhood wine bar look we're seeing more and more of (and in this case, the work of Pacific Projects, who also fitted out another fave haunt of ours, Ooh-Fa). Think sleek and stylish, yet informal and inviting. There's outdoor bench seating, cosy tables inside and also a charming private dining room upstairs, which we're sure will become a highly sought-after space in the months (and years!) to come. Please note this is not yet open to the public.
But let's get real for a moment. Ragtag could be slinging tacos down a back alley somewhere, and we'd still come. That's seriously how good the grub is—we'd legit risk our life.
Because as much as we love a regular taco, there's something especially delicious about Ragtag's '100% unauthentic' variety (their words, not ours—it even says it on the sign out front). Is it the novelty factor? Is it the actual combination of flavours? Or is it the fact that we've never tasted anything quite so bloody delicious before? All of the above, actually.
As mentioned, the duck tacos are particularly incredible (read: we're still drooling over them), however, you can also get amongst flavours like market fish, Sichuan mayo and summer salsa—charcoal aubergine, yoghurt and harissa— and smoked lamb, cucumber and sesame. These options are all served share-style, with a stack of tortillas for you to fill yourself—dangerous news, if ever we heard it.
But it's not all about the tacos at Ragtag, with other South American-inspired dishes up for grabs (note the use of the word inspired—we didn't say anything about the taste), like the aforementioned beef nuggets, and a no-doubt-delish sweetcorn quesadilla.
Tostadas also make an appearance on the menu here—the raw fish with ponzu and pear salsa is absolutely outstanding. Dressed in juicy fresh fish, lush little pieces of pear and a number of other tasty toppings—with a crack that could legit be heard from across the street upon cutting—this dish is faultless. The fact that it's also served on a fish-shaped plate? Amazing.
Don't forget to save room for that dreamy choccy mousse we mentioned earlier, or perhaps a slab of tangy lemon tart swimming in vanilla cream, along with a drink or two to wash it all down (alcoholic bevvies will be available from Monday 19th December once they get their liquor licence)—and you will be leaving this epic new spot on cloud nine. Just be sure to steer clear of those pearly gates, okay? At least until after you've made a return visit.
Image credit: Eric Jang.
---